Coronavirus Update: Midwest Athletes in Training
The premature end to the ski season, due to the coronavirus pandemic, has brought with it a conglomeration of unexpected happenings and emotions. Races were cancelled, opportunities were lost. Goals were left unmet. Team training and travel turned into a thing of the past. And skiers were left with unplanned weeks with peak fitness before April came. But as it is with most challenges, these difficulties and very valid woes have already led to measurable growth. It has encouraged skiers toward a greater appreciation for their teams and communities, a fulfillment in striving toward personal growth, and a realization that outdoor activity is a true blessing. And so skiers around the country are doing their best to appropriately reflect on the season, help their communities, and learn from their individual situations, all while continuing to prepare for when the snow will come again.
To better understand the particulars of the pandemic's effect on competitive skiers, we caught up with some of the Midwest's top skiers located around the country: Ian Torchia (SMS T2) and Alayna Sonnesyn (SMS T2), Mara McCollor (Dartmouth College), and this year's Minnesota High School State Champions, Henry Snider (MPA) and Molly Moening (St. Paul Highland Park). Here's what they had to say.
How did the novel coronavirus impact the end of your ski season?
Alayna Sonnesyn: I feel very fortunate that Coronavirus only impacted the very end of my season. Spring and summer athletes have had their entire seasons cancelled and I feel bad for them. Although I was really looking forward to ending my season with the MN World Cup and World Cup Finals in Canmore, I am grateful for the opportunity I had all season to compete domestically and on the World Cup… and I would love to see Minnesota have the opportunity to show off it's amazing qualities to the World Cup circuit in the future.
Ian Torchia: COVID-19 affected my final race of the season, the famous Homenkollen 50k in Oslo, Norway. The early days of the virus allowed us to race, albeit without the rowdy crowds known for congregating as they were banned from spectating. However, there were still some fans out in the hills, which led to the most memorable part of my race (unfortunately). About 20k in, some of the Gatorade feeds started to sit funny and I promptly threw up on the Church uphill, where most of the fans were stationed. The crowd got deadly silent as I yakked for about 30 seconds, but when I started to stride up the hill again, the Norwegians went absolutely nuts and started chanting "USA USA USA!". For sure was a bright spot in an otherwise miserable birthday race.
Mara McCollor: Due to the COVID-19 pandemic, the second NCAA race in Bozeman, Montana was cancelled as well as Supertour Finals in Silverstar.
Henry Snider: My main goal for the entire year was to be an All-American at Junior Nationals so when the first distance race didn't go well I knew my only other chance was going to be the second one, so when that race was cancelled I was upset because that was the race I was working towards the entire season.
Molly Moening: The Midwest team was pretty bummed [about the last two races at JNs being cancelled], because we had a rough first two days, and were hoping to bounce back for the last two. We found a fun silver lining though, with no more races, and two days left, we were able to spend a lot of time skiing at some neat places, and could hike up mountains from our back door.
In what ways are you coping with stay at home orders? How are you spending your time? What has been challenging?
Torchia: I honestly feel as though I have kept very busy during these stay-at-home order days. I have painted half the house Kameron [Torchia's fiance] and I are staying at to the pleasure of our landlord/roommate, split wood and landscaped for a local Dartmouth doctor, and have thrown myself back into training. Yes, that means rollerskiing in April, but these are crazy times and they require crazy solutions to keep busy.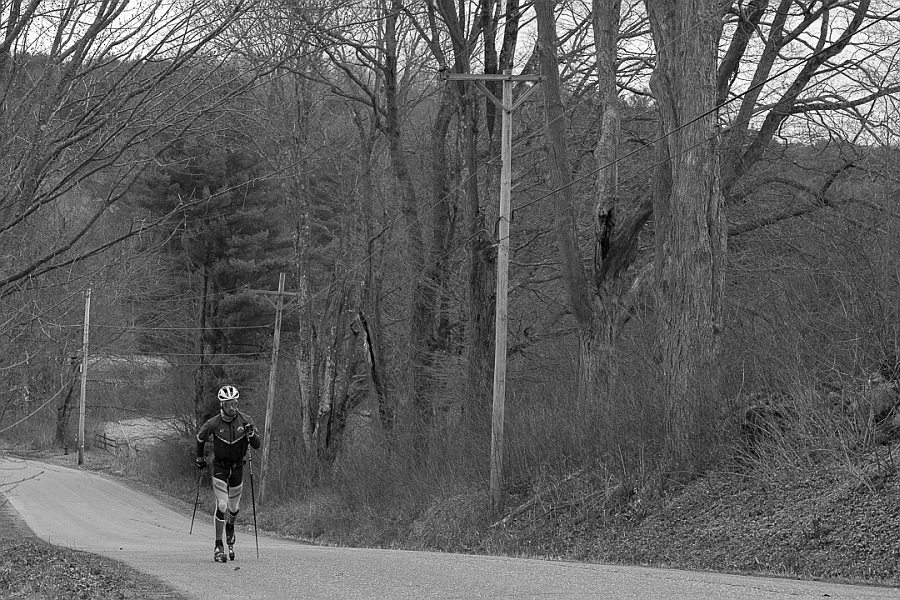 Sonnesyn: I've been spending such quality time with my family, I always miss them during the training and competition season so this has been the silver lining. My mom, sister and I love to cook so we've been eating very well these days… I've been slowly making my way through the Handmaid's Tale TV series and am wrapping up reading the Girl With the Dragon Tattoo trilogy which has been entertaining. I have also been spending my free time studying for the GRE (which I hope to take soon) and re-learning how to play the piano.
Overall, this surprise turn-of-events has been rather challenging for me. I am a planner and like to know what is happening the following week, month... I've had to accept that this is simply impossible to do so right now… In addition, my dad is an infectious disease doctor in Minneapolis and I see the stress and anxiety that our health-care workers are under. The best way I have found to deal with this is to greet my dad with a smile and a home-cooked meal each night, go for short trail runs with him to help him stay happy and healthy, and continue to support him in any way I can.
McCollor: A challenge for me has been finding the same positivity and excitement alone as when I am at Dartmouth with the team. It is easy for training sessions to feel a little less fun but I have been working on changing them up as much as possible and coming up with things I am excited for each day and during each workout rather than focusing on what I am missing out on or wish I could be doing.
Moening: It's been hard to not be in school, and not being able to run and practice with my track team. I'm very grateful that I have a family that is always willing to workout with me.... I have a good at home weight room, so I can continue working on my strength. I am getting back into rollerskiing after a month off, but I had mostly been using a Ski-erg for some specific strength work. Other than working out, online school has been keeping me busy, and in my spare time I have been working on puzzles, reading, and my sister and I are completely redoing our rooms, so we've had a lot of fun coming up with new room designs.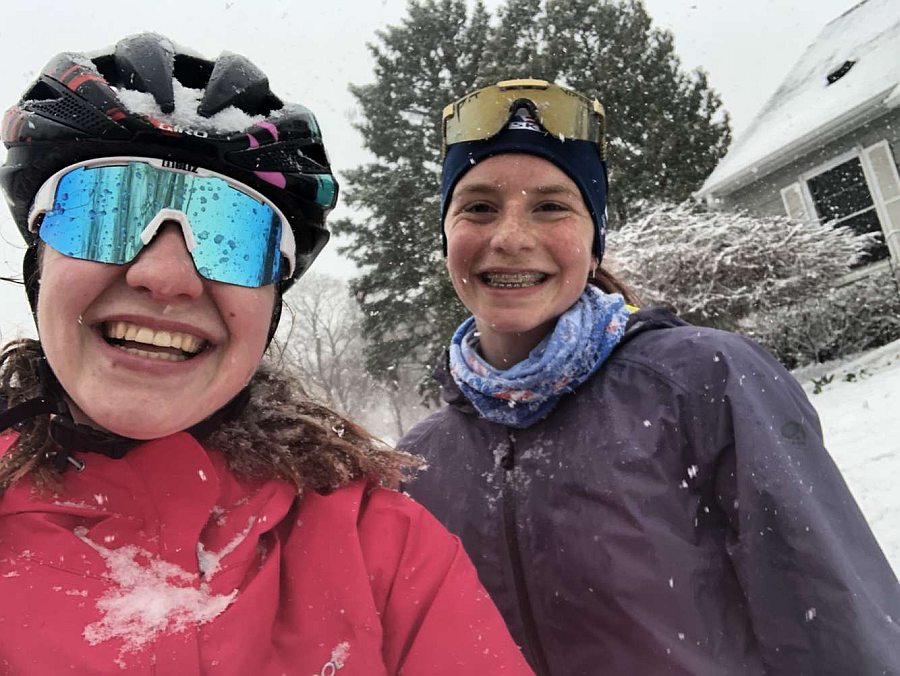 Snider: I have a normal school schedule but just online so I still have classes for most of the day, then because the track season is still not cancelled, I am doing running workouts just like I would usually do during the spring. The most challenging thing has definitely been not being able to see anyone outside my family for so long.
How are you mentally and physically preparing for the training season ahead considering the immediate future's uncertainty?
Sonnesyn: The lucky thing about being an endurance athlete is that we can pretty much train whenever and wherever we are (as long as restrictions for exercise outdoors remain the same). With an abrupt end to the ski season, I feel fully rejuvenated physically and without much else I can do in the world right now I am happy to get out the door. With a lot of negativity in the news right now, I feel like training has been the one thing in my day that seems normal. As of right now, I'm enjoying getting back into running, biking and roller skiing with my family until further notice. I hope to return to work with my teammates once it is safe to do so!
Torchia: I have been working on what I feel my weaknesses are in this quarantine, including an increased emphasis on body-weight strength. I have felt I lost my early college ability to whip out pullups and pushups so I have been challenging myself (and my roommates) to the "100s". It entails 100 reps of pushups, pullups, situps, and dips.
McCollor: I am preparing for the training season pretty much exactly the same as I would if the situation was "normal." Both mentally and physically I am using the spring as a sort of reset before beginning summer training. An obstacle at the moment is that most of my summer training equipment is at Dartmouth but even without it, I will train as close as possible to what I would have done anyway.
Snider: I am mentally preparing to be training alone for a while. For the last couple weeks I have been training alone and it has been hard to train as well as I could be. But I think I am getting better at it and should still be able to have productive training until I can train with other people again.
Moening: Obviously, since track's not happening, I have a lot more time to train, and can get more hours in than I normally would. Mentally, I'm struggling to focus long term, with a lot of uncertainty in the future. I'm really missing training with my teammates, and am looking forward to the point where we can see each other in person (video calls and Netflix parties can only do so much)! I'm mostly just trying to stay motivated, even with a lot of unknowns as to what I will be doing for the next few months. I keep reminding myself that this is something that no one has ever had to deal with, and the only way to get through it, is for everyone to do their part, even if it's hard. I think in the long run, this separation from my teammates, friends, and family will make me cherish them once I am able to see them and spend time with them.
While each of these skiers are facing diverse challenges, they are also confronted by many of the same questions as it relates to skiing. Their responses are unique yet the idea of balance informs them all. As they push forward, let us take to heart their example, seeking balance: balance between feeling the weight of loss and the joys of life's gifts, balance between rest and getting out the door, balance between realism and positivity, and as always, balance on the gliding ski as we drive our energy toward our goals and the future ahead.
About the author...

Luke Brown, a graduate of Minnehaha Academy and Dartmouth College, is a skier and biathlete for the Crosscut Mountain Sports Center and the US Biathlon X-Team. He enjoys running in the mountains, writing, and eating cereal with whole milk. He lives in Bozeman, MT.