Coronavirus Update: Junior Summer Training Plans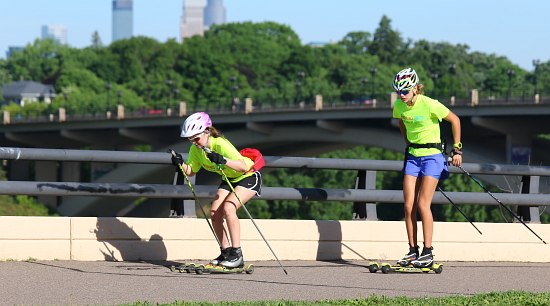 As we slip past the beginning of May and toward the months of summer, skiers' internal clocks are chiming the sound for trails, roads, rollerskis, and weights; sit-ups, spenst, mountain bikes, and more; long runs, intervals, repeats, and reps. But this year, summer training may look different. Indeed, the coronavirus has cast a shadow of uncertainty not only on individual plans and decisions, but also on those of the Midwest's junior training groups.
To see how clubs are thinking about approaching training now and in the coming months, we reached out to club coaches across the region. Many of these coaches noted the missed opportunities their skiers have dealt with. Many spoke of the uncertainties of what summer training will look like and discussed contingency plans. But these coaches were also hopeful for the day training like normal, together, could begin. They highlighted the possible benefit of an earlier start to ski training given more free time for many of their athletes. And above all, I appreciated the can-do attitude of these leaders that undoubtedly will continue to be an influential example for their athletes. Train on!
Ashwaubenon Nordic Ski Team (Scott Putnam)
What's the present? After missing out on the usual spring celebration, exciting ski trips to the UP, and high school sports, ANST skiers have started to wrap their minds around what the new training year may look like. All coaches are volunteers and have thus are under no economic induced pressure for staffing.
What's the process? ANST skiers have begun to follow a training plan and to communicate about their workouts via WhatsApp. Spring training at this time usually includes about four workouts per week with an emphasis on strength and building a training base. ANST coaches also see the importance of promoting the state's stay-at-home orders.
What's the plan? Once the stay-at-home order is lifted, ANST will most likely be able to meet in groups of less than ten skiers to begin training. The club will also look to Ashwaubenon Schools for guidance on how to proceed. ANST looks forward hopefully to their official start to training in June as well as a rollerski camp in the same month.
From the coach: "Part of the deal here [sharing about training on Whatsapp] is to get athletes to share what they have done to create a virtual critical mass, like seeing each other at practice." - Scott Putnam
Ely (Paula Anderson)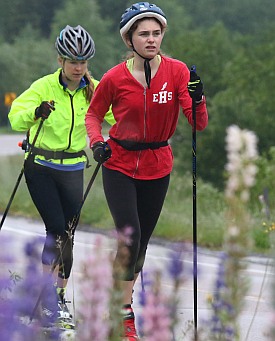 What's the present? Ely skiers have started training on their own or occasionally with a friend. Coach Anderson has just sent out a Period One training plan.
What's the process? Normally, the official Ely summer training group begins in June and runs for eight weeks. The group consists of skiers from 8th grade (training only a few times a week) to high school seniors (working out with the group six times per week and more on their own). Coaches are often alumni and the group often provides rollerskis to younger athletes. Keeping costs down is an important goal.
What's the plan? The group is looking to see what guidance will be set out by MSHSL but will hope to begin small group training sessions (most likely breaking up skiers based on age) at the beginning of the summer, if allowed.
From the coach: "If we CAN train as a group, we sure will. It would be hard for them to train alone all summer." - Paula Anderson
Endurance United (Liz Peterson)
What's the present? EU has launched their adult summer programming - virtually for now. The club is currently working on a plan for junior programs that will be out soon. With support from the community, EU has returned to a full time staff.
What's the process? Coach Peterson stressed the importance of remaining flexible throughout the evolving coronavirus situation to be able to best provide a training and team structure for EU athletes.
What's the plan? While details are still being finalized, EU will be providing their athletes with training ideas while working to provide that connection to teammates and coaches that is so vital to athletic and personal development. Coach Peterson noted that the summer will look different but the focus will remain as always on achieving goals and building a team environment.
From the coach: "I believe that staying connected to a team and a strong group of individuals during this time is something all of us can benefit from, athletes and coaches included." - Liz Peterson
Loppet Nordic Racing (Chris Harvey)
What's the present? LNR programs are currently happening virtually. Whether it's Piotr Bednarski's adult group, Catilin Gregg's college team, or the Chris Harvey coached junior program, LNR teams are being supported as much as possible. Coaches are also communicating with each other to share best practices they have learned. The Loppet Foundation has been supported by the Payroll Protection Program Loan and all staff have returned to 100% work currently.
What's the process? Coach Harvey is leading four Zoom meetings every week - two circuit strength workouts done "together" and two calls after on-you-own workouts which involve reflecting on the workout and stretching.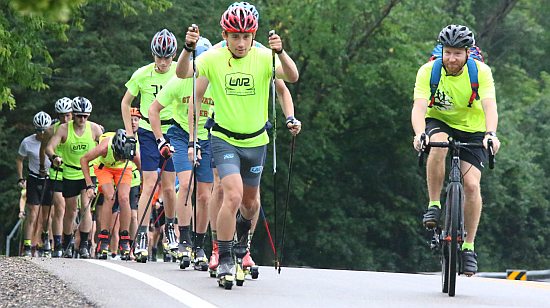 What's the plan? LNR hopes for at least small group training come June or July but are following the USOPC's guidance on a return to training.
From the coach: "We are doing the best we can to stay connected with the community." - Chris Harvey
Minneapolis Ski Club (Kevin Brochman)
What's the present? With most MSC athletes usually competing in high school sports as they are encouraged to do, the club's official programming begins in the summer. This spring, MSC has been sending athletes training suggestions every two weeks, now transitioning to every week. The coaching staff may see a few additions for the training year.
What's the process? MSC sees outside activity as one of their athletes' most important needs currently. Training suggestions offer ideas and encouragement as well as provide a structure for taking advantage of an earlier start to ski specific training and strength. Coach Brochman notes the importance of setting both process and outcome goals as well as learning by watching videos of other athletes.
What's the plan? MSC will look to the governor's guidance on when to begin group training. Coach Brochman suggests that training group sizes will most likely be under fifteen athletes, each group with two coaches. Groups could have staggered starts to promote social distancing. But overall, for skiers, the goal is to seek improvement each month of training.
From the coach: "Being inside with classes is very tough and they [MSC skers] are very active people who love to be moving." - Kevin Brochman
NordicWerks SkiKlubb (Deno Johnson)
What's the present? NordicWerks athletes have found more time for alternative outdoor adventures with the cancellation of high school sports. Because of this cancellation, NordicWerks skiers have also begun transitioning into more ski specific training a bit earlier than usual.
What's the process? Athletes are following training plans provided by Coach Johnson and have access to season evaluations, consultations, and goal-setting sessions.
What's the plan? Training will hopefully begin on June 8th and run until the middle of August.
From the coach: "Athletes at this point of the year need to begin to focus on goals for the coming racing season." - Coach Deno
It will undoubtedly be a challenging time for coaches and athletes alike as the training season begins with so much uncertainty. Many athletes will be forced into a greater independence in training than what they are used to. They will need to set goals for a training and racing season that is, for now, murky and unplanned. They will be required to grow that self-motivation found within themselves. But all of these athletes will be able to find a sturdy support system in any of these organizations and coaches off which to launch into the future, challenged, encouraged, and believed in. And so a big thank you goes to all coaches, for the planning and thought you have already put into the year and for the care with which you will continue to lead our skiing community.
About the author...

Luke Brown, a graduate of Minnehaha Academy and Dartmouth College, is a skier and biathlete for the Crosscut Mountain Sports Center and the US Biathlon X-Team. He enjoys running in the mountains, writing, and eating cereal with whole milk. He lives in Bozeman, MT.