Skiing: Hawaii Style
by Jesse Crandall
December 23, 2001
I am sure that most of us can remember seeing an article a couple of years ago about Bill Koch skiing on the sand beaches of Hawaii. There were some pretty cool pictures of him looking very fit and skating along with some surf in the background. Well, I saw the article and the pictures and at the time I thought that it would be really great to try it.
I have had a trip to visit friends in Maui planned since about October and it fit neatly with Christmas and a lull in the early season ski races. I was going to be able to do the NorAm races at Telemark, spend a week in Hawaii and then make it back to ski a bit before doing the Double Pole Derby in Hayward. Well, the Double Pole Derby is still a possibility, but the same warm and dry weather bug that has been everywhere this year had bitten Telemark and forced the cancellation of the NorAms. As my departure for Maui drew nearer, I became more and more disgusted with the mild weather in the Midwest and especially in the Drummond area where I live. I had resorted to striding on the 2-km stretch that was still snow covered at the Drummond Ski Trail and skating on a 300-meter loop in one of the hay fields at my house in rural Drummond. After that disappeared, I skied on a fun little shaded 400-meter loop that was kept operational by hauling snow from snow banks created by a plow.
I was sitting at work about a week before I was scheduled get on the first leg of my trip when I remembered the article about Bill Koch. It turns out that there is a website, www.sandskiing.com, that contains information about beaches that are skiable and other tips about sand skiing. Early December was the last time that I had done and skiing on decent snow and I was ready to try anything. I decided to write an e-mail to the address on sandskiing.com to ask for some suggestions about where to ski on Maui and if there was any chance of renting or borrowing equipment. To my excitement, I got a message back in a couple of days from Bill Koch himself. I grew up in the Cable Area Bill Koch Ski league and have skied at Telemark and on the Bill Koch trail since before I can remember. It was pretty exciting to get real correspondence from the most famous American cross-country skier of all time. He told me the name of a beach to try out and also that renting skis on Maui was not likely. Probably similar to trying to rent a surf board at Telemark. It turns out that you can rent anything from a Dodge Viper to beach chairs on Maui, but finding winter sports equipment is a bit of a challenge. So I did what any rational skier would do and wrapped up my skis and poles and packed my boots to get checked on the plane to Maui.
When I got to Maui, I was the only person in the open air baggage claim area to have skis come down the chute, but people were so intent on finding their bags that I didn't get too many looks. I arrived at about 6 in the evening and it was starting to get dark so I would have to wait until the next day to go to the beach and strap on my boards. In the e-mail, Bill Koch suggested that I try to get on the beach as early as possible because the surf would be favorable and there wouldn't be too many people. Even though seeing a skier on the beach would be a novelty, people still want be able to run in and out of the water without being hit by a ski pole and I didn't want to have to be dodging swimmers on my first attempt at skiing in the sand.
I got up just as the sky was starting to get light the next morning and drove to Makena State Park. Big Beach at Makena is the largest undeveloped white sand beach on Maui. It is about 1 km long and is made up of very fine, light colored, sand.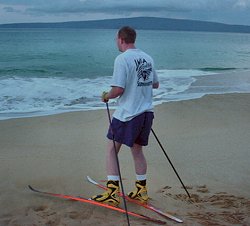 I walked down to the beach carrying my skis, boots and poles and proceeded to change from sandals into my Pilot skating boots. I stepped into the binding of one of my skis and just slid the ski on the dry sand to see what it felt like. It was surprisingly slippery so I was pretty excited to see what would happen once I got down onto the wet sand where the waves were washing up. I got the other ski on and slipped into my poles. It was a pretty strange feeling to be on a beach, looking into the Pacific Ocean at a couple of other Hawaiian Islands wearing skis and poles. It was about 70 degrees and the sun was just starting to appear in the Eastern sky.
I pushed off toward the surf and the wet sand that would serve as my ski trail that morning. The dry and damp sand didn't allow for much glide so I walked down to the area that was being wet by the surf. I started to skate along on the sand. It was surprisingly fast to ski on. I stayed near surf as it receded away from the beach, skiing along on the sand that was covered by a thin layer of water. It felt like I was really skiing. Occasionally a wave would recede slower than expected and my boots would get covered with water. At first this bothered me because I had some strange idea that I wouldn't be getting wet. That was a foolish idea because my boots quickly filled up with water and there was nothing I could do but enjoy the fact that I was indeed skiing at a site normally reserved for snorkeling and sunbathing. I was also a little worried about what the sand would do to my skis at first, so after a few minutes I checked the bases to see if there was any damage. If anything they looked better than before I started. There were no new scratches or anything to worry about. The only thing that I did notice was that Solomon Profil bindings do not like having sand in them. I also hope that the salt water doesn't hurt my Pilot boots.
As I continued to skate down the beach I experimented with different techniques. I was able to V1 pretty effectively, but found that V2 was the best technique because I needed the power to keep myself moving along. The glide was similar to what you would find in very wet snow. It wasn't sticky at all and every now and then I would catch some sand at just the right point and really get some good glide. Fast stretches allowed me to break into an open field skate and I even glided down the side of a couple of mini dunes that were created by the motion of the surf.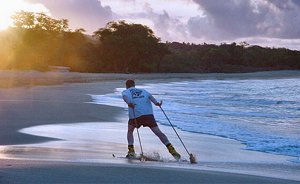 Sand skiing is an amazing workout. Since the glide isn't great, you really have to focus on technique and balance. Like skiing on snow, I could feel myself going to fastest when I was able to commit all of my weight to the gliding ski. In addition to needing good technique to move well on the sand, it took a lot of power to keep my momentum up. Since I was skiing right at the waters edge, the terrain was pretty flat so a strong V2 kept me moving pretty well. There are areas in the sand where the waves have created little hills and on the down slope of these I was able to use my open field skate very effectively.
I ended up skiing on the first morning for about 45 minutes. In this time, I had probably only covered about 4 km, but I was exhausted. I was sweating a lot and ready for a big breakfast. It was difficult to ski continuously for a couple of reasons. First of all, it is pretty hard work. Even though the beach is flat, it feels like you are skiing up hill all the time. This makes it a good work out but you lose the relaxation time that you get from just tucking down a gentle decent on a snowy ski trail. The other difficulty is that you have to time your advances well in order to avoid dry sand or getting pushed over by an advancing or receding wave. Once I got the timing down and had a feel for what the sand should look like for the fastest skiing, I was able to move along pretty quickly and really enjoy the experience.
The first morning of skiing on the beach was a great success. After my ski, I got out of my boots and headed for the water. I had heated up pretty good from the skiing so a little time in the waves was definitely needed before heading back into town for breakfast. After about 10 minutes in the salt water, I felt refreshed so I headed to the car hungry for breakfast and ready to try some more sand skiing the next morning. There were very few people at the beach in the morning and most of them gave a friendly wave. I did have a welcome break a couple of times to explain what exactly I was doing when more curious people wandered along the beach.
The next day I brought my host along with his digital camera and we got some pictures of me gliding on the sand. I have included the ones that turned out the best. I think that I would like to come back to Hawaii again and bring along some skis that have some heavy rills in them to see if they slide better through the thin layer of water that provides the best glide on the sand. It is definitely a good idea to ski early in the morning or late in the afternoon because the midday sun is very hot, even at Christmas time. My Christmas present to myself, in addition to a trip to Hawaii, will be sand skiing at Big Beach on Christmas morning.
I would recommend sand skiing to anyone who is planning a trip to Hawaii. The website, www.sandskiing.com offers recommendations of a couple of other beaches on other islands that are good for skiing. It is a wonderful way to enjoy the ocean while getting a workout that is as tough as anything I have ever done. When the snow melts from the Northland, just pack up your skis and head for the beach.
Merry Chistmas and a Happy New Year!!
About the author, Jesse Crandall:
I graduated from Macalester College in May 2001 with a Chemistry Degree. I have been skiing since I was about 2 years old. Growing up in Drummond, Wisconsin and skiing at Telemark and on the Birkie Trail has taught me to ski with no fear. After being a part of two Wisconsin State Champion teams at Drummond High School, I went on to ski at Macalester College and earned All MIAC honors my junior and senior years. I am currently seeking employment in the Twin Cities and serving as an assistant coach for the Macalester Cross Country Ski Team. My fellow Macalester alumni, Margie Goodwin and Drew Schrader, moved to Kihei, Maui after graduation and I decided I should come to Hawaii now since I had a free place to stay. In addition to skiing here, I have gone hiking, snorkeling and even tried a little surfing. Feel free to contact me by e-mail at jessecrandall@yahoo.com
Photos from the Maui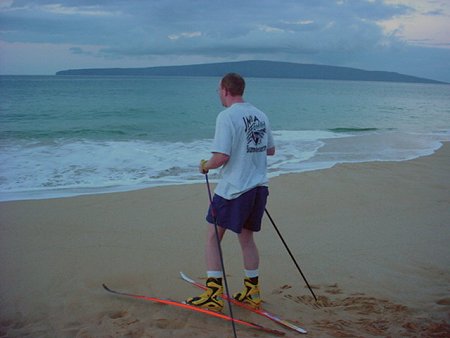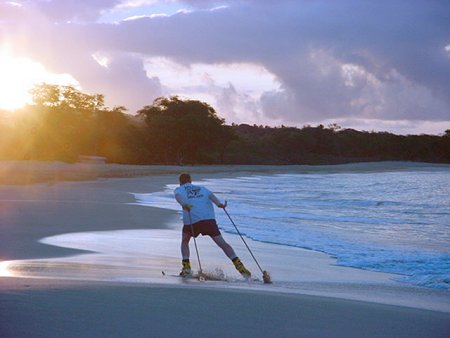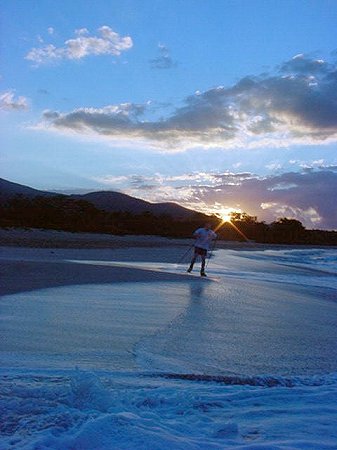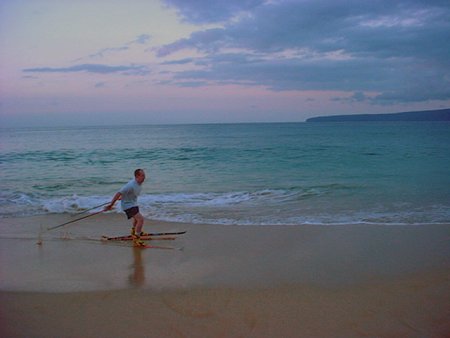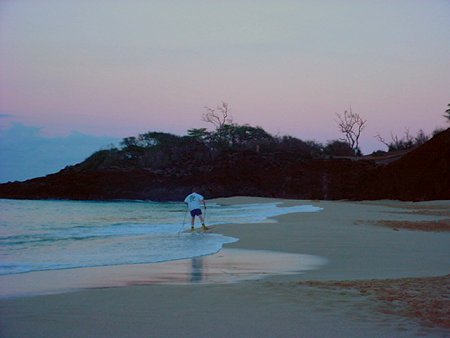 ---
Related links