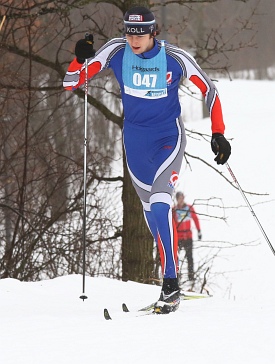 Andrew Tilman takes the 26K classic title, Three Rivers Ski Rennet, January 21, 2017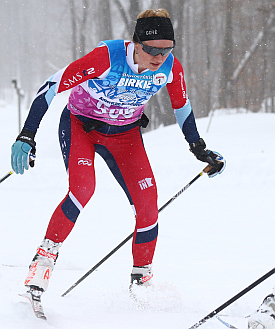 Alayna Sonnesyn, American Birkebeiner, February 23, 2019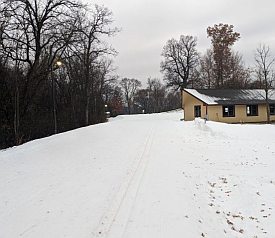 Morning ski at Hyland Lake, November 17, 2019 (Photo: Scott Greymont)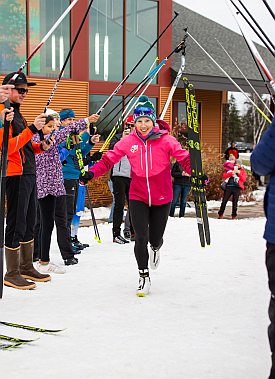 Kikkan Randall celebrating in Duluth, Grand Avenue, November 16, 2019 (Photo: Cece Boyle)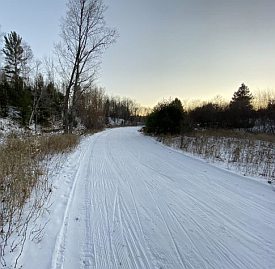 Michigan Tech University trails, November 15, 2019 (Photo: Kevin Ousdigian)

BNS opens shop in the Trailhead at Thedore Wirth, November 15, 2019
Fall Ski Sales and Swaps
October 15, 2019
Every fall there are a ton for ski sales and swaps going on around the upper Midwest. We're keeping a running calendar of the events across the region.
Skinnyski FAQ
December 4, 2011
We've collected together a bunch of common questions to assembly our own FAQ for cross-country skiing in the Midwest and using the Skinnyski website.
Skinnyski Photos
February 5, 2009
Found a photo you'd like to get a copy of? Looking for images from a past event? Find out how to dig through our archives and help support the web site by purchasing photographs.

Trail Report Updates
November 19, 2019
The return of above freezing temps has put a damper on skiing, but the snowmaking loops are mostly open still. New reports from ABR, Miljes, Birkie, Grand Avenue, Hyland Lake(3)

, Elm Creek, Theodore Wirth North, and recent reports from Hyland Lake, Bridgewood, Theodore Wirth North(2)

, Grand Avenue, Lapham Peak, Miners Memorial Heritage

.

Ski Hut: Wax Clinic Season Begins
November 19, 2019
Ski Hut kicks off their wax clinics on Wednesday evening, Nov 20th, with Jake Boyce showing his secrets to faster waxing. All levels of skiers welcome, clinic is free!

Web Roundup
November 18, 2019
Winter Riding - Gear West has published a guide to gear for winter cycling.
Brave Enough - Jessie Diggins journey to an Olympic gold medal are told in her new book available in March.
Marathon Talk - Elspeth Ronnander will be presenting on Midwest ski marathons at the Winter Expo this weekend.
World Cup Tech - New Moon's Evan Young interviews World Cup wax technician Chris Hecker.
Falun Win - Tara Geraghty-Moats collects the victory in the opening FIS Women's Nordic Combined event of the season last weekend in Falun, Sweden.
Davos Ready - While it's World Cup date isn't until mid-December, Davos, Switzerland already opened their trails utilizing harvested snow from last season.
Flake Guide - MinnPost has an illustrated guide to snowflake types.

World Cup Report: Season Preview
November 17, 2019
Rex Wax's Chris Hecker will be reporting on the World Cup this season as excitement continues to build for the Minneapolis event in March. Check out Hecker's season preview, with US skiers expected to get in their first racing events of the season this weekend!
National Forest Lodge: Early Season Special Pricing
November 17, 2019
Now thru December 1st, save $65 per person on a National Forest Lodge "all-inclusive" 2020 Winter Adventure Weekend. Discount applies to select remaining cabins on 5 different weekends with cabins available for 1 to 8 people.
Gear West Hosting Alayna Sonnesyn Fundraiser on Thursday
November 16, 2019
Gear West is helping sending off local star Alayna Sonnesyn as she heads out for the 2019-20 racing season with a fundraiser and silent auction event on Thursday, Nov 21st. Come out and hear Sonnesyn's Birkie story along with an update on her training, enjoy some nice food and drink, and even score something from the raffle.
Kikkan in Duluth
November 16, 2019
A big turnout Saturday in Duluth as Olympic gold medalist Kikkan Randall came to town to help with the finishing stretch of the Grand Avenue fundraising campaign. Saturday afternoon started with a great celebration and mini ski clinic with Randall on the man-made snow at Grand Avenue, followed by a presentation in the chalet. Saturday evening was the big Snowball event, with Kikkan Randall as the headliner speaker. Photos from the afternoon by Cece Boyle.
Related:
Photoset from Cece Boyle:

147 photos
Photoset from Cece Boyle:

Top Picks (high res)
Grand Avenue Project
Vasaloppet First Chance Race Coming Jan 4th
November 16, 2019
Vasaloppet fires up the racing season in the New Year with their First Chance 5K and 15K races at the Vasaloppet Center on Saturday, Jan 4th. And a bargin at just $20 up through Jan 3rd!
Pioneer Midwest: Rex Wax Clinic Sunday
November 16, 2019
Pioneer Midwest will be holding a two-part clinic, the first half on-snow at Elm Creek, the second half back at the shop.
BNS Opens at the Trailhead
November 15, 2019
Boulder Nordic Sport (BNS) formally announced the opening of their new location at The Trailhead at Theodore Wirth Park in Minneapolis. BNS has served the Twin Cities area since 2014 from its former location in Bloomington. Bonus: BNS has a number of job openings, come work and play at the Trailhead!
2020 Birkie Poster Unveiled
November 15, 2019
The 2020 American Birkebeiner poster has been announced and is now available for sale in the Birkie store! The design is a beautiful old-style look, an instant classic.
Skadi's Chase Race Kicks Off Nordic Opener
November 14, 2019
Three Rivers Park District will open the big Nordic Opener Day on Dec 7th with a brand-new race, Skadi's Chase at Elm Creek.
Up, Up and Away Rollerki Race Cancelled Due to Early Winter
November 14, 2019
The Madison Nordic Ski Club has announced the cancellation of the Up, Up and Away Roller Ski Race scheduled for this Saturday, November 16th due to southern Wisconsin's early winter.
NNF: Drive for 25 - World Cup Impact
November 13, 2019
As part of the annual Drive for 25 fundraiser, National Nordic Foundation has gathered support videos from a number of elite athletes, sharing how NNF helped make their World Cup dreams possible.
Related:
2019 NNF Drive for 25 Fundraiser
MYSL Ski Swap and Expo this Weekend
November 13, 2019
The big annual Minnesota Youth Ski League Ski Swap and Expo is this Saturday, Nov 16th, at the Northern Star Council Base Camp (near Fort Snelling). Keynote speaker at the expo is Dr. Charlene McEvoy speaking on athletes and asthma.
Related:
Weekend Ski Swaps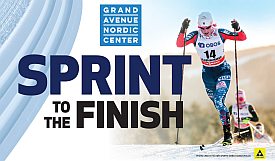 DXC: Olympic Gold Medalist Kikkan Randall in Duluth Saturday
November 13, 2019
DXC and Spirit Mountain will be hosting Olympic Gold Medalist Kikkan Randall this upcoming Saturday afternoon, Nov 16th in Duluth for a free public event at the Grand Avenue Chalet, in support of the Grand Avenue Nordic Center. She will also be the guest of honor and speaker at a ticketed fundraiser event, the Snow Ball, that evening at the Malting Building. Get your tickets before they sellout!
Fischer: West Yellowstone Demo Reservations
November 12, 2019
Fischer Skis announces the return of their online demo reservation system for the Yellowstone Ski Festival. Reserve Fischer Demo equipment for on-trail testing to learn how Fischer technology makes for a better on-snow experience. The 2019 West Yellowstone Ski Festival will take place Nov 26-30th in West Yellowstone, MT.
Web Roundup
November 11, 2019
Lake Placid - Alayna Sonnesyn wraps up a big training camp in Lake Placid and heads back to Minnesota for a fundraiser at Gear West.
Crossroads End - Elspeth Ronnander wraps up her self-examination of the racing/training quandary with some thoughtful quotes.
High and Low - US Ski and Snowboard had a late October update on where the elite athletes have been training.
Ruka Ready - Ruka, Finland, the site of the opening World Cup races, already has their courses ready for competition.
Birkie Snowmaking - New Moon video producer Egan Young checks in on the Birkie snowmaking operation.
Own Cheerleader - Star Tribune profiled Jessie Diggins and her hard work, both on and off the trail.
Biking Year-Round - Outside Magazine featured a number of Minnesotans cycling through winter.
Put Down the Phone - Minn Post looks into a recent study on the excuse "I don't have time to exercise".
Marathon for Dummies - NY Times has a humorous piece on an aging athlete training for their first marathon.
Frankowski: Time Travel Advice
November 10, 2019
Olympian and Minnesota native Rosie Frankowski is back with another article just before her departure for the World Cup season. In this round, Frankowski reflects on what advice she might give to her junior self if she could travel back in time.
Gear West: Wax Test like a World Cup Tech
November 10, 2019
Gear West will have two top World Cup support personnel in shop Thursday, Nov 14th, in Jason Cork and Chris Hecker. They will be presenting on the ins and outs of testing – a "how-to" on finding the optimal wax/ski solution.
Rivet Run Fall Coverage
November 10, 2019
Eve Grave reports: Sunday's Rivet Run had record cold temperatures, record high numbers for the Fall event, along with a record fast winning time! With temps in the low 20's and increasing winds along with cloudy skies made for a chilly November event. The course was frozen ground, a few frozen puddles and fast. Ninth grader from Cloquet Miles Fischer won the event in 18:57, setting a new Fall course record! The first female was repeat winner Laura Gubelman, in 25:31.
Related:
Photoset from Eve Graves:

Rivet Run Fall
Results: Rivet Run Fall
Finn Sisu: Life on the World Cup Circuit Event
November 8, 2019
Finn Sisu will be hosting a chat with US Ski Team coach Jason Cork and World Cup wax tech Chris Hecker this Monday evening, Nov 11th (and free pizza to boot!).
Frozen Thunder Event
November 8, 2019
Canmore Nordic Center kicks off the North American racing season with two days of events. Classic sprints are on Wed, Nov 13th with freestyle distance races on Thurs, Nov 14th.
Related:
Registered Athletes List
2019 Minnesota Nordic Ski Opener
November 7, 2019
Snowmaking is already well underway at Elm Creek as preparation for the 2019 Minnesota Nordic Opener on December 7th! The opener is a huge celebration of Nordic skiing in Minnesota with free skiing, free lessons, free ski rentals, dozens of vendors, and a new citizen race.
Jessie Diggins Girls Workout at Lake Elmo
November 7, 2019
Stillwater coach Kris Hanson shares photos and summary from a fun girls workout with Jessie Diggins at Lake Elmo on Wednesday.
Alternative Wisconsin Blue Mound State Park Master Plans Public Review
November 6, 2019
Skiers input is sought on alternatives to Wisconsin's Blue Mound State Park Master Plan. Some plans include expanded snowmobile access that may impact the ski trails. Input can be submitted online or attend a meeting at the Mount Horeb High School auditorium on Tuesday evening, Nov 19th.
CXC Bike Drawing Final Days
November 6, 2019
The annual CXC Bike Drawing fundraiser benefiting Central Cross Country Skiing's Adaptive Program is coming up fast -- Tuesday, Nov 12th. The winner will receive a custom-designed, handcrafted, Bingham Built titanium road, cyclocross or hardtail bike frame built with wheelset and components. Get your tickets now!