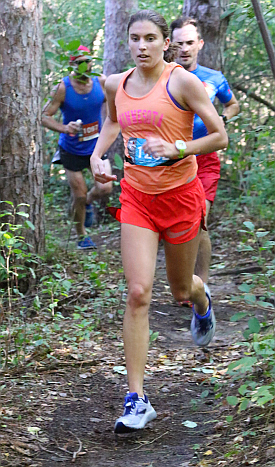 Alex Gits, womens half marathon winner, Trail Loppet, September 22, 2018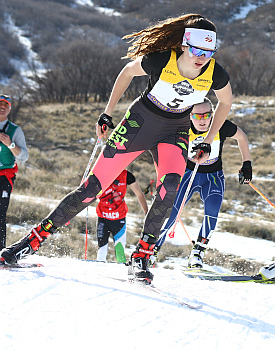 Luci Anderson, Junior Nationals, March 7, 2018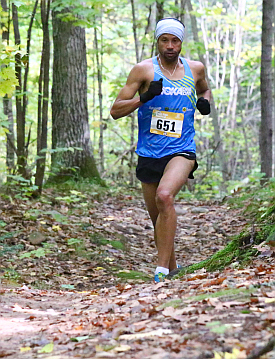 Joseph Gray, men's half marathon champion, Birkie Trail Run, September 29, 2018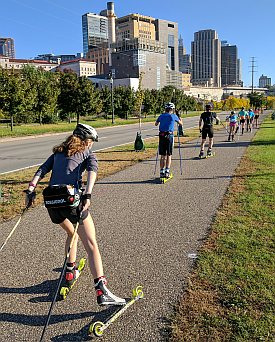 Endurance United 55K rollerski event, October 8, 2017

Vivian Hett, Seeley Hills Classic, January 12, 2019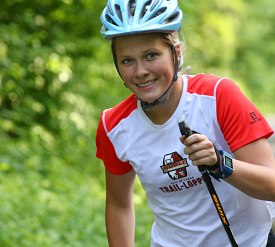 LNR Summer Juniors Program, June 13, 2017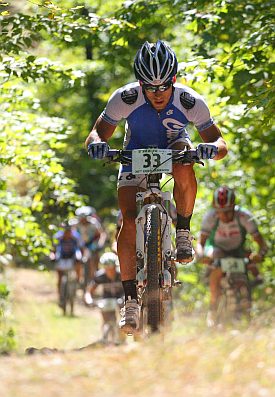 Tyler Gauthier reaches the top of Fire Tower Hill, Chequamegon 40, September 15, 2012
Skinnyski FAQ
December 4, 2011
We've collected together a bunch of common questions to assembly our own FAQ for cross-country skiing in the Midwest and using the Skinnyski website.
Skinnyski Photos
February 5, 2009
Found a photo you'd like to get a copy of? Looking for images from a past event? Find out how to dig through our archives and help support the web site by purchasing photographs.

Web Roundup
September 16, 2019
Ski Tour 2020 - FIS has a new race series this winter in Scandinavia, focusing on sustainable and environmental friendly aspects.
SuperTour - The 2019-2020 SuperTour schedule has been published with a number of Midwest stops this season!
Kern - US Ski and Snowboard highlighted the recovery of Julia Kern from an injury last season, along with talk with Jessie Diggins on training in New Zealand.
Tara - Out There supported Nordic combiner Tara Geraghty-Moats has a feature profile on the new Out There website.
Brotherly Paths - NY Times looks at three Norwegian brothers that followed different training paths to success.
Rossi - A look at the 110 year history of Rossignol skis.
Rocky Mess - MPR featured the surprisingly controversial topic of cairns (piles of stones).
Growing Younger? - New studies indicate it may be possible to reverse some of the effects of aging.
74 Ultra Winner - A 74-year-old man wins at 230 mile ultra effort in Florida.

Chequamegon Results
September 15, 2019
Featuring a number of changes, including a new finish, the Chequamegon Fat Tire Festival saw over 2,250 competitors on the trails Saturday. In the new pro/elite race (held separate from the main event), pro cyclist Alexey Vermeulen took the victory, more than two minutes ahead of Brian Matter with Jorden Wakeley third. Taking the pro/elite women's title was multi-time champion Jenna Rinehart with Leia Schneeberger second, Sara Kylander-Johnson third. In the "regular" Cheq 40, Josh Molnar and Tracy Paradise topped the field. The Short and Fat race came down to a tight four way sprint with Braeden Anderson taking the win. Zoe Camp easily topped the women's field, winning by over four minutes. Watch for a full report from Jay Richards later this week.
Related:
Results: Chequamegon Results

Bangin In The Brush Results
September 15, 2019
Jakob Wartman and Sarah Grenberg collected victories in the annual Bangin in the Brush trail running race at Korkki Nordic on Saturday.
Related:
Results: Bangin In The Brush Results
Midwest Coaches Sought for Spring Trips
August 27, 2019
Coaching and support positions have been posted for the spring junior trips including Junior Nationals, U16 Championships and U18 Trip. Applications are due by Oct 1st.
Endurance United 55K Rollerski Event Set for Sep 22nd
September 10, 2019
Endurance United's epic fall training rollerski event, 55K from Desnoyer Park to downtown Stillwater is scheduled for Sunday, Sept 22nd. The route connects some of the best trails in the metro, with a great gentle downhill grade to the finish. Reserve your spot now and help support EU's junior scholarship fund.
Midwest MTB Report: Chequamegon Preview
September 10, 2019
This week's Midwest MTB report,by Jay Richards, includes highlights from the World Cup final including a first hand recap from Caleb Swartz, a preview of the favorites for the Chequamegon 40, forest road riding in the White Earth State forest in NW Minnesota, excitement for Mpls World Cup ski races and a look ahead to some sweet grass roots events this fall.
Web Roundup
September 9, 2019
Diggins NZ - Jessie Diggins sweeps the podium in New Zealand's wintergamez competition at Snow Farm.
NTG Part 2 - Mara McCollor reports on the second half of the National Training Group camp in Utah for NNF.
Dauwalter Wins Again - Former state champ Courtney Dauwalter collects another epic ultramarathon title.
Euro Snow - Snow in Europe already this season is allowing at least one ski resort to open this weekend.
Wax Doping - Business Insider looks into the "addiction" of fluoro waxes and the tightening of usage rules.
Debunking - MinnPost highlights recent research debunking many myths related to exercise.
Nuke It? - NOAA's hurricane research center has the answer to why we don't try to nuke hurricanes.
SUP Hawaii - Stand Up Paddleboarder completes journey from California to Hawaii.
Shoes Off - NY Times looks into the science behind taking your shoes off when you enter your home.
SHT Record - Just months after the last record was set, a La Crosse native sets a new record for Superior Hiking Trail supported run.
Brutal Winter - The Old Farmers Almanac is calling for a long than normal winter season (perhaps perfect for the Mpls World Cup!).
Cross Country National Coaches Symposium and Regional Clinics
September 9, 2019
U.S. Ski & Snowboard is hosting its biennial Cross Country National Coaches' Symposium in Minneapolis, Sep 27-29th. The focus this year is on Junior and Youth Development. Presenters of the highest caliber will be participating, including Brit Baldishol – Development Manager for the Norwegian Ski Federation. Note: it is not mandatory to be a Level 100 or Level 200 certified coach to attend.
Related:
CXC: Masters Camp Sept 20-22 Ski with Bill Pierce
Ski Hut: MTB Bike Demos Saturday at Spirit
September 5, 2019
Ski Hut will be featuring bike demos of Santa Cruz and Juliana bikes at the base of Spirit Mountain this Saturday, 10-4.
Pioneer Midwest: European Ski Picking Recap
September 4, 2019
Catch a number of Facebook videos from Matt Liebsch featuring severals stops in Europe during his summer ski selection trip.
LNR Fall Training Groups Kickoff Starting this Week
September 4, 2019
LNR has a variety of fall training groups kicking off the first week of September. Fall is the time to get the body in shape for winter with sport specific technique, strength and fitness. Find the right group for you from locations on West River Road, Hyland and the Trailhead with dryland, rollerskiing, and strength training programs.
Finn Sisu: CXC Coaches Clinic Sep 14th
September 4, 2019
Finn Sisu is hosting CXC Coaches clinics on Saturday, September 14th. Coaches can work toward their level 100 or 200 certification or complete their continuing education requirements.
Related:
Finn Sisu: Vakava Masters Fall/Winter Training Program Kicks off on October 3rd
Midwest MTB Report
September 3, 2019
Pulling double-duty this week, Jay Richards hosted the Laddies Loppet at Maplelag last weekend and then turned around for a full recap for the Midwest MTB report this week, along with updates on the Copper Harbor Fest, Dakota 5-0, World Championships, some e-bike news, and brief update on Chequamegon.