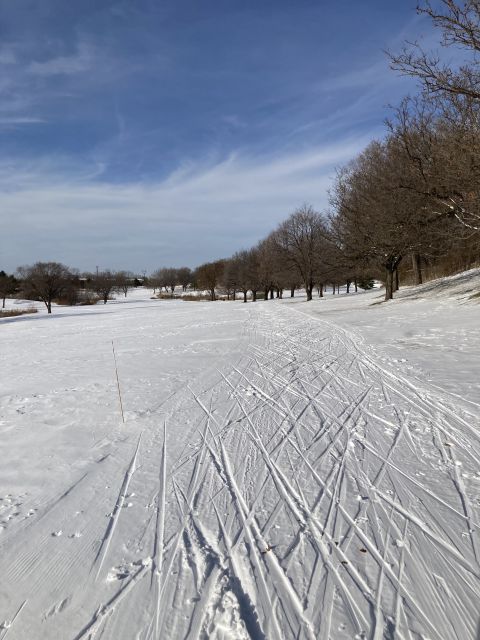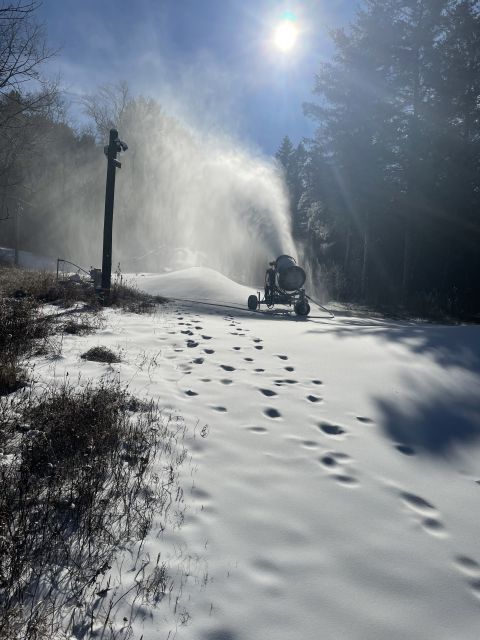 December 1, 2022
With recent snowfall, there should be some good to excellent early season skiing available -- get out and explore this weekend! New reports from Columbia GC
2
, Fort Snelling SP, Birkie
4
, Red Cedar River, Baker
2
, Hiawatha GC
2
, Hyland Lake
3
, Snowflake
3
, Pine Point
2
, After Hours
3
, Copper Falls SP, Cedarholm GC, ABR
2
, Kamview, Hartley, Balsam Branch, Rice Creek - Irondale Unit, Willow River SP, Mt. Ashwabay, Lapham Peak, George Washington Pines, Highland 9-hole GC, Wolverine, Carver, Elm Creek
2
, Hayward Forest, Vadnais/Sucker Lakes, Univ of Minnesota GC, William O'Brien SP, Jackson Meadow, Phalen GC, Lake Elmo, Ashland, Battle Creek West and recent reports from Miners Memorial Heritage, Barron Association, Battle Creek West
3
, Theodore Wirth North
3
, ABR
3
, Hiawatha GC
3
, Hyland Lake
6
, Spooner City, After Hours
2
, Mecca, Columbia GC
2
, Pincushion Mtn, North End, Willow River SP
2
, Balsam Branch, Pine Point, Lake Elmo
2
, Murphy-Hanrehan
2
, French
4
, Theodore Wirth South
4
, Como GC
2
, Essex, Cedarholm GC, Quarry Hill, Highland 9-hole GC
3
, Maplelag, St. Croix Bluffs, Cottage Grove Ravine, Lebanon Hills, Jackson Meadow, Cleary Lake, Woodland, Birkie, Lake of the Isles Pathway, Elm Creek.
December 1, 2022
Visit Cook County invites cross country skiers and winter enthusiasts to head north for a peaceful and fun holiday ski vacation. They had over a foot of early-season snowfall to kick off the 2022-2023 cross country ski season, and are grooming trails as conditions allow. Check out their list of fun winter activities.
New

World Cup Racing: Lillehammer Schedule

November 30, 2022

All eyes are on Lillehammer, Norway this weekend for the second stop of the 2022/2023 World Cup season. The action kicks off on Friday at 4 am CST with the womens field leading out an interval-start 10K freestyle race, followed by the men tackling the same distance at 5:45 am CST. Saturday will then see athletes switch over to freestyle sprints, with qualifying starting at 2:30 am CST, and the heats getting underway around 5 am CST. And finally, a mass-start 20K classic race will close out the weekend on Sunday, with the women competing at 3:45am CST, and the men at 6am CST.
November 30, 2022
Scoring the first meet of the season (and in November!), the Twin Cities Nordic Ski Conference held a 4K freestyle time trial at Elm Creek on Wednesday. St. Paul Highland Park dominated the event with Hanna Koch and Davis Isom topping the fields.
November 29, 2022
Out There is inviting all interested to their open house, this weekend, at their newly remodeled shop. There will be discounts on clothing, wax, equipment, and more, and the Englewood Bakeshop will be there as pop-up on Sunday. If that's not reason enough to stop by, yesterday's winter storm brought plenty of new snow to the area that may just warrant a trip.
November 29, 2022
The National Nordic Foundation expresses it's gratitude to the entire Nordic community for helping reach their fundraising targets in the Drive for 25 campaign. All totaled, over $300K was generated!
November 27, 2022
20K freestyle pursuit races on Sunday capped off the opening weekend of World Cup racing in Ruka, Finland. In a return to form, Frida Karlsson of Sweden broke away from teammate Ebba Anderson late in the women's race to reverse their finishing order from the previous day. Meanwhile, the men's race saw Norway's Johannes Hoesflot Klaebo complete his weekend sweep, comfortably sprinting away from the lead pack on the final climb. American standouts included Rosie Brennan in 6th and Jessie Diggins in 10th of the women's contingent, and Scott Patterson finishing 14th for the men after moving up 37 positions. The second weekend of the World Cup will take place in Lillehammer, Norway, beginning with freestyle distance racing on Friday.
November 27, 2022
Superior Performance Endurance Coaching, founded by Jason Kask, is taking on new athletes this winter. Kask has worked with all skill levels, from Olympic athletes to those hoping to finish their first Birkie, developing personalized training plans that work.
November 26, 2022
Marshall School's annual Holiday Ski Camp is exactly one month out from today, taking place Dec 27-29. An excellent chance for kids to receive some individualized coaching, the camp is open to children ages 5-12. Registration covers three full afternoons of learning and fun, plus rental equipment, snacks, and more!
November 26, 2022
The opening weekend of the World Cup continued in Ruka, Finland on Saturday with 10K classic races for both the men and the women. Sweden continued to headline the women's results with Ebba Anderson posting the fastest time of the field, while Norway's Johannes Hoesflot Klaebo claimed another decisive victory in the men's race, his career 50th. Crossing the line in 7th, Rosie Brennan had the best result among the US women, while Ben Ogden was the highest finisher among the US men in 28th. Midwesterners Jessie Diggins and Zac Ketterson put in strong performances as well, finishing 21st and 31st respectively. The final day of competition in Ruka will feature freestyle distance racing in a pursuit-start format.
November 25, 2022
With temperatures hovering in the teens, the 2022/2023 World Cup season officially got underway in Ruka, Finland on Friday with classic sprints. For the US, JC Schoomaker and Ben Ogden, and Julia Kern and Jessie Diggins led the way in qualifying, making the heats. Kern would be the only one to advance out of the quarterfinals, finishing 11th on the day. Sweden's Emma Ribom would go on to win the women's final, a career first, while Johannes Hoesflot Klaebo of Norway continued to show no sign of slowing down, taking it for the men. The opening weekend of the World Cup continues tomorrow with classic distance racing.