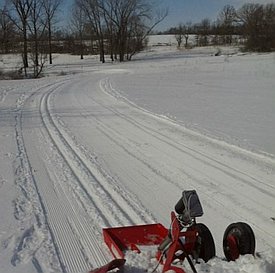 Chester Woods Park, February 26, 2018 (Photo: Celeste Lewis)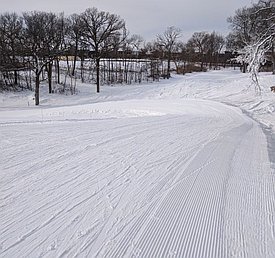 New downhill on the Theodore Wirth snowmaking loop, December 18, 2017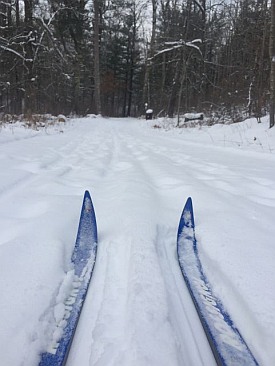 Hiram ski trail, December 28, 2017 (Photo: Earl Stabenow)
Avoiding the Crowds
December 20, 2011
While most Twin Cities ski trails will be crowded this season, we offer some general tips on how to avoiding dense populations.
Cross-Country Ski Rentals
January 11, 2010
Looking for cross-country ski rentals? We've put together a collection of links, both in the Twin Cities and around the region.
Trail/Park Fees
December 8, 2005
A rough breakdown on passes/fees you'll need for skiing at parks and trail systems in the upper Midwest.
Under the Lights
December 1, 2000
A review of some of the lighted ski trails in the area.
Ramsey County Parks Master Plan for Rice Creek North
November 11, 2018
Ramsey County Parks & Recreation will amend the 2013 Rice Creek North Regional Trail Master Plan this year. Part of the new plan includes a number of options for ski trails in the north metro. The public is encouraged to view details and comment on the plans in a meeting scheduled for Dec 8th in Mouns View (or view and comment online).
Minnesota Nordic Ski Opener Set for Dec 8th
November 10, 2018
Three Rivers Park District will again host the Minnesota Nordic Ski Opener on Saturday, December 8th, at Elm Creek Park Reserve which has a 2.5K manufactured snow loop. With free skiing, free rentals and free mini-lessons, and even a mascot race!
Lapham Peak Expands Snowmaking Operations
November 2, 2018
The Friends of Lapham Peak have reached an agreement with the Wisconsin DNR to increase the length of cross country ski trails covered with manmade snow by nearly 3/4 of a kilometer, eventually bringing the snowmaking loop to 2.4K.
Chequamegon-Nicolet National Forest Recreation Planning
October 26, 2018
The Chequamegon-Nicolet National Forest is soliciting feedback from the public on our recreation facilities such as campgrounds and trails (such as Drummond and Rock Lake ski trails). Comments can be made online or via open house meetings for the public scheduled in the weeks ahead.
Blue Hills Banquet Set for Nov 3rd
October 20, 2018
The Blue Hills Trail Association is hosting their 30th annual fundraising banquet on Saturday, Nov 3rd in Rice Lake. This year's guest speaker is Richard Lett who as spent time working for the Queen of England and the Royal family, sailing solo and winning the Transatlantic Race. The evening includes a cash bar, a buffet meal, two major raffles, plus thousands of dollars in prizes offered as many silent auction items. Reservation are required, book online.
Saving Snow Film Showing in Mora on Oct 29th
October 7, 2018
A film that looks at the economic impact of warmer and shorter winters with less snow will be shown on Monday evening, Oct 29th at the Vasaloppet Nordic Ski Center in Mora. The film focuses on the Nordic and Alpine skiing, snowmobiling, sled dog and ice fishing industries. In addition, Dr. Mark Seeley, retired University of Minnesota Climatologist/Meteorologist will be present to share his comments on the film and his analysis of snow, temperature and weather event trends over time.
Ribbon Cutting Ceremony for Trailhead Building
July 17, 2018
The Loppet Foundation and the Minneapolis Park Board celebrated the new Trailhead building with a ribbon cutting event for the media on Tuesday morning at Theodore Wirth. There will be a grand opening event for the general public schedule for later this summer.
Related:
Photoset:

33 photos