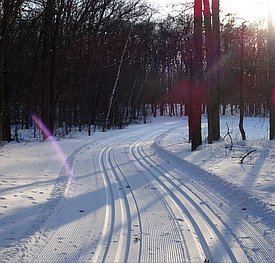 Wild River State Park, April 5, 2018 (Photo: Kris Backlund)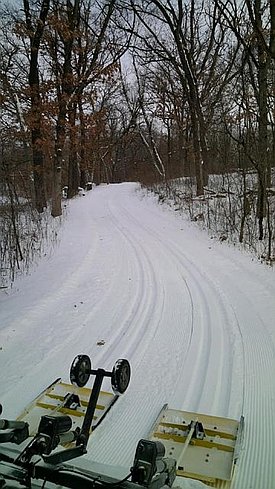 Lebanon Hills, January 15, 2018 (Photo: Dakota County Parks)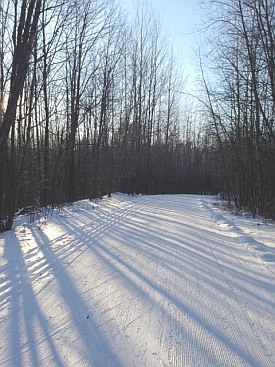 Blue Hills, December 24, 2017 (Photo: Tom Paulsen)
Avoiding the Crowds
December 20, 2011
While most Twin Cities ski trails will be crowded this season, we offer some general tips on how to avoiding dense populations.
Cross-Country Ski Rentals
January 11, 2010
Looking for cross-country ski rentals? We've put together a collection of links, both in the Twin Cities and around the region.
Trail/Park Fees
December 8, 2005
A rough breakdown on passes/fees you'll need for skiing at parks and trail systems in the upper Midwest.
Under the Lights
December 1, 2000
A review of some of the lighted ski trails in the area.
Come out for Jessie Diggins, Battle Creek Winter Rec at the Minnesota Capitol Thursday
April 10, 2018
Jessie Diggins will be recognized for her skiing accomplishments at the State Capitol on Thursday afternoon, and the skiing community is pressing for funding for the Battle Creek Winter Recreation area. Please come our Thursday afternoon and show your support!
Saving Snow Movie Screening in St. Cloud
March 20, 2018
The Nordic Ski Club of Central Minnesota and the Citizens Climate Lobby (bi-partisian group working for climate solutions) are hosting this screening of "Saving Snow", a documentary on how ski towns are dealing with warmer winters and a discussion on what people can do to minimize snow loss. The screening will be Tuesday evening, Apr 3rd at the St. Cloud Public Library.
ABR: Taste of the Trails Event this Saturday
March 1, 2018
Hit the great conditions at ABR, and sample the local cuisine trail side! A half dozen local restaurants and breweries will be there Saturday, noon to 2 pm.
Cook County: Perfect Conditions
February 28, 2018
The cross-country ski season is still going strong in Cook County -- make your plans for wonderful cross-country skiing weekends with excellent trail conditions well into April. And check out their list of featured events in March!
Tour Duluth Set for This Saturday
February 27, 2018
Duluth hosts their annual trails day, Tour Duluth, this Saturday. This year they have a number of events scheduled, including a Nordic X, medallion hunt, kids ski, and equipment demos. The day wraps up with a dinner at Marshall School.
Cook County: Fresh Snow, Top 5
February 22, 2018
Cook County is heralding great snow conditions with over a foot of new snow and reporting excellent conditions on the Gunflint Trail system. Check out their top 5 reasons for visiting this winter!
Cook County: Candlelight and Ski Festivals This Weekend
February 14, 2018
Visit Cook County is excited to share multiple fun-filled cross country ski events for President's day weekend, February 16-18th. On Saturday enjoy the Sugarbush Candlelit Ski and Snowshoe event along the Sugarbush Trail, Sunday check out the Pincushion Mountain Family Ski Festival in Grand Marais.
Cook County: Over 400K of Trail, Upcoming Events
February 9, 2018
Visit Cook County invites all levels of cross country skiers to enjoy over 400km of trails throughout Cook County, Minnesota. And coming up in February, Hygge Week with a twilight cross-country ski and additional candlelight skiing events.
ABR: Windy Ridge Opening this Saturday
December 14, 2017
Ken Hazel will be leading a group ski at ABR this Saturday morning to explore the new Windy Ridge trail segment, one of the more technical trails, and marks the final 75K of trail to be opened up this season at ABR in race condition.
City of Superior: Comprehensive Outdoor Recreation Plan
December 3, 2017
The City of Superior will host a public input session on Wednesday evening, Dec 6th at the Billings Park Civic Center, close to the Superior Municipal Forest ski trails. Skiers and other silent sports advocates are encouraged to turn out and voice their opinion. Note: New times, startng at 6:30 pm.
Loppet: Winter Offerings 2017-18
November 28, 2017
The Loppet Foundation and Minneapolis Park and Rec Board have announced a number of changes in operation this season, mostly brought on by the Trailhead construction. Find details on ski passes, rentals, and sledding for the upcoming season.
Wisconsin DNR Silent Sport Input Sought
November 28, 2017
The Wisconsin DNR is completing a Recreation Opportunities Analysis of existing outdoor based recreation and future recreation needs in the final two areas of the state: the Southern Gateways and the Lower Lake Michigan regions. If you have used any parks or recreational regions, your input would be greatly appreciated. Open house meetings scheduled for the first two weeks in December or take the online survey.