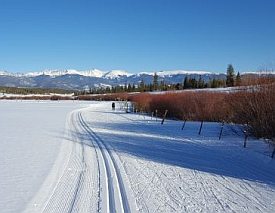 Snow Mountain Ranch, December 16, 2018 (Photo: Ken Kunzia)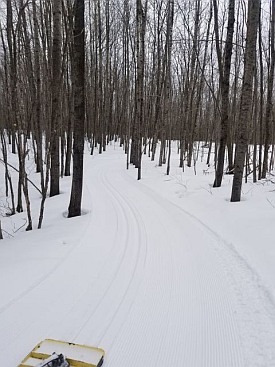 After Hours ski trail, April 3, 2018 (Photo: Matthew Leischer)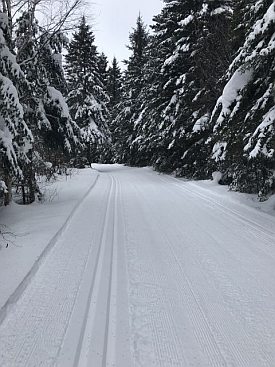 Fresh snow, fresh grooming, Sugarbush, January 8, 2019 (Photo: Greg Fangel)
Avoiding the Crowds
December 20, 2011
While most Twin Cities ski trails will be crowded this season, we offer some general tips on how to avoiding dense populations.
Cross-Country Ski Rentals
January 11, 2010
Looking for cross-country ski rentals? We've put together a collection of links, both in the Twin Cities and around the region.
Trail/Park Fees
December 8, 2005
A rough breakdown on passes/fees you'll need for skiing at parks and trail systems in the upper Midwest.
Under the Lights
December 1, 2000
A review of some of the lighted ski trails in the area.
Cook County Deep in Snow
February 18, 2019
The North Shore and Gunflint Trail received an abundance of early snow with totals to date an average of 50 percent greater than previous years. Cook County boasts eight ski trail systems in the area that are meticulously maintained and groomed for both classic and skate skiing.
Out There: Birkie Race Service Nearly Full
January 28, 2019
Out There ski shop in Rice Lake is reporting they have a very limited number of openings left for Birkie Race Wax service. Act quickly if you want to get in on their professional services.
Loppet Opens Snowmaking Trails for Limited Fat Biking
January 17, 2019
The Loppet Foundation has started a limited pilot project allowing fat bikers to ride on the snowmaking trails on Friday, Saturday, and Sunday evenings when the trails are open.
North Star Ski Touring Club Seeks Applications for Grant Fund Projects
January 17, 2019
The North Star Ski Touring Club (NSSTC) is seeking grant applications from the North Star Grant Fund. Grant application deadline is March 31st.
Hoigaards: Pre-Rennet Wax Clinic
January 13, 2019
Hoigaards invites you to spend Tuesday evening, Jan 15th, with Fast Wax and learn the secrets of Nordic glide waxing. Casey Kirt from Fast Wax will be at Hoigaard's to discuss and demonstrate what you can do to ski faster. Topics will include selecting the right ski wax, how to apply it, and a look forward to the Ski Rennet wax recommendation.
Sugarbush Trail System Fundraising Campaign
January 13, 2019
Sugarbush Trail Association has started a fundraising drive to obtain funds to help purchase a lease-return Pisten Bully. The new machine will be better equipped to handle both low and high volume snowfalls.
ABR Grooming Clinic Set for Jan 23-24
January 10, 2019
ABR's Annual Midwest Grooming Clinic and Expo will be Jan 24-25. The first day is a free expo and show day, the second day is fee-based grooming clinic and seminars.
Winter Woes
January 9, 2019
Mark Lahtinen looks into winter data, comparing this season to other El Nino years.
Cook County Winter Wonderland
December 30, 2018
Cook County, located along the scenic Northshore, is reporting great conditions and ready for your winter adventure with a number of great events this season.
Rochester Snowmaking Project Fundraiser
December 20, 2018
The Rochester community has been working long-term on a major trail development project, including snowmaking operations, at Gamehaven. They recently received State Legacy funding to get the project started but need the skiing community's help to implement the first phase of snowmaking for next season.
The Great Minnesota Ski Pass
December 20, 2018
If you plan to ski in any of the Minnesota State Parks, state forests or grant-in-aid trails, this winter, you'll need to have a Minnesota Ski Pass. Passes can be purchased online or at a large number of locations.
Ramsey County Parks Master Plan for Rice Creek North
November 11, 2018
Ramsey County Parks & Recreation will amend the 2013 Rice Creek North Regional Trail Master Plan this year. Part of the new plan includes a number of options for ski trails in the north metro. The public is encouraged to view details and comment on the plans in a meeting scheduled for Thursday, Dec 6th in Mounds View (or view and comment online).
Minnesota Nordic Ski Opener Set for Dec 8th
November 10, 2018
Three Rivers Park District will again host the Minnesota Nordic Ski Opener on Saturday, December 8th, at Elm Creek Park Reserve which has a 2.5K manufactured snow loop. With free skiing, free rentals and free mini-lessons, and even a mascot race!
Lapham Peak Expands Snowmaking Operations
November 2, 2018
The Friends of Lapham Peak have reached an agreement with the Wisconsin DNR to increase the length of cross country ski trails covered with manmade snow by nearly 3/4 of a kilometer, eventually bringing the snowmaking loop to 2.4K.
Chequamegon-Nicolet National Forest Recreation Planning
October 26, 2018
The Chequamegon-Nicolet National Forest is soliciting feedback from the public on our recreation facilities such as campgrounds and trails (such as Drummond and Rock Lake ski trails). Comments can be made online or via open house meetings for the public scheduled in the weeks ahead.
Blue Hills Banquet Set for Nov 3rd
October 20, 2018
The Blue Hills Trail Association is hosting their 30th annual fundraising banquet on Saturday, Nov 3rd in Rice Lake. This year's guest speaker is Richard Lett who as spent time working for the Queen of England and the Royal family, sailing solo and winning the Transatlantic Race. The evening includes a cash bar, a buffet meal, two major raffles, plus thousands of dollars in prizes offered as many silent auction items. Reservation are required, book online.
Saving Snow Film Showing in Mora on Oct 29th
October 7, 2018
A film that looks at the economic impact of warmer and shorter winters with less snow will be shown on Monday evening, Oct 29th at the Vasaloppet Nordic Ski Center in Mora. The film focuses on the Nordic and Alpine skiing, snowmobiling, sled dog and ice fishing industries. In addition, Dr. Mark Seeley, retired University of Minnesota Climatologist/Meteorologist will be present to share his comments on the film and his analysis of snow, temperature and weather event trends over time.