Under the Lights
December 15, 2000

With sunsets by 5 pm during the winter, if you're like most working people, it means that your daylight skiing time is restricted to weekends. However, in the last five years, an incredible transformation has been occurring on trails throughout the area: lights for night skiing!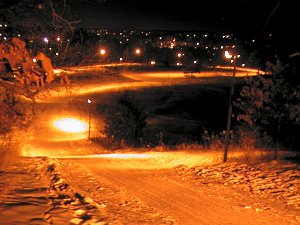 Battle Creek - Winthrop Site
Getting out onto a well-lit ski trail is one of the most pleasurable additions to cross-country skiing in recent years. There is something truly magical about that first winter night ski. The trails are lit clear enough to see easily, yet the darkness filters out the distant surroundings, giving you a feeling of peace and solitude. The noise seems to be cut down and all you hear is the falling snow and your skis gliding. Time almost seems to stand still (no pressures to get in a quick ski before work).
If you haven't tried skiing under the lights yet, search out a local lighted trail and experience the unique pleasure of skiing under the lights.
A number of trails are either in-progress or have recently completed lighted sections:
Cleary Lake Park Reserve (Savage, MN)
Has roughly 5K of lighted trail (added in 2000).
Tower Ridge (Eau Claire, WI)
Adding 3K of lights to their trails in 2000.
Pincushion (Grand Marais, MN)
Recently completed the addition of 1.6K of low watt lamps for night skiing several nights a week.
Quarry Park (St. Cloud, MN)
The Nordic Ski Club of Central Minnesota helped sponsor the addition of lights to some of the trail system this fall.
City of Hibbing (Hibbing, MN)
The Range Nordic Gliders helped put together a project to light roughly two miles of trail system.
Minnesota Power (Cohasset, MN)
About 3.6 K of lighted trail, lit from dusk until 10 pm. Relatively level, tracked, nicely wooded trail with a new warming shack.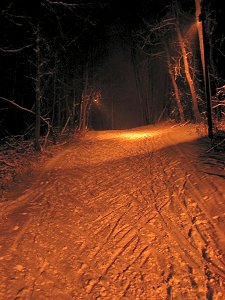 Elm Creek Park Reserve
Some of the existing lit ski trails include:
Snowflake Nordic Ski Center (Duluth, MN)
6K lighted for night skiing.
French Regional Park (Plymouth, MN)
One of the first in the metro area, 6K of lighted trails. Trails also lit in the pre-dawn (5 am til dawn).
Elm Creek Park Reserve (Osseo, MN)
5K of lighted trails.
Hyland Lake Regional Park (Bloomington, MN)
One of the newest in the metro area, 4K of lighted trails. Trails also lit in the pre-dawn (5 am til dawn).
Battle Creek - Winthrop Site (St. Paul, MN)
5K of lighted trails over rolling terrain.
Lester Park (Duluth, MN)
5K loop, lit in the evenings and also in the pre-dawn hours.
Iola Winter Sports Club (Iola, WI)
3.5K of lit trails, with possibly more on the way?
Timberland Hills West (Cumberland, WI)
2.5K lighted trails.
Nine Mile Forest (Wausau, WI)
Last year added roughly 6K of lights to the trail system. Development was driven by the Wausau Nordic Ski Club.
Birkie Trail (Seeley Hills, WI)
Lighted sections for night-time skiing are located at "00" and Fish Hatchery.
Paul Bunyan Arboretum (Brainerd, MN)
Portions of the 16K loop are lit.
Gunflint Trail (Grand Marais, MN)
Some sections of the Central and Upper Trail are lit, including 1.5K from Bearskin Lodge.
Giants Ridge (Biwabik, MN)
3K of lit trails.
Legion Trails (Grand Rapids, MN)
A 3.5K lit trail behind Grand Rapids High School.
Lapham Peak (Delafield, WI)
Roughly 4K of lighted trails.
New entries since the original article was released
Two Harbors (Two Harbors, MN)
3K lighted loop. Trail lights are on 4'-5' poles nicely illuminating trail without completely blocking out the night sky.
Ladysmith High School (Ladysmith, WI)
There is a 1.4 K lighted trail at Ladysmith High School on US Highway 8 at the east end of Ladysmith, WI.
Minocqua Winter Park (Minoqcua, WI)
2K of lighted trail.
Schlect Lake (Minoqcua, WI)
2K of lighted trail.
Elver Park (Madison, WI)
Roughly 4K of lighted trails. Lights are on from dusk until 10:30 pm.
Como Park (St. Paul, MN)
Back "Glacier" area has about 1/2K of lights (not very good lighting).
Blueberry Ridge (Sands, MI)
2.7K of lighted trails.
Montebello Ski Trail (Bemidji, MN)
3.5K of lighted trails. Open until 10 pm.
Pine Valley Ski Trail (Cloquet, MN)
2K of lighted trails. Lights are on at 4:30 pm and off at 9:30 pm.
Theodore Wirth (Minneapolis, MN)
Has around 2.5K of lighted trails up top with the snowmaking loop.
Balsam Branch (Amery, WI)
Added roughly 4K of lights in 2010.
Lake Elmo Park (Lake Elmo, MN)
Added roughly 8K of lighted trail in 2011.
Barron Area Nordic Trails (Barron, WI)
Lit 3.3K of trail in fall of 2011.
St. Mary's University (Winona, MN)
About 2K of lighted trails.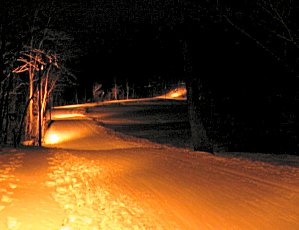 Hyland Lake Park Reserve
Candlelight Skiing
There are frequently candlelight skiing events on weekend evenings around the region.