2001-2002 Racing Season Preview
October 31, 2001
With the first major snowfall already on the books, it appears we are headed for another great season this year!
Last Season Recap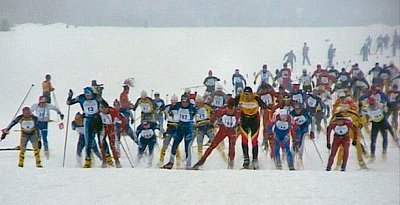 Last year marked one of the best skiing season's in recent history. Snow from mid-November through April, with no major meltdowns in between and relatively short cold snaps, gave ample opportunity for everyone to log lots of K's on the ski trails. The year before, the lack of snow had cancelled all but one race in both December and March, as well as first-ever cancellations for the Minnesota Finlandia and American Birkebeiner. Last season, only one race, the Superior Ski Classic, was cancelled due to a lack of snow.
New Races
With the wild success of last season, a number of new races have popped up on the calendar this year. Arguably one of the biggest is the Ski Games at Battle Creek. This new event, held in late January, brings together many of the faces behind the 2000 National Masters to establish a more permanent large scale racing event in the Twin Cities. This year's inaugural event will feature two days of racing, along with a number of fun events.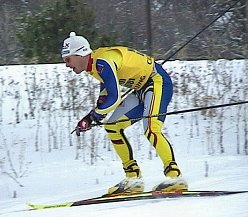 The Nor/Am's return to the region again this season, this time held on the Telemark Resort trail system in mid-December. Top national skiers from the U.S. and Canada will compete, with some vying for Olympic Team spots! North of the border, the CanAm Continental Cup in Thunder Bay at Lapple Nordic Ski Center will host many of the same top athletes the weekend prior to Telemark. The CanAm event features a unique ski duathlon event, where skiers will ski half the race classic, then quickly switch to skating for the second half of the race.
Looking for that perfect Christmas present? Giants Ridge is hoping you'll consider the Giants Ridge Christmas Classic: two days of racing on December 22nd and 23rd. 10 and 20K events both days, with classic on Saturday and skating on Sunday.
Rest In Peace
While there are a number of new races for this season, there are sadly a number of races that "passed away" as well. Gone from the calendar for this season: Koobi Minnesota Cup (Hutchinson, MN), Log Jam (Phillips, WI), Hodag Ski Chase (Rhinelander, WI), Woodlands Loppet (Elk River, MN), and River Cities Ski Challenge (Wisconsin Rapids, WI).

We'd like to especially note the passing of the Twin Cities Championships. The Mpls Ski Club held this two-day format race series in early January for years, and it usually drew a very competitive field. In recent years, it had struggled with a lack of snow (moving to Giants Ridge on at least one occasion), and last year was rolled into the Nor/Ams for one final hurrah.
Other Highlights
Some other highlights from this season's calendar:
Twin Ports Championships jumps up to mid-January to pair with the Erik Jundeen Classic.
A traditional early season (mid-January) marathon, the Superior Ski Classic, has moved to the weekend before the Birkie.
The third weekend in January, the 19th in particular, remains popular again this season. There are no less than eight races on that day, including the powerhouse match up of Seeley Hills vs. Pepsi Challenge.
No word yet on whether any Iowa races will be restarted after last year's absence.
Race Calendars
Without further ado, we present the 2001-2002 racing calendar...


Once again this season, we'd like to acknowledge the excellent publication, Silent Sports. Editor Greg Marr readily exchanged information with us throughout the summer and fall as the director's calendar materialized.
This upper Midwest publication should be in every skier's mailbox!
-- Ed.
---
Related links