Lappe Nordic 24 hour Relay Race Report
by Dave Nelson
April 2, 2001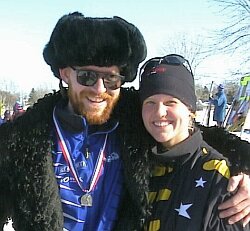 Dave and Josie Nelson at the NorAm
Twin Cities Championships, January 2001

Lappe Nordic 24 hour relay race was a perfect way to wrap up our ski season! The Lappe Nordic center comes alive every spring for this 24 hour ski relay. This event is more than a grueling ski challenge, it is also an event that celebrates cross country skiing and the people that make it great! The race is held at Lappe Nordic center, a true gem in the nordic ski community. Their technical trails, great grooming, plentiful snow, ski stadium and cool clubhouse are only part of the equation. The clubhouse including sauna, wax rooms, ski memorabilia and more were created from a love of nordic skiing that shows itself in all its members.

This year was our second trip to the 24 hour relay since our first time in 1999. The race has few rules and is only competitive in terms of bragging rights. There were 21 teams entered this year, with 3 from the US. Basically 1-12 person teams are legal and hand offs must only be made at the end of the 4.325km lap. Although we ski very hard through the night, our first reason for making the trip has always been to end the ski season with a ton of fun skiing! In 1999 we brought 3 teams, a 2 person Team Tabor, a 4 person mixed team "Night Danger" and a 5 person mixed team "Pressed Ham". This year we came with one team, "Pressed Ham III", consisting of Andy Bach, Sam Clay, Grant Nelson and David Nelson. (Those that missed it from the 1999 year all plan to race it again in the future but had schedule problems this year) Although the snow conditions were great both in 1999 and 2001, this year the conditions were slower in the night and faster in the day with temperatures in the upper 20s to mid 30s. The snow base had to have been at least 2 feet. We quickly rejuvenated old friendships with our Canadian friends. Reijo Puiras(Lappes famed owner) especially made us feel welcome stopping to chat with us at all hours of the night and graciously offering our team a heated trailer to rest our race weary bodies.

Highlights from this years race included watching Werner Schwar, "the diesel" go solo for 315km. Werner skated for the first half and then switched to classical for the last half. On his last laps classical I could not believe how strong and powerful he was still skiing. Watching and skiing with the skiers from the Excel/ Peltonen team 492km, The Male Moose Caboose team 472km and NTDC(National Team Development Center) 461km was equally impressive. The Lappe Jackrabbits was a team made up of junior skiers who I would guess were under age 12. They skied 264km!!! There were even skiers as young as 5 years old! The other US teams were a solo, Pete Anderson 99km and a four person team named White Bear Lake, 353km. Our team, Pressed Ham III, skied 100 laps 432km. We used all kinds of crazy strategies, skiing short legs(15-30min), then long legs(1-1.5 hours) and then short legs. But in the end we were very tired, very happy to be done and still crazy about cross country skiing!!!
---
Related links