Olympic Journal: Bill and Nancy Bauer
February 12, 2002
By William and Nancy Bauer
Nancy: What a rush. We can't remember a more successful day for men's cross country. It was incredible to hear all the enthusiastic response from the fans here. We are having the time of our lives and the weather and people have been fantastic.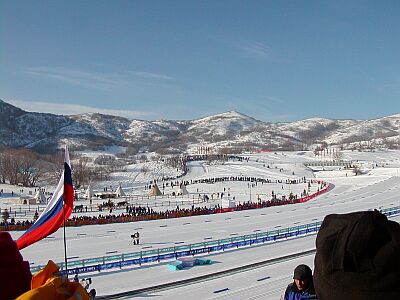 View from the stadium bleachers at Soldier Hollow

Bill: Oh my gosh. What an exciting day for all North American cross country ski racers. First came Beckie Scott's amazing 6th place finish in the women's 10 km. She looked awesome from our vantage point in the stadium.

Second was the men's race. Sitting in the stadium bleachers, as we were, gave us the advantage of knowing each skier's time relative to the rest of the field at various checkpoints. Although John was bib 54 out of over 60 starters, the "big guns" as the announcer called them, were behind him. It was fun to see his high ranking before the top skiers passed each point. His place dropped from 4th to 15th, but what we did notice that at every checkpoint he advanced a little more and dropped less in rank. By the time it was over he held on to a 12th place finish, and one of the best finishes in a long, long time for the US. We haven't been able to contact him yet for his reaction, but you might guess what our reaction is! We hope he's handling the "press stress". Do you know how tired one can become from this emotional high? We can hardly wait for the Thursday Pursuit Races.
---