2003 Bicycle Racing Season Preview
By Ben Popp
April 29, 2003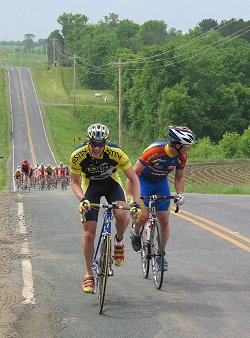 Leaders at the 2002 WISport Cascade Classic

As winter breaks and snow gives way to sun-filled afternoon rides, another road racing season is upon us in the Midwest. "Roadies" and cross-training skiers alike trade in their trainers and rollers for Sunday centuries, weekday training races, and early morning group rides -- the race season is under way. With a very active cycling community bolstered by numerous training groups, race teams, and countless local shops' support, Minnesota (Wisconsin and Iowa, too) is traditionally a hot bed for good road racing. Home to many top level amateurs and even a few pros, the Midwestern competition is as good as anywhere in the country (having just traveled from Texas -often thought of as a top region for road racing- the quality of racers and racing is no better-excluding Lance when present!)

Many skiers use cycling for cross-training during the summer. Cycling is a great way to build muscle strength and endurance during the summer and fall. Riding twice to even five times a week can be very beneficial. You need look no further than top American skier Carl Swenson to see the benefits of cycling. A top level mountain biker in the summer, Swenson over the past few years has dominated the US marathon scene, and in 2003, was an international force at the World Championships, placing 5th in the 50K freestyle race. Carl has repeatedly credited his cycling training and racing with his on-snow success. Enough said for cycling.

How and where to get in on the action:
Training groups
Almost any local shop has a night when a group gets together and rides-often with many different levels present. Stop by your local shop and get out and ride.
Race calendars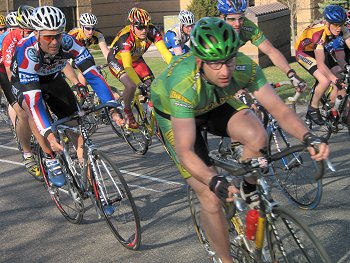 2003 Opus Criterium series riders
Early season Tuesday Crits at OPUS are well attended and fun-Race in your category or try on the 10 lap open race and get a taste of the best Minnesota has to offer.
May 23-26 Memorial Day weekend Tour of 10,000 Lakes - A great four-day event in the Twin Cities. Try your hand at stage racing.
June 7 Minnesota Time Trial Championships in St. Peter, MN.
June 12-15 The Great River Energy Bike Festival - The country's best riders will come to Minnesota to race a four-day stage race. Join in the road races and crits held all around the State with road races in Virginia and Winona, and criteriums in downtown Stillwater and Minneapolis.
June 28 Zumbro Road Race / Minnesota State Championships held in Zumbro Falls, MN.
July 12 Catfish 50 - A great family race held in Trempleau, WI.
July 11-27 Superweek - Held at several locations all over SoutheasternWisconsin.
August 2 Firehouse 50 - One of the longest running and most popular citizen races in the region.
Additionally WISPORT, billed as the cycling series for the normally obsessed, is one of the only citizen race series in the Midwest. Racing begins in late April and doesn't conclude until late September.
And there are plenty of great fall classic rides -- check the links below for dates and times as the events get closer.
The Favorites

Perrenial powerhouse teams Flanders and St. Paul Bicycling Racing Club (SPBRC) continue to dominate the Minnesota racing scene. A few of the top individuals include: Tim Mulrooney & Scott Flanders (MBRC/Flanders Bike Shop), Adam Bergman & Paul Ellis (St. Paul Bike Racing Club/Grand Performance),
Doug and Dan Swanson (Nature Valley/Penn Cycle), Aric Hareland (Orbea/MoEx).
About the author...

Ben Popp has been racing since his teens and last year combined with another rider to win the two-man team title in the Race Across America (RAAM). In the winter, he has raced to top Birkie finishes as part of the Skinnyski.com Racing Team. Popp's latest adventure is working for Bicycle Sports, a leader in cycling positioning, aerodynamics and new technology. Stop in and see him at their brand-new store in St. Paul at 1144 Grand Ave.
---
Related links