2003 Cascade Classic Race Report
By Ben Popp
June 9, 2003
A record field showed up for a rain threatened 2003 edition of the Cascade Classic in Osceola, Wisconsin on Saturday. The large field (130+) was unable to keep the race together as the winner came from a small group of escapees. What seemed like an ill fated escape with 25 miles still to go, the group containing neo-pro Adam Bergman (Jelly Belly), Jeremy Sertain (Grand Performance), and eventual winner Paul Ellis (Grand Performance) never came back. Pursued by a peleton that seemed a bit unwilling to chase whole heartedly, the group which never had more than a minute lead and withstood a last minute fury of attempts to bring the group back together, eventually winning by nearly a 1/2 minute.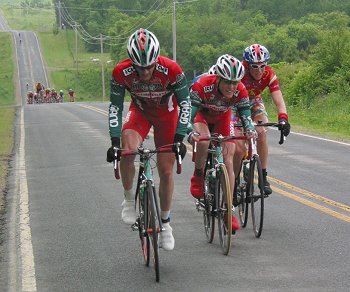 Leading breakway
The rolling hills of western Wisconsin quickly shrank the race field into a lead pack of 30-35 riders by mile 15. After repeated attacks and a large crash, a group of six went away around mile 15 powered by Sartain, Bergman and Ellis who quickly shed their three companions and worked well together, staying away to the end. With 3-4 high horsepower teams well represented in the main pack, as well as riders the caliber of Dewey Dickey present, it seemed as though the break would soon come back. However, the pack was never able to organize a solid chase effort. The three leaders rolled across the line with Ellis taking the victory. With no steps on the podium left, the bunch sprint wound up more than a 1,000 meters out, and combined with narrowing roads and a field unpleased about not being able to bring back the break, the dash to the line was a bit uneventful and not hotly contested with Tone Coughlin winning by a bike length.
Groups continued to flow in over the next hour and everyone seemed to have a great time. Yet another Wisport event went off with flying colors. A huge thanks to the race organizers, Osceola, I-timing, and of course all the volunteers -- great Race!
About the author...

Ben Popp has been racing since his teens and last year combined with another rider to win the two-man team title in the Race Across America (RAAM). In the winter, he has raced to top Birkie finishes as part of the Skinnyski.com Racing Team. Popp's latest adventure is working for Bicycle Sports, a leader in cycling positioning, aerodynamics and new technology. Stop in and see him at their brand-new store in St. Paul at 1144 Grand Ave.
---
Related links