Ride and Glide June 17th Time Trial Report
By Steve Thatcher
June 18, 2003
As the name indicates the Ride and Glide Bike and Ski Club concentrates on cycling in the Summer months. Tuesday night rides leave from Ramsey Beach in White Bear Lake from May through Labor Day. Roller skiing takes over after Labor Day until the snow flies. Once a month a Time Trial is held that leaves from the Withrow School in Washington County. This last Tuesday, June 17, was the second edition of the event. Under sunny skies and mid 80 temperatures and calm winds Jay Guthrie blistered the 13.6 mile course in 31 minutes and 24 seconds averaging 26 miles per hour to set the new course record. About 20 people participated in this month's event with speeds ranging from 19 to 26 mph. Full results and pictures can be found on the club website at www.rideandglide.bizland.com.
These events are open to anyone. For information on the weekly rides and the Timetrial schedules see the website.
Photos


At the start line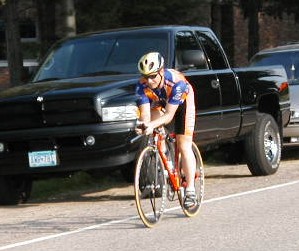 Jay Guthrie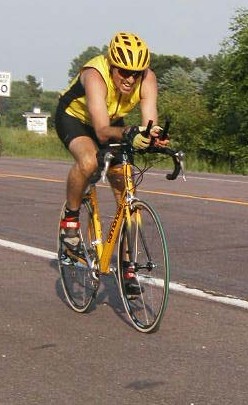 John Schmidt
About the author...

Steve Thatcher runs the Ride and Glide Bike and Ski Club. The club offers cross country ski instruction and workouts to cyclists and other fitness minded individuals.
---
Related links