Nordic Legend: George Hovland
by Dave Johnson
June 8, 2001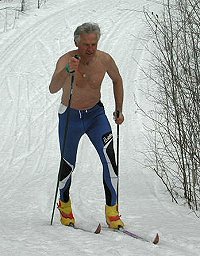 George still skiing the Snowflake
trails in late April 2001

On Sunday, June 10, 2001, Minnesota skiing legend George Hovland turns 75 years old. Three quarters of a century of living is a fine accomplishment all by itself. When you factor in Georgešs excellent health, flat stomach, the ability to ski fast and his ten-hour workdays, then 75 becomes quite an impressive number.

George Hovland was born in Duluth, Minnesota and lived in a house just 100 feet from his present home that now overlooks Chester Creek. He began his life long love of skiing at the age of two years old. He skied all his early life on homemade wooden skis. While attending junior high school at Washington Jr. High, George would walk the mile home from school, pick up his wooden skis and walk the two blocks to the ski jump at Chester Park. His normal winter routine was to take about 10 jumps of the 30-meter jump, then take his skis and head off on what was known as the Three-Mile Trail. This trail would take him up and out of Chester Park into the area behind St. Scholastica, then back across Kenwood into Chester Park.

(Note to the younger generation, ski jumping off of 30-meter jumps was to George what skateboards and snowboard half pipes are to today's young athletes.)

He continued his winter skiing routine during high school, even though the walk to school doubled in distance. (Uphill both ways and very deep snow!) During his high school years he grew to love and respect two champions of the Nordic sport, Peter Fosside and Eric Judeen. Peter, the winner of a winter carnival ski race from Duluth to St. Paul was a strong influence on George. Peter skied with a technique called continual change up. (It would take more ink than is in my printer to describe this unusual style of poling, kicking and gliding.)

Another early influence on George was a skier by the name of Charlie Banks. Charlie was just a few years older than George. George and Charlie Banks both skied for Duluth Central. In 1942 Charlie Banks won the State meet and a year later George won state as well. The state meet at that time was comprised of jumping, slalom, and cross-country. When George won state in 1943 he won both cross-country and slalom and in his words "survived" the jumping. George's individual success at state helped start a team success that was to continue with eight consecutive team titles for Duluth Central.

After high school George joined the Navy and for two years sailed on a geodetic survey ship in the Pacific during World War II. The role of his ship was to go in and survey the harbors in preparation for the arrival of large destroyers and battle groups. When the war and his enlistment ended, he turned down a chance to re-enlist and see the Bikini Atoll turned to a mushroom cloud by an atomic blast. Instead, George decided it was time to return to Minnesota and do a little skiing.

For college he attended the Twin Cities branch of the University of Minnesota. There he met and skied on the club team with Twin Cities legend John Burton. In 1946 George competed in the national Nordic Combined meet. George finished third, one place behind his childhood hero, 46 year old Peter Fosside. During college George worked several odd jobs, one job that also afforded him the opportunity to train for skiing, was working as a bellhop. George would take the elevator up with the baggage and then his habit was to run down the stairs in a race with the returning elevator.

After college and a brief marriage to the prettiest girl in his high school class, George left Duluth to be a ski bum at Lutsen. While bombing the hills at Lutsen, George caught the eye of an USSA national team official who invited him to try out for the national alpine team. George accepted the invitation on the condition that he could instead try out for the cross-country team. George was granted his request and given a train ticket to Sun Valley where he spent the ski season of 1950-51 training with Leif Odemark. That winter he attended the national team trials in Rumford, Maine and was named to the Nordic combined team. He then returned to Sun Valley to train in preparation for the 1952 Olympics in Oslo, Norway. His summer training consisted of long hikes into the mountains and hard days of cutting trails for skiing under the watchful eyes of Olympic team coach Leif Odemark.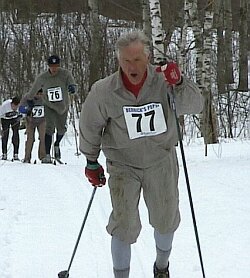 George competing at the Wooden
Ski Rendevous last April.
He is racing in his original
1952 Olympic racing outfit.

George boarded a plane and flew with the rest of the team from New York to Oslo, Norway for the 1952 Olympics. He was chosen to be a member of the relay team and dropped from the jumping team to prevent any loss of life on the Holemkollen ski jump. George was the lead off man on the relay team. Black and white movie film of the event shows George in second just on the tail of the Finn Hieki Hasu. It was to be Georgešs 20 seconds of fame, by the time his leg of the relay was finished he had dropped to last place. Upon seeing him come back into the stadium Georgešs coach said, "George are you all right? We thought you had broke a ski."

While George did not achieve Olympic glory he did achieve excellent results in skiing at the national level. Consider this list of accomplishments since 1952.
Four times Central USSA four-event champion. (jumping, cross-country, slalom, and downhill)
Completed every Birkie except the first one. Age group winner, approximately ten times.
National age group champion for National Alpine NASTAR six times.
First non-European to complete the Swedish 90 kilometer Vasaloppet.
George Hovlandšs greatest accomplishment in skiing has been his desire to share the sport with others. To accomplish this he has been involved with the creation of almost every ski area in the Duluth region. Here is a short list of his ski area developments.
Co-owned Mt. Du Lac, an alpine ski hill on the western edge of Duluth.
Created and developed an alpine area called Ski Kenwood, the first alpine ski area in Duluth.
Founded Spirit Mountain Ski Area. Designed the Nordic ski trails at Spirit Mountain.
Designed and implemented the creation of the downhill runs at Chester Park.
Designed the initial layout of the Superior Nordic ski trails.
Assisted Al Merrill with the layout of Nordic trails at Giants Ridge.
Along with Tom Jordan designed trails in Hartley Field in Duluth.
With the love of his life, Jane Hovland, George designed, developed and continues to operate Snowflake Nordic Ski Center.
The real measure of a person is not in how many races they have skied or in what they have built but rather what has that person done for others. In this area George Hovland has excelled. Through the development of Snowflake Nordic Ski center, George has become a mentor and a hero to hundreds of local young skiers. Kindergartners on skiing field trips to state champion high school skiers have all been enriched by their contact with George Hovland. He willingly gives tips on technique and training to any skier who shows up at his area. When low snow keeps other trails closed, George can be found shoveling snow from the woods onto the trail. From a business stand-point it makes no sense to open a Nordic ski area, it is a true labor of love that only on the best years pays for itself.
George Hovland is a man driven by ideas. He has one speed, full speed ahead. It is rare to see George sit down. When he has an idea, in his mind it should have been completed yesterday. In other words he lives life like he skis, at a fast pace, with excellent technique, yet as this writer has learned, George will take time at the top of the hill to take a breath and chat with a friend before flying down the next hill.
Writers note: Dave Johnson, a Nordic ski coach in Duluth, wrote this short bio. Please forgive any misspellings of places or people names. This article was written to help the skinnyski.com reader learn a little bit about a local skiing legend on his 75th birthday. I would love to hear your comments. You can email me at denordic@cpinternet.com
---
Related links