Interview: Matt Liebsch
February 26, 2003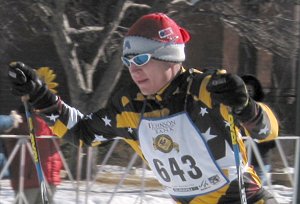 Often one wonders just how fast those high school skiers are at the State Meet. Most come out of high school and go into a college program, usually competing in races against other top notch college skiers. In addition, these kids continue to mature rapidly and can make big improvements each season.
Matt Liebsch should be one of the new poster children for Minnesota High School racing system. At the 2002 State Meet, Liebsch, an Osseo native, posted the 55th best time in the freestyle race. Just over a year later, this same kid now skiing for the University of Minnesota Nordic Ski Club, one who had raced almost exclusively 5km events previously, notched an unbelievably 35th place overall at the 2003 American Birkebeiner.
We interviewed Liebsch by e-mail on Tuesday, February 25th.
Skinnyski: You've had some huge races at marathon distances this season. Since you were in high school last year, was this your first year racing at these longer distances?

Liebsch: Yes, this is my first year racing at marathon distances. At the end of last season I did one mid-distance race and that was the Last Chance 20K race at Elk River's Woodland Trails. I went out at my 5K race pace and hit the wall after about 9K. I learned a valuable lesson about pacing that day, and I've gone a little easier in all my races because of that painful experience.

Skinnyski: You seem to have really made a great jump in your skiing ability this season. What factors would you say have made the biggest differences in your performance this year?

Liebsch: I think the biggest factor in my improvement was spending more time on skis. This year was only my fourth year of Nordic skiing, and the more time I have on snow, the more I improve. Also, lots of running and roller skiing over the summer and fall gave me a good endurance base to start the season with. Another factor in my improvement was a solid month of training over my winter break (lots of early morning skiing at Hyland Hills).

Skinnyski: You had a fantastic first Birkie. How did the race feel?

Liebsch: I had a great experience at the Birkie this year. The race went really well for me, and I skied much better than I expected. I was just skiing at a relatively normal race pace for the first 42km, and I didn't even feel like I was racing really hard. Then I blasted off for the last 9km. Going across Lake Hayward was the first time during the race that I started to feel a burning sensation in the arms and legs. Also, I skied with Bjorn Batdorf and Kevin Brochman for different portions of the race, and they kept me on a good race pace. It also helped that I had really fast skis!

Skinnyski: Making the leap from 5K high school races to 30-50km mass start races is pretty big. What are some of the interesting "lessons" you've had to learned on the fly?

Liebsch: I've learned that you need to have a really good start in order to compete with the top racers. If you let them get to far ahead in the first couple of minutes of a race you will never catch them. Also, I've learned that it is very important to stop at every feed station along the race course. If I ski by one, I feel like I will run out of gas too soon. It is better for me to take a little more time and grab some energy, because if I don't I may bonk.

Skinnyski: Have you competed in other marathon type events, like Chequamegon or the Twin Cities Marathon?

Liebsch: No, this season was my first time for doing any type of marathon races. I've noticed that I like the longer races (10km and up) a lot more than shorter 5kms. It's a different kind of pain involved in a long race and my body seems deal with it better.

Skinnyski: After your success this season, any plans or dreams for the upcoming off-season and next winter?

Liebsch: I enjoy dreaming about skiing in the Olympics, but for the moment I'm just enjoying skiing one day at a time. My fiancée is really set on me being on the Subaru or Rossi race teams some day, and I think that is something I would enjoy a lot (but I have no idea how you get on one of those teams). Next winter, assuming I have the same amount of time to train, I would like to see if I could hang with some members of the Subaru or Rossi teams for the Vasaloppet of Birkie. I am very curious to see if I could handle the pace that they race at.
---
Related links