Interview: Adam Swank
By Mark Parman
February 28, 2003

Adam Swank, a fourth-year medical student from Rhinelander, Wis. finished 16th in the 30th American Birkebeiner last week. Skiing out of the elite B wave, Swank was the first skier of the second group that started two minutes behind the elite A wave.
"They used to give a trip to Norway for the first citizen, didn't they?" Swank joked.
"They gave me a pin with a six on it. Oh well, it'll last longer than the trip."
Swank is no stranger to high Birkie placings. In 1998, the shortened El Nino Birkie, he just missed the podium, finishing fourth behind Carl Swenson and Austrians Norbert Ganner and Alois Blanning. The former UW-GB skier was Wisconsin state champion in the early 90s skiing for the Rhinelander Hodags.
This year Swank has had an exceptional season, in part because his schedule has allowed him time to train. The week prior to the Birkie, he skied to another 16th place finish at 50 km freestyle race on Feb. 16 at Keskinada Loppet in Ottawa. The high temperature for the day hit -25 C, the FIS minimum temperature cutoff.
The day before, Feb. 15, he was second in the 25 km classic race at the Keskinanda. He also placed second to Cory Wubbels at the Noquemanon 50 km freestyle race in Marquette, Mich. on Jan. 25.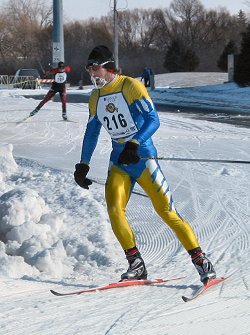 With such a strong season behind him, Swank was disappointed that the elite wave had been separated into two groups. "I assumed the FIS guys just started ahead of us," he said. "It would have been nice to have all the information, to know there was an option."
The pre-race issue of the Birch Scroll doesn't mention the two-minute time separation. It lists the men's elite wave starting at 8:20 and the women's elite wave at 8:22.
As it was, Swank had to lobby hard Friday night just to get placed into the elite B wave since he didn't compete in last year's Birkie. "After a little bit of a hassle, they let me in the elite wave."
"They (the Birkie office) assume that either you're not interested or not good enough," Swank said about his exclusion from the A wave. Only the trade teams seemed to know about the separation. The rank and file elite wave skiers found out Saturday morning while they were warming up at the start area.
Regardless, Swank is happy with his race. Fortunately, he was able to ski in a group with Bruce Bauer, Andre Watt and Brian McKeever most of the race, all of whom started in the B wave.
Swank was particularly impressed with the Canadian McKeever, who is legally blind. In fact, he seemed more excited about McKeever's finish than his own.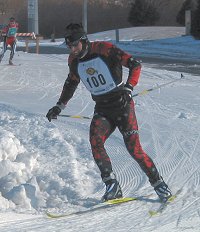 "At the finish, he (McKeever) told me he just got back from the World Disabled Championships," Swank said. "Then because he knew I was probably wondering how he was disabled, he said he was blind." McKeever finished in 17th, a mere 11 seconds behind Swank.
McKeever, whose guide is his brother Canadian national team member Robin McKeever, won five gold medals at the world championships. However, he skied the Birkie without the assistance of his brother.
McKeever told Swank he could see shapes and figures. "I noticed he was always hanging back, but he always came with me when I accelerated. He didn't stumble at all."
Swank will enter his residency next fall, but he hopes to continue skiing. He would like to arrange his schedule so he can take time off in winter. About the Birkie he said: "I'll continue to do it as long as I can."
---
Related links