Interview: Michael Zielke
February 2, 2001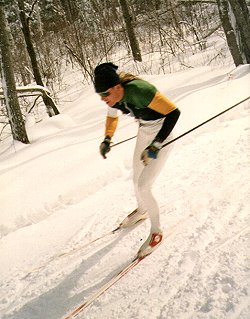 Michael Zielke may be a name quite familiar to racers from the mid to late 80s. He was a top skier for Northern Michigan University, where he was part of three national collegiate championship teams and was a five-time all American. [Photo is of Mike competing for NMU at Giants Ridges in the late 80s.] In 1986, Mike finished as the top american in the Birkie, as well as in the top 25% in the Norwegian Birkie. After NMU, he trained with Nikolai Anikin at the U.S. Olympic Training Center, and raced in the Great American Ski Chase.
Last fall, Mike joined Bearskin Lodge, located up on the Gunflint Trail in Northeastern Minnesota, as their new ski instructor. Mike and his wife, Laura, have two kids, a 3-year old boy, Noah, and one year old girl, Hana. He's been busy providing ski lessons and planning activities at Bearskin, but he took some time out recently to answer some interview questions via e-mail.
Skinnyski: You previously worked at Devil's Thumb near Winter Park, Colorado. I've never heard of that place -- what was that like?

Zielke: Devil's Thumb is a beautiful Nordic resort offering over 70km of skate and classic skiing. It is nestled at the base of the continental divide in the Winter Park Valley. Because it is only 70 miles from Denver, we saw 100 skiers daily, up to 300 skiers on a good day. The base of the valley is 8,500 feet which makes the challenging terrain difficult for the "average Joe" skier.

Skinnyski: What led you to the ski instructor position at Bearskin Lodge?

Zielke: I recently completed a degree in Journalism, and after a summer internship in Kansas City I realized that an office job just wasn't for me. We found Bearskin's wonderful web site and after meeting the owners Barb and Dave Tuttle, seeing the beautiful facility, we were sold.

Skinnyski: How has your first season up on the Gunflint been?

Zielke: We love it! It is fascinating to live somewhere that Mother Nature dominates the landscape rather than humans. It is easy to get lost in that state of "just being" as you ski the hilly trails, wooded with huge white pines, over and around numerous lakes, and abundant wildlife. My wife Laura and I are very much into the "active lifestyle" approach to raising our two children so we find Bearskin to be an ideal setting for incorporating numerous outdoor activities into our daily routine. The facilities such as the hot tub house are fantastic. Because the owners and staff are so friendly and the beautiful log homes are so neat and clean I feel proud to be part of the team and honored to share my love of skiing with all who come to visit us.

Skinnyski: You provide both individual and group instruction at Bearskin, in addition to some activity planning (like the Super Bowl weekend events). What other events do you have planned this season?

Zielke: We have a monthly moon-light ski. I am also planning a weekly ski to the bonfire -wine and cheese event with Ivy Hocking. She leads dog sled tours here and we want to integrate her tours with a ski tour that will have a little social twist to make for a fun winter experience. I thought it might be fun to start some weeknight fun races on our lighted loop and maybe in the future host a "Tour the Gunflint " event that could span several trail systems. We share our rail system with Golden Eagle Lodge and the Banadad trails. We could have a really neat event where people could ski 100km point to point and stop at the yurts, Bearskin Lodge, and Golden Eagle as stopping points to eat and socialize and then ski to another warm and friendly stopping point. Some might ski fast and other might just tour. The idea would just be to have fun. The main idea is to promote Nordic skiing at all levels.

When I was 18 and I finished 19th in the Birke over 10,000 people raced. I just read in "Silent Sports", given current registrations they are projecting 6,500 entrants. We have seen a reduction in winter occupancy as well. We don't believe that Nordic skiing is on the way out. But the last few mild winters has hurt the Nordic industry across the board. It is my belief that we can come out of this slump with a few fantastic winters like this one. What we need is to get creative and keep it fun for all levels to rekindle the interest. In Colorado the Nordic race seen is very different from the Midwest. The races are composed of a higher percentage of serious racers. They consequentially don't get quite the turn out because they don't get all the citizen skiers that we do in the Midwest who show up to "survive" a race and have fun. I loved growing up in Wisconsin and going to races and meeting all of the local people. Even the "Hot shots" were friendly and that gave the Nordic community a kind of a big family feel. I do think that some of the decline in numbers may also be due to the high price of equipment. For instance, when I started racing I bought my first ski package, boots-skis-poles- and ski suit from this guy named Mitch Mode for only $120. Now Mitch is a legend and the same ski package would cost some high school kid $600-1000. Back then all I had in my wax box was Swix purple and Rex blue. Now you can spend $100 an ounce on fluorocarbon waxes just to compete and you better have on a nice respirator gas mask to save your lungs that you spent so many hours developing. I'm not saying its all bad. All sports have gotten higher tech. But its the entry level skier that has gotten left in the dust and those are the people who keep the sport alive. Sure you need the high end racers. But most of those people get equipment for free or get deals. I was one of them. It's the average skier who buys all of his/her's equipment that are getting turned off to the high tech prices. I must admit that now that I'm a dad and my three-year-old is starting to ski I cringe thinking about how I am going to afford to buy him cap skis and carbon fiber poles.

Skinnyski: What are your off-season plans?

Zielke: We will stay here at Bearskin year round. The summers are busy and we will be helping with children's programs, winter promotions and preparations, and all those other things that go along with running a successful resort.

Any thoughts on returning to some competitive skiing again?

Zielke: You bet. I'm getting in about 40km a day right now putting in base work. I do about 65-70% classic skiing. I might do some spring marathons as 50km and up is my specialty. We are just to busy on weekends for me to sneak away right now. I have finished in the top 30 in the Birke a hand full of times and I still feel that I might have a top ten left in my legs. I also hope my children might catch the cross-country ski bug and I know that I had better stay in good shape to keep up with them some day.
---
Related links