Nordic Worlds Erupt In Scandal!
Special Report by Jay Tegeder
March 1, 2001
While those of us in skinnyski.com country were focusing on the American Birkebeiner, big things were happening at one of the most storied venues in all of ski racing. The Nordic World Championships just wrapped up in Lahti, Finland and this time, the spotlight wasn't on the winning athletes. The biggest doping scandal in cross country skiing history erupted right under the famed triple ski jumps at the impressive Lahti Ski Stadium. Lahti has hosted the World Championships four times since 1958. However, the 2001 games were to be the most awesome yet for the Finnish National Team. "Things aren't always what they appear to be" according to some famous saying. That was exactly the case in Lahti.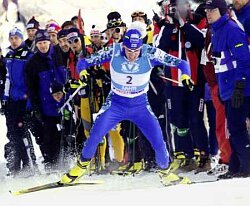 Jari Isometsa competing in the 10K pursuit race at the FIS Ski Nordic World Championships, February 17, 2001.
(Photo: AP Photo/Camay Sungu)

Finland's great Jari Isometsa, second in the Men's Pursuit, tested positive for the banned substance HES. The drug in question is in the class of plasma expanders which Isometsa claimed to use after getting his hemoglobin levels above the FIS limit. He claimed the high levels were from being at altitude (using an altitude house) too long. However, high hemoglobin levels can also be attained from using EPO, another performance enhancing drug banned by the FIS. Isometsa claimed no one affiliated with the Finnish Team knew anything about the incident. As a result of his test results, Isometsa was banned by the FIS for two years and his silver medal from the Pursuit was stripped away.

The doping scandal was over. Or was it? A few days later, after the Men's Relay, Finnish skier Janne Immonen tested positive for the same banned substance, HES. What had been thought of as an isolated incident, suddenly became a National Team crisis. The gold medal winning Relay Team was stripped of its award because of Immonen's participation. Like Isometsa, Immonen was banned for two years. Fingers were pointed and Finnish Head Coach, Kari Pekka Kyro was asked to resign. He waited a few days and in the mean time, the scandal began to unfold even more. Two Finnish Team doctors resigned under mounting pressure. The decision was made to test the whole Finnish Team. Many thought that would put an end to the situation.

In fact, it was just the beginning. Four more athletes tested positive for HES. Among them, World and Olympic Champion Mika Myllyla, ageless and adored Harri Kirvesniemi, Women's Pursuit winner Virpi Kuitunen and silver medal relay skier Milla Jauho. According to sources, the Finnish Team thought the current drug tests could not detect HES. They were wrong! Former U.S. and Canadian National Team Head Coach, Marty Hall, has been screaming about cheating in cross country skiing for years. He was almost kicked out of the 1988 Calgary Olympics for insinuating that the Russians might have been "doped" for those games.

Regardless, the 2001 World Championships weren't the first time a doping scandal had erupted on a major cross country skiing stage. Russia's Ljubov Egorova (who finished 4th at the recent American Birkebeiner) was banned for two years after testing positive for banned performance enhancing drugs at the 1997 Nordic World Championships in Trondheim, Norway. Rumors have long been associated with the Italian Team and their Dr. Conconi. Some say the whole Italian Men's Relay Team in Lillehammer was "doped". Plus, the great Manuela DiCenta had a habit of showing up at races only to suddenly get sick or injured when the drug testers were found to be present. Those cases were just speculated though. The Egorova incident in 1997 and the Finnish Team results at the 2001 Worlds were verified.

What does this all mean? First off, there are no winners when our heroes have been found to be fallible. Many people wonder if there are any clean athletes left in our sport. Cross country skiing has been severely harmed by this scandal. Sponsorship dollars, the lifeblood of any modern sport, are in question. Also, what we have long thought to be true, North American athletes are behind even before the races start. On the other hand, at least our skiers now know why they have a tough time competing. Imagine how Norway's Erling Jevne must feel. He finished second to Mika Myllyla in races at both the 1997 and 1999 Nordic World Championships. Maybe he won the gold after all. In the short term, Finland will not send any skiers to the World Cup races in Kavgolovo, Russia on March 4th. Myllyla, Kirvesniemi, Jauho, Kuitunen, Immonen and Isometsa have all been banned for two years. Great careers such as Myllyla's and Kirvesniemi's have been destroyed. In fact, Myllyla is rumored to be out of the country. Treated like a rock star in Finland, it might be a while before he can return to his home.

As for the rest of us, we will not have the pleasure of cheering for Myllyla, Isometsa, Kuitunen and Kirvesniemi in Salt Lake City. Even without banned performance enhancing drugs, those skiers are still fast! As for the Finnish Team, they still have Sami Repo, Pirjo Manninen, Kaisa Varis and Kati Sundquist. However, it will take years for the Finnish program to return to its former glory.

Sami Repo, I hope your back is strong. You now carry the weight of the Finnish Ski Team.
---
Related links