Norway Aiming at Five Gold Medals in SLC
By Jostein Overvik, translated by Brian Olsen
November 8, 2001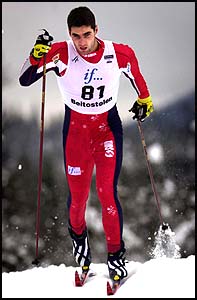 GOLD MINER: Thomas Alsgaard won two Olympic gold medals and completed his best high level competitions in Hakuba, Japan four years ago. Norway has goals to do even better next February in Salt Lake City and is counting on Alsgaard to bring in the gold. (Photo: SCANPIX)
Wishes for better performances than Nagano - sans Dæhlie
Norwegian cross country skiing is giving an optimistic view for the first Olympics since 1984 in which they will be without ski legend Bjørn Dæhlie. The goal is to do better in Salt Lake City than in Nagano. They are hoping for five gold medals, with ten medals in all.
"The goals are high, but we feel that they are realistic," said Sindre Bergan, the Norwegian cross country ski director. Much of these medals are expected to come from top performances by Thomas Alsgaard and Bente Skari.
"The skiers have goals to take more gold than they will give out," continued Bergan, three months before the Olympics are scheduled to begin. Other athletes that these goals rest upon include: sprint World Champion Tor Arne Hetland, and classic experts Frode Estil and Odd-Bjørn Hjelmeset.
In Nagano, when Norway had the services of Bjørn Dæhlie, Norway took four gold medals in cross country skiing. Dæhlie took two gold, Alsgaard one gold, and the men's relay was victorious as well. Last year, in Lahti at the World Championships, Norway took four gold medals again: Bente Skari took two, Hetland took one, and the men's relay took one. In fact, Norway only took gold in Lahti.
Bergan cited numerous reasons why the Norwegian cross country delegation will do well in Salt Lake City. "Veteran Kristen Skjeldal stated that the traditional October training camp in Val Senales [Italy] was the best that he had ever seen," said Bergan.
The first competitive race in Norway will be at the traditional location of Beitostølen next weekend. Johan Mühlegg will be the only international racer to compete. The first major World Cup will be in Kuopio, Finland over the last weekend of November.
---
Related links