Dæhlie to Compete in a Comeback
Translated by Brian Olsen
November 8, 2001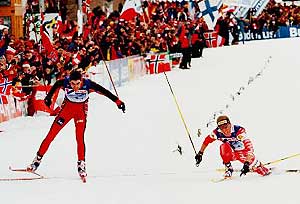 REVENGE: On Saturday, Thomas Alsgaard and the other members of the Norwegian team hope to change history against Austria and Christian Hoffman. (Photo: ALEKSANDER NORDAHL)
On Saturday, Bjørn Dæhlie and Vegard Ulvang will return to a relay team together with Thomas Alsgaard and Erling Jevne. The main motivation is revenge
At the 1999 World Championships in Ramsau, Austria, Christian Hoffmann of Austria beat Alsgaard to the finish line to take the relay gold medal. Now Norway hopes to change that historic outcome.
There will only be one change-up for the line-up: Vegard Ulvang will step in for Espen Bjervig.
"This is just a show, but it should be fun," said Erling Jevne. Jevne competed in his first World Championships in 1999. The revenge-fueled competition will be held in Vienna this coming Saturday. The arrangers will drive snow to the Austrian capital.
"I don't know how long we will go, but it will be within the limits of Bjørn," said Erling Jevne.
---
Related links