500 Pairs of Skis for Twenty Skiers?
By Rolf Arne Odiin; translated by Brian Olsen
November 23, 2001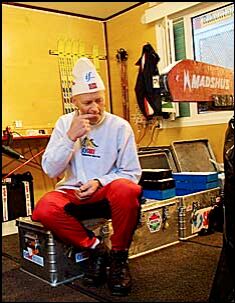 THE AGONY OF CHOOSING: The Norwegian wax team's chief, Terje Smevold, has 500 pairs of skis to test in order to find the lucky pairs that will be used this season.
Photo: Geir Olsen
The Norwegian World Cup team will be taking twenty skiers for this weekend's opening World Cups in Kuopio, Finland. In addition, 500 pairs of skis will accompany them!
"Snow conditions have been so terrible this fall that we have not been able to test the new skis that every skier has been given," explains the waxing teams new chief, Terje Smevold. Therefore, the bags will be filled with more skis than usual.
However, when Terje helps the skiers choose their skis he realizes that Kuopio does not have the conditions appropriate for testing skis for this winter's grandest occasion: the Olympics next February.
The Finnish ski town stands a few meters above sea level near the top of the Northern Hemisphere, where the daylight slips away more and more everyday. Cold temperatures are, therefore, quite prevalent. These conditions are stark contrasts to those in Salt Lake. The 2002 Olympic City lies at 1800 meters - at the upper limits of FIS and Olympic rules for altitude - where the sun shines brightly on the tracks often turning the snow on them into a soup.
"It will rain, we are sure of that. It also understood that aggressive man-made snow will make-up a large percentage of the tracks," remarks Smevold. "It is extremely important that we are prepared for every possible condition and that we are ready to improvise, if necessary.
As a precaution, Norway will be sending three expert ski personnel to test glide and structure on the Olympic tracks on January 15. Two weeks later half of the waxing team will arrive to commence wax testing with the remainder of the group arriving on February 3.
Terje Smevold acknowledges that out of the 500 pairs of skis that the team has today, only 400 will make it across the Atlantic for February's Olympics. The other hundred will be found defective or ill equipped to handle Salt Lake's conditions. Still, one must acknowledge that 400 pairs of skis is a hefty load to carry!
---
Related links