2003 World Championships: Womens Double Pursuit
By Paul Belknap
February 22, 2003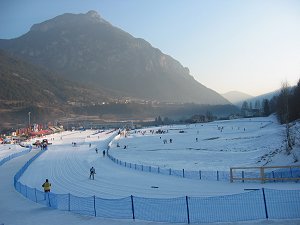 It was another beautiful day in Val di Fiemme with temperatures above freezing and lots of gorgeous sun. Today the women were contesting the 5+5km dualthon race, with the first leg going off classic and then transfering immediately to the skate leg. I got up to the course bright and early to avoid the problems I had yesterday and was rewarded with a nice sunrise. The day started off with some huge news, Bente Skari (the huge favorite), had pulled out of the race, citing the flu.
When the field came back to the stadium after the first of four laps of a 2.5 km course, there was still a huge lead group of probably 30+ skiers. Among them were Canadians Beckie Scott and Sara Renner and American Wendy Wagner. When they next came back into the stadium they were led in by Valentina Shevchenko of the Ukraine. All three ladies were still pretty much in the main pack.
As they headed up the hill one last time and out for their final lap, Beckie Scott had moved up in the lead pack, while Wendy Wagner had dropped off the pace. Sara was hanging strong in between the two.
The race really didn't break up at all over the last 2.5k and a large pack emerged from the woods with about 10 people in position to contest the final sprint. When the snow settled and the photo-finish had been reviewed Kristina Smigun of Estonia had taken the gold followed by Evi Sachenbacher of Germany and Russia's Olga Savialova edged out Hilde G. Pederson of Norway for third. Beckie Scott ended up in 6th place, 1.5 seconds off the winning time. Sara Renner ended up in 17th. Wendy Wagner ended up dropping off to 44th. The other Americans in the race were Aubrey Smith, Kikkan Randall, and Aelin Peterson. Randall started strong before fading and being caught by Smith, who skied much of the classic leg with Peterson.
The North Americans were:
Beckie Scott(CAN), 6th, 1.5 seconds back
Sara Renner (CAN), 17th, 37.5 seconds back
Wendy Wagner (USA), 44th, 1:44 back
Aubrey Smith (USA), 53rd, 2:57 back
Kikkan Randall (USA), 54th, 2:59 back
Aelin Peterson (USA), 63rd, 4:51 back
Another great day of racing is up tomorrow in the men's pursuit.
---
Related links