The Norwegian "Ski King" Retires
Special Report by Jay Tegeder
March 31, 2001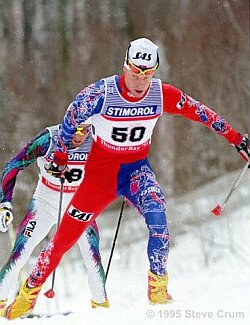 Bjorn Daehlie competing at the
1995 World Championships
in Thunder Bay, Canada
(Photo by Steve Crum)

Bjorn Daehlie, the greatest cross country ski racer of his generation and some say the best of all-time, has retired at age 33. He announced his decision this week at a press conference in Norway. After a two year struggle with back problems, he was finally forced to end his magnificent World Cup career. Daehlie's meteoric rise to the top of his trade began with both cross country and nordic combined. Like Bill Koch in the 1970s, Daehlie made the switch to full-time cross country at age 16. Never a star as a junior, his success began when he was 21 with a World Cup win in Utah in 1989. The first two seasons of his senior career, were over-shadowed by his legendary team-mate, Vegard Ulvang. However, Daehlie's first Gold Medal was the 15K Freestyle at the 1991 Nordic World Championships in Val Di Femme, Italy. He never looked back as he completely dominated the 1990s.

Besides his 1991 World Championships Gold Medal, Daehlie scored victories in 1992 with Olympic 15K Freestyle Pursuit and 50K Freestyle Gold, 1993 with World Championship 15K Freestyle Pursuit Gold and 30K Classic Gold, 1994 Olympic 10K Classic and 15K Freestyle Pursuit Gold, 1997 World Championship 10K Classic and 15K Freestyle Pursuit Gold, 1998 Olympic 10K Classic and 50K Freestyle Gold and Relay Gold in 1991, 1992, 1993, 1995, 1997 and 1998. His 48 World Cup wins are the most of all-time. Plus, his five World Cup Overall Season Championship trophies were equally impressive. Some other facts, his favorite distance was 15 kilometers where he won or was on the podium in every race he entered. A tall skier at six feet, Daehlie skied with tremendously high turn-over. He didn't have the text-book glide of his team-mate Thomas Alsgaard. Instead, his tactic was to set a blistering pace and let the others try to catch him.

Among his most memorable races was his 15K Freestyle Pursuit duel with Vladimir Smirnov at the 1993 Nordic World Championships. Smirnov started second and Daehlie went off from fourth position in the Pursuit format. The two legendary skiers took turns leading around the hilly Falun, Sweden course. At the line, Daehlie grabbed the win by the length of a ski boot. His loss to Silvio Fauner during the last leg of the 1994 Olympic Relay was spectacular too. Once again, a ski boot determined the outcome. Fauner won that battle as the Lillehammer crowd went silent with the result. Daehlie often said his 1997 Nordic World Championship 10K Classic win was the best race he ever skied, however, some might argue his 50K Olympic Gold in 1998 was his greatest moment. Starting behind Sweden's Niklas Jonsson and Austria's Christian Hoffmann, Daehlie spent all of his energy catching and passing those skiers. Toward the end of the race, Jonsson went around Daehlie and appeared to be headed for the Gold. While Jonsson crossed the line first, Daehlie dug down deep and held the gap under 30 seconds which is the margin Jonsson started with. The Gold went to Daehlie as he performed his trade-mark collapse after he crossed the finish line.

As with all great skiers, Daehlie had others that pushed him to such great heights. Among the greats of his generation were Gunde Svan, the "Ski King" of the 1980s from Sweden, Finland's "Mister Bronze", Harri Kirvesniemi and Mika Myllyla, Kazakstan's Vladimir Smirnov and Daehlie's fellow country-men, Vegard Ulvang and Thomas Alsgaard. Like Thomas Wassberg and Gunde Svan who dominated the 1980s, Daehlie's domination of the 1990s gave way to the next generation star, Sweden's Per Elofsson who dominated the 2001 World Championships. Unlike Wassberg, Svan, Smirnov and Ulvang, Daehlie's retirement was not on his terms. The back he injured in a 1999 roller skiing accident kept him out of the 1999-2000 and the 2000-2001 World Cup seasons. He tried to return to form but was hampered by pain during each attempt. According to Daehlie, his back only bothered him when he trained or skied at race pace. While not a problem for recreational skiing, the injury kept him from his usual assault style World Cup technique.

His back operation was the same as the ones performed on Vegard Ulvang and Thomas Alsgaard earlier. Ulvang had some success after his surgery and Alsgaard has won Gold and continues to ski impressively after his operation. However, Daehlie was never able to recover fully. Some have speculated that the double-poling technique used by the Norwegians might be to blame. Their style involves a deep bend at the waist believed to be hard on the back. In Daehlie's case, the roller-ski crash precipitated the problem. Regardless, Bjorn Daehlie leaves the sport as the greatest of all-time and with a fortune rumored to be around twelve million dollars. His clothing line, TV show with Vegard Ulvang and numerous endorsements keep him very busy. As of now, the "Ski King" has an heir apparent in Per Elofsson. The World Cup has missed Daehlie the last two seasons but continues to thrive. Long live the "King"!
---
Related links