Bente Skari and Teammates Scared and Saddened
Translated by Brian Olsen
September 12, 2001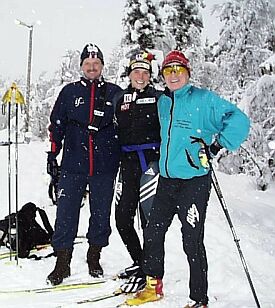 Bente Skari, center, with Arvid Torp, left, and Bjorn Lasserud, right, at Beitostolen, Norway last November.
(Photo: Odd Osland)

A horrible feeling of saddness enveloped the training camp of the Norwegian women's Nordic team Tuesday after they learned of the tragedy that had occurred on the East Coast of the United States. The camp is being held in Park City, Utah. "Yes, we are scared and saddened. You must understand that we don't know what is going to happen. The future is uncertain," said Bente Skari to Dagbladet, a Norwegian tabloid.

Bente Skari, Marit Roaldset, Marit Bjørgen, Vibeke Skofterud and Tina Bay have been training in Park City since they left Norway on Sunday, September 2. It must be noted that Park City lies hundreds of miles from New York and Washington; however, Skari & co. still feel that the terrorist attack affects them in a high degree.

"We went out running for three hours earlier, but are now sitting here watching the news. We are in the United States, you know, but do not understand what the future will bring or what terrible consequences this incident will have," said Bente.

Luckily, the team was not flying yesterday. The Norwegian Nordic Combined team was not so lucky. They were flying from Oslo to New York on Tuesday afternoon before the pilot informed them that they would be turning around. The team was planning on having a two day vacation of sorts in New York before departing for the ski jumps in Utah. The training camp for the Norwegian women's Nordic team will end on September 25th.
---
Related links