News

Racing
Calendar

Results

High School

College

Archives

1999-2000 Racing Season Recap
Last year was a difficult season for the cross-country ski racer. Some sad facts:
Only one race went off in December: the Central Opener up at ABR on the UP of Michigan.
Out of 43 races in January, 12 were cancelled (most in the first half of the month).
In February only three races were cancelled, but two of them were biggies: the Minnesota Finlandia and the American Birkebeiner.
Things closed out much like they started with only one race, the Sibley Ski Tour, going off in March.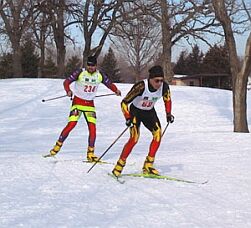 Ben Husaby chasing down Dale Niggemann
National Masters 2000

On the positive side, the 2000 National Masters Championships in St. Paul was a huge success. Not only was there a strong turnout with a number of top skiers, but the weather was extremely cooperative in supplying excellent conditions for all four races. Perhaps the biggest surprise from the Masters was the wildly popular Battle Creek night sprint relays. Both skier and spectator enjoyed the nordic world's version of NASCAR racing.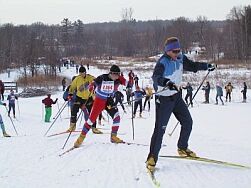 Skiers warming up for the Balsam Vinterfest
January 15, 2000

With the spotty snow conditions, especially early in the season, one silver lining was skiers venturing out to try new trails and races. And a number of us skiers from the metro area were extremely thankful for the wonderful early January opportunities that Trollhaugen and Afton State Park provided. Trollhaugen opened it's slopes to nordic skiing for a few hours a couple of days during the week and on the weekends. Afton State Park, usually classical only, shared their secret of snow retention when they opened the trails to skating for a few weeks.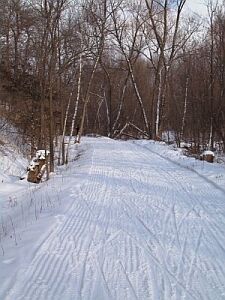 Afton State Park (special grooming)
January 2000