Skinnyski Race Team Weekend Recap
By Bruce Adelsman
February 12, 2003
Some of the biggest races of the season were on tap last weekend. The Mora Vasaloppet continues to pull in strong numbers, even in its second year of lake racing. And the Pre-Birkie remains a favorite test run for the big one two weeks later. Nearly the full racing team was in action over the weekend.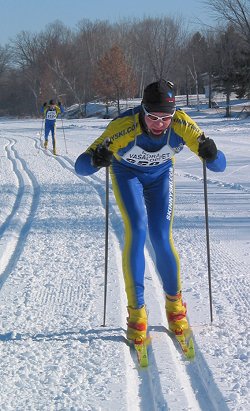 Grant Nelson in front, Dave coming on fast
The Vasaloppet course once again showed why these folks are the tops in grooming in difficult conditions. The skate path was firm and flat, with just the right edging surface, and beautiful rock solid classic tracks lined the edge.
In a nice sense of justice Mora's home-grown hero Chad Giese pulled out a repeat of last year's exciting sprint with Marc Gilbertson to take the 45K freestyle crown. In the womens long race, Olympian Nina Kemppel won in a sprint, but our own Sonja Bostrom notched an impressive eigth in the very competitive womens field. Margie Tilman posted a top twenty placing as well.
In the shorter freestyle race, John Munger was slugging it out with a top number of top skiers and finished a solid third in the final run to the line. Last year it was Per Nelson losing out in a near photo finish in the short race. Per was back again this year and still posted a top ten finish, taking home eighth overall.
Grant, Dave and Josie Nelson along with Jill Troutner all opted for the double-pole fest of the classic event. Dave and Grant dueled each other for the seventh place finish, as Dave used some reserve energy to overtake Grant at the end. Josie and Jill (in her first action this season) came in nearly together, posting third and fourth places for the women.
Over in Wisconsin, Brian May was doing the weekend double-header: Pre-Birkie on Saturday and North End Classic on Sunday. Brian skied away from the field and won in spectatular fashion by more than three minutes in the Pre-Birkie. On Sunday, he may have paid a little for Saturday's workout. The North End Classic had some top classical skiers and the pace was a tough one. Brian still managed to kick out for a fourth place finish. All in all, a darn good tune-up weekend for the Birkie.
Race Team Results

February 8, 2003  Pre-Birkie
  Brian May        1st overall 26K Freestyle

February 9, 2003  Mora Vasaloppet
  Dave Nelson      7th male    30K Classical
  Grant Nelson     8th male    30K Classical
  Josie Nelson     3rd female  30K Classical
  Jill Troutner    4th female  30K Classical
  John Munger      3rd male    30K Freestyle
  Per Nelson       8th male    30K Freestyle
  Sonja Bostrom    8th female  45K Freestyle
  Margie Tilman   19th female  45K Freestyle
  
February 9, 2003  North End Classic
  Brian May        4th male    23K Classical


Team Member Race Reports
Race Report from Brian May
With the big marathon of the weekend - the Mora Vasaloppet - on a lake, I decided I'd opt for the Birkie-trail double-header: Saturday's Pre-Birkie (running from Hayward to 00) and Sunday's North End Classic (using much of the new Korteloppet course). I like to ski hills and figured the Birkie-trail offerings would be to my liking.

Pre-Birkie ...

There are some days - however few and far between - where everything goes according to plan ... this year's Pre-Birkie was one of those days. After driving down from Duluth, I was out on Lake Hayward plenty early for the 10am start. I went for an easy ski down the lake, marvelling at how incredibly fast my skis were. I turned around to realize it wasn't teflon bases but rather a 30 mph tail-wind that was propelling me down the lake. Warming up (or at least trying to!), I had time to chat with a few friends and size up the competition. Many of the area's top citizen racers were there, but there didn't appear to be any ringers from the factory teams or universities (a number of NMU guys had certainly spiced up the field last year). It would be a good race and I figured I would likely be in the running.

The start was typical - a bit packed on the front line - but nevertheless I got off to a good start. As the skiers merged into one pace-line, I found myself skiing beside the main line of skiers with open trail in front of me. I opened it up a bit and surprisingly moved up to 2nd place without too much effort. I was thinking that either my skis were rockets or the other guys were taking it easy and waiting for the hills to really start racing. Feeling good, I moved to the front and started to push the pace a bit. With the wind at our backs, I figured there was no penalty for leading and I might as well stay out of any tangles in the pack.

Heading off the lake, I V2'd along the flats, trying to stay smooth and relaxed. At the base of the big climb on Duffy's field, I glanced back and there was a long train behind me. I'm not crazy about skiing in big packs, so I figured it was time to break things up a bit. I climbed hard but still in control. As I came over the first rise, I had opened a gap of about 10m, at the top of the 2nd rise it was maybe 20m. Wow, noone had matched the move! So, there I was, out in front as we dropped down toward Hwy 77.

Crossing Hwy 77 and the fields beyond, I continued skiing pretty hard, but tried to maintain a reasonable race pace. I was certainly fired up to be leading, but I didn't want to fry myself early in the race and pay the price later on. I glanced back and there were a couple of small packs not far behind, but noone obviously attacking to reel me in. Back in the woods, I continued pushing the pace on the uphills, and used the flats and downhills to relax and recover. I was feeling good and my skis felt fast - it was going to be a good day!

The course was in really good shape. There were about 1-2 inches of fresh fluffy snow on top of the groomed trail but it didn't seem to be slowing me down much. The trail below was reasonably firm, though occasionally a pole tip would dive through. They'd only had decent snow for about 5 days, so a little more time and a couple more passes with the groomer and it would be in great shape. It was such a pleasure to skate on the wide, smooth Birkie trail after skiing on bumpy, rock-ski conditions in Duluth during the week before. I was warm, the sun was shining and I was thinking it really was a marvellous day to be out in the woods for a ski.

Andre Watt and a friend were skiing the course up ahead, so I was pleased to have some tracks to follow on the downhills. With about 10k to go, I passed some skiers from Macalaster College (I think). I was very grateful to have them cheering me on, but hammering up the steep, steep hill they had carefully chosen nearly drove me under! I occasionally looked back, pleased to see noone behind me. With 5k to go, the hills were starting to take their toll and I started counting down the km markers to the finish. Up the final few hills and across the line in 1:21 and 1st place. Yeehaw! Overall, a great day for ski racing in northern Wisconsin ... needless to say, I was super-pleased with the day's result.

North End Classic ...

Another day and another day of ski racing. It was a cold one as I headed down to Cable with Phil and Kelly Rogers - the car thermometer read about -5F as we pulled in to Telemark Lodge. At least getting grip wouldn't be a problem ... or so I thought. I waxed up my classic skis with Toko Bright Blue, putting some Turquoise over top ... my skis had dynamite grip and felt decently fast too. After testing out my wax in the Colleseum, I started to wonder where all the racers were. Oh ... the start is down by the airport! I was a little frantic as I ran down the road, but ultimately had plenty of time when I got down there. In fact, the run warmed me up nicely by the time I got to the start line.

With the entire Birkie start area at our disposal for only 130 racers, the start was a relaxed affair. Brent Carlson led the charge from the gun and I settled into the pack behind. Climbing one of the early bumps on the trail, Bobby Lee jumped out and took over the lead, increasing the pace dramatically. He led with Doug Stafki, Phil Rogers and myself trailing. I was struggling to keep up double-poling along the flats and 2k into the race was starting to look forward to the climbs on the power lines. On the first climb, I looked up to see Doug surging ahead. Making a decisive move, we three were simply left in the dust to fight over 2nd place.

On the power lines, I was climbing well but was certainly working to keep up. We turned onto the Birkie trail and then onto the narrower North End Ski Club trails. Bobby let me take over the lead and I skied hard, climbing the hills. Phil started to drop off the back, so I was tempted to dig in even deeper. The trails were in good shape, double-tracked most of the way. The trail twisted and turned through the woods, with nice rolling climbs and descents. With the sun streaming down through the trees, it was a fabulous morning for a ski. I was working hard and as we crested one of the many summits, I pulled over to let Bobby back into the lead. He surged forward and I tried to hang on but was soon dropping off the pace. The hard skiing was catching up to me ... and so was Phil ... it wasn't long before he was back on my tails with Bobby disappearing into the distance.

Coming through the aid station at about the 10k mark, I slowed to drink and Phil opened up a few meters gap. He looked strong, definitely double-poling better than I was and now climbing better too. The gap grew and soon I was cruising the Wisconsin woods on my own. My legs were tiring and I was struggling to maintain good technique. As I came through the next aid station (17k) and started the long route around the back of Mt. Telemark, I dug in for the home stretch. My grip was fading and I herring-boned where I certainly would have strided earlier in the race. With a certain cruelty, the course took us nearly to the top of Mt. Telemark before dropping down toward the finish. Glancing back on the climb, I noticed two skiers coming up behind ... they were closing but time was running out. I pushed hard for the finish and happily held on for 4th place :-).

The start/finish at Telemark Lodge was definitely a bonus for this event. My wife Abbi and daughter Rachel had come out to see me finish. With her swim-suit in hand, Rachel's intentions were abundantly clear. We bid farewell to Abbi, who was off for her ski, and Rachel and I headed to the hot-tub and swimming pool. Now, that is a fabulous way to relax after a good hard ski in the woods!
Race Report from Josie Nelson
Vasaloppet Inspiration

I am always inspired by the skiers at the front of big races like the Vasaloppet. Itís fun to watch the rising stars, and ever since I started skiing citizen races, I have admired strong female skiers like Jan Guenther, Joann Hanowski, and Lynne Cecil-Johnson. Looking back on the past weekend, however, I realized that some of the people who make the Vasaloppet so special for me are not necessarily at the front of the packÖ

My high school coach, ďGus,Ē took me to my first Vasaloppet when I was 16 years old. He made sure my teammates and I knew how to wax, what to wear, and how much blueberry soup to eat. That first race was all it took- he had me hooked for life. Seeing Gus is still one of the highlights of the Vasa for me each year, and Iím thankful that he and other coaches continue to share their love of skiing!


Smiling Josie Nelson

My mom has also been at every Vasa Iíve done, regardless of how cold and windy it is. She brings a special cowbell to ring that my Grandpa Peterson found as a boy when he was plowing their fields in Northern Minnesota. It has such a distinctive ring that I can tell itís her long before I can see her. She feeds me, takes my picture, and sends me on my way with renewed excitement. After cheering for 30 minutes after my race on Sunday, I was almost frozen solid, so I could hardly believe that my mom and so many others had been cheering and supporting racers since 9AM!

Our fried Ole surprised us this year. He is an ice-fisherman whose athletic experience was limited to a handful of citizen canoe races, until he got his mind set on the Mora Classic Series. We knew the canoe race wouldnít be a problem, but we have been thrilled to see him run the half marathon, bike the 65 mile tour, and ski the 30km classic on old no-waxers with rat-trap bindings. Hats off to Ole and other new racers who toughed out this yearís hefty head-wind!

I canít even imagine how many people put their time and energy into making sure we would have a race. What would we do without the groomers, the Kranskullas, the soup stop helpers, and all the behind-the-scenes workers? Many thanks to the town of Mora!

Itís no wonder I love the VasaloppetÖfrom superstar racers to dedicated volunteers, itís the people who make this race!

The 2002-2003 Skinnyski.com Race Team is presented by Enervit America. Enervit produces top quality food supplements for sports and active life. Other sponsors include Toko/Yoko and Rudy Project.
Brian May, Margie Tilman, Per Nelson, and Sonja Bostrom are based out of Finn Sisu. Grant Nelson, Dave and Josie Nelson are based out of Hoigaard's and FastWax.