Skinnyski Race Team Weekend Recap
By Bruce Adelsman
February 26, 2003
I won't waste a lot of time trying to do a full recap of the big Birkie weekend -- there are seven fantastic race stories from the team below that do a much better job than I ever could.
The team had incredible performances across the board. Margie Tilman and Jill Troutner posted top ten finishes in the Korteloppet. Five our skiers finished in the top 60 in the mens race, with Brian May once again posting a top 30 finish. Josie Nelson skied to her best Birkie ever, posting an amazing 23rd woman, and Sonja Bostrom, skiing in her first full marathon, hammered out an incredible 11th place, just 10 seconds out the top ten! And not to forget Per Nelson -- considering his journey to the starting line of the Birkie, we're very proud he even completed the event!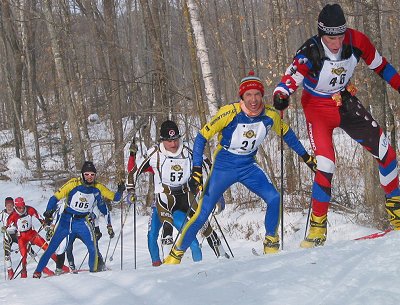 Dave Nelson and John Munger just north of Hwy OO
I'd also be remiss if I didn't mention one of the biggest performances of the weekend: having big time race feeds from Alex Gardner of our Enervit sponsor. Every one of our Birkie skiers praised the excellent feeds and said it helped their overall performance. And if you haven't been convinced by the Enervit products yet, take a closer look at what the Italian skiers were using for fuel.
Race Team Results

February 22, 2003  Kortelopet 23K Freestyle
  Jill Troutner     7th female
  Margie Tilman     8th female

February 22, 2003  Birkebeiner 51K Freestyle
  Sonja Bostrom    11th female
  Josie Nelson     23rd female
  Brian May        30th male
  Dave Nelson      43rd male
  John Munger      51st male
  Grant Nelson     58th male
  Jay Richards     59th male
  Per Nelson      204th male
Team Member Race Reports
Dave Nelson - Birkie Blahs and Birkie Great Ones: looking back the Birkies gone by as well this year's great race.
Jay Richards - Race night rumpus, the race to the start line, and the recap on his only race of the season.
John Munger - Barnebirke "DQed"; starting strong and hanging on to his second best finish.
Jill Troutner - An evening before the Birkie with Suzanne King provides insight on just what race preparation means.
Brian May - One whale of a race, and dreams of doing it all again next year.
Per Nelson - The tale of his long road just to make it to the start line for the big race.
Sonja Bostrom - Sprints in 45F weather, a full recap of her first Birkie, and excitement of her Dad's best birkie ever (and number 21 to boot!).

The 2002-2003 Skinnyski.com Race Team is presented by Enervit America. Enervit produces top quality food supplements for sports and active life. Other sponsors include Toko/Yoko and Rudy Project.
Brian May, Per Nelson, Margie Tilman and Sonja Bostrom are based out of Finn Sisu. Grant Nelson, Dave and Josie Nelson are based out of Hoigaard's and FastWax.