Skinnyski Race Team Weekend Recap
By Bruce Adelsman
February 24, 2003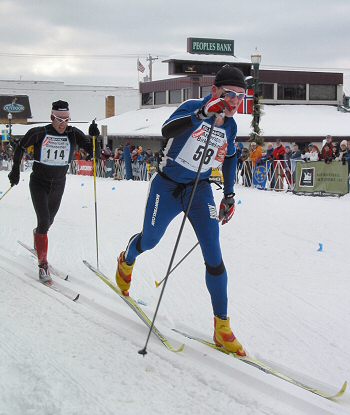 Grant Nelson and Michael Myers racing up

Main Street Hayward

The big Birkie weekend and the Skinnyski.com Race Team was there in nearly full force. With snow the previous two days, it appears the trail conditions could be a little tricky. However, some good grooming and moderate temperatures (finally!) help make it one of the faster Birkies for many skiers.

Every skier has an interesting story to tell. Two of the biggest within our team this year were Grant Nelson and John Munger. Grant did the Birkie Classic and had one of the most exciting finishes of the day (not seen by most), as he and Michael Myers dualed right down to the very final inches. John had the most unlikely of results -- with very little training due to some hectic job/volunteer schedules, John had all but thrown in the towel on the race. His carefree attittude, and perhaps some interesting race feeds, powered him to a top 50 finish.

Read the full race stories from Abbi, Margie, Jay, Josie, John, Per and Brian below.

[ Note: Thanks to Fast Wax/Outdoor Ventures for acting as a "safe house" for the team on Friday, allowing team members to pick up their new FIS legal ski suits. ]

Race Team Results
Feb 21 American Birkebeiner

Grant Nelson    1st male   51K classical   2:55:13

Brian May      34th male   51K freestyle   2:22:08
Ben Popp       42nd male   51K freestyle   2:25:26
John Munger    49th male   51K freestyle   2:27:08
Dave Nelson    68th male   51K freestyle   2:29:18
Jay Richards  103rd male   51K freestyle   2:34:22
Per Nelson    139th male   51K freestyle   2:37:22

Abbi May       37th female 51K freestyle   2:56:41
Josie Nelson   39th female 51K freestyle   2:57:41
Margie Nelson  65th female 51K freestyle   3:12:39


Team Member Reports
Abbi May - After having last year off, Abbi returned to the Birkie with no big expectations and came away feeling very happy.
Margie Nelson - Margie relates the tale of her very first Birkie!
Jay Richards - Putting the hammer down early, Jay takes a shot at rocketing up the Birkie results.
Josie Nelson - Josie has a great time, skiing with friends, and making new ones along the way.
John Munger - Tales of "The Bell" and John's unusual feed tactics are just part of John's fun recap.
Per Nelson - Determined to improve on last year's results, Per takes a more relaxed route to the Birkie this season.
Brian May - Yet another fabulous race for Brian as he mixes it up with some of the Birkie elite.