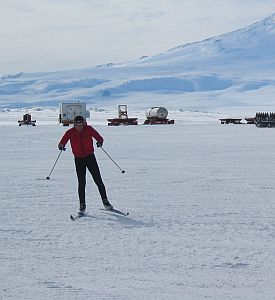 Blue Hills, April 1, 2007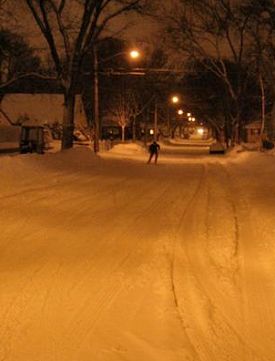 Skiing before sunrise on the lighted trails at Hyland, April 1, 2007
Highlights

Marshall Planning Major Trail Expansion
April 1, 2007
Duluth Marshall is working on a major expansion to their ski trails, with plans to expand it to over 25K.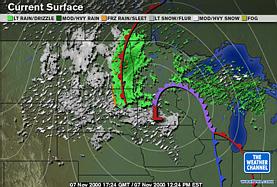 Heavy Snow Rolling in from the Dakotas
April 1, 2007
The strong winter storm that has dropped up to 70" of snow in Wyoming has slipped farther east, and combined with an Albert clipper is expected to generate some big snow across western and southern Minnesota. Early forecasts call for 8-12" by Sunday evening. Stay tuned to the latest weather statements in our Weather section.

New Birkie Classic Format Announced
April 1, 2007
Birke organizers have announced the new solution that will put the classical skiers on even par with the skaters. Both races will start at the same time, with the classic skiers kicking off on Main Street Hayward and skiing north to finish at Telemark. "As long as skiers keep to the right, everything should go smoothly," said one anonymous source, "but we have some concerns with skiers from the UK and New Zealand."

World Cup: Kenyans Sweep Podium!
April 1, 2007
After years of intense training in a Nike program, Kenya skiers have finally turned out some big results, sweeping the podium at the Dusseldork World Cup marathon races on Sunday in Germany. With a sense of frustration, Tobias Angerer complained "If they had announced the event more than 15 minutes before the start, I believe we could have fielded a competitive team."

Economical Snowmaking Solution
April 1, 2007
Frustrated by the high cost of snowmaking operations, a new company of recent graduates from Bartending College in Milwaukee have developed an ingenious system for snowmaking. Using off-the-shelf materials, the process utilizes blenders and bags of ice to generate snow -- and it works even in above freezing temperatures!

Madspouse Skis Feature New Base
April 1, 2007
Madspouse skis have announced a radically new ski base called "Freshen-Ups". The base has peel away layers, allowing the skier to quickly remove wax and scratches to set up a perfect grind every time.

Snowmobilers and Skiers Unite
April 1, 2007
After years of almost open conflict, the Minnesota/Wisconsin SnowGo Club has come up with a plan for bringing the two parties together. Taking a page from the skijoring craze, snowmobilers will use tow ropes to provide high-speed skate ski training.

Minnesota Sunnyski Series Expands
April 1, 2007
Embolden by success, the Minnesota Sunnyski Series (MiSSou) will up the ante next season, expanding the series to 43 races. Skiers will need to compete in a minimum of 39 events to qualify for the free trip to Dubai Snow dome.