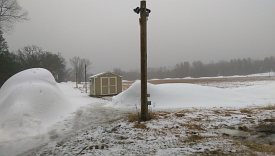 Stockpiling stock, Lapham Peak, November 22, 2014 (Photo: Andy Schwartz)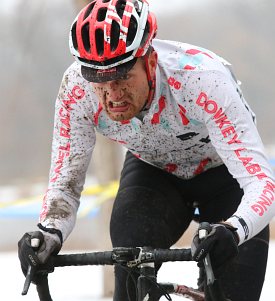 Minnesota State CX, November 22, 2014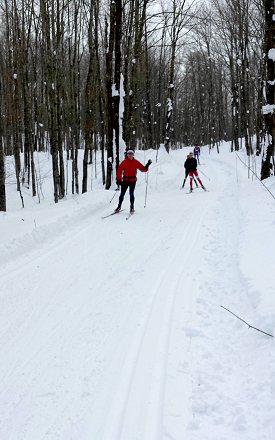 Wolverine, November 22, 2014 (Photo: Deborah Leonard-Polich)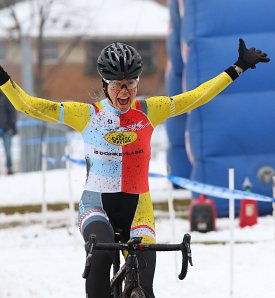 Minnesota State CX, November 22, 2014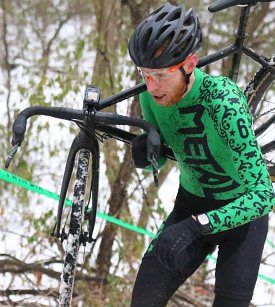 Minnesota State CX, November 22, 2014
2014-15 Minnesota High School Nordic Season Preview
November 10, 2014
The Minnesota High School Nordic season kicked off Monday with a major winter storm - perhaps foreshadowing for the season? We provide a breakdown on the sections and even a preseason ranking to get the juices flowing.

Midwest Racing Season Preview
November 2, 2014
With the end of daylight savings time, the early sunset signals that winter is not far away! We've updated our racing calendar with the latest info on the citizen, collegiate, and high school events. Our annual preview covers some of the big changes on tap this winter, along with some new additions and a few losses.
Skinnyski FAQ
December 4, 2011
We've collected together a bunch of common questions to assembly our own FAQ for cross-country skiing in the Midwest and using the Skinnyski website.
Skinnyski Photos
February 5, 2009
Found a photo you'd like to get a copy of? Looking for images from a past event? Find out how to dig through our archives and help support the web site by purchasing photographs.

Minnesota CX Championships Coverage
November 22, 2014
Given the cold November, relatively warm temperatures on Saturday generated some slick conditions for the Minnesota Cyclocross Championships at Bassett Creek. Still waiting for official results online, but former Maine cross-country skiing champ Corey Coogan-Cisek popped a great race to finish second overall in the womens cat 1/2/3 race. Photos from the Saturday afternoon races are up.
Related:
Photoset:

Womens Cat 1/2/3 - 167 photos,

Mens Cat 1/2 - 231 photos

Cold November Stretch
November 21, 2014
Mark Lahtinen shares an update on the recent cold weather stretch, and how it might correlate to the rest of winter.
Related:
NOAA: What's in store for the United States this winter?

Snowy Weekend on Tap for West Yellowstone
November 21, 2014
Winter Weather Advisories and Winter Storm Watches are up for a good portion of western Montana and Wyoming as some big precipitation systems are expected to move in from the coast over the weekend.
Related:
West Yellowstone Forecast
Montana Road Conditions Map

Fall Coaches Update
November 21, 2014
A short update on the Minnesota HS Nordic Coaches Association happeneings, including another opportunity for USSA Level 100 certification, and discussion on State Meet formats.
Weekend Skiing and Trail Reports
November 20, 2014
Plenty of good skiing -- great skiing, in fact -- around the region. Make your plans and head out to explore some natural snow this weekend! New reports from Three Eagle(2)

, Woodland(2), Theodore Wirth

, Nordmarka, Wolverine

, Lapham Peak

, Kamview, Voyager Village GC, French, Jay Cooke SP, Vadnais/Sucker Lakes

, Elm Creek, Andes Tower Hill, Green Haven GC

, Anoka

, Baker, Quarry Hill, Blueberry Ridge, Hyland Lake, and recent reports from Graystone(2), Lake Elmo, Woodland(3), Elm Creek(5)

, After Hours(2)

, Wild River SP

, Anoka, Green Haven GC, Hyland Lake(4)

, Theodore Wirth, Three Eagle(2)

, Maplelag

, Como GC(2), Kraemer Lake-Wildwood, Mt. Ashwabay, Minocqua Winter, Noquemanon, Sibley SP.
Related:


Skiing Etiquette in Marginal Conditions
Birkie Twin Cities Fundraiser Coverage
November 20, 2014
The American Birkebeiner Ski Foundation was in the Twin Cities Thursday evening for a special fundraiser event. The capital campaign to secure the start area, improve the finish area, and build upon the Birkie legacy received strong support from the community. If you missed out, you can get more information and show your support online.
Related:
Photoset:

Birkie Twin Cities Fundraiser
Birkie: Honoring the Legacy - Ensuring the Future
Weekend Events
November 19, 2014
A little pre-gobble workout?
Nov 22-23 Minnesota CX Championships - The Minnesota cyclocross season wraps up with a sure-bet snowy finale at Bassett Creek.
Nov 27 Turkey Day Trail Trot - Endurance United has their annual Thanksgiving morning trail run at Battle Creek.
Nov 27 Turkey Day 5K - The huge (really huge) 5K run in downtown Minneapolis, pre-feast.
Nov 27 Chequamegon Bay Turkey Trot - Washburn County has there own Turkey 5K.
And many more to choose from, across the Midwest.
Related:
Nov 21-23 Winter Outdoor Adventure Expo

Gear West: Grind Testing
November 19, 2014
Gear West staff, including Birkie champ Matt Liebsch, have already been out testing out new grinds on our recent snowfall. Matt shares some of his findings. And you can still get your skis prepped for Yellowstone, and get a free bar of wax in the deal.
Related:
Yellowstone Grinding and Free Block of Swix Wax
Winter Outdoor Adventure Expo: History of Nordic Skiing
November 19, 2014
Woodenskis.com's own Greg Fangel will be at the Winter Outdoor Adventure Expo this Saturday, giving a pitch on the history of Nordic skiing, especially related to the Midwest.
Fitzharris Ski & Sports Skinny Ski Only Sale Nov 21-23
November 18, 2014
Fitzharris Ski & Sport is holding their Skinny Ski Only Sale this weekend, Nov 21-23. Come early for the best selection of closeout skis, boots, and poles, up to 55% off, including top end race skis from Salomon and Madshus.
Related:
Fitzharris Ski & Sport
Level 100 Certification Session in Minneapolis
November 18, 2014
There will be a Level 100 CXC/USSA Coaches certification clinic, Sunday, Nov 30th at Theodore Wirth Park in Minneapolis. The day long clinic provides the opportunity to take the Level 100 test, along with CXC and USSA memberships and more.
Finn Sisu: Trollhaugen Nordic Clinic
November 18, 2014
Finn Sisu will be helping run a two-day Nordic Race Clinic at Trollhaugen, the weekend after Thanksgiving, Nov 29-30th. Top coaches will be providing technique work and video analysis, plus equipment demos and waxing clinics. Registration is now open.
Local Stars
November 17, 2014
Life as a Pro - Rosie Frankowski works on her fundraising (and giving thanks), plus an update on training.
Goodbyes - Annie Hart shares her farewells as some of her best friends head overseas for Euro racing.
How to Make Snow - Elm Creek has put out a video on their snowmaking process.
Its the Sauna - MinnPost has an article on how early Minnesotan's might have survived winter: the sauna.
And if you already miss rollerskiing...
Formula 1 - Rollerski racing on a Formula 1 race track.
Midwest Mountaineering Expo Newsletter with Coupons
November 17, 2014
Midwest Mountaineering has released with Expo Newsletter, featuring a number of special coupons for free or greatly reduced items.
Womens XC Clinic Dec 12-14
November 17, 2014
Riverbrook and Gear West are teamed up to provide a special women's XC weekend on snow -- on the Birkie trail -- Dec 14-16th! Expert instruction focused on improving technique and efficiency, while being pampered with treats and positive attitudes.

Midwest Mountaineering Winter Outdoor Adventure Expo
November 16, 2014
Midwest Mountaineering huge winter celebration, the Outdoor Adventure Expo, is coming this weekend, Nov 21-23. Over 80 free presentations to attend, more than 70 vendors on display, the Banff Mountain Film Fest Tour, and of course, everything in the shop on sale!
Related:
Winter Outdoor Adventure Expo Newspaper
Ski Hut Wax Clinics
November 15, 2014
Ski Hut has posted their wax clinic schedule, with the first event on tap this Thursday, Nov 20th.

Fischer Demo Reservations for Yellowstone
November 14, 2014
Fischer will be back at the Yellowstone Ski Festival, and is again offering their online reservation system for skis and boots. Make your reservation now - the first 50 people demoing equipment will receive a free Fischer race hat!
Related:
Fischer Yellowstone Demo Online Reservations

Gear West at Yellowstone Ski Festival
November 14, 2014
Gear West will be at Yellowstone Ski Festival providing stonegrind service drop off, race ski flex testing and ski demos. Matt Liebsch will give ski tech talk and be a guest coach for a five day race camp.
Related:
Nov 18 Women's Alpine Event at Gear West Adrenaline
Hoigaards: I Love Snow Sale
November 14, 2014
Hoigaards is celebrating the start of ski season with their 'I Love Snow Sale', offering deals on complete ski packages.
Start's New Glide Wax Series
November 13, 2014
Start wax has reformulated is wax line this winter, and is now using four primary classifications for its glide waxing system.
Midwest Mountaineering November Newsletter
November 13, 2014
Midwest Mountaineering's latest newsletter highlights the upcoming Winter Outdoor Adventure Expo, plus a deal on a Firesteel Mini, huge hat selection, and additional upcoming events.
Back in the USA: Exel Poles
November 12, 2014
Exel ski poles return to the US marketplace this winter under an distribution agreement with DNA Importers. The latest generation poles have been endorsed by World and Olympic champion Ole Einar Björndalen.
Fall Ski Swaps
November 12, 2014
Another big weekend of ski swaps with events being held in Minneapolis, Long Lake, St. Cloud, Brainerd and Hayward.
Local Stars
November 11, 2014
Falling In - Ben Saxton fires up his own blog, starting off with a post recap his fall training.
While Working Out - A rather humorous look at the thoughts traveling through Paige Schember head during a three hour workout.
Dark Times - November brings a dark times for Annie Hart, along with a short recap of October.
Animated - Jessie Diggins early November update features a series of animated GIFs as she prepares for Europe.
Best Birthday - Caitlin Gregg is psych'd about her birthday present (and racing overseas).
Joes Sporting Goods: Gear Up for Winter Sale
November 10, 2014
With some fresh snow in the Twin Cities, Joes is having their Gear Up for Winter Sale, starting this Thursday, Nov 13th.
BeFAST in West Yellowstone
November 9, 2014
BeFAST Sportgear announces their fourth year of being present at the West Yellowstone Ski Festival by producing a custom headband. The festival runs from November 25th to November 29th in West Yellowstone, Montana.
Related:
Yellowstone Ski Festival
Illinois Roller Ski Race Series Results
November 9, 2014
The Illinois Rollerski Race Series wrapped up Sunday with the final event in the four month series. Chris Pappathopoulos posted the top time and locked in his title as the overall series champion. Maxim Glyuka was crowned the junior champion.
Rivet Run Coverage
November 9, 2014
Eve Graves reports: Sunday's Rivet Run 5k trail run/walk at Pattison State park drew nearly 100 participants (double the previous event!). With temperatures hovering around freezing and sunny skies participants had a great experience. Rett Moreland won with a time of 21:21 while Kaelyn Williams won for the women with a time of 22:25. The first Master's male was Dan Duff with a time of 23:08 and the first Master's female was Jen Vos Benkowski with a time of 26:51.
Related:
Photoset from Eve Graves:

Rivet Run
Results: Rivet Run
Vakava Time Trial Coverage
November 9, 2014
Squeezing in perhaps the last rollerski of the season in the Twin Cities, the Vakava training group held a pair of rollerski time trials on some quiet backroads near Afton Sunday morning. Temperatures were in the upper 30s for the interval start 5K skate race, followed shortly afterwards with a 5K classical event. Photos and results are up.