Trail Report / Training Report Drawing
Submit a trail report and be entered into our weekly $100 lodging gift certificate drawing.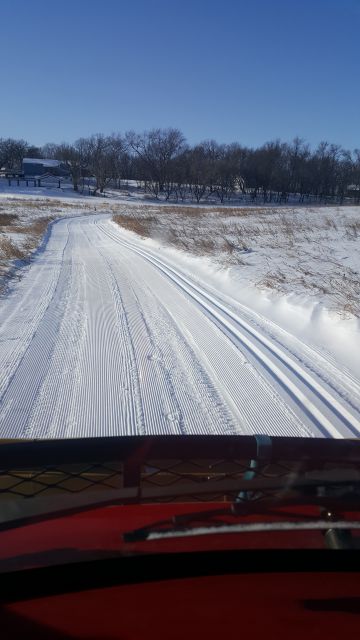 Prairie Woods Environmental Learning Center, December 11, 2019 (Photo: Kory Klebe)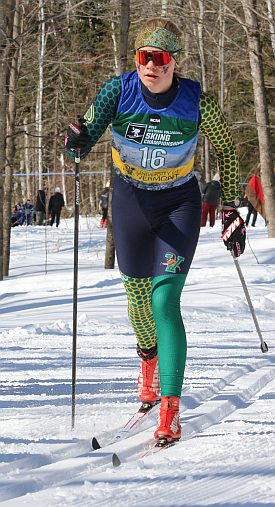 Margie Freed skiing to 11th, NCAA Championships, March 8, 2019 (Photo: Jackie Schneider)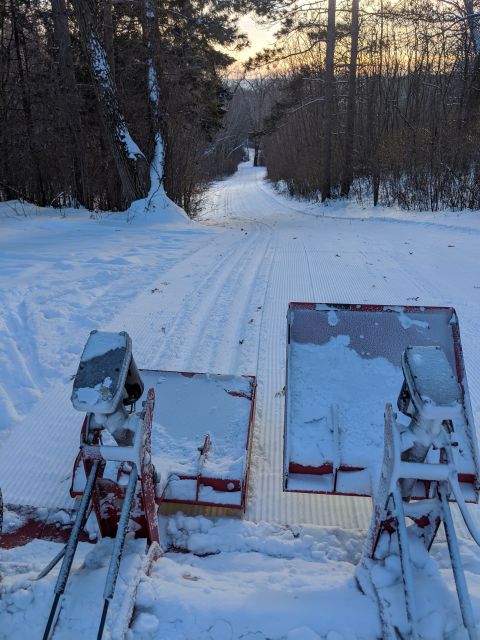 Battle Creek West, December 11, 2019 (Photo: David Gorringe)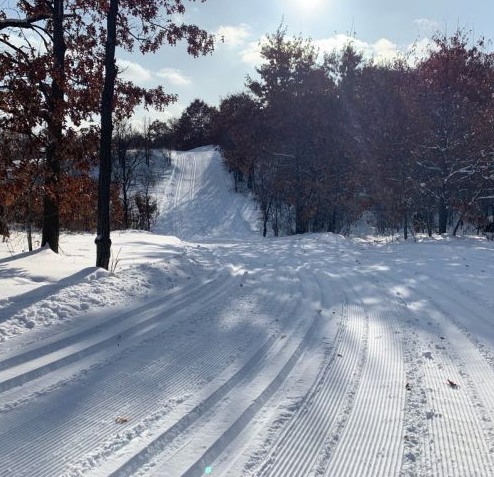 Bunker Hills Regional Park, December 10, 2019 (Photo: Joe Baker)
Skinnyski FAQ
December 4, 2011
We've collected together a bunch of common questions to assembly our own FAQ for cross-country skiing in the Midwest and using the Skinnyski website.
Skinnyski Photos
February 5, 2009
Found a photo you'd like to get a copy of? Looking for images from a past event? Find out how to dig through our archives and help support the web site by purchasing photographs.

Cook County: the Perfect Holiday Ski Vacation
December 11, 2019
Visit Cook County is excited to open the 2019-2020 cross-country ski season with a fresh blanket of powder covering the region. Check out their wide range of trails and events available this season, and even get some virtual snow time via their webcams!

Collegiate Racing Season Preview
December 11, 2019
With some collegiate teams taking on warm up races this weekend, we kick off another season of collegiate racing coverage with preview of all three of the major conferences and where Midwest skiers are racing this season. We welcome Luke Brown as one of our new writers this season, covering primarily the collegiate scene.

Weekend Racing
December 11, 2019
The racing season picks up speed this weekend...
Dec 14-15 CXC Opener in Duluth - The first JNQ of the season, and a chance for some collegiate athletes as well. Classic sprints and mass start freestyle events.
Dec 14 Hoigaards Relays - The popular kickoff to the racing season with two-person relay racing at Elm Creek Saturday! Citizen and high school divisions.
Dec 14-15 NMU Opener - The UP college teams hold their own scrimmage at Al Quaal in Ishpeming.
Find our latest race updates in the Racing Outlook.
Related:


Frankowski: Behind the Scenes of the World Cup
December 11, 2019
Minnesota native Rosie Frankowski checks in while racing on the World Cup this month to give us a behind the scenes look at how the series rolls through Europe from week to week. Read about Christmas celebrations in Lillehammer, visiting Santa's homeland, and favorite desserts of some World Cup stars!

Free Lessons at Blue Hills Saturday
December 11, 2019
Some Ride and Glide Bike and Ski Club members will be offering free ski lessons at Blue Hills Trails this Saturday, Dec 14th. Skiers must RSVP if planning to attend, as space is limited.

Trail Report Updates
December 10, 2019
With additional snow earlier this week, great conditions are being reported across much of the Northland. New reports from Maplelag

, Balsam Branch, Escanaba, Valley Spur

, Carey Lake

, Whitetail Woods

, Baker, Spring Lake

, Battle Creek East, Pine Valley, Battle Creek West, Chomonix GC, Woodland, Sturgeon River, Highland 9-hole GC, Green Haven GC, Anoka, Flambeau Hills, McNaughton Lake, Birkie, Como GC(2), After Hours, Nordmarka, Soaring Eagle

, Gooseberry Falls SP

, Blue Hills

, Gov Thompson SP, Lake Elmo, Elm Creek, Grass Lake, Mt. Ashwabay, Spooner City

, WinMan

, Hyland Lake, and recent reports from Battle Creek West(2)

, Sugar Hills, Phalen GC, Birkie(2), William O'Brien SP, Trade River, Sturgeon River

, Central Gunflint

, Red Cedar River, Northland Arb, Prairie Woods Environmental Learning

, Coon Rapids Dam, Woodland, Timberland Hills

, Rum River Central, Highland 9-hole GC, Wild River SP, Hayward Hospital, Magney-Snively

, Penokee Mtn, Rock Lake, Barron Association, Springvale, Big Ridge, Wabana, Alder Pond, Blackwater Environmental, Pincushion Mtn, Jackson Meadow, Mecca, Marshfield School Forest, Giants Ridge, Afterglow Lake, ABR

, Vasaloppet Public

, Movil Maze, He-Nis-Ra, Snowflake

, Vasaloppet

, French, Minocqua Winter

, Hartley, Willow River SP, Cut Lake.
Birkie 10 Days of Snow Fundraiser Challenge
December 10, 2019
The American Birkebeiner Ski Foundation is tackling a $50,000 challenge grant to raise $100K for snowmaking efforts. From now through December 19, 2019, your donation to the 10 Days of Snow campaign will be doubled -- they need to raise $50,000 to receive the matching challenge gift.
Hoigaards: Fast Wax Nordic Waxing Clinic Tuesday
December 9, 2019
Spend the night with Fast Wax and learn the secrets of Nordic ski glide waxing at Hoigaards on Tuesday evening. Casey Kirt of Fast Wax will be in-house to discuss and demonstrate what you can do to make those skis faster. Topics include selecting and applying the right ski wax.
Racing Outlook
December 9, 2019
Duluth JNQ registration closes Tuesday night, Hoigaards Relays set for this weekend, Winter Warmup bumps back a weekend on the calendar, and more.
Canmore NorAm: Midwest Skiers Shine
December 9, 2019
Canmore Nordic Center in Alberta, Canada, hosted three days of racing over the weekend with Midwest skiers posting some excellent results. On Friday, Alayna Sonnesyn made it to the sprint heats semifinals. Saturday saw Zak Ketterson taking the victory in the 10K classic event with Adam Martin 4th and Ian Torchia 7th. Caitlin Gregg showed her skate format is sharp as ever as she won the women's 10K freestyle race with Alayna Sonnesyn taking 6th. In the men's 15K freestyle, Ian Torchia missed the podium by 10 seconds to finish 4th, Zak Ketterson just 4 seconds behind in 6th.
Related:
Results: Canmore NorAm
Minnesota High School Nordic Skiing Rankings - Round 1
December 8, 2019
It's finally here -- we post our first round of Minnesota high school rankings! Coming as no surprise, King and Queen are Cooper Lennox, Mora, and Libby Tuttle, Stillwater. Teams starting out at the top are the St. Paul Highland Park girls and Forest Lake boys.
US Ski Team: Second in Lillehammer Team Relay
December 8, 2019
The U.S. Cross Country Team of Sophie Caldwell, Sadie Maubet Bjornsen, Rosie Brennan and Jessie Diggins battled to a second-place finish in Sunday's FIS Cross Country World Cup 4x5k team relay in Lillehammer, Norway. Diggins skied to the fastest time on the day in ensuring the number two position on the podium.
Related:
Fischer: Norway and Russia win Lillehammer relays
US Ski Team: Diggins Second, Maubet Bjornsen Eighth in Lillehammer Skiathlon
December 7, 2019
Jessie Diggins finished second in the 15k skiathlon, tying a career-best World Cup result, to lead the U.S. Cross Country National Team Program in Lillehammer, Norway, Sunday. Sadie Maubet Bjornsen was eighth, Rosie Brennan 16th, and Minnesota native Rosie Frankowski 33rd. For the US men, David Norris led they way in 34th, while Midwest's Kyle Bratrud was 47th.
Skadi's Chase Coverage
December 7, 2019
Skadi's Chase 8K race at Elm Creek on Saturday morning kicked off the start of the big Minnesota Nordic Ski Opener event, hosted by Three Rivers Park District. Matt Liebsch coasted in the men's lead pack until the final 300 meters, when he pressed the gas pedal and took the victory with McEwan Rodefeld taking the best of the rest and U of M student Tony Mathie collecting third. In the women's race, Jenna Ruzich skied off the front to win with Cheryl Dubois second, Greta Koppy third. High school victories went to Declan Rodefeld and Naomi Ohman. Results and photos posted.
Rex Blog: Ruka, Wax Ban, Lillehammer
December 7, 2019
World Cup wax technician Chris Hecker of Rex Wax shares insights and comments from behind the scenes at the opening races in Ruka, as well as preparation for Lillehammer. The new FIS fluoro ban for next season are a huge topic within the skiing community and Hecker discusses some of the far ranging impacts.
MCSA Racing Schedule Announced
December 5, 2019
The Midwestern Conference of the United States Ski & Snowboard Association (MCSA) has determined 2019-2020 season schedules for their Northern and Southern Nordic divisions. Clubs and teams from at least ten colleges are expected to compete in the races. And Swix Sport USA has thrown their support in as a major sponsor.