Trail Report / Training Report Drawing
Submit a trail report and be entered into our weekly $100 lodging gift certificate drawing.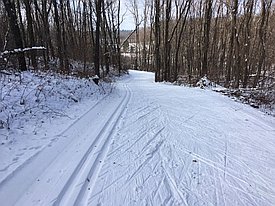 Iola Winter Sports Club, December 9, 2018 (Photo: Ian Duncan)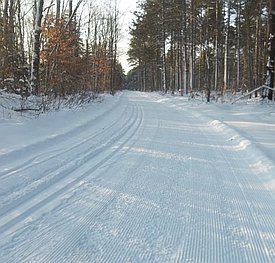 Valley Spur, December 9, 2018 (Photo: Dan Rabine)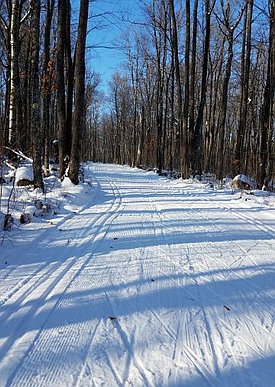 Giants Ridge, December 9, 2018 (Photo: Mick Dodds)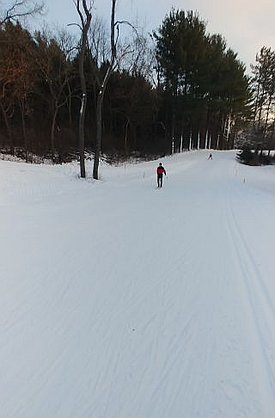 Lapham Peak, December 9, 2018 (Photo: Don Howell)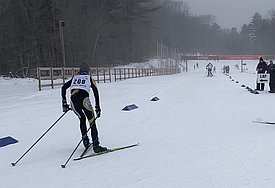 Marshall Invite at the Birkie start trailhead, December 8, 2018 (Photo: Ben Popp)
Related:
High School Results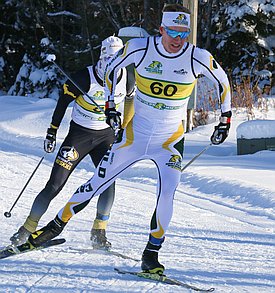 Zak Ketterson, UP Opener, December 8, 2018 (Photo: Jackie Schneider)
Fall Ski Swaps
Sales and ski swaps coming up in the weeks ahead:
• No current events.
Skinnyski FAQ
December 4, 2011
We've collected together a bunch of common questions to assembly our own FAQ for cross-country skiing in the Midwest and using the Skinnyski website.
Skinnyski Photos
February 5, 2009
Found a photo you'd like to get a copy of? Looking for images from a past event? Find out how to dig through our archives and help support the web site by purchasing photographs.

BNS Stonegrinding Schedule
December 10, 2018
BNS is ready for racing season and they want to help get your boards in tip-top shape -- check out their stonegrinding schedule so you plan your tune up.

Collegiate Racing Recap: CCSA, RMISA
December 10, 2018
Mary Kozloski is back for another season, bringing us racing recaps from the collegiate scene across the US with emphasis on the Midwest skiers. Kozloski kicks off the coverage with recaps of the CCSA races last weekend as well as early racing action up in Alaska.

Weekend Trail Reports
December 9, 2018
Good early season skiing around much of the region New reports from Honey Tree Farm, Theodore Wirth North, Mother Bear

, Vasaloppet Public, Saint Mary's Univ, Valley Spur, Lapham Peak, Hyland Lake(2), Coulee Experimental SF

, WinMan, Afterglow Lake, Carleton College Arb, Mt. Valhalla, and recent reports from Hiawatha GC, Old Vermillion

, Hyland Lake(2)

, Coulee Experimental SF(2)

, Iola Winter Sports(2)

, Battle Creek West, Clark

, Snow Mtn Ranch

, Quarry Hill, Afterglow Lake(2), Lapham Peak(3)

, Saux Head, Flathorn-Gegoka

, Spring Lake, Giants Ridge(3)

, Birkie

, Theodore Wirth North, ABR(2)

, Elm Creek, Valley Spur(2)

, Lowes Creek

, Pincushion Mtn, Sugarbush

, Carver, Minocqua Winter, Tilson Creek

, Maplelag(2)

, Standing Rocks, Devil's Lake SP, Mt. Ashwabay(2), Cassian Two-Way

, Highland 9-hole GC.

World Cup Beitostølen: Relays
December 9, 2018
The first big relay race of the World Cup season resulted in a sweep by the Norwegians as they took both the women's and men's titles on Sunday in Beitostolen, Norway. Sadie Bjornsen provided some major excitement leading off for the US as she led or was in second place throughout her leg but Norway's Therese Johaug broke things open in the second leg and Norway never looked back in taking the victory, Russia second, Finland third. Jessie Diggins pulled out a 5th place finish for the US women's team. Erik Bjornsen also started the US squad off well in the men's relay, handing off in 4th place and just 17 seconds off the podium. Norway and Russia would battle for the overall led with Russia going much of the pacing before a sprint finish, won by Norway's Finn Haagen Krough. Norway's second relay team took third place.
Related:
Results: Relays
US Ski Team: U.S. Women Fifth In Beitostolen Relay

CCSA: UP Opener Classic Coverage
December 9, 2018
The format switched to classic on Sunday for the UP Opener but the results were the same -- Zak Ketterson, NMU, and Sarah Goble, MTU, repeated as champions. Ketterson's victory was over a minute ahead of teammate Mathias Rolid with Kjetil Baanerud third as NMU men took the first five places. Goble's winning margin was much smaller, less than four seconds ahead of Nadine Matter, NMU, with Sarah Bezdicek, NMU, in third. Results linked in, along with photos from Jackie Schneider of the men's race.
CCSA: UP Opener Freestyle Coverage
December 8, 2018
The Central Collegiate Ski Association (CCSA) season got underway on Saturday with freestyle races at Al Quaal in Ispeming, MI. Michigan Tech's Sarah Goble captured the first win of the season in the women's 5K with Northern Michigan's Nicole Schneider and Sarah Bezdicek taking second and third. Zak Ketterson showed strong early season form in posting the only sub-25 minute time in the men's 10K. MTU's Gaspard Cuenot was second with Kjetil Baanerud, NMU, third. Results linked in, photos from Jackie Schneider posted!
World Cup Beitostølen: Freestyle Distance
December 8, 2018
With fresh snow falling, World Cup skiers battled in out in women's 15K and men's 30K freestyle races on Saturday morning in Beitostolen, Norway. Once again, Norwegian Therese Johaug dominated the field, winning by over a minute in front of Sweden's Charolette Kalla with Ingvild Oestberg third. Jessie Diggins led the US squad in 8th with Sadie Bjornsen 13th and Rosie Brennan 15th. Likewise in the men's field, Norway's Sjur Roethe collected another victory with teammate Martin Sundby second, and Russian Andrey Melnichenko third. A tough day for the US mens squad as Scott Patterson posted the top time in 47th place.
Related:
Results: World Cup Beitostølen 15K, 30K Freestyle
US Ski Team: Diggins Eighth in Beitostolen 15k
Revolution: Wax Clinic Tuesday
December 7, 2018
Revolution Cycle and Ski in St. Cloud will help put an end to all of the guess work when it comes to waxing skis! Come to a ski wax clinic on Tuesday evening, Dec 11th. Co-sponsored by the Nordic Ski Club of Central MN.
Rex Blog: World Cup Lillehammer Highlights
December 6, 2018
Chris Hecker, Rex wax tech, reports on last weekend's waxing experiences with damp, man-made snow at the Lillehammer World Cup, sharing what products worked well.
CXC Year End Challenge
December 6, 2018
CXC has begun their end of year fundraising effort. Nordic Rocks, junior programs, and adaptive skiing programs are all programs that could use your support!
World Cup Beitostølen Weekend Series
December 5, 2018
The World Cup stays in Norway this week for another pair of weekend races, this time in the village of Beitostølen. The format on Saturday is 15K womens and 30K mens individual freestyle races, and then Sunday is the popular relays races (two legs classic, two legs freestyle). Live streaming on NBC Sports GOld Snowpass as well as Olympic Channel broadcast is scheduled, times Saturday are womens 15K freestyle 2:30 am CST, mens 30K freestyle 5:15 am CST; Sunday womens relay at 3:30 am CST, mens relay 6:30 CST.
Related:
NBC Sports Gold Snowpass
World Cup Beitostølen Website
Midwest Junior Trip Staffing Announced
December 5, 2018
The Midwest region coaching and support staff for Junior Nationals, the U16 Championships, and the Canadian Nationals has been announced. Julia Curry, head coach, and Chris Harvey, trip leader, will drive the Junior National squad, Bjorn Hanson directs the U16 Championships team, and Bruce Manske will be in charge of the Canadian Nationals trip.
New Moon Newsletter: Kids on Skis, Fat Biking
December 5, 2018
New Moon's latest newsletter touches on getting kids started right on skis, fun gift ideas from Twin Six Apparel, and renting fat bikes in Wisconsin's Northwoods.
Elm Creek Series Kicks Off
December 5, 2018
The citizen racing season kicked off Wednesday evening with the start of the Elm Creek series. Dennis Curran and high school star Libby Tuttle took the freestyle 5K races with Tuttle repeating again in the 5K classic and only bested overall by Ben Mullin.
TCNSC Meet Results
December 4, 2018
Highland Park coach Brad Moening reports: The Twin Cities Nordic Ski Conference kicked off their season Tuesday with a 3.1K freestyle race at Wirth Park. Charlie Reinhardt of Mound Westonka won the boy's race in a time of 7:33. Molly Moening of Highland Park won the girl's race with a time of 8:35. The Highland Boys and Girls won the team races.
Salomon: A Team Journey
December 4, 2018
Salomon has a new video feature on the support crew that helps Nordic athletes deliver their best possible performance.