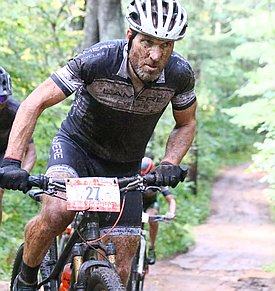 Jeff Hall pursuing the front runner, Chequamegon 40, September 15, 2018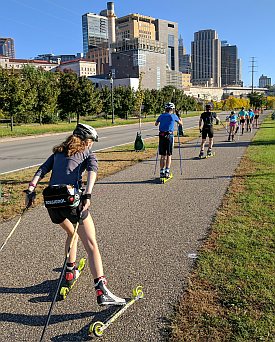 Endurance United 55K rollerski event, October 8, 2017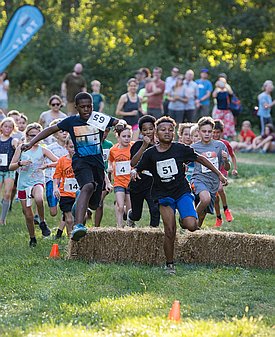 Trail Kids Adventure Race, September 13, 2018 (Photo: TMB Images)

Mens champ Payson McElveen, Chequamegon 40, September 15, 2018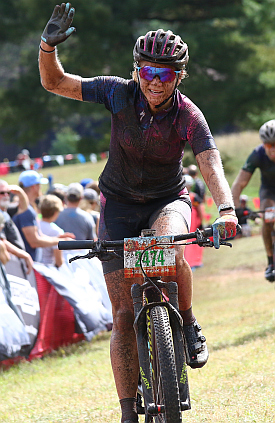 Jenna Rinehart, womens champion, Chequamegon 40, September 15, 2018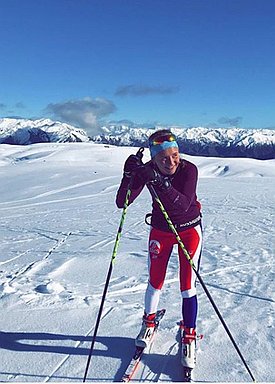 Alayna Sonnesyn training with SMS-T2 in New Zealand, August 21, 2018
Skinnyski FAQ
December 4, 2011
We've collected together a bunch of common questions to assembly our own FAQ for cross-country skiing in the Midwest and using the Skinnyski website.
Skinnyski Photos
February 5, 2009
Found a photo you'd like to get a copy of? Looking for images from a past event? Find out how to dig through our archives and help support the web site by purchasing photographs.

Midwest MTB Report: Chequamegon Recap
September 18, 2018
Jay Richards Midwest MTB Report this week focuses on the epic 2018 Chequamegon 40! This week report includes first hand recaps from the big race, a quick highlight from the Wild Goose Chase in Moorhead and a look ahead.

Web Roundup
September 18, 2018
Hello Vermont - Jake Brown provides an update on his biathlon training this summer in Vermont and a perspective on accepting critiques.
Five Tips - Gear West's Jenny Beckman has five quick training tips for the busy skier.
Summer Grind - Finn Sisu's Tom Novak shares some observations on stone grinding.
Word Up - Bjorn Hanson, owner of Out There, was recently featured in Word on the Trail podcast.
New WR - A new world record for the marathon was set last weekend in Berlin, bringing the time down to 2:01:39!
New WR 2 - A female cyclist has claimed the new world record speed on a bicycle at 183.9 mph!
Running Genes - Scientists discover gene mutation that gave humans increased endurance.
Wintastar - Shanghai is building a nearly 1 million sq foot indoor ski resort.

Finn Sisu: Blue Awning Sale and Ski Swap
September 17, 2018
Finn Sisu's annual Blue Awning Sale and Ski Swap is this weekend, September 21-23. Up to 50% off skis and poles! Skiers with skis, boots, or poles for the swap should drop their gear off at the shop by Thursday, September 20.

Endurance United 55K Rollerski Event This Sunday
September 17, 2018
Endurance United's annual 55K point-to-point rollerski event is this Sunday, Sep 23rd. Skiers will start at Desnoyer Park in St. Paul and rollerski all the way to downtown Stillwater utilizing connecting trail systems with rest stops and even optional equipment change location. . Bus transportation is available from Stillwater. You need to sign up in advance, register online!

CXC: Masters Camp with Deedra Irwin Sep 28-30
September 17, 2018
The next CXC Masters Camp is coming up the weekend of Sep 28-30 in Cable, Wisconsin. Elite skier and biathlete Deedra Irwin will be the guest coach! All master skier levels are welcome, from beginner to advanced.

Swedish Mile Trail Run Sep 29th
September 17, 2018
Come out Saturday, Sep 29th, for the Vasaloppet's Swedish Mile, a 10K trail run on the Vasaloppet trails. Proceeds help fund the snowmaking operations and trail development.

Gear West: Women's Training Weekend Coming Oct 26-28
September 16, 2018
Gear West and Riverbrook are hosting a women's weekend training retreat in the Hayward area, Oct 26-28th. A wide variety of activities available including active pole hiking, mountain biking, trail running, rollerskiing, outdoor strength, indoor stretching and more. Olympian Caitlin Gregg will join the group!
Trail Kids Adventure Race Coverage
September 16, 2018
Kim Rudd reports: The 2018 Loppet TRAIL KIDS Adventure Race Series kicked off their first race this past Thursday evening with seventy youth ages 6-14 years old competing in a one mile trail run starting and finishing on Stadium 18 and running on the Trail 36 single track trails. Youth enjoyed jumping hay bales, running down single track berms and counting orienteering flags along the race course. There were two races with a younger U10/U12 race followed by an older youth race U14/U16 category. Youth enjoyed post race food, age group awards and door prizes provided by TC running and the Loppet Foundation.
Related:
Photoset from TMB Images:

Trail Kids Adventure Race
Results: Trail Kids Adventure Race
Northshore Inline Marathon Rollerski Race Results
September 16, 2018
A field of nearly 50 athletes turned out Saturday for the rollerski division of the Northshore Inline Marathon. Alexander Vanias and Jenna Ruzich collected the titles.
Bangin In The Brush Coverage
September 15, 2018
Dan Delestry and Jillian Johnson took the titles in the Bangin in the Brush trail run Saturday at Korkki Nordic in Duluth. Nearly 100 runners turned out for the 10K event.
Related:
Photoset from Dave Johnson:

Bangin In The Brush
Results: Bangin In The Brush
Chequamegon Fat Tire Festival Coverage
September 15, 2018
After a number of dry weeks, the skies opened up Saturday morning for a couple of heavy rainfalls including one that forced the delay of the Short and Fat race, for the annual Chequamegon Fat Tire Festival. The big 40 race was a tough, muddy affair that saw a number of lead changes in the mens field before Payson McElveen pulled away, repeating as Chequamegon 40 champion, winning by nearly four minutes. Cole House took second place, just ahead of Brian Matter. Jenna Rinehart dominated the women's race, taking the victory a full five minutes ahead of Sara Kylander-Johnson with Jenny Binkowski collecting third. Short and Fat titles went to Daxton Mock and Zoe Camp.
Related:
Photoset:

Start - 62 photos,

Mile 20 - 188 photos,

Finish - 109 photos
Photoset:

Top Picks (high res)
Results: Chequamegon Fat Tire Festival
Press Release: Chequamegon Fat Tire Festival Results
Birkie Waves Filling Up
September 14, 2018
Birkie organizers are reporting wave 3 is nearly full, with many waves having less than 60 openings left. Reserve your spot now!
CXC: Bingham Built Bike Drawing
September 14, 2018
CXC's Bike Drawing event is underway but there are still some tickets left! Kent Eriksen Cycles will provide a custom designed, hand-crafted, titanium road, cyclocross or hardtail mountain bike frame but with the new name Bingham Built.
City of Lakes Loppet Reverses Course
September 12, 2018
Big news on the City of Lakes Loppet Festival for 2019 -- most of the events will be based around the new Trailhead building at Theodore Wirth, including reversing the course of the races. For the first time in the event history, the races will start on the Chain of Lakes and finish up at the Trailhead building. Registration is now open!
Midwest MTB Report: Chequamegon Preview
September 12, 2018
Jay Richards MTB Midwest Report this week features the mighty Chequamegon Fat Tire Festival, the final year with director Gary Crandall in charge, and highlights the favorites for men and women, plus epic results from the UCI World MTB Championships, recaps from Copper Peak, and a busy look ahead.
Web Roundup
September 10, 2018
Living on the Farm - Jessie Diggins posts a big photo blog of life at Snowfarm in New Zealand.
Marry Monday - Paul Schommer reflects on a recent float down the Namekagon River, and getting married in late August!
A Sonnesyn - Alayna Sonnesyn has begun her post-collegiate career with SMS-T2 and has a new blog on her experiences.
Going Sub 6 - Elspeth Ronnander details her recent shot at a sub-six minute mile.
Adventure Shop - Check out one of the Loppet Foundation's newest staff members, Adventure Shop manager Darrow Jones.
August Snow! - More than 15" of snow fell in late August over parts of Italy and Austria.
More Jobs
September 10, 2018
New job openings continue to be posted: Recent additions include marketing/e-commerce coordinator, graphic designer, ski instructors, ski coach, and contract sales reps.
Bemidji Canoe Derby Coverage
September 10, 2018
A beautiful day Saturday for the Bemidji Canoe Derby. The race was held downstream from Lake Bemidji and back - one lap for solo and citizen boats, two laps for the pro boats.
Related:
Photoset from John Arenz:

76 photos
Results: Bemidji Canoe Derby
Jeremy Hecker Named UW-Green Bay Nordic Coach
September 7, 2018
Green Bay Director of Athletics Charles Guthrie has announced the hiring of Jeremy Hecker as the new head men's and women's Nordic skiing coach, effective September 2018. The native of Andover, Minnesota, comes to Green Bay after spending a year as an assistant collegiate Nordic skiing coach with Williams College.
US Ski Team: Diggins, Saxton Win at Snowfarm
September 6, 2018
Minnesotans Jessie Diggins and Ben Saxton scored victories in the final event of the New Zealand Winter Games, taking the 5K and 10K classic titles respectively.
Related:
US Ski Team: L.L.Bean, Swix Announce Partnership
US Ski Team: Bolger, Caldwell Win Winter Games NZ Freestyle Sprint
NorthShore Rollerski Marathon Coming Up Sep 15th
September 6, 2018
The annual NorthShore Inline Marathon is coming up in mid-September and is one of the few events offering a marathon distance rollerski division.
Arrival Point Footwear on Track
September 5, 2018
The revolutionary Arrival Point Footwear is nearly the start of their kickstarter campaign -- there is still time to get in a on groundfloor! Check out their latest video and join their list of supporters.
Mora Bike Tour Sep 15th
September 5, 2018
Part of the Mora Classic Series, the Mora Bike Tour offers 25 and 50 mile scenic bike rides that start and finish at the Vasaloppet Center. This year's event is scheduled for Saturday, September 15th.
Related:
Swedish Mile Trail Run for Snowmaking