Trail Report / Training Report Drawing
Submit a trail report and be entered into our weekly $50 store gift certificate drawing.

Barnebirkie, February 21, 2019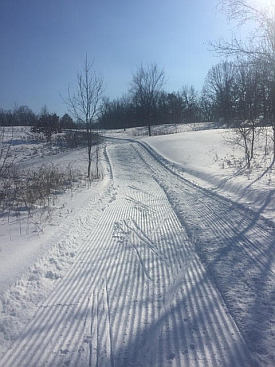 Murphy-Hanrehan, February 21, 2019 (Photo: Richard Schulze)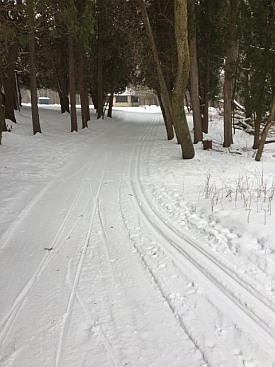 Sheboygan Jaycee Trails, February 20, 2019 (Photo: Jim Van Akkeren)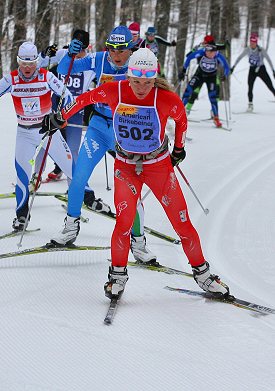 Caitlin Gregg leads the way, American Birkebeiner, February 23, 2013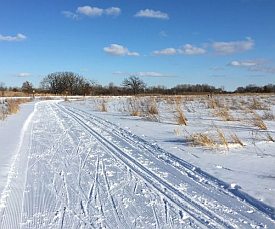 Governor Nelson State Park, February 18, 2019 (Photo: Jim Bolton)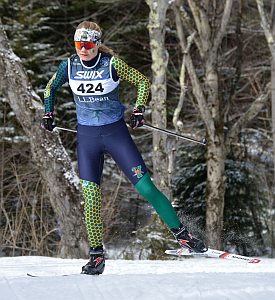 Margie Freed, Middlebury Carnival, February 16, 2019 (Photo: Linda Kerker)
Planning Calendar for 2019-20 Season
January 16, 2019
For events already looking ahead to next season, we've started collecting key dates to help in the planning process.
Skinnyski FAQ
December 4, 2011
We've collected together a bunch of common questions to assembly our own FAQ for cross-country skiing in the Midwest and using the Skinnyski website.
Skinnyski Photos
February 5, 2009
Found a photo you'd like to get a copy of? Looking for images from a past event? Find out how to dig through our archives and help support the web site by purchasing photographs.

Weekend Skiing and Trail Reports
February 21, 2019
Should be another great of skiing across much of the Midwest! Keep an eye on the weather as another snowstorm could arrive for Sunday. New reports from Jay Cooke SP, Tamarack Nature, Murphy-Hanrehan(2)

, Drummond, Lakewood XC, Lester(2)

, Elver, Wolf Lake, Lake Elmo(5)

, Larson Lake, Timberland Hills, After Hours, Hayward Hospital, Como GC(2), Grand Avenue(2)

, Columbia GC(2), Greenbush(3), Cleary Lake, McCarthy(2), Highland 9-hole GC, Central Gunflint, Forest Springs Camp, Greenwood Hills

, Cottage Grove Ravine, Theodore Wirth North(2), Spirit River Nature, Minooka

, Balsam Branch, Tower Ridge, Mukwonago, Carver

, North End, Black River Falls SF

, Bunker Hills, Lebanon Hills

, Suomi Hills, Amen Lake, Chain of Lakes

, Hormel Nature, Sheboygan Jaycee

, Mecca, Madeline Lake, Northland Arb, Battle Creek West, Univ of Minnesota GC(2), Cannon Valley, Wintergreen, Pioneer Creek, Willow River SP, Superior MF(2), Reid GC, Plover River, Baker

, Standing Rocks, Pike Lake Unit, Zillmer, Escanaba, Token Creek, Woodland, Chester Woods, Hiram, Razorback Ridges, Graystone(2), Nine Mile Forest, Milaca, Maple Lane, Lindenwood, Three Eagle

, Pine Point, Green Haven GC, Anoka, Legion, Fort Snelling SP, French, McNaughton Lake, Hiawatha GC, Mt. Valhalla, Spirit Mtn, Whitefish Dunes SP

, Kohler-Andrae SP, Raven, Nordic, Warner Lake, Quarry, Mississippi River, Kraemer Lake-Wildwood, Afterglow Lake

, Neshota, Birkie, Rockport, Trade River, and recent reports from Bagley Nature, Mount Itasca

, Mecca, Chain of Lakes(2)

, Maplelag

, CLCF(2)

, Willow River SP, Como GC, Irondale, Highland 9-hole GC, McMiller, Goose Lake, Gov Nelson SP

, French

, Hok-Si-La Municipal, Sheboygan Jaycee

, Savanna Portage SP, Rockport, Timberland Hills, Korkki

, Hyland Lake, Carey Lake

, Coulee Experimental SF, Grand Avenue, Afterglow Lake, Ge-Che.
Related:
Regional Winter Storm Statements

Birkie Week Thursday Events Coverage
February 21, 2019
Quickly recovering from a half foot of snow Wednesday, everything was in place for the start of events Thursday for Birkie Week. Starting off on Main Street, the Barkebirkie events.
Related:
Photoset:

Barkebirkie - 112 photos,

Barnebirkie - 63 photos,

Jr Birkie - U16/HS - 51 photos,

Jr Birkie - U14 Boys - 56 photos,

Jr Birkie - U14 Girls - 56 photos,

Jr Birkie - U12 Boys - 46 photos,

Jr Birkie - U12 Girls - 60 photos
Photoset:

Top Picks (high res)

World Championships: Freestyle Sprints
February 21, 2019
The World Championships opened in Seefeld, Austria with freestyle sprint events on Thursday. The sprint finals exceeded expectations with some of the most exciting battles in recent memory. In the ladies final, Maiken Caspersen Falla, Norway, survived a triple threat from Sweden (which self-destructed) to take the victory, Stina Nilsson, Sweden, second and Mari Eide, Norway, third. The men's final was an epic battle between Italy's Federico Pellegrino and an angry Johannes Hosflot Klaebo, with Klaebo pulling ahead for the men's title with Russian Gleb Retivykh taking third. Jessie Diggins was the top US skier, advancing to the semi-finals before exiting. Simi Hamilton also made the semi-finals to lead the US men.
Related:
Results: Freestyle Sprints

Weekend Racing
February 20, 2019
Feb 22 Kortelopet - Racing from Hwy OO to downtown Hayward finish.
Feb 23 American Birkebeiner - The big one, racing from Cable to downtown Hayward.
Related:
Video:

Birkie Webcams
Birkie Raffle Drawing Fundraiser for Kikkan Randall
Birkie Elite Skiers List
Birkie Spectator Guide
Birkie Skier Race Tracking
Birkie Race Guide


Price Hike: Pepsi Challenge
February 20, 2019
Excellent conditions exist on the Giants Ridge trail system and the annual Pepsi Challenge races are set for March 2nd. Register before the end of Friday to avoid the next price hike!

Fischer: Kikkan at the Birkie
February 20, 2019
Kikkan Randall will be at the Birkie Week festivities, including at the Fischer booth on Friday afternoon.
Related:
Birkie Raffle Drawing Fundraiser for Kikkan Randall
New Moon: Trail to the Birkie - Roger Burger
February 19, 2019
The final New Moon Trail to the Birkie video feature is up, this one featuring Roger Burger, a local long-time cross-country skier and wax aficionado.
World Championships in Seefeld
February 19, 2019
The 2019 World Championships start up this Wednesday, Feb 20th and run through Mar 3rd and are being held in Seefeld, Austria. A strong US squad, especially the women, are hopeful for a number of finishes in the medals. The Midwest is well respresented with Jessie Diggins, Rosie Frankowski, Kevin Bolger, Kyle Bratrud, and Adam Martin. There are qualifying races on Wednesday, then the first official races of the championships are freestyle sprints events on Thursday, with heats broadcast live starting at 7:30 am CST on Olympic Channel and NBC Sports Gold.
Related:
World Championships Schedule, Results
Collegiate Racing Recap: CCSA, EISA
February 18, 2019
The CCSA and EISA collegiate divisions were back in action last weekend, the CCSA racing at Theodore Wirth as part of a SuperTour series, and EISA holding their Middlebury Carnival on Friday and Saturday. A number of outstanding results by Midwest skiers, Mary Kozloski has the full highlights. Plus photos from the EISA racing by Linda Kerker!
Cook County Deep in Snow
February 18, 2019
The North Shore and Gunflint Trail received an abundance of early snow with totals to date an average of 50 percent greater than previous years. Cook County boasts eight ski trail systems in the area that are meticulously maintained and groomed for both classic and skate skiing.
Kikkan at the Loppet
February 18, 2019
Olympic gold medalist Kikkan Randall will be in Minneapolis this week for a pair of special events surrounding the 2020 Minneapolis World Cup:
Kikkan at the Trailhead - Wednesday evening, catch a junior presentation by Kikkan, plus LNR intro session.
Breakfast with Champions - Thursday morning, watch the World Championships live with Kikkan doing commentary!
Note: Events are still on as planned (even with big snowfall!)
New Moon: Trail to the Birkie - Lauren Harrison
February 17, 2019
New Moon's video series on the Birkie continues, this clip featuring a local skier preparing for her first full-length Birkie.
Related:
New Moon Newsletter: Rex Meet and Greet, Tribute to Volunteers, Waxing Service
Hoigaards: Birkebeiner Race Waxing Clinic Tuesday
February 17, 2019
Come out to Hoigaards on Tuesday evening and see how Birkie race skis are done as Fast Wax fully preps a set of skis based on the predicted weather and current recommendations for Saturday's big race!
Ski Hut: Birkie Race Wax Service
February 17, 2019
Skihut has all of your Birkie possibilities covered. Check out there options available for retail purchase or for race service application. Plus wax clinics this week as well!
Junior Teams Announced: Junior Nationals, U16 Champs, Canadian Nationals
February 17, 2019
After the conclusion of the Mayor's XC Challenge races, the end of the JNQ series, the junior trip teams were announced. This includes the Junior Nationals, NENSA U16 Championships, and Canadian Nationals teams. Note: There may be further changes to the teams as some athletes may decline.
Woodland Loppet Coverage
February 17, 2019
A great example of one of many small organization fun races around the Midwest, the Woodland Loppet was held on Sunday morning in Elk River. The races featured expertly groomed, natural snow in great condition with temperatures in the mid 20s. Paul Olson received some minor consolation after breaking two poles during last weekend's Vasaloppet, taking victory today over Erik Hendrickson, Matt Zak coming in third. Brandy Stewart was the best of the womens field with Laura Cattaneo second and Cheryl Dubuois third. Josh Doebbert and Angie Robinson took the 10K titles, Robinson finishing second overall as well! Results and photos posted.
Mayors XC Challenge SuperTour/JNQ Freestyle Coverage
February 17, 2019
The three day Mayor's XC Challenge event wrapped up on Sunday with another day of great course conditions and weather. Temps were in the 20s for most of the races, with a dusting of snow coming down near the end. Midwest's own Matt Liebsch, holding down full-time job and full-time father, still managed to crank out the fastest 10K skate on the day, topping NMU's Zak Ketterson by 5 seconds for the victory, with Akeo Maifeld-Carucci, Craftsbury Green Racing, third. In the women's 5K, it was an all-Midwest poduim as Nicole Schneider, NMU, edged out Alayna Sonnesyn, SMS T2, by 7 seconds with Schneider's teammate Abby Jarzin in third, just a 2/10 second back! Top U16 results went to Adrik Kraftson and Molly Moening. Results linked in, photos online from the women's 5K by Jackie Schneider.
National Forest Lodge: No Crowds Special Weekend Pricing
February 17, 2019
National Forest Lodge, deep in the northwoods, is offering a 'no crowds' special -- 30% remaining lodging this season. With over 3 feet of snow this season, their trails are in prime condition.
Mayors XC Challenge SuperTour/JNQ Classic Coverage
February 16, 2019
Another day of perfect trail conditions for the Mayors XC Challenge races at Theodore Wirth on Saturday. The men's 20K classic started off the morning, racing five laps with some of the best climbs on the course. Ben Lustgarten and Zak Ketterson eventually broke off the field and brought the race down to a sprint finish, Ketterson pulling ahead in the final meters. Mathias Rolid was the best of the rest. In the women's 15K race (4 laps), Alayna Sonnesyn pushed off the front with Kaitlynn Miller and Elizabeth Guiney, with Miller breaking away in the final kilometer to take the win, Sonnesyn second, Guiney third. The U20/U18 boys race brought out all the best from the Minnesota and Wisconsin State Meets. Alex Nemeth pushed to the front by the end of the first lap (3 laps total) and held off Cooper Lennox for the win, Kai Meekis taking third. The U20/U18 girls also was stacked with high school stars and on Saturday, it was Regan Duffy that shined the brightest, moving up the field each lap to take the victory ahead of Luci Anderson with Hannah Bettendorf third. In the U16 races, Victor Sparks outstretched Roger Anderson for the win, and Molly Moening dropped Lauren McCollor on the last big climb to take the victory. Results linked in, photo albums posted.
Minnesota Finlandia Coverage
February 16, 2019
Crisp temperatures with excellent course conditions Saturday morning for the Minnesota Finlandia races in Bemidji. Murray Carter won the big axe in the 50K freestyle, beating out Zach Nelson by 40 seconds in a close battle. Jenna Ruzich was the womens 50K champ. In the 25K freestyle, Craig Cardinal skated away with the title, Susanne Hill topped the women's field. Classic 25K titles went to Owen Baird and Kerrie Berg. Pursuit winners were Nick Youso and Anna Dehler. Results posted, along with photos from John Arenz, David Harrington and Monte Draper.
Related:
Tower Ridge 10K Results
World Cup Cogne Freestyle Sprints
February 16, 2019
Less than a week before the start of the World Championships and Jessie Diggins appears to be hitting top form just in time, on Saturday winning the women's freestyle sprint race! The US placed six women in the heats. Simi Hamilton made it to the mens final, just missing the podium in 4th. Racing continues Saturday with classic distance races.
Related:
Results: Freestyle Sprints
Finn Sisu: Wax Service Deadlines,Clinics, Race Items
February 15, 2019
Finn Sisu's latest newsletter on Birkie prep includes wax service deadlines, a Fast Wax clinic on Monday, a great deal on Atomic WC Redster Skin Skis, plus a few ideas for last-minute necessities.
Gear West Birkie Wax Clinics
February 15, 2019
Gear West will be hosting two wax clinics the week leading up to the Birkie:
Feb 18 Vauhti Wax Clinic
Feb 19 Birkie Kick Wax Clinic with Brian Knutson
Mayors XC Challenge SuperTour Sprints Coverage
February 15, 2019
Friday kicked off a weekend long SuperTour and JNQ/CCSA combo event at Theodore Wirth, with the freestyle sprints test driving the 2020 World Cup course and stadium. For the most part, the day was a big success with great course conditions and exciting action. The Midwest's own Alayna Sonnesyn continued to improve her fast twitch, taking the women's final is an extremely tight finish over Becca Rorabaugh and Erika Flowers. In the men's final, an errant PistenBully added a twist of SkiX to the event, with Canadian Antoine Briand capturing the win over Tyler Kornfield and Forrest Mahlen. Saturday will bring out the juniors and collegiate skiers for mass start classic races.