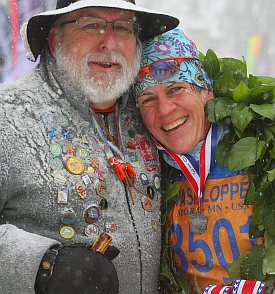 Mary Beth Tuttle, 35K champ, Vasaloppet USA, February 10, 2013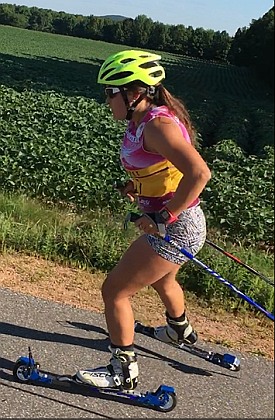 Olivia Dreger, Wausau Minicap, August 13, 2017 (Photo: Scott Putman)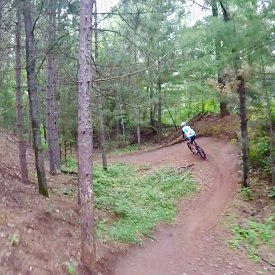 Flowing trail at Cuyuna, site for the Cuyuna Crusher MTB race

Canadian skate workout, LNR Northshore Camp, August 15, 2017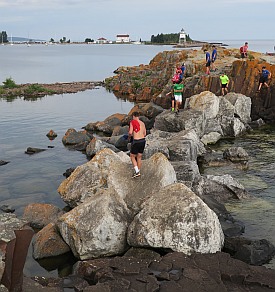 Afternoon swim, LNR Northshore Camp, August 14, 2017

Classical rollerski time trial, LNR Northshore Camp, August 14, 2017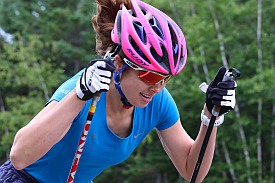 Classical rollerski time trial, LNR Northshore Camp, August 14, 2017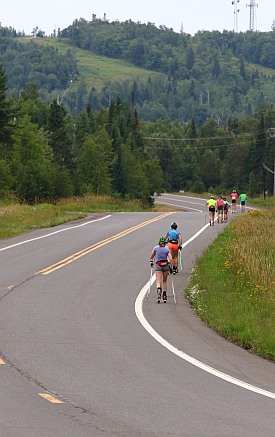 Classical rollerski time trial, LNR Northshore Camp, August 14, 2017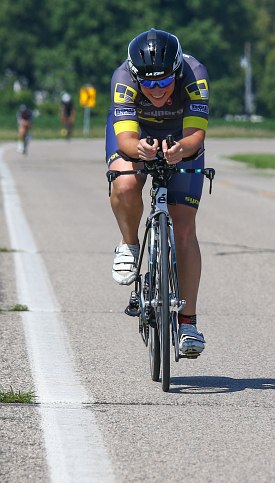 Minnesota State Time Trial Championships, August 12, 2017
Skinnyski FAQ
December 4, 2011
We've collected together a bunch of common questions to assembly our own FAQ for cross-country skiing in the Midwest and using the Skinnyski website.
Skinnyski Photos
February 5, 2009
Found a photo you'd like to get a copy of? Looking for images from a past event? Find out how to dig through our archives and help support the web site by purchasing photographs.

Out There: Closeouts
August 18, 2017
Out There Nordic Shop in Rice Lake is offering closeout pricing on a number of Nordic items including Madshus Nano Carbon classic boots, Alpina ESK Skate boots, Johaug gloves, sportswear, and much more.

Finn Sisu Summer Lecture Series: Dr. Mindy Benton
August 18, 2017
Dr. Mindy Benton, podiatrist and elite wave classic Birkie skier, will be speaking on common foot and ankle problems of the Nordic skier on Monday evening, Aug 21st at Finn Sisu.
Weekend Events
August 16, 2017
Aug 19 Mora Half Marathon - Part of the Mora Classic series, a scenic half marathon race through the countryside - plus a 5K option as well.
Aug 20 Cuyuna Lakes Crusher - MNMBS series racing on the popular flow trails at Cuyuna Lakes in central MN.
Aug 20 Double Bong 40K TT - Wisport 20K and 40K distance time trial races in honor of Wisconsin's WWII flying ace.
Aug 20 Reforestation Ramble - WORS racing in Green Bay on the Reforestation Camp trails.
North American Rollerski Biathlon Championships Recap
August 16, 2017
Minnesota Biathlon's Bill Meyer has posted a recap of the recently completed North American Biathlon Rollereski Championships, held out in Vermont. Minnesota had a strong showing, especially among the junior/youth skiers. Check out a recap with results and a few photos.
Wausau Minicamp Recap
August 16, 2017
Scott Putman reports: Wausau Nordic United hosted a ski-summit-swim minicamp last weekend for 15 skiers including five from the Ashwaubenon program. Coaches Ross Dreger and Ernie Luedke led the junior skiers though a late Friday hill bound and run adventure to the summit of Granite Peak, a 9K skate time trial, an over-distance run at Nine Mile, capped off by Sunday's two rounds of roller skiing, skate and classic, up Park Road to the summit of Granite. The athletes used their down time to take on swimming and a raft balancing act, a bonfire, and finished recharged.
Related:
Photoset from Scott Putman:

5 photos
Midwest MTB Report
August 15, 2017
Jay Richards Midwest MTB Report this week features racing reports from Great Hawk Chase, Ore to Shore, and the infamous Leadville 100. And check out three events coming up this weekend.
LNR Northshore Camp: Tuesday Morning Workout
August 15, 2017
LNR juniors and Canadian development skiers were back out rollerskiing on Tuesday morning in NE Minnesota, as the sun finally broke out. After a warmup on the Gitchi Gami State Trail, the groups did long intervals up the ever climbing Sawbill Trail Rd south of Tofte. LNR classic rollerskied with their northern neighbors opting for a skate workout.
Related:
Photoset:

Tuesday Morning Workout - 202 photos
Photoset:

Top Picks (high res)
Web Roundup
August 14, 2017
Moore Dominating - Peter Moore, Endurance United, recently captured six National Championship track cycling titles!
Bratrud Update - Kyle Bratrud provides an update on his summer training, including refinements made, as he aims for the 2018 Olympics.
Summer Progress - Erin Moening reports on her progress recovering from shoulder surgery.
Birkie Board - New Birkie board members have been elected.
Italian Heatwave - For the first time in nearly a century, summer skiing has been shutdown on the Stelvio Pass glacier.
Beer Run - The latest running fad: running with beer stops.
LNR Northshore Camp: Monday Workouts
August 14, 2017
Loppet Nordic Racing (LNR) is holding their final big summer camp this week on the Northshore. Monday morning they joined up with Canadian athletes including a number from the National Development Centre Thunder Bay for a classical rollerski workout. The centerpiece of the workout was a brutal rollerski time trial up Ski Hill Rd in Lutsen, finishing under the ski bridge at the top (rough 2.5K). After the TT, the group did additional rollerskiing along Caribou Trail Rd before wrapping up the morning with a lakeside lunch. After some rest, most of the group took to the backroads near Grand Marais for a 7 mile run followed by a dip in Lake Superior.
Related:
Photoset:

Monday Morning Workout - 195 photos
Photoset:

Top Picks (high res) - Morning Rollerski,

Top Picks (high res) - Afternoon Run
Minnesota State Time Trial Championships Coverage
August 12, 2017
Postcard perfect weather again on Saturday as cyclists competed on the quiet roads west of St. Peter for the Minnesota State Time Trial titles. Photosets up, results linked in.
Related:
Photoset:

20K and under - 159 photos,

40K - 255 photos
Photoset:

Top Picks (high res)
Results: Minnesota State Time Trial
Ringer Roll Coverage
August 11, 2017
Another perfect weather Ringer Roll event on Friday morning as the morning fog cleared for bright sunshine and temps in the 60s. Zak Ketterson topped the mens skate field, almost a minute ahead from Brian Gregg with Joel LaFrance third. Caitlin Gregg led the womens field with high school stars Sarah Olson second and Mara McCollor third. Erica Meyers and Tamer Mische-Richter had the fastest classical times. Full results along with photos.
Midwest MTB Report
August 8, 2017
Covering the Midwest (and some National) MTB news this week, Jay Richards has a recaps Hixon Forest Epic and Duluth Enduro series, as well as updates from Maah Daah Hey and Red Dirt Fest, plus the usual look ahead to upcoming events.
Job Openings
August 8, 2017
There are a numnber of job positions up including head coaching positions at MPA and Benilde-St.Margarets, Executive Director at EU, and even Race Coordinator with the Vasaloppet USA.
Web Roundup
August 7, 2017
GMVS - Out There Nordic reports in on their first summer camp with Green Mountain Valley School in Vermont.
Pain Train - Paul Schommer writes about dealing with injuries and knowing when to back off.
Brick by Brick - Jessie Diggins emphasizes hard work and recovery, building your training brick by brick.
Gesior - Felicia Gesior has an update on her summer training, and announces the return of the Bergkonig run this November.
Reijo Passing - Lappe Nordic founder Reijo Puiras passed away recently.
U16 Camp - NNF has a brief update from the National U16 training camp, held in Sun Valley, ID, this year.
August Snow - Colorado reported a light snowfall on August 1st.
CFS - Scientists are gaining more clues on Chronic Fatigue Syndrome.
Firehouse 50 Coverage
August 5, 2017
John Kunert took the Firehouse 50 road race title in a photo finish over Dean Hodge in front of a field of more than 230 riders on Saturday morning. Jenny Youngwerth topped the womens field, along with the only sub two hour time in their field. Time trial victories went to Mike Johnson and Beth Emerson.
Related:
Photoset from Kelly Randolph:

Road Race,

Time Trial
Results: Firehouse 50
EU 55K Rollerski Event Set for Oct 8th
August 3, 2017
Endurance United is planning to host their 55K point-to-point rollerski event again this year, but has shifted date to Oct 8th. They are planning to start again at Desnoyer Park and rollerski all the way to downtown Stillwater..
Related:
Sep 16 Northshore Inline Marathon - Rollerski Race
Midwest MTB Report
August 1, 2017
In this week's Midwest MTB report by Jay Richards: reports from Boston Pro XCT and Gamehaven, highlights on Spirit Mtn Divas, Tour Divide race, best trails in the world, and the usual look ahead to upcoming events.
Web Roundup
July 31, 2017
24 Rules - Ben Saxton shares some memories and 24 pieces of advice.
Jumping - Another article on plans for a year-round Olympic caliber ski jump south of Red Wing.
Nordic Success - FasterSkier looks at Norwegian study on physiology of Nordic combined athletes.
Wrong Running - NatGeo article on recent book that delves into the nature of running.
I Scream - The science behind ice cream brain freeze.
Motoring - 53-year old Italian cyclist caught using hidden motor in race.
Birkie Annual Meeting This Saturday, August 5
July 31, 2017
The American Birkebeiner Ski Foundation (ABSF) will hold its 2017 Annual Meeting on August 5th to recap the past year, provide an update on 2017-2018 planning, and announce newly elected members of the 2017-2018 ABSF Board of Directors. Both ABSF members and the public are invited to attend this day of activities, friendship, food, and fun.
Endurance United Seeking Candidates for Executive Director Position
July 30, 2017
Endurance United has announced that Andrew Poffenberger is departing the organization at the end of August to continue his education. They are actively seeking candidates to fill the position of Executive Director​.
Minnesota State Road Race Coverage
July 29, 2017
It was a hot afternoon as temperatures climbed into the mid-80s for the Minnesota State Road Race events near Richmond on Saturday. In the top division mens Cat 1-2-3 race, Peter Olejniczak crested the finishing climb in first with Sam Fritz close in second and Levon Kalemkiarian taking third. Carlyn Jackson pulled away for the womens Cat 1-2-3 title with Anna Luckow and Sonia Pond rounding out the top of the podium. Results linked in along with photos from the afternoon races.
Related:
Photoset:

Mens Cat 1-2-3 - 54 photos,

Mens Cat 4-5 - 67 photos,

Womens Cat 1-2-3 - 53 photos,

Womens Cat 4-5/Jrs - 46 photos
Photoset:

Top Picks (high res)
Results: Minnesota State Road Race
Midwest MTB Report
July 25, 2017
Jay Richards Midwest MTB report this week covers National MTB Championships, Red Earth Classic, Duluth Enduro, and the recently completed Cuyuna Camp for junior development.
MWC: Organizing Committee Mid-Year Meeting Update
July 25, 2017
The Masters World Cup organizing committee met earlier this month to review planning efforts for the upcoming 2018 event. Race course maps have now been posted as the excitement continues to build.
Nordicwerks/Endurance United Time Trial Coverage
July 25, 2017
On Monday evening in Scandia, Nordicwerks and Endurance United junior programs held a combined rollerski time trial. Ryan Mead dominated the boys field, with Charlie Brown posting an impressive result to take the girls division. After the time trial, skiers regrouped for a workout on an agility course. Results posted, along with photos.
Related:
Photoset:

Warm Up - 53 photos,

Time Trial - 110 photos,

Agility Drills - 37 photos
Photoset:

Top Picks (high res)
Results: Nordicwerks/Endurance United Time Trial
Web Roundup
July 24, 2017
The Deload - Annie Hart has a new training tool and gets into the details of how it has helped fine tune her plans.
Sassy - Jessie Diggins checks in with an update on her summer training - complete with graphic aids.
Long Line - Three skiers climbed and skied the longest line in the world.
Legs - A rather graphic example of the grueling impact the Tour de France.
Prison Run - After spending six years in jail, much of it training, a prison runs 27 miles home upon release.
Hubless - Seattle tests out a new bike sharing system that doesn't require docking stations (just leave the bike on any sidewalk).
Spotlight: Ashwaubenon Nordic Ski Team
July 24, 2017
Ashwaubenon Nordic Ski Team (ANST) held a minicamp last weekend, July 21-23. Scott Putman reports: This was the first of 5 walkouts we did last as part of mini camp 3. We started with poling technique work (broad jumping without poles) and some striding starts (photoset). Then we did a 12k classic rollerski time trial where we saw both the men and women course records fall and pretty much PRs from anyone that participated.
Related:
Photoset from Cathy Putman:

37 photos
Tri-Loppet Coverage
July 23, 2017
With its new July date, the Tri-Loppet managed to avoid the recent heat wave and had pleasant weather in the 70s for the races on Sunday morning in south Minneapolis. Repeating as champions were Matt Liebsch and Josie Nelson, Liebsch posting a winning margin of 10 minutes while Nelson held off Kim Rudd by just under a minute. Results linked in, along with two big photosets this week.
Related:
Photoset:

Paddling - 122 photos,

Running - 59 photos,

Biking - 114 photos
Photoset from Margaret Adelsman:

Paddling - 68 photos,

Running - 48 photos,

Biking - 127 photos
Photoset:

Top Picks (high res)
Photoset from Margaret Adelsman:

Top Picks (high res)
Results: Tri-Loppet
Summer Biathlon Series - Elk River Recap
July 22, 2017
Bill Meyer provides a recap on the first summer biathlon race of the season, held at Elk River on Thursday, Jul 20th, along with photos from Brian Wray and results. Top times on the day went to Vasek Cervenka and Siena Ellingson.
CXC: Second of 2017 Igor Legacy Camps a Success
July 20, 2017
The Mora Vasaloppet Nordic Center in Mora, Minnesota was the host venue for the second 2017 Igor Legacy Camp on July 14-16. Over 35 boys and girls, ages 10-14, attended the Minnesota camp.
Borah Epic Donates $15K to CAMBA Trails
July 20, 2017
The Borah Epic held its fifth annual event this past June and generated a $15,000 donation to benefit the CAMBA trails, which totals over $72,000 since the race was founded in 2013.