Trail Report / Training Report Drawing
Submit a trail report and be entered into our weekly $100 lodging gift certificate drawing.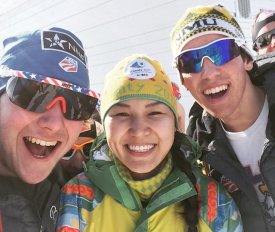 Tom Bye and Ian Torchia enjoying the Kazakhstan hospitality at the World Junior Championships, January 30, 2015 (Photo: Tom Bye)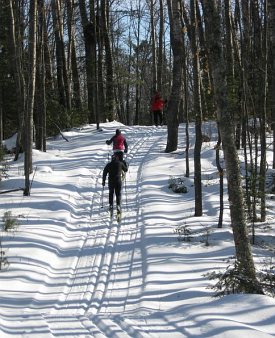 Big Aspen, January 31, 2015 (Photo: Ron Kutsi)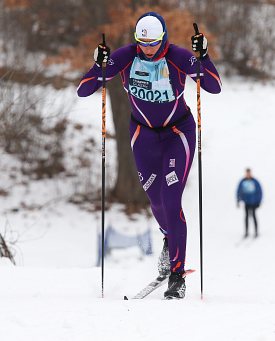 Natalia Naryshkina, City of Lakes Loppet, January 31, 2015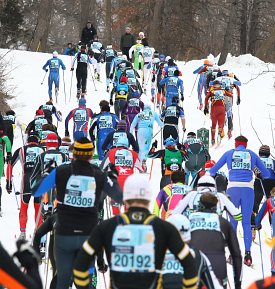 First climb, City of Lakes Loppet, January 31, 2015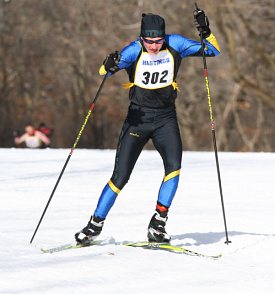 Will Caturia, Metro East Conf Championships, January 30, 2015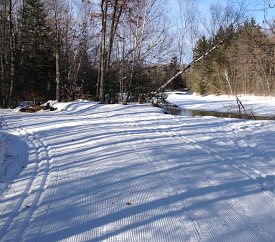 Spring Rapids Trail, January 30, 2015 (Photo: Sara Pearson)
Skinnyski FAQ
December 4, 2011
We've collected together a bunch of common questions to assembly our own FAQ for cross-country skiing in the Midwest and using the Skinnyski website.
Skinnyski Photos
February 5, 2009
Found a photo you'd like to get a copy of? Looking for images from a past event? Find out how to dig through our archives and help support the web site by purchasing photographs.

World Junior/U23 Championships and U18 Nations Guide
January 31, 2015
Over a dozen top juniors from the Midwest will be competing in top international competitions this week at the World Junior/U23 Championships and U18 Nations competition. We've pulled together a program guide, including official websites, event details, and most importantly, result links.

Minnesota College Championships Results
January 31, 2015
Minnesota colleges competed on a fast track at Snowflake Nordic in Duluth Saturday for the Minnesota College Championships. While St. Scholastica won the mens and womens titles, the performance of the day went to Jake Brown, St. Olaf, who took his relay team from fourth to second place by posting the fastest split.

City of Lakes Loppet Classical Coverage
January 31, 2015
After an evening of sprint races and fireworks on Friday, the City of Lakes Loppet got down to the core races with classical events Saturday morning on the snowmaking loop at Theodore Wirth. The mens shortened marathon (16.5K) quickly turned into a tight duel between Matt Liebsch and Torin Koos, as the pair weaved around lap traffic at high speed. Staying together to the finish, the race was decided in a double pole dash to the line with Liebsch just ahead of Koos for the victory. Natalia Naryshkina won the womens division, with Kathleen DeWahl nipping Josie Nelson at the line for second. In the shorter Puoli event (9.9K), Rich Ryan pulled away on the second lap to take the overall, with Amelia Schurke topping the womens field (and finishing 4th overall). Full results linked in, photos coming later today.
Related:
City of Lakes Loppet Saturday Event Results
Press Release: City of Lakes Loppet Ski Races Draw Former Olympian

Wolf Tracks Rendezvous Results
January 31, 2015
Great conditions Saturday for the Wolf Tracks Rendezvous races at Minocqua Winter Park. In the 42K freestyle race, Anders Osthus finished just seven seconds ahead of Henry Reich for the win. Christi Nowak was the top female and finished 14th overall. The 42K classical was dominated by Adam Swank, winning by over four minutes, and Elizabeth Paddock was the decisive womens champ (and 7th overall). In 24 skate race, Daniel Hagen and Andrianne Baier collected the victories, with Phillip Strong and Joanna Pace taking the 24K classical titles.
Related:
Mt. Ashwabay Summit Ski Race Results

Winter Storm Warnings for Iowa, Illinois and Southern Wisconsin
January 31, 2015
Looks like the Banana belt has won the lottery -- A major winter storm is expected across Iowa and northern Illinois for Sunday, dropping anywhere from 5" to 10" along its path by the time it wraps up early Monday.
Update: The system appears to be tracking a little more north, which could mean some significant snow for much of southern Wisconsin! Snowfall totals have gone up too, 7-12".
Related:
Regional Winter Storm Statements
Regional Snowfall Reports

Minnesota Sections Preview
January 30, 2015
The Minnesota high school Nordic skiing sectional competition runs next week as skiers and team battle to advance to the State Meet. Check out our preview of the section matchups, some predictions, catch up on the new State Meet selection process, and review the full schedule (which includes four straight days of racing at Wirth).

Minnesota Canoe Association Annual Meeting Feb 7th
January 30, 2015
The Minnesota Canoe Association is holding their annual meeting, Saturday, Feb 7th at the REI Community Room in Bloomington, MN. Amy and Dave Freeman will be speaking about their recent Paddle to DC Trip. And they're seeking candidates for open board positions - racing director, cruise director, vice president and director at large.

Metro East Conf Championships Coverage
January 30, 2015
Winding down a busy week of racing, the Metro East Conference held their championships at Hyland on Friday. The afternoon pursuit races proved to be exciting finales, as both saw comeback victories. In the boys race, Will Caturia, Hastings, reeled in Christopher Prokosch, Henry-Sibley, to take the title by 30 seconds. The girls race was won by a blazing 7th grader, Libby Tuttle of Mahtomedi, who started third after the morning classic. Team titles were earned by the Hastings boys and Henry Sibley girls. Race results posted, along with photosets from the afternoon pursuits.
Weekend Skiing and Trail Reports
January 29, 2015
With the return to more typical temperatures, should be some great skiing this weekend up north. New reports from Maplelag, Flambeau Hills, Lapham Peak, Cannon Valley, Hartley, Blue Hills(2)

, Uller, Tower Ridge, Wild River SP, Willow River SP, Norpine (Deeryard/Lutsen), Saint Mary's Univ, Nordic, Northwoods, Trade River, Giants Ridge, Levis/Trow Mound, Birkie(2)

, Big Aspen(2)

, Razorback Ridges, Standing Rocks, Rib Lake, Camp Forest Springs, Anvil National, Jack Lake, Biskey Pond(2), Beaver Brook, Wolverine

, North End, Iola Winter Sports, After Hours, Elm Creek, Reforestation Camp

, Raven, McNaughton Lake, Snowflake, Penokee Mtn, Rock Lake, Mukwonago, Land O' Lakes, Minocqua Winter, Barron Association, Lakewood XC, Mother Bear, and recent reports from Lake Wissota SP, Minocqua Winter(3), Madeline Lake, Sugarbush(3), Hyland Lake, Flathorn-Gegoka(2), Washburn Lake, Nicolet North, Iola Winter Sports, Maple Lane, Afterglow Lake(2)

, Nordic, Nine Mile Forest, Elm Creek(3)

, Andes Tower Hill, Swedetown, Spring Rapids, Sturgeon River, Carey Lake

, Great River Bluffs SP, Theodore Wirth

, Escanaba , Saint Mary's Univ, Valley Spur, Bridgewood, Camp Forest Springs, Chain of Lakes

, Lapham Peak, Tower Ridge, Timberland Hills, Hickory Ridge, ABR, Hayward Forest, Banadad.
Midwest JNQ Points Standings Updated
January 29, 2015
The Midwest JNQ points standings have been updated to included last weekends Twin Cities Championships races. In general, the points are based on the skiers best four results. The final Midwest JNQ will be after the State Meet, on Feb 14-15 in the Twin Cities.
Bearskin: Snow Overstock Sale
January 29, 2015
The owners are reporting an overabundance of snow at Bearskin Lodge. Over 55 inches so far this season, ahead of last year! They're offering some special packages to remind skiers they have the snow!
Junior Birkie 2015 Changes
January 29, 2015
The 2015 edition of the Junior Birkie includes a number of changes, including a new venue, new race format, and online registration system. The Junior Birkie has three race divisions for juniors/youth, and will be held Feb 20th.
Related:
Junior Birkie History
Vasaloppet Moves to Mora Lake
January 29, 2015
With the low snow conditions, Vasaloppet officials have announced next weekend's ski races will be held on Mora Lake, right next to downtown Mora (not Knife Lake). The race will use a 3.2K loop, with shortened event distances. The Moraloppet, scheduled for this weekend, will now be a walking event at the beautiful Nordic Center.
Weekend Racing
January 28, 2015
The lack of snow and warm weather has been taking its toll on some events...
Jan 31-Feb 1 City of Lakes Loppet - The races are on, will use the snowmaking loop at Theodore Wirth with shortened distances and wave groups.
Jan 31 Wolf Tracks Rendezvous - Minocqua is sporting good conditions for their 24K and 42K races Saturday.
Jan 31 Mt. Ashwabay Ski Summit - The trails are is very good shape, offering classic and skate races.
Jan 31 Badger State Games - Held on the trails at Nine Mile, events are on.
Jan 31-Feb 1 Tour de Kamview - Part of the North Shore series, racing on the Kamview trails in Thunder Bay.
Note, the Moraloppet is now a walking event. As always, we'll be posting updates in our Racing Outlook.
Related:

IPC Nordic Skiing World Championships Report
January 28, 2015
Michael Jorgensen reports from Cable and his experiences with the incredible athletes and inspiring stories that make up the International Paralympics Nordic World Championships going on this week. There are still some events left -- don't miss your chance to see this unique international event here in the Midwest.

Podiumwear: Ambassador Jessie Diggins Named to World Championship Team
January 28, 2015
Podiumwear Ambassador Jessie Diggins of Afton, Minnesota, is among 16 Americans named to compete at the FIS Nordic Ski World Championships in Falun, Sweden. In honor of Jessie being named to this year's World Championship team, Podiumwear will be once again offering for sale special men's and women's Gold and Silver nordic suits designed by Jessie Diggins, herself.
Village House Inn Ready for Winter Guests
January 28, 2015
The Winona area is one of the pockets with decent snow, especially at St. Mary's University. Village House Inn in Winona caters to winter guests, offering top notch lodging conveniently located near the trails.
Excellent Conditions for Wolf Tracks Rendezvous
January 27, 2015
The Wolf Tracks Rendezvous, set for this Saturday, Jan 31st, is reporting excellent conditions for their 42K and 24K races. Registration has been rising quickly, with a field limit set at just 300 skiers.
Finn Sisu: Get Ready to Race
January 27, 2015
Finn Sisu is offering Loppet wax service, along with deals on race suits, skis and poles. Dan Meyer of Fast Wax will lead a wax clinic on Thursday evening, Jan 29th.
Gear West Second Annual Wax-A-Palooza
January 27, 2015
Gear West is hosting their annual waxfest, Wax-A-Palooze, on Wednesday, Feb 4th. Tech reps from Start, Rode, Toko, Swix, Solda and Fast Wax will be demonstrating and answering questions. Plus an elite wax clinic and an alpine ski tuning demo. And refreshments! RSVP requested.
IMAC Conference Championships Coverage
January 27, 2015
Most of the Minnesota conferences are holding their Nordic championships this week. IMAC held their event at Elm Creek Tuesday, racing classical in the morning, then hammering out freestyle pursuit format races on some slushy snow in the afternoon. The Minnehaha Academy boys dominated the event, posting six members in the top nine (with some wild sprint finishes), as Tyler Radtke claimed the title. In the girls race, Ingrid Thyr, Breck, cruised to the title with Ellen McCarthy finishing second to lead St. Paul Summit Academy to the team victory. Results up, along with photosets from the pursuit races.
Loppet Races Moved to Wirth
January 27, 2015
The Loppet Foundation has announced that the lake courses couldn't withstand the warm weather this week, and are now planning to run the ski races at Theodore Wirth, using the snowmaking loop and running laps. The Luminary Loppet will still be held at Lake of the Isles, using the asphalt walking paths.
Related:
Racing Outlook
13th Annual City of Lakes Loppet Ski Festival Revises Plans Due to Weather
Local Stars
January 26, 2015
Skills - Annie Hart uses her experience to handle hectic travel arrangements to Kazakhstan.
Community - Caitlin Gregg updates on her recent races and training, as she connects with the Midwest skiing community. Husband Brian has a similar blog update.
Lucky - Alice Flanders updates last week with some "snappy news" and recaps on the Telemark races.
Sapporo - Adam Loomis updates from Japan where he is racing on the World Cup Nordic Combined circuit, sharing his travel and dining experiences.
Nordic Meccas - The Birkie Trail and the City of Lakes Loppet Festival make Outside's list of Nordic skiing favorites.
Woodies - Greg Fangel's wooden ski business is drawing attention worldwide.
Fear Not - Tom Carlson from Gear West provides a primer on using klister.
Sawmill Ski Tour - With the brown winter across much of the region, enjoy some video and photo montage from the 2015 Sawmill Tour in Quetico Park (Canada).
Hoigaards Five Star Waxing Service
January 26, 2015
With February bring some of the major marathon races on the calendar, Hoigaards has their Five Star Wax Service up and running. Four different options give the aspiring ski racer a wide range to choose from. Get your skis in early!
Related:
Jan 27 City of Lakes Loppet Waxing Clinic with Fast Wax
Skinnyski.com High School Rankings - Week 6
January 26, 2015
No major changes at the top, but definitely some interesting racing over the past week. Check out the notable performances and find out who's on the rise in our latest set of Minnesota high school Nordic ski rankings.
Loppet Course Preparations Underway
January 26, 2015
The Loppet Foundation is busy preparing race courses for the weekend events. At this point, it is looking like a lake course -- very similar to the original Loppet! They are seeking your assistance in staying off the lake courses to avoid further damage, and help in the form of shoveling parties.
Winter Trails Event in Duluth Saturday
January 25, 2015
Come out for Winter Trails Day at Spirit Mountain Nordic Chalet this Saturday, Jan 31st. If you're a new skier, they'll have lessons and even some equipment to use. Experience skiers, come celebrate winter, skiing and friends. RVSP is requested.
Twin Cities Championships CCSA/JNQ Freestyle Coverage
January 25, 2015
With temperatures in the mid 20s, the Theodore Wirth course provided some blazing fast conditions for the freestyle races of the Twin Cities Championships Sunday. Alice Flanders, MTU, topped the womens 5K field, posting the only sub-15 minute time. Matt Liebsch gathered some redemption today, flying around the mens 10K in just under 21 minutes for the fastest time. Zak Ketterson and Sarah Bezdicek were the top juniors. Patrick Acton won the junior boys 5K. In the citizens mass start race, Mark Johnson and Sarah Daniels collected the victories. Results linked in, along with over 800 photos.
Related:
Iola Norseman Challenge Results Posted