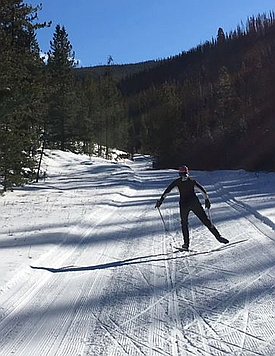 Snow Mountain Ranch, November 13, 2018 (Photo: Bill Pierce)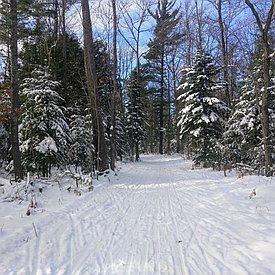 Noquenanon ski trails, November 13, 2018 (Photo: Erin Moening)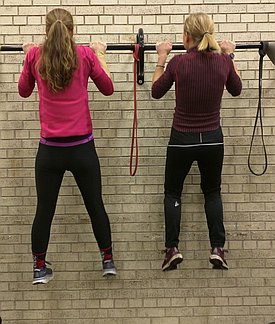 Opening day at Highland Park, November 12, 2018 (Photo: Brad Moening)

Opening day on snow in Ely, November 12, 2018 (Photo: Paula Anderson)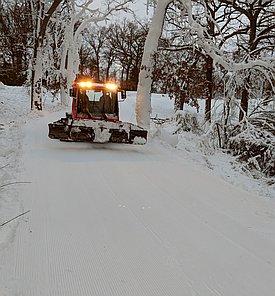 Short snowmaking loop at Theodore Wirth opens, November 12, 2018 (Photo: Loppet Foundation)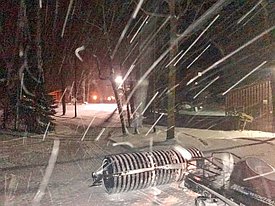 Night groom at Maplelag, November 11, 2018 (Photo: Jay Richards)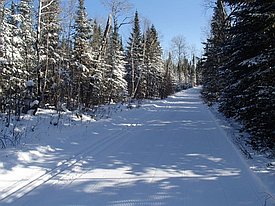 Central Gunflint trail near Bearskin, November 10, 2018 (Photo: Quinn McCloughan)
Fall Ski Swaps
Sales and ski swaps coming up in the weeks ahead:

Skinnyski FAQ
December 4, 2011
We've collected together a bunch of common questions to assembly our own FAQ for cross-country skiing in the Midwest and using the Skinnyski website.
Skinnyski Photos
February 5, 2009
Found a photo you'd like to get a copy of? Looking for images from a past event? Find out how to dig through our archives and help support the web site by purchasing photographs.

Trail Report Updates
November 13, 2018
Skiing is off to a great start across much of the northern region. New reports from Snow Mtn Ranch

, Minocqua Winter, Maplelag

, Noquemanon

, North End, Miners Memorial Heritage, Elm Creek

, Seeley, Theodore Wirth North

, and recent reports from ABR, Theodore Wirth North

, Swedetown, Elm Creek

, Maplelag

, Hyland Lake

, Phalen GC, Miners Memorial Heritage

, Old Vermilion, Central Gunflint.

BNS: How to Navigate a Ski Swap
November 13, 2018
Boulder Nordic Sport's Phil Bowen offers guidance for first-time and experienced shoppers navigating the wide range of ski swaps offered in the Midwest each fall.

US Ski Team: Cross-Country Team Named for 2018-19 Season
November 13, 2018
A 16-member 2018-19 U.S. Cross Country Team was announced Tuesday by U.S. Ski & Snowboard, with a strong focus on the 2019 World Cross Country Championships. The team kicks off the 2018-19 FIS World Cup Cross Country season in Ruka, Finland, Nov. 24-25. The Midwest has strong representation with Jessie Diggins (A team), Kevin Bolger (B team) and Ian Torchia (D team).

CXC Masters On-Snow Thanksgiving Camp
November 13, 2018
Join CXC and Krystof Kopal at the Masters On-Snow Camp Nov 23-25th in Cable, using the new snowmaking operation at the Birkie Start area! Emphasis will be on technique with hands-on coaching, video analysis and feedback during on-snow ski sessions. All master skier levels are welcome, from beginner to advanced.

Elm Creek Series Evolves for 2018-19
November 13, 2018
The Elm Creek series, this year under the direction of RJ Ochmann, has announced a number of changes designed to improve the race experience. Cumulative points series, an optional full series entry, and field size limits are all part of the updates to this venerable series.

Price Hike: Vasaloppet USA
November 12, 2018
Snow has been falling on the Vasaloppet trails and snowmaking is underway as well. Reserve your spot on the starting line for the Vasaloppet events, and save a little cash by registered before the end of Thursday, Nov 15th!

Minnesota High School Nordic Skiing Opening Day Coverage
November 12, 2018
The Minnesota High School Nordic Skiing season officially started on Monday with the opening day of practice. Coaches from around the state sent in photos from their first day of practice -- a number of snow, as excitement for the season was running high!
Related:
Photoset from Brad Moening:

Highland Park - 18 photos
Photoset from Craig Stertz:

Grand Rapids - 2 photos
Photoset from Dave Johnson:

Marshall School - 2 photos
Photoset from Kris Hansen:

Stillwater - 6 photos
Photoset from Paula Anderson:

Ely - 4 photos
Photoset from Peter Larsen:


Mora - 4 photos
Photoset:

Top Picks (high res)

BNS: Peggy Shinn Book Signing
November 12, 2018
Meet Peggy Shinn and get a signed copy of her fantastic book, World Class, an in-depth look at how the US women's cross country ski team achieved their remarkable level of success. Shinn will be at Boulder Nordic Sport Midwest on Thursday evening, Nov 15th.

Finn Sisu: Bjorn Daehlie Fashion, Book Author Presentation
November 12, 2018
Finn Sisu has two big events this week: a Bjorn Daehlie fashion show on Wednesday evening, Nov 14th with special discounts for shoppers, and Peggy Shinn, the author of World Class: The Making of the U.S. Women's Cross-Country Ski Team on Saturday evening, Nov 17th.

MYSL Ski Swap and Expo This Saturday
November 12, 2018
Peggy Shin, author of "World Class: The Making of the US Womens Cross Country Team" will be giving a presentation at 9:15am and then signing books. Doors open at 9am for the Expo and to get tickets for timed entry. Swap starts at 11am.
Related:
More Fall Ski Swaps

13th Annual Marshall Holiday Ski Camp
November 12, 2018
Marshall School will hold it's annual Holiday Ski Camp Dec 26-28. The camp is designed for skiers ages 5-12 and offers three afternoons of skiing and fun, supervised by the Marshall Nordic Ski Team Coaching Staff along with instruction from the members of Marshall Nordic Ski Team and Alumni.
Ramsey County Parks Master Plan for Rice Creek North
November 11, 2018
Ramsey County Parks & Recreation will amend the 2013 Rice Creek North Regional Trail Master Plan this year. Part of the new plan includes a number of options for ski trails in the north metro. The public is encouraged to view details and comment on the plans in a meeting scheduled for Dec 8th in Mouns View (or view and comment online).
Gear West: NICA Night this Saturday
November 11, 2018
Gear West is hosting an open house for new and current high school MTB cyclists and their parents this Saturday evening, Nov 17th. Information on this new high school sport including bike maintenance, training, and discount pricing as well.
Fall Rivet Run Coverage
November 11, 2018
Eve Graves reports: We had record numbers Sunday for the Rivet Run/Walk which is held at Pattison State Park and supports the Nordic trails at the location. Almost 150 were registered and 114 participated. With 4 inches of fresh fluffy snow and temperatures in the 20's participants navigated a new course again due to the flood damage this past summer. Alex Kasperek age 21 won the event with a time of 19:48 and Keri Jensen was the first female with a time of 25:12.
Related:
Photoset from Eve Graves:

Rivet Run Fall
Results: Rivet Run Fall
Minnesota Nordic Ski Opener Set for Dec 8th
November 10, 2018
Three Rivers Park District will again host the Minnesota Nordic Ski Opener on Saturday, December 8th, at Elm Creek Park Reserve which has a 2.5K manufactured snow loop. With free skiing, free rentals and free mini-lessons, and even a mascot race!
Home Place Returns
November 10, 2018
The Home Place ski shop in Bemidji will reopen this winter, starting on Nov 14th. Expert, experienced staff can assist skiers of all levels, from touring to elite level racing.
Lee Borowski Passes Away
November 10, 2018
John McCarthy reports: Lee Borowski passed away on Oct 31st. Borowski was an innovator and a driving force for cross country skiing, nationwide. He was known for his books and videos that basically taught us all how to skate ski and was a coach and mentor to many, including Luke Bodensteiner. There was a memorial service for him Saturday, Nov 10th, at Krause Funeral Homes in Brookfield, Wi.
Mora Adds First Chance Race
November 8, 2018
Mora will harness their expanded snowmaking operations to host an opening ski race, First Chance Race, on Saturday, Jan 5th at the Vasaloppet Nordic Center. A ski expo is also planned.
Related:
Full Racing Calendar
Rex Blog: The Tour Begins
November 7, 2018
Rex wax expert Chris Hecker is heading back out on the World Cup circuit for Rex working at biathlon and cross-country events this season! Follow his adventures in regular blog updates this season.
LNR: SkiErg Sprints Challenge at the Trailhead
November 7, 2018
The SkiErg Sprints, Nov 8-11th, is an annual virtual race that allows you to compare your time against others worldwide in a one-weekend showdown of SkiErg speed. Club Trailhead has two SkiErg Machines and will have them out in the Trailhead great room for anyone to come out and try the 1000 sprint.
Web Roundup
November 6, 2018
Addiction - Jessie Diggins opens up about her eating disorder in MinnPost article. Coverage in CityPages as well.
Retribution - Road rage incident with rollerskiers generates some real consequences.
Top 10 - Maplelag Resort named one of the top 10 cross-country ski resorts.
MTB Finale - Video coverage of the Minnesota high school MTB season finale in Mankato.
Life Begins at 40 - Can a 40-year-old athlete expect continued improvement?
Dairy to Heart - Some common dairy products may reduce the chance of heart attacks.
Bedtime Bonus - Some late night snacks might help with muscle quality, metabolism and overall health.
Snow On - Some downhill areas in Colorado area opening earlier than planned.
Fischer: West Yellowstone Demo Reservations
November 6, 2018
Fischer Skis announces the return of their online demo reservation system for the Yellowstone Ski Festival. Reserve Fischer Demo equipment including Twin Skin Ski, and Speedmax models for on-trail testing to learn how Fischer technology makes for a better on-snow experience. The 2018 West Yellowstone Ski Festival will take place Nov 20-24th in West Yellowstone, MT.
Biathlon: Six Olympians Headline Opening World Cup Roster
November 6, 2018
Following the completion of the Rollerski Team Trials last week in Soldier Hollow, Utah, U.S. Biathlon has announced the roster for the opening IBU World Cup events in 2018. Midwest athletes make up a significant portion of the roster as veteran Leif Nordgren is joined by Paul Schommer for the opening races at the end of November, and then Deedra Irwin, Jake Brown, and 19 year old Vasek Cervenka will compete in the second Cup event in mid-December.
New Moon: Big Nordic Weekend
November 5, 2018
New Moon is celebrating the Nordic season ahead with three big events this weekend, Nov 8-11th. Ski swap is set for Saturday, Ladies Night Out on Saturday evening, and big annual Customer Appreciation sale starting Thursday and running through Sunday.
Jessie Diggins in Duluth Coverage
November 5, 2018
Cece Boyle reports: Duluth showed an amazing amount of support Sunday at two Jessie Diggins Events. These events helped further the Duluth XC Ski Club fundraising efforts towards the Grand Avenue Nordic Center. Due to the rainy and snowy weather, the first event of the day was held indoors. The Grand Ave chalet was packed with athletes of all ages. Ely High School Nordic ski team helped apply glitter to attendees and skiers from The College of St. Scholastica's helped volunteer at the event as well. Diggins led a few exercises indoors and shared her story about what it was like racing for Olympic gold. For the second event, which took place at the Pier B Resort Hotel, Jessie shared even more about her training and how Nordic skiing has shaped her life in a positive way. Local citizens of Duluth showed even more support with a standing ovation for Jessie and generous donations towards the new Cross Country ski area in Duluth. By the end of the day, the DXC club had raised $150,000 towards their goal of $250,000 to continue their project at the Grand Avenue Nordic Center.
Related:
Photoset from Cece Boyle:

Grand Ave Nordic Center - 56 photos,

Evening Fundraiser - 22 photos
MPR: Glitter and gold: Diggins sets shining example for young Minnesota skiers
Loppet Foundation Seeking Bike/Ski Service Partner
November 4, 2018
The Loppet Foundation is seeking a bike and ski ski service provider to partner on the Loppet's new Trailhead facility in the Minneapolis Park and Recreation Board's Theodore Wirth Park. Because this is a public facility the Foundation is required to use a request for proposals (RFP) process. Application deadline is Nov 16th.
Up, Up and Away Rollerski Coverage
November 4, 2018
Madison area held their annual Up, Up and Away rollerski race on Saturday morning at Blue Mound State Park. Chris Pappathopoulos held off a field of tough field of juniors to take the classic 10K title, Jack Jones skated to the mens 10K freestyle victory. Mia Case won the womens 10K classic, with Anna Engel posting the womens fastest 10K skate time. The race was part of the new CXC Rollerski Cup which will conclude next weekend with two races at the Grinding Up Granite event. Results and photos posted.
Related:
CXC Rollerski Cup Series
BNS Nordic Opener at Snow Mountain Ranch
November 3, 2018
Boulder Nordic Sport will host its second-annual Nordic Season Opener at Snow Mountain Ranch, Saturday, Dec 15th. The event is an opportunity to celebrate the start of the ski season with a day of trying out the latest gear, connecting with skiing friends, and enjoying après ski fun!
Related:
BNS: Olympic Biathlete Maddie Phaneuf Joins Sales Team in Boulder
Minnesota State CC Meet Coverage
November 3, 2018
A cool and damp Saturday for the Minnesota High School State Cross-Country Championships at St. Olaf College in Northfield. The boys AA race was a barn burner with lead changes and eventually a tight four person finish as Roseville's Acer Iverson took the victory followed closely by Andrew Brandt, Wayzata and Maxwell Manley, Edina. Washburn's Emily Covert dominated the girls AA field, leading from start to finish (with a smile), Farmington's Lauren Peterson best of the rest as teammate Anna Fenske was third. Team titles went to the Edina boys and St. Michael/Albertville girls. In the afternoon A races, Geno Uhrbom of Greenway/Nashwauk/Keewatin topped Mora's Cooper Lennox with Perham boys taking the next three spots to secure yet another team title! The Ping sisters of Winona's Cotter High School finished 1-2, Grace and Lauren, for the girls with Morgan Gehl of Murray County Central/Fulda, third. Matching the boys, the Perham girls also took the team title.
Related:
Photoset:

Boys AA - 156 photos,

Girls AA - 197 photos
Photoset:

Top Picks (high res)
Results: Minnesota State CC Meet
Lapham Peak Expands Snowmaking Operations
November 2, 2018
The Friends of Lapham Peak have reached an agreement with the Wisconsin DNR to increase the length of cross country ski trails covered with manmade snow by nearly 3/4 of a kilometer, eventually bringing the snowmaking loop to 2.4K.
RollerskiShop: Experience Rollerskiing!
November 2, 2018
RollerskiShop.com has been crossing the country, extolling the benefits of rollerskiing year-round, and recently stopped in the heart of New York City -- on wheels, of course. Check out their video and rollerski route, and how they are promoting the sport of rollerskiing.
New Moon: Big Nordic Weekend Nov 8-11
October 31, 2018
New Moon is ramping up activity for the ski season ahead with a full calendar next weekend. The annual Customer Appreciation sale runs Nov 8-11th, HASTA ski swap on Nov 10th, and special Ladies Night Out with door prizes, discounts and more, Nov 10th.
Birkie Warriors Contest Opens
October 31, 2018
Each year the ABSF selects three skiers to portray the original Birkebeiner Warriors and Inga, mother of Prince Haakon. The trio serves as Birkie Ambassadors throughout event week and skis the 55K Birkebeiner classic from Cable to Hayward on traditional wooden skis and in full period costume. Submit your application today!
Loppet Announces New Cycling Program
October 31, 2018
The Loppet FOundation has launched their new cycling program, Loppet Cycle Works (LCW), under the direction of Bruce Martens, a NICA Level 3 coach and IMBA ICP instructor. Loppet Nordic Racing, Trail Kids, and LCW will be run under a new Loppet Sport division.
Related:
Loppet Cycle Works Kickoff Event Nov 8th