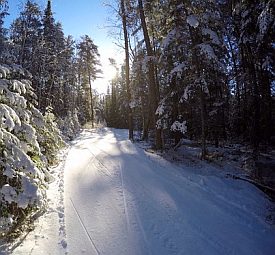 Falcon Trails, Falcon Lake, Manitoba, Canada, March 26, 2015 (Photo: Jay Richards)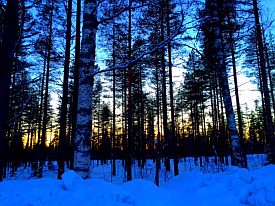 Skiing through the Finnish countryside, March 2015 (Photo: Leslie Hale)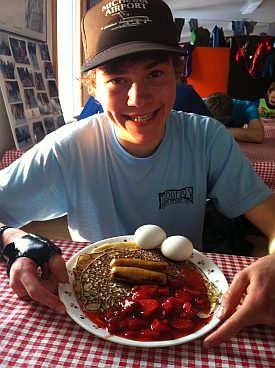 Enjoying the famous breakfast served up at 24 Hours of Lappe, April 7, 2013 (Photo: Bill Brown)

National champion Vivian Hett, U20 freestyle, Junior Nationals, March 11, 2015 (Photo: Caroline Brisbois)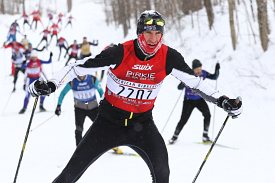 American Birkebeiner, February 21, 2015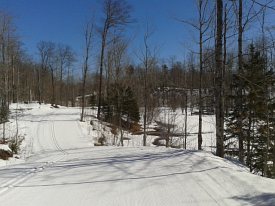 Michigan Tech University trails, March 22, 2015 (Photo: Sue Schroeder)
Skinnyski FAQ
December 4, 2011
We've collected together a bunch of common questions to assembly our own FAQ for cross-country skiing in the Midwest and using the Skinnyski website.
Skinnyski Photos
February 5, 2009
Found a photo you'd like to get a copy of? Looking for images from a past event? Find out how to dig through our archives and help support the web site by purchasing photographs.

Weekend Skiing and Trail Reports
March 26, 2015
With the cool temps and recent snowfalls, there is still some area sking, including plenty up in the UP. New reports from Falcon

, Michigan Tech Univ, McNaughton Lake, Great River Bluffs SP, Wolverine, Valley Spur, Saint Mary's Univ, Honey Tree Farm, and recent reports from Wolverine(2)

, Sleeping Giant Provincial, Kamview.


Gear West: Jan's Finland Adventure
March 26, 2015
Gear West's own Jan Guenther recounts her experiences in the Finland Border to Border ski, complete with photos from Leslie Hale.

Spring Cleaning in the Classifieds
March 26, 2015
Plenty of great gear in the classified ads this spring -- add to your existing stock or clean out the closet!

SuperTour Sun Valley: Freestyle Marathon
March 26, 2015
The Spring Series SuperTour event in Sun Valley wrapped up on Thursday with the mens 50K and womens 30K freestyle races. Caitlin Gregg remained on her A-game, besting in the womens field by over two minutes with Liz Stephen and Sadie Bjornsen rounding out the podium. In the mens race, Canadian Ivan Babikov took the victory with Rune Oedegaard and Noah Hoffman finishing second and third. Brian Gregg was 8th.
Related:
Results: Freestyle Marathon
Weekend Racing
March 25, 2015
The last scheduled race of the season for the Midwest is upon us...
Mar 28-29 24 Hours of Lappe - A big season ending ski party -- race as a team or individual with multiple duration options. Pancakes alone are worth it!
Related:


Jason Cork Wax Clinics
March 25, 2015
US Ski Team mens Nordic coach Jason Cork will be in the Twin Cities next week for a series of wax clinics and discussion sessions: Monday, Mar 30 at BNS, Thursday Apr 2nd at Finn Sisu and Saturday April 4th at Gear West.

Midwest Junior Committee Meeting Saturday April 25th
March 25, 2015
Planning for the 2015-16 juniors season will be getting underway with the spring Junior Nationals committee meeting on April 25th in Eau Claire, WI.

Norm Oakvik Memorial Scheduled for April 26
March 25, 2015
A memorial service to honor Twin Cities Nordic founder Norm Oakvik is scheduled for Sunday, April 26th at Theodore Wirth.
Endurance United Announces Reorganization Moves
March 24, 2015
Endurance United announces the departure of Executive Director Chris Sachs and the search for a new director with Jake Morgan taking over Programming Director role and Ben Popp helping with spring events in the interim.
CXC Season Finale Auction
March 24, 2015
You can help support CXC by taking part in their season finale auction -- and snag yourself some great deals in the process. All kinds of silent sport items including premium HED wheelsets, helmets, rollerskis, poles and clothing.
Birkie Bonus Coming April 1-2
March 23, 2015
Lock in your Birkie registration and get in on ground-floor pricing for a number of Birkie events throughout the upcoming year. No joke -- April 1-2, two days only!
Local Stars
March 23, 2015
On to the Next - Adam Loomis puts a wrap on his 2014-2015 Nordic Combined season and already begins to prep for the next season.
Mountain Men - Eric Carter recently finished 15th in the team competition at the Pierra Menta World Cup Mountaineering races, featured in this report from his father Rick Carter.
Fast Female - Caitlin Gregg reports on the Fast and Female event held out in Sun Valley during the SuperTour series.
Going out with a bang - Jessie Diggins begins to wind down her epic 2014-15 season as she returns stateside, gets sidelined with a cold, yet hopes to catch a little SuperTour action.
Mindsets - Rosie Frankowski covers her OPA Cup racing and her approach to racing performance and expectations, along with some "sweet" photos.
One Shot - Brian Gregg raps out a recap on his Holmenkollen experience racing in the final World Cup race of the season, where he posted the top American finish.
Last Dance - Annie Hart is out in Sun Valley and blogs on her Fast and Female experience and how dancing correlates with skiing.
And a couple of other interesting stories from the past week...
Tech-No Workout? - Star Tribune looks at the role technology might be impacting our workouts.
Soldout - Thinking of doing the Swedish Vasaloppet race? You had less than 90 seconds to act.
Borah Teamwear Custom Pro Kit Giveaway
March 23, 2015
Borah Teamwear is offering five custom pro cycling kits, to be awarded by random drawing from all the entries they receive by next Monday, March 30th.
Rice Creek Boat Club Informational Meeting April 7th
March 23, 2015
The Rice Creek Boat Club in New Brighton, MN, will hold their annual information meeting on Tuesday April 7th. Juniors ages 13-18 are encouraged to come out and test drive the paddling sports and learn more information on their summer training programs.
Birkie Seeking Media/PR Director
March 22, 2015
The American Birkebeiner is seeking a dynamic, enthusiastic individual to take on the role of media/event promotions. Experienced, highly skilled individuals are encouraged to apply before the April 17th deadline.
SuperTour Sun Valley: Freestyle Sprints
March 22, 2015
Sunday featured the freestyle sprint races in the Sun Valley SuperTour series. Sadie Bjornsen took the womens title while Andy Newell just edged out Simi Hamilton for the mens victory. For the Midwest Caitlin Gregg had the top Midwest qualifying time posting the 6th fastest time.
Related:
Results: Freestyle Sprints
Canadian Nationals: Freestyle Races
March 21, 2015
The Canadian Nationals have been going all week, but on Saturday a number of Midwest skiers traveled across the border to compete in the mass start distance skate races. Zak Ketterson continued his strong season, winning the U18 15K freestyle, Luke Brown made the podium with a 3rd place in the U20 30K and Erin Moening was 6th in the U16 7.5K.
Related:
Results: Freestyle Distance
All Canadian Nationals Results
SuperTour Sun Valley: Classical Races
March 21, 2015
The SuperTour Spring Series in Sun Valley, ID, started Saturday with a pair of classical races. Some solid results from Midwest skiers including Ben Saxton finishing 6th mens 15K, with Rosie Frankowski 10th and Annie Hart 13th in the womens 10K. The Bjornsen's made it a family sweep as Erik and Sadie captured the titles.
Related:
Results: Mens 15K, Womens 10K
Gear West: Alpine for XC
March 20, 2015
For those into both cross-country and downhill, Gear West is offering a free performance tune for those purchasing Alpine skis -- with up to 50% off Alpine skis, boots and casual winter clothing.
Bike Dr: New Website, Rides begin, Road Bike Closeout Sale
March 20, 2015
Bicycle Doctor rolls out a new website, fires up their spring rides, offering closeouts on some road bikes, and final call for stonegrinding.
SuperTour: Spring Series Returns to Sun Valley
March 20, 2015
The SuperTour wraps up the 2014-15 season with a final series of events in Sun Valley. Classical races start the week on Saturday, with freestyle sprints Sunday, mixed relays Tuesday, and concludes with 30K/50K skate marathons on Thursday.
Midwest MTB Report: Special Edition Birkie Fat Bike
March 20, 2015
Jay Richards files a special edition MTB report, digging into the Fat Bike Birkie with some interviews and posting a couple of early summer updates, including the 25th anniversary Laddies Loppet.
Grand Avenue Nordic Center Project
March 19, 2015
Duluth XC is working with the City of Duluth to developed a cross-country ski center at the base of Spirit Mountain, offering 3.3K of lighted trails with snowmaking, along with ability to utilize the chalet for hosting large and small events. But they need your help to make this project happen!
Finn Sisu: Race Skis, Wax and Trail Running
March 19, 2015
Finn Sisu is offering sales on race skis (up to 40% off), deals on wax and waxing accessories, and discounts on trail running shoes for the spring.
Midwest Mountaineering March Newsletter
March 19, 2015
Midwest Mountaineering's latest newsletter has some coupons on keeping your equipment secure, plus highlights of upcoming clinics and seminars.
Moose Nordic Urban Sprint Championships
March 18, 2015
Luke Brown reports: The Moose Nordic Urban Sprint Championships on Wednesday showed the power of teamwork and belief by overcoming the lack of snow in the Twin Cities. Out of a pile of ice and snow on the St. Thomas campus arose a technical and sturdy sprint course that challenged the skiers with cornering, jumps, and endurance. The defending champion, Tamer Mische-Richter, led the group after the qualifier round; however, Zach Goldberg of Dartmouth College proved victorious after the competitive head-to-head rounds and took home the coveted championship.
Related:
Photoset from Luke Brown:

38 photos
Local Stars
March 16, 2015
Women of Winter - Both Jessie Diggins and Caitlin Gregg made Team USA top 35 women of winter list.
Rookie of the Year 2 - Raleigh Goessling completes the Minnesota sweep of the EISA Rookie of the Year titles (Alayna Sonnesyn was the other).
Gregg Interview - Caitlin Gregg is interviewed by Skitrax about her World Championships and Engadin results.
Embracing the Climbs - Brian Gregg's race last Sunday at the historic Holmenkollen venue is the topic of this FasterSkier article.
Eisenerz - Annie Hart reflects on history and the places skiing has taken her.
Lake Placid - Alice Flanders posts a double blog covering her trip out east for her final collegiate races, the NCAA Championships. And the second half.
Overdue Recap - Gordon Vermeer blogs big with an update on his recent racing, including the NCAAs, and his future plans.
JN2015 - Midwest skiers featured in this excellent video recap of the 2015 Junior Nationals competition last week in Truckee.
And a topic near and dear to many Midwestern's hearts...
Believe - Caitlin Gregg gives thanks to all her supporters that believed in her and shares some of her philosophy.
Melting Vasaloppet - The future of the Swedish Vasaloppet is examined with the impacts of climate change.
APU Summer-only Bridge Program
March 16, 2015
APU Nordic is seeking candidates for their summer training program. Designed for athletes looking for a bridge training program for the summer before returning to their competitive team in the fall, Kyle Bratrud participated in the program last season.
Related:
Midwest Training Programs
Job Posting: Head Coach Univ of Fairbanks-Alaska
Ramsey County Winter Recreation Area Summit March 19th
March 10, 2015
Ramsey County is holding a winter recreation summit Thursday evening, Mar 19th, at the Keller Golf Course Clubhouse in St. Paul. Plans are to discuss ways to fund and develop a winter recreation area at Battle Creek Regional Park.
Skiwerx Series/Cities Cup/MNSA Banquet set for March 22nd
March 10, 2015
Sunday, Mar 22nd, skiers and supporters will come together for the annual Skiwerx/Cities Cup, and MNSA banquet at Theodore Wirth. In addition to handing out the series awards, Ahvo Taipale will be recognized by MNSA for their Lifetime Achievement Award. Tickets must be purchased by Mar 17th!
Bay Nordic: Night of Illumination Fundraiser Dinner
March 16, 2015
Bay Nordic along with Brown County Parks in Green Bay are hosting an Night of Illumination Dinner to kick start their fundraising efforts for lighting at Reforestation Camp for next season. The dinner is scheduled for Saturday, April 18th.
Finland Border to Border: Days 5-8
March 15, 2015
Ritva Taipale provides a wrap up her and father Ahvo, along with a group from the Midwest and Alaska, completed the border to border ski across Finland. Read the journal entries from days five thru eight and check out the photos.
Walter Spidahl Passes On
March 15, 2015
Walter Spidahl, skiing pioneer in western Minnesota, passed away last week. Walt was the founder of Spidahl Ski Gaard trail system, worked for Northland Ski Company, was president of the Fergus Falls Ski Club, and helped open Hallaway Hill ski area near Pelican Rapids in the 1950s.
Related:
Fergus Falls Journal: Skiing was Spidahlís passion (2007)
World Cup Oslo: Womens 30K Freestyle
March 15, 2015
Racing at the historic Holmenkollen venue in Oslo, Norway, the prestigious womens 30K freestyle marathon title was decided on Sunday. While Norway's Marit Bjoergen won the race (with Norwegians sweeping the podium), the American crew had some great results. Liz Stephen finished 9th, Jessie Diggins 14th, and Caitlin Gregg 19th!
Related:
Results: Womens 30K Freestyle
NCAA Championships Nordic Only Team Scoring
March 14, 2015
We've tallied up the points from the cross-country ski portions only of the NCAA Championships. NMU men finished second to only Colorado. NMU women were sixth, MTU 12th, and CSS 14th. When combining the team totals, NMU finished fourth.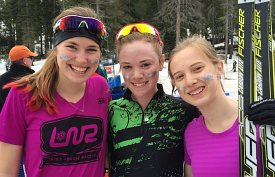 Junior Nationals: Classical Relays Coverage
March 14, 2015
The final day of racing at the 2015 Junior Nationals featured classical relays. Tough snow conditions had the organizers modifying the distance and times for the events, with all races switching to a 3 x 2.5K format. Starting off, leading FU16 girls took 2nd. The top MU16 boys finished 12th. The FU20 gals crushed, taking 1st and 4th! The FU18 girls also podium, finishing 3rd. And finishing it off, the MU18 boys take another team title!
World Cup Oslo: Mens 50K Freestyle
March 14, 2015
Wrapping up the World Cup season, two giants races at the famous Holmenkollen venue in Oslo, Norway this weekend. Saturday was the mens 50K freestyle race, which came down to a sprint and photo finish -- in the end Norway's own Sjur Roethe was awarded the victory over Dario COlogna, with Martin Johnsrud Sundby third. Canadian star Alex Harvey was with the lead group most of the race, but came off in the final 5K and finished 13th. Brian Gregg was the top American, posting 35th.
Related:
Results: Mens 50K Freestyle
Junior Nationals: Midwest Relay Teams Posted
March 14, 2015
The lineup for the Midwest relay teams in Saturday's classical 3-person relays has been posted. Note: Exact order on each team may be changed, and some additional Midwest skiers will be competing on mixed relay teams. Races start at 11 am CDT.
Related:
Junior Nationals Preview
Full Relay Start List
Canadian Nationals Start Up in Thunder Bay
March 13, 2015
The Canadian Nationals start this Saturday, March 14th, and run through next weekend, with races nearly everyday. This year's competition is being held at Lappe Nordic in Thunder Bay.
Final Winter Clearances
March 13, 2015
With the fading snow, so are the winter deals -- act quickly to get some great pricing on final sales this winter...
Joes Ski Shop - Everything running 50-70% off.
Hoigaards - Final Nordic clearance - get in soon for best selection.
Finn Sisu - Discounts on a number of items, including 40% off Rex poles through this weekend.
Gear West - Great deals on 2015 skis.
BNS - Spring blowout sale going on with Fischer, Salomon and Madshus products.
Pioneer Midwest - Up to 70% a wide range of cross-country skiing products.
Ski Hut - Still running their post-show snow sale as they make the transition to spring.
Section Shakeup 2015
March 7, 2015
The Minnesota high school league has performed their biennial competitive section assignment review, and for Nordic skiing, some major changes are on the horizon for the 2015-16 season! We've got a breakdown on the changes along with some commentary for each new section alignment.