Trail Report / Training Report Drawing
Submit a trail report and be entered into our weekly $100 lodging gift certificate drawing.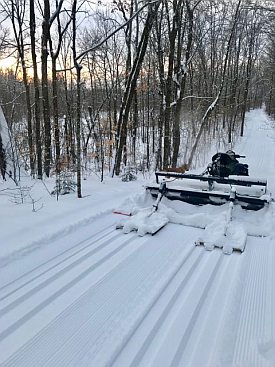 Fresh snow at Maplelag, January 22, 2019 (Photo: Jay Richards)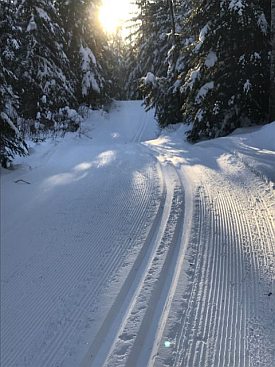 Central Gunflint trails near Bearskin Lodge, January 21, 2019 (Photo: Colleen Corcoran)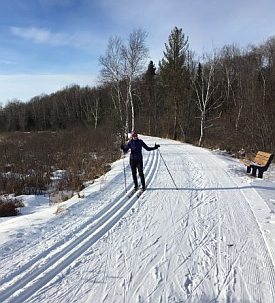 Three Eagle Trail, January 21, 2019 (Photo: Tom Rulseh)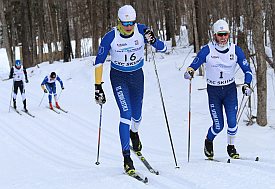 Mens lead group, Cable JNQ, January 20, 2019 (Photo: Jackie Schneider)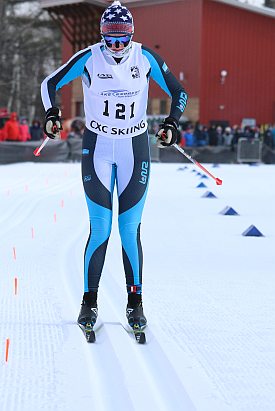 Luci Anderson takes the victory, Cable JNQ, January 20, 2019 (Photo: Jackie Schneider)
Planning Calendar for 2019-20 Season
January 16, 2019
For events already looking ahead to next season, we've started collecting key dates to help in the planning process.
Skinnyski FAQ
December 4, 2011
We've collected together a bunch of common questions to assembly our own FAQ for cross-country skiing in the Midwest and using the Skinnyski website.
Skinnyski Photos
February 5, 2009
Found a photo you'd like to get a copy of? Looking for images from a past event? Find out how to dig through our archives and help support the web site by purchasing photographs.

Minnesota High School Nordic Skiing Rankings - Round 3
January 22, 2019
Round 3 of the Minnesota High School Nordic Skiing rankings are out, with some serious changes! While Mara McCollor, Wayzata, and Alex Nemeth, St. Cloud Cathedral-Sartell, hold the number one spots, the teams shuffle a bit as the Robbinsdale-Armstrong girls improve to take the girls mantle and the St. Cloud Cathedral-Sartell boys look solid at the top of the boys field.

US Ski Team: Cross Country World Championship Team Announced
January 22, 2019
U.S. Ski & Snowboard has named 18 athletes to the U.S. Cross Country Team that will compete in the 2019 FIS Nordic World Ski Championships next month in Seefeld, Austria. A number of Midwest skiers earned a spot on the squad including Jessie Diggins,Rosie Frankowski, Kevin Bolger, Kyle Bratrud, and Adam Martin!

Weekend Trail Reports
January 21, 2019
Crisp weather over the holiday weekend but those that ventured out found some great conditions up north! New reports from Boulder Lake, Bridgewood, Lindenwood, Spirit Mtn, Mt. Ashwabay, Snowflake

, Bagley Nature, Maplelag

, Suomi Hills(2), Goose Lake, WinMan

, Alder Pond, Central Gunflint

, Birkie, Hyland Lake(4), No Achen, Cut Lake, Mecca

, Hiram

, Andes Tower Hill, Legion, Amen Lake, McCarthy Beach SP(2)

, North End, Essex, Sugarbush, Mother Bear, Willow River SP, Norpine (Deeryard/Lutsen), Point Beach SF, Carey Lake

, Wolf Lake

, Larson Lake

, Piedmont, Whitnall, Theodore Wirth North(2)

, Kraemer Lake-Wildwood, Mississippi River, Quarry, Stoney Ridge, Blueberry Ridge, Noquemanon, Brown Deer, Lapham Peak, Superior MF, Sheboygan Jaycee, Nashotah, Reforestation Camp

, Afterglow Lake

, Gov Nelson SP, Grand Avenue

, and recent reports from Swedetown, Vasaloppet, Central Gunflint

, Valley Spur, Blue Mound SP, Elm Creek, Mother Bear, After Hours, Theodore Wirth North, Eastwood GC(2), Lester, UW-Parkside, Biskey Ponds

, Three Eagle

, Nordic(2), Norpine (Deeryard/Lutsen), Northland Arb, Pattison SP

, Snowflake, Reforestation Camp

, Halls Creek, Carey Lake

, Black River Falls SF

, Sheboygan Jaycee, Sugarbush

, Grand Avenue

, Bally Creek.
Related:
Regional Snowfall Reports

Racing Outlook
January 21, 2019
Working on updates for the coming weekend: Iowa Winter games are on! Marine O'Brien is off.

Collegiate Racing Recap: Midwest, EISA, RMISA
January 21, 2019
While roughly have the collegiate field was racing last weekend in Cable, both east and west coasts had full fields for the weekend of racing. Mary Kozloski has the breakdown on all the action and Midwest skier highlights.
Cable JNQ Classic Distance Coverage
January 20, 2019
Cold temperatures delayed the start by two hours on Sunday morning, but things heated up once the start gun went off for the Gitchi Gami Games 10K classic races. St. Scholastica men swept the podium in the senior race with Emil Book Bratbak (Norway) taking the victory followed by Nicholas Matelich and Jack Christianson. Peter Moore, Endurance United, was the best of the junior field finishing 4th overall. In the senior women's race, LNR juniors did the sweeping as Luci Anderson dominated the field winning by nearly a minute with Emma Albrecht second, Libby Tuttle third. Sadie Peterson, UWGB, was the best of the collegiate field in 4th overall. U16 titles were won by Lauren McCollor and Caden Albrecht. Results linked in, photos posted from Jackie Schneider.
World Cup Otepaa: Classic Distance
January 20, 2019
The Estonia World Cup wrapped up in Otepaa on Sunday with some difficult classic distance races. Returning to the racing circuit after a mid-season break, Norway's Threse Johaug picked up right where she left off -- dominating the women's field, winning by over 45 seconds in the 10K race with Sweden's young star Ebba Anderson second and Russian Natalia Nepryaeva third. Jessie Diggins lead the US womens squad, taking 13th. Finland's livo Niskanen, racing in his favorite discipline, won the men's 15K with Alexander Bolshunov, Russia, second and Didrik Toenseth, Norway, third. Erik Bjornsen posted the best place for US men at 30th.
Related:
Results: 10K, 15K classic
US Ski Team: Diggins Leads U.S. in Otepaa 10k Classic
Cable JNQ Classic Sprints Coverage
January 19, 2019
Enduring single digit temperatures and a challenging course, skiers competed in classic sprint races Saturday in the Gitchi Gami Games in Cable, WI. Jake Ajax, UWGB, and Luci Anderson, LNR, won the senior sprint finals, U16 victories were earned by Jasper Johnston, Ely, and Lauren McCollor, Wayzata. Results linked in along with photos from Jackie Schneider.
Loppet Loppet Results
January 19, 2019
Over 130 skiers took to man-made snowmaking loop at Lapham Peak on Saturday for the annual Lapham Loppet race. Tristan Schocten won the men's 10.5K freestyle race with Matthew Dugan second, Danny Sonnentag third. Teenager Avery Tolbert took the women's division followed by Ella Rienemann and Shelbey Suhr. Classic champions were Ethan Blischke and Kim Hughes.
Related:
Hinder Binder Results
Three Rivers Rennet Coverage
January 19, 2019
Bright sunshine did little to offset the bone chilling temperatures for the Three Rivers Rennet 22K races on Saturday morning at Hyland. The men's freestyle race quickly developed into a two horse show with Brian Gregg and Matt Liebsch setting the pace. The pair stuck together throughout, including a blistering fourth lap, taking it down to a sprint finish, where Liebsch appears to have dove for the line - and was awarded the victory over Gregg. Thomas Kendrick wrapped up the mens podium. Maggie Pierson and Jenna Ruzich had a close battle for much of the race with Pierson eventually pulling ahead on the final lap for the win, Ruzich second, with Melissa Berman taking third. Andrew Tilman and Marian Delaney collected the classic titles. In the 10K races held in slightly more balmy weather, Jonathan Moreno and Danielle Ungurian topped the freestyle fields, Gene Kay and Emily Borderson won the classic races. Results linked in, photos are up.

World Cup Otepaa: Classic Sprints
January 19, 2019
Classic sprints were the featured event Saturday for the World Cup as the series races in Otepaa, Estonia this weekend. The US qualified three women and two men for the heats, Jessie Diggins the best performance on the day finishing 12th and exiting in the semi-finals. Sadie Bjornsen appeared lined up for a great finish to her quarterfinal, but crash on the last turn. Andy Newell had the best result for the men, taking 15th. Norway's Johannes Klaebo dominated the event, easily winning his heats and the final. Sweden's Stina Nilsson was also skiing strong, but appeared to have pulled a muscle in her semifinal and did not compete in the final, which was won by Norway's Maiken Caspersen Falla. Sunday will be classic distance races - women's 10K at 2:30 am CST, men's 15K at 6 am.
Related:
Results: Classic Sprints
US Ski Team: Diggins Leads U.S. in Otepaa Sprints
Loppet Opens Snowmaking Trails for Limited Fat Biking
January 17, 2019
The Loppet Foundation has started a limited pilot project allowing fat bikers to ride on the snowmaking trails on Friday, Saturday, and Sunday evenings when the trails are open.
North Star Ski Touring Club Seeks Applications for Grant Fund Projects
January 17, 2019
The North Star Ski Touring Club (NSSTC) is seeking grant applications from the North Star Grant Fund. Grant application deadline is March 31st.
CSS Socks For the Sisters
January 16, 2019
St. Scholastica skiers are running a fundraiser with Saints "For The Sisters" socks. If you place your before the weekend, choose "pick up" and write "Cable JNQ" in the pick-up notes and you can get them at this weekend's JNQ event.
Unconference Championships
January 16, 2019
Conference championships are coming up at the end of January, but some schools are no longer in a specific conference. But don't despair, Mora is hosting 'Unconference Championships' for all those teams -- Tuesday, January 29th at the Vasaloppet Center.