Trail Report / Training Report Drawing
Submit a trail report and be entered into our weekly $100 lodging gift certificate drawing.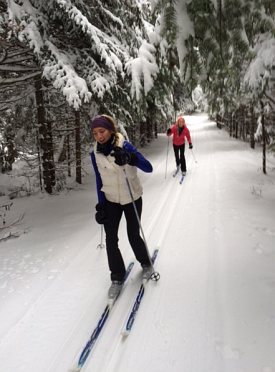 Banadad ski trail, December 21, 2014 (Photo: Mark Hennessy)

Ian Torchia, Michigan Tech CCSA/JNQ, December 21, 2014 (Photo: Jennifer Brisbois)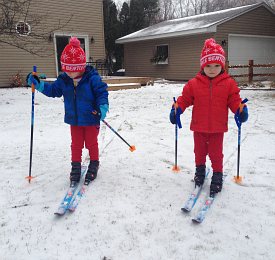 Seeking more snow in Mahtomedi, December 21, 2014 (Photo: Lindsey Dehlin )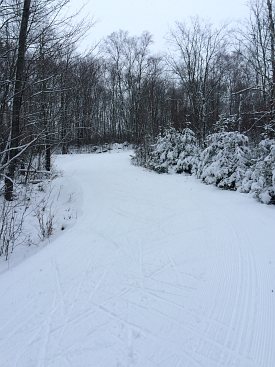 Giants Ridge, December 21, 2014 (Photo: Daniel Gerdts)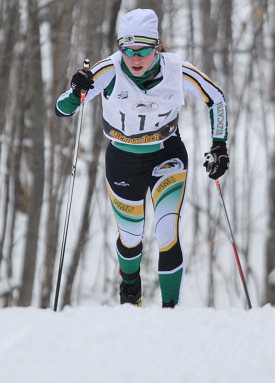 Kris Bourne, Michigan Tech CCSA/JNQ, December 20, 2014 (Photo: Jennifer Brisbois)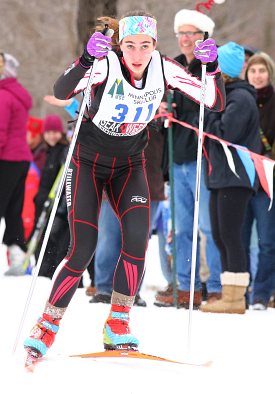 Rana Kraftson, Holiday Relays, December 20, 2014
Skinnyski FAQ
December 4, 2011
We've collected together a bunch of common questions to assembly our own FAQ for cross-country skiing in the Midwest and using the Skinnyski website.
Skinnyski Photos
February 5, 2009
Found a photo you'd like to get a copy of? Looking for images from a past event? Find out how to dig through our archives and help support the web site by purchasing photographs.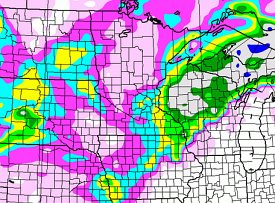 Winter Storm Rolling in for Tuesday
December 21, 2014
A lot will depending on the temperatures and exact path, but forecasters are calling for possibly some big snow across NE Minnesota, northern Wisconsin, and of course the UP, on Tuesday into Wednesday. Much of Minnesota should see some snowfall, with the eastern half targeted for larger totals.
Related:
Regional Winter Storm Statements

Weekend Trail Reports
December 21, 2014
Another tough weekend for the southern half of our region, but still good skiing in a number of areas, including northern Wisconsin and the UP. New reports from Hyland Lake(6)

, Boulder Lake, Birkie, ABR, Lapham Peak

, Afterglow Lake, Spirit Mtn

, Snowflake, Banadad

, Giants Ridge

, Razorback Ridges, Theodore Wirth, Minocqua Winter, Sand Dunes SF

, Noquemanon, and recent reports from Lester

, Afterglow Lake(2), Elm Creek(2), Minocqua Winter(3), Valley Spur(2), Birkie(2), Bally Creek, Giants Ridge

, ABR(2)

, Hyland Lake(4), Mt. Ashwabay(2), Magney-Snively

, Land O' Lakes, Northwood GC, Hornet Hiihto.

Racing Outlook
December 21, 2014
The Elm Creek series moves to Tuesday evening this week, and changes are in the works for the Como Championships.


BNS Demo, Wax Tips and Nationals Support
December 21, 2014
Boulder Nordic Sport will be hosting another equipment demo, this one next Saturday, Dec 27th at Hyland. In addition, their sharing tips on successful waxing combinations with the recent weather, and offering waxing support for US Nationals next month.

Michigan Tech CCSA/JNQ Classical Races
December 21, 2014
The opening JNQ series in Houghton wrapped up Sunday with some exciting mass start classical races. In the senior womens race, three skiers brought it to the finish line, with Kris Bourne, NMU, getting the victory over Natalia Naryskina and Ulrika Axelsson in a photo finish. NMU skiers swept the mens senior race podium, as Fredrik Schwencke and Adam Martin had their own sprint finish with Kyle Bratrud just trailing. In the womens U18/U20 event, top ranked Rocci Wohlk broke up what would have been another NMU sweep, finishing second to Vivian Hett, with Rebekka Schueder third and Caroline Brisbois just seconds back. Ian Torchia, NMU's freshman star, crushed the mens U18/U20 field, winning by over a minute, with Tom Bye second, and Zak Ketterson third. U16 titles went to Anders Sonnesyn and Anna Johnson.

World Cup Davos: Freestyle Sprints
December 21, 2014
The US skiers put it into high gear Sunday morning for the Davos World Cup freestyle sprints. In the womens qualifying round, the Americans posted some of their best results this season as Sophie Caldwell and Kikkdan Randall went 8th and 9th with Jessie Diggins 17th. Simeon Hamilton lead the US men with a 17th place qualifying time. Randall and Caldwell both made it to the semifinals but had spills on the tricky snow conditions, finishing the day 9th and 11th respectively.
Related:
Results: Freestyle Sprints

Duluth Solstice Bonfire Ski and Race
December 20, 2014
Duluth XC is celebrating the Winter Solstice with an evening of skiing on the trails at Spirit Mountain this Sunday, Dec 21st. A 3k loop will be lit with luminaries and bonfires. A short race to get things "fired up", then stay and celebrate the long night with a hot drink and snacks.

Gear West Holiday Tuneup Results
December 20, 2014
Hammering out the laps in some sugary snow at Elm Creek, St. Scholastica skier Joe Dubay outsprinted Andrew Brown and Cory Ellertson to take the win in the mens 10K. Ingrid Leask topped the womens field, with Jan Guenther and Mata Agre rounding out the podium. The 5K titles went to Nathaniel Johnson and Molly Wilson. Results and an interview with Joe Dubay, posted.

Holiday Relays Coverage
December 20, 2014
With a Junior National qualifier and another race in town, the Holiday Relays drew a slightly smaller field as they competed on the snowmaking trails at Theodore Wirth. Stillwater continued their dominating tradition, taking both classical relays as well as a comeback victory by freshman Rana Kraftson in the girls skate relay. Wayzata boys pulled off their own comeback, taking the boys skate race in the final leg. Top times on the day went to: Meagan Weaver girls classic, Rana Kraftson girls skate, Sam Hanson boys classic, Carter Blankenship boys skate. Results posted along with photosets.
Related:
John Hugus Invite Results Posted

Michigan Tech CCSA/JNQ Classical Sprints
December 20, 2014
The Midwest Junior National Qualifier Series held their first event Saturday on the trails at Michigan Tech in Houghton. The event was also a Central Collegiate Ski Association (CCSA) meet as well, bring the top juniors and seniors from around the region. In the womens seniors/masters final, CXC's Natalia Naryskina edged out Scholastica's Anita Kirvesniemi for the win with NMU's Felicia Gesior third. In the mens final, Håkon Hjelstuen, unattached, won with NMU skiers Fredrik Schwencke and Erik Soderman rounding out the podium. Top junior qualifying times on the day: Kris Bourne U20, Rocci Wohlk U18, Anna Johnson U16; Tom Bye U20, Zak Ketterson U18, Anders Sonnesyn U16.
Related:
Sunday Classical Mass Start Start List (seeding)

World Cup Davos: Freestyle 10K/15K
December 20, 2014
The World Cup resumed action in Davos, Switzerland, Saturday with a pair of distance freestyle races. The American women continue to improve as Liz Stephen notched a 12th place finish with teammates Jessie Diggins 27th, Sadie Bjornsen 28th. Norway remains unbeaten with Marit Bjoergen taking the victory. Germany's Nicole Fessel snuck in for second, with Norway's Heidi Weng third. In the mens race, Norway swept the podium: Anders Gloeersen, Petter Northug, and Chris Jespersen. Erik Bjornsen was the lone American, finish 54th.
Related:
Results: Freestyle 10K/15K
Finn Sisu: Last-minute Gift Ideas
December 19, 2014
The holidays are nearly upon us and Finn Sisu is highlighting some last minute gift ideas, as well as their JNQ wax service and 30% off Yoko poles.
Birkie Matching Challenge Grant Announced
December 18, 2014
The Birkie Foundation has announced a challenge grant, matching all donations made by December 31st, up to $10,000. Every dollar you donate will be doubled -- please consider help to fund Phase 1 of their future development.
Salomon: Tad Elliot - Importance of Goals
December 18, 2014
Elite skier Tad Elliot reflects on his goals this winter, both daily and long-term. Elliot will be racing for Salomon across the US this season, including a number of races in the Midwest.
New Moon Winter Events
December 18, 2014
New Moon has a number of events going on this winter, including the Holiday Demos, Ashland Park Womens Ski Clinic, expert waxing for the Seeley Classic and Pre-Birkie, as well as a weekly Tuesday Night under the Lights ski.
Biathlon: Two Top 20 Results at Pokljuka World Cup
December 18, 2014
US Biathlon reports: The U.S. Biathlon Team got off to a strong start on Thursday as the third IBU World Cup of the 2014-15 season kicked off with the women's 7.5-kilometer sprint in Pokljuka, Slovenia. Hannah Dreissigacker and Susan Dunklee both posted top 20 finishes with Dreissigacker ending up tied for 17th and Dunklee right behind her in 19th.
Related:
Biathlon: Bailey 16th in Pokljuka World Cup Sprint
CXC Spotlight: Oyvind Solvang
December 17, 2014
CXC highlights an interview by Peter Graves with their President Oyvind Solvang, discussing his background and goals for the development of CXC. CXC is holding their End of the Year fundraising drive, trying to meet a 1 for 2 challenge grant.
Related:
CXC End of Year Fundraising Drive
NNF Funding Allocations Announced
World Cup Davos Weekend Series Redux
December 17, 2014
Rescheduled from La Clusaz, France, the World Cup FIS series repeats again this weekend in Davos, Switzerland. The lineup this weekend includes a womens 10K and mens 15K skate race Saturday, with freestyle sprint races on Sunday.
Related:
Video from Ahvo Taipale:

Bjorn Daehlie Interview
NNF: Davos Double Poling Distance with Chris Grover
US Ski Team: Davos Redux - 8 Things to Watch this World Cup Weekend
Finn Sisu: JNQ Waxing Service
December 16, 2014
Finn Sisu will be providing elite-level racing service at all 4 weekends of Midwest Junior National Qualifying races for the 2014-2015 season. They hope to provide all skiers with access to high quality waxing service (epsecially if they don't have club service) and assist coaches with information and on-site access to the best wax.
Local Stars
December 15, 2014
Slick Business - Fast Wax, the Twin Cities wax company, was recently profiled in the Star Tribune.
Confidence - Annie Hart writes on the topic of confidence, losing it and bring it back - good stuff.
Stress - Alice Flanders covers the battle between racing and school finals, with neither going quite as planned.
Early Season - Rosie Frankowski updates her early season racing in Montana.
Davos Home - Jessie Diggins highlights her time in Switzerland, just before the weekend races at Davos.
Van Life - Paige Schember reveils the glorious van ride lifestyle of the Nordic ski racer.
Dubay - St. Scholastica's Joe Dubay cracks top five at the Wildcat Invitational.
Velodone? - The National Sports Center Velodrome needs some serious funding help to repair and maintain the facility. A fundraising project is underway.
Skinnyski.com High School Rankings - Week 2
December 15, 2014
Week 2 of the Minnesota High School Rankings: some interesting results last week generated a shuffling in the rankings, including a new number one for the girls.
December Salomon Demos
December 15, 2014
Salomon is making the rounds in December, hosting demos events at a number of venues. Come test their latest equipment, including the new Equipe RC Skin classic skis, at Elm Creek on Dec 17, Hyland on Dec 20 or the Birkie trail on Dec 27.
Nordic Spirit Registration Open
December 15, 2014
The Nordic Spirit race, Jan 11th, at the Spirit Mountain trails in Duluth, is open for registration. They are also offering Facebook promo prize for the 100th "like" to their page.
Holiday XC Ski and Fat Bike Demo
December 14, 2014
New Moon and Riverbrook will be hosting a combined Holiday Equipment Demo, Saturday Dec 27th, at the Hwy OO Birkie trailhead. Come out and test drive the latest in ski equipment or take a new Fat Bike for a single on the nearby CAMBA singletrack.