Trail Report / Training Report Drawing
Submit a trail report and be entered into our weekly $100 lodging gift certificate drawing.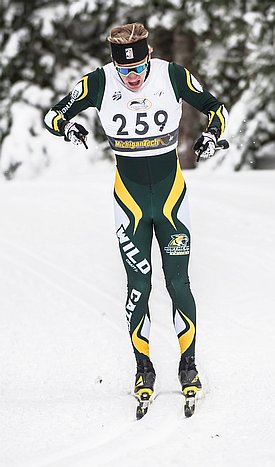 Zak Ketterson flying to first place, UP Opener, December 11, 2017 (Photo: Chris Schmidt)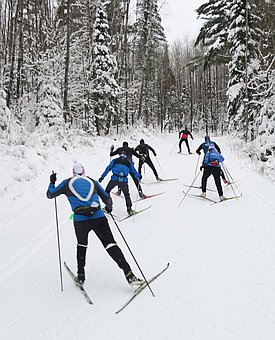 Birkie Trail, December 10, 2017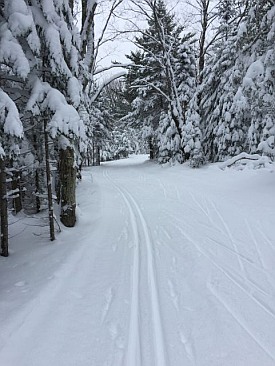 Swedetown, December 9, 2017 (Photo: Peter Vorhes)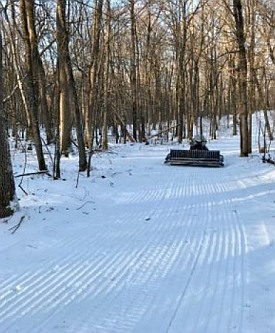 Maplelag Resort, December 9, 2017 (Photo: Jay Richards)
Skinnyski FAQ
December 4, 2011
We've collected together a bunch of common questions to assembly our own FAQ for cross-country skiing in the Midwest and using the Skinnyski website.
Skinnyski Photos
February 5, 2009
Found a photo you'd like to get a copy of? Looking for images from a past event? Find out how to dig through our archives and help support the web site by purchasing photographs.

Racing Outlook
December 11, 2017
Racing action is firing up! Updates on Houghton JNQ and Elm Creek.

Weekend Trail Reports
December 10, 2017
Skiing has picked up in the Midwest with reports of good early season conditions. New reports from Snowflake, Willow River SP, Washburn Lake, Lauterman National, Lake Emily, Halls Creek, Hiawatha GC

, Auburn

, Stower Seven Lakes ST, Valley Spur, Hyland Lake, Univ of Minnesota GC, Lake Elmo, Theodore Wirth North(2), Birkie(2), Elver

, Ashland, Maasto Hiihto

, and recent reports from Elm Creek(2), Theodore Wirth North

, WinMan, ABR, Birkie(2)

, After Hours

, Riverside, Timberland Hills, Battle Creek West, Maplelag

, Maasto Hiihto

, Lake Elmo

, Hayward Hospital, Lapham Peak

.
Related:


UP Opener Coverage
December 10, 2017
The Midwest collegiate racing scene kicked off Sunday with a pair of classical races on the Michigan Tech trails in Houghton. NMU women picked up where they left off last season, sweeping the 10K podium: Kris Bourne, Vivian Hett and Nicole Schneider. And the same story for the NMU men: Zak Ketterson leading the way in the 15K race, followed by exchange program skiers Lars Sonsterud and Kjetil Baanerud. Results linked in, along with photosets from Chris Schmidt.
Related:
Press Release: Nordic Ski Team Hosts UP Opener at the Tech Trails

SuperTour Sovereign Lakes Series
December 10, 2017
The SuperTour series is racing at Sovereign Lakes in British Columbia, Canada this weekend. Saturday was classical sprints with Kaitlynn Miller and Bob Thompson collecting the titles, Ben Saxton a close second in the mens final. Sunday featured interval start skate races, with NMU's own Ian Torchia taking the men's 15K race! Caitlin Patterson won the women's 10K event with Rosie Frankowski 2nd and Caitlin Gregg 3rd. Other top results: Kevin Bolger 4th, Adam Martin 5th, Matt Liebsch 9th; Anne Hart 7th.
Related:
Results: Classical Sprints, 10K, 15K Freestyle

World Cup Davos: Freestyle Distance
December 10, 2017
The World Cup series in Davos wrapped up Sunday with 10K and 15K freestyle races. The US women showed remarkable, consistent strength placing four skiers in the top 20, led by Sadie Bjornsen at 12th (Diggins 15th). Norway's Ingvild Flugstad Oestberg took the women's victory. The men's race was won by veteran Maurice Manificat of France. Patrick Caldwell was the top American, finishing 41st.
Related:
Results: 10K, 15K Freestyle
US Ski Team: Women's Depth Showcased at Davos

Gear West: Kari Traa and B/Daehlie Style Show Plus Pint Night
December 9, 2017
Come out to Gear West on Tuesday evening and check out the latest in Nordic skiing apparel from Norwegian brands Dæhlie and Kari Traa! The first 120 adults receive a free pint glass with beer provided by Lakes & Legends brewing company.
World Cup Davos: Freestyle Sprints
December 9, 2017
A great first day of racing in Davos, Switzerland, Saturday as the athletes competed in freestyle sprint races. The US women continued to show they are some of the best in the world, qualifying *five* in the top 11 and eventually three into the women's final! Stina Nilsson, Sweden, and Maiken Falla, Norway, picked up where they left off last season, dominating the final with Kikkan Randall showing impressive form to take third (Jessie Diggins 4th!). On the mens side, Norway's Johannes Klaebo easily won the qualifying and sprint final. Andy Newell and Simi Hamilton qualified 10th and 12th, with Hamilton finishing 9th in the semifinals. Sunday will be distance skate races.
Related:
Results: Freestyle Sprints
US Ski Team: Randall Back on Sprint Podium in Davos


Fischer: Nilsson and Klæbo sprint winner in Davos
Fast Wax Changes Hands
December 8, 2017
Dan and Rosie Meyer are officially retiring from the waxing business, selling Fast Wax to a local family that will continue the business. The transition will occur over the next several months, so be sure to stop and visit the Fast Wax tent at races and expos.
New Moon: Skin Ski Wax Options
December 7, 2017
There are a lot of new products out there that can help your skin skis kick and glide like champs. New Moon explains skin ski treatments for all levels of skiers.
Mesabi East Invite Registration Now Open
December 5, 2017
Meet information and online registration are now available for the 2018 Mesabi East Invite, coming up on Jan 6th at Giants Ridge.
Web Roundup
December 4, 2017
Jessie - Salomon TV produced a great feature video on Jessie Diggins, including a lot of shots from the Afton area.
Slippery Skis - Finn Sisu's Tom Novak writes about how to get a clean base on your skis to set up the optimal glide.
Snow Paradise - Hawaii was experiencing whiteout conditions with snowfall of up to 8" last week!
Quirky Japan Running - Runner's World had an interesting article highlighting some of the differences in running events in Japan.
BNS: Start Wax Clinic Thursday
December 4, 2017
Kevin Johnson from Start Wax will be at BNS Midwest on Thursday evening, Dec 7th. Kevin will be talking about wax application techniques for both glide and kick, as well as presenting information on the Start Wax lineup. Kevin has a long history in the Nordic community, working with Salomon, Finn Sisu, and most recently Start and Bliz. He is also an experienced high school coach here in the Twin Cities.