Trail Report / Training Report Drawing
Submit a trail report and be entered into our weekly $50 store gift certificate drawing.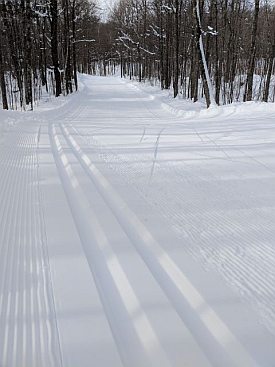 Birkie Trail, February 17, 2019 (Photo: David Gorringe)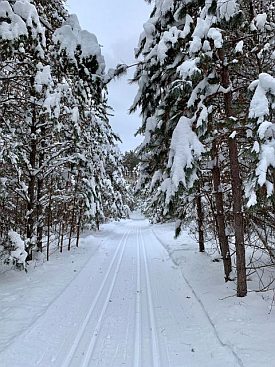 Cassian Two-Way Ski Trail, February 18, 2019 (Photo: Levi Smith)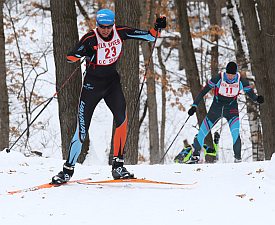 Woodland Loppet, February 17, 2019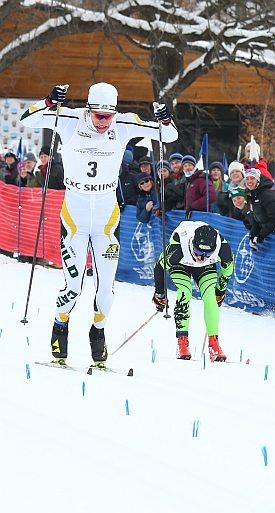 Zak Ketterson taking the sprint finish, Mayor's XC Challenge Classic senior men, February 16, 2019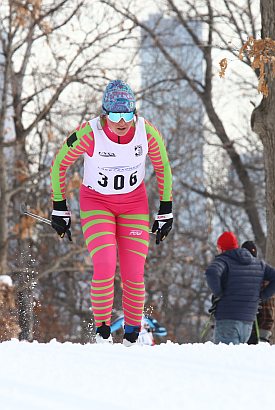 Regan Duffy heading to the front, Mayor's XC Challenge Classic U20/U18 girls, February 16, 2019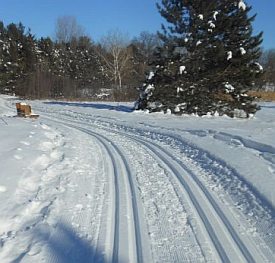 Tamarack Nature Center, February 15, 2019 (Photo: Dave Puskala)
Planning Calendar for 2019-20 Season
January 16, 2019
For events already looking ahead to next season, we've started collecting key dates to help in the planning process.
Skinnyski FAQ
December 4, 2011
We've collected together a bunch of common questions to assembly our own FAQ for cross-country skiing in the Midwest and using the Skinnyski website.
Skinnyski Photos
February 5, 2009
Found a photo you'd like to get a copy of? Looking for images from a past event? Find out how to dig through our archives and help support the web site by purchasing photographs.

New Moon: Trail to the Birkie - Lauren Harrison
February 17, 2019
New Moon's video series on the Birkie continues, this clip featuring a local skier preparing for her first full-length Birkie.
Related:
New Moon Newsletter: Rex Meet and Greet, Tribute to Volunteers, Waxing Service

Weekend Trail Reports
February 17, 2019
A lot of great skiing over the weekend with some of the best conditions all season. New reports from Soaring Eagle(2), Graystone, Superior MF, Wild River SP(2)

, Giants Ridge, Baker, Bagley Nature(2), Woodland(2), Northwoods, Essex, McMiller, Theodore Wirth North, Barron Association

, Gov Nelson SP

, Northland Arb, Vadnais/Sucker Lakes, Pincushion Mtn, Sheboygan Jaycee, Jackson Meadow, Hayward Hospital, Birkie(3)

, North End, Afterglow Lake, Mirror Lake SP(2), Hayes Lake SP(2), Phalen GC(2), Irondale, Minnesota Landscape Arb, Washburn Lake Solitude, Fort Snelling SP, Valley Spur, Magney-Snively, Cassian Two-Way

, Plover River, Black River Falls SF, French(2)

, Carey Lake

, Hiawatha GC, William O'Brien SP(2), Bridgewood(2), Biskey Ponds

, Rock Cut SP

, Zillmer, Andes Tower Hill, Nordic(2)

, Tamarack Nature

, Quarry, Chain of Lakes

, Theodore Wirth South, Elm Creek, Balsam Branch, Hartley, Watersmeet, Stoney Ridge, Lester, Hickory Ridge, Lake Maria SP, Reforestation Camp, Glen Lake GC, Escanaba

, Battle Creek West, Brown Deer, Hyland Lake, Reid GC, and recent reports from Woodland(3), Soaring Eagle(2), Levis/Trow Mound(3), Columbia GC, Collinwood, Sugarbush(2), Pine Valley, Three Eagle

, Univ Ridge GC, Highland 9-hole GC, Forest Springs Camp, Afterglow Lake(2)

, Mirror Lake SP(2), Balsam Branch, Battle Creek East, Birkie

, Larson Lake(3), Saint Mary's Univ

, Theodore Wirth South(2), Lester(2), Iola Winter Sports, Zillmer(3), Rib Lake

, Peninsula SP, Wild River SP, Newport SP, Bridgewood, Upper Gunflint

, Jack Lake, Perrot SP

, Greenbush(2), Wolverine, Sunfish Lake, Hickory Ridge(2), Black River Falls SF

, Courthouse, Afton SP, Maple Lane, Standing Rocks, Gov Nelson SP, Mukwonago, Superior MF

, Chomonix GC(2)

, Lebanon Hills, Norpine (Deeryard/Lutsen)

, Como GC(2), Univ of Minnesota GC(2), Willow River SP(2), Flambeau Hills, Uller, Cottage Grove Ravine, Trout Lake, Blackwater Environmental, Nine Mile Forest

, Sauk Public School, Spirit River Nature, Baker, Goose Lake, Lake Elmo(3)

, Andes Tower Hill, Noquemanon, Lapham Peak, Menomonie, Spirit Mtn

, Lake Kegonsa SP

, Schlecht Lake

, Nordic, Saint John's Abbey Arb, Pine Point

, Battle Creek West, French, Chain of Lakes, Terrace Oaks, Hormel Nature, Piedmont, William O'Brien SP

, Fern Lake, Lakewood XC, Lindenwood, Murphy-Hanrehan, Pike Lake Unit, Sheboygan Jaycee, Central Gunflint

, Hyland Lake, Bunker Hills, Bagley Nature.

Hoigaards: Birkebeiner Race Waxing Clinic Tuesday
February 17, 2019
Come out to Hoigaards on Tuesday evening and see how Birkie race skis are done as Fast Wax fully preps a set of skis based on the predicted weather and current recommendations for Saturday's big race!

Ski Hut: Birkie Race Wax Service
February 17, 2019
Skihut has all of your Birkie possibilities covered. Check out there options available for retail purchase or for race service application. Plus wax clinics this week as well!

Junior Teams Announced: Junior Nationals, U16 Champs, Canadian Nationals
February 17, 2019
After the conclusion of the Mayor's XC Challenge races, the end of the JNQ series, the junior trip teams were announced. This includes the Junior Nationals, NENSA U16 Championships, and Canadian Nationals teams. Note: There may be further changes to the teams as some athletes may decline.

Woodland Loppet Coverage
February 17, 2019
A great example of one of many small organization fun races around the Midwest, the Woodland Loppet was held on Sunday morning in Elk River. The races featured expertly groomed, natural snow in great condition with temperatures in the mid 20s. Paul Olson received some minor consolation after breaking two poles during last weekend's Vasaloppet, taking victory today over Erik Hendrickson, Matt Zak coming in third. Brandy Stewart was the best of the womens field with Laura Cattaneo second and Cheryl Dubuois third. Josh Doebbert and Angie Robinson took the 10K titles, Robinson finishing second overall as well! Results and photos posted.

Mayors XC Challenge SuperTour/JNQ Freestyle Coverage
February 17, 2019
The three day Mayor's XC Challenge event wrapped up on Sunday with another day of great course conditions and weather. Temps were in the 20s for most of the races, with a dusting of snow coming down near the end. Midwest's own Matt Liebsch, holding down full-time job and full-time father, still managed to crank out the fastest 10K skate on the day, topping NMU's Zak Ketterson by 5 seconds for the victory, with Akeo Maifeld-Carucci, Craftsbury Green Racing, third. In the women's 5K, it was an all-Midwest poduim as Nicole Schneider, NMU, edged out Alayna Sonnesyn, SMS T2, by 7 seconds with Schneider's teammate Abby Jarzin in third, just a 2/10 second back! Top U16 results went to Adrik Kraftson and Molly Moening. Results linked in, photos online from the women's 5K by Jackie Schneider.

National Forest Lodge: No Crowds Special Weekend Pricing
February 17, 2019
National Forest Lodge, deep in the northwoods, is offering a 'no crowds' special -- 30% remaining lodging this season. With over 3 feet of snow this season, their trails are in prime condition.

Mayors XC Challenge SuperTour/JNQ Classic Coverage
February 16, 2019
Another day of perfect trail conditions for the Mayors XC Challenge races at Theodore Wirth on Saturday. The men's 20K classic started off the morning, racing five laps with some of the best climbs on the course. Ben Lustgarten and Zak Ketterson eventually broke off the field and brought the race down to a sprint finish, Ketterson pulling ahead in the final meters. Mathias Rolid was the best of the rest. In the women's 15K race (4 laps), Alayna Sonnesyn pushed off the front with Kaitlynn Miller and Elizabeth Guiney, with Miller breaking away in the final kilometer to take the win, Sonnesyn second, Guiney third. The U20/U18 boys race brought out all the best from the Minnesota and Wisconsin State Meets. Alex Nemeth pushed to the front by the end of the first lap (3 laps total) and held off Cooper Lennox for the win, Kai Meekis taking third. The U20/U18 girls also was stacked with high school stars and on Saturday, it was Regan Duffy that shined the brightest, moving up the field each lap to take the victory ahead of Luci Anderson with Hannah Bettendorf third. In the U16 races, Victor Sparks outstretched Roger Anderson for the win, and Molly Moening dropped Lauren McCollor on the last big climb to take the victory. Results linked in, photo albums posted.

Minnesota Finlandia Coverage
February 16, 2019
Crisp temperatures with excellent course conditions Saturday morning for the Minnesota Finlandia races in Bemidji. Murray Carter won the big axe in the 50K freestyle, beating out Zach Nelson by 40 seconds in a close battle. Jenna Ruzich was the womens 50K champ. In the 25K freestyle, Craig Cardinal skated away with the title, Susanne Hill topped the women's field. Classic 25K titles went to Owen Baird and Kerrie Berg. Pursuit winners were Nick Youso and Anna Dehler. Results posted, along with photos from John Arenz.
Related:
Tower Ridge 10K Results

World Cup Cogne Freestyle Sprints
February 16, 2019
Less than a week before the start of the World Championships and Jessie Diggins appears to be hitting top form just in time, on Saturday winning the women's freestyle sprint race! The US placed six women in the heats. Simi Hamilton made it to the mens final, just missing the podium in 4th. Racing continues Saturday with classic distance races.
Related:
Results: Freestyle Sprints
Finn Sisu: Wax Service Deadlines,Clinics, Race Items
February 15, 2019
Finn Sisu's latest newsletter on Birkie prep includes wax service deadlines, a Fast Wax clinic on Monday, a great deal on Atomic WC Redster Skin Skis, plus a few ideas for last-minute necessities.
Gear West Birkie Wax Clinics
February 15, 2019
Gear West will be hosting two wax clinics the week leading up to the Birkie:
Feb 18 Vauhti Wax Clinic
Feb 19 Birkie Kick Wax Clinic with Brian Knutson
Mayors XC Challenge SuperTour Sprints Coverage
February 15, 2019
Friday kicked off a weekend long SuperTour and JNQ/CCSA combo event at Theodore Wirth, with the freestyle sprints test driving the 2020 World Cup course and stadium. For the most part, the day was a big success with great course conditions and exciting action. The Midwest's own Alayna Sonnesyn continued to improve her fast twitch, taking the women's final is an extremely tight finish over Becca Rorabaugh and Erika Flowers. In the men's final, an errant PistenBully added a twist of SkiX to the event, with Canadian Antoine Briand capturing the win over Tyler Kornfield and Forrest Mahlen. Saturday will bring out the juniors and collegiate skiers for mass start classic races.
Re-Loppet on Monday
February 14, 2019
Missed your chance to ski the full Loppet course? Or just want a fun ski with great conditions across the City? Re-Loppet starts on the Cedar Lake and skis back to the Trailhead, finishing with lunch and a shuttle back to Uptown. Registration required.
Minnesota State Meet Coverage
February 14, 2019
Perfect conditions on Thursday for the Minnesota High School Nordic Skiing Championships at Giants Ridge. Garrett Beckrich, Grand Rapids, secured the early lead in taking the morning freestyle race a full 18 seconds ahead of SPA's Peter Moore, with 5 other skiers within 10 seconds of second place! Lucinda Anderson, Robbinsdale-Armstrong, opened a 12 second led on Mara McCollor, Wayzata, in the girls freestyle with Stillwater's Libby Tuttle just 7 seconds behind. At the halfway point, Forest Lake boys and Robbinsdale-Armstrong girls were at the top of the team points. Snow came down, heavy at times, for the afternoon races. Peter Moore overtook Garrett Beckrich by the midway point of the classic, and it became a barnburner to the finish as Mora's Cooper Lennox and St. Cloud Cathedral/Sartell's Alex Nemeth entered into the fray! Moore pulled ahead to take the victory, Nemeth edged Lennox at the line with Beckrich a close fourth. The girls pursuit race proved even more exciting as Luci Anderson was caught my Mara McCollor by the half way point, but Anderson stuck with her and took the lead coming into the stadium, with McCollor pulling out all the stops to pass Anderson in the final 25 meters to repeat as State Champion. Libby Tuttle took third. The team races echoed the excitement of the day, seeing the St. Cloud Cathedral/Sartell boys come back to win by 10 points over Forest Lake, Robbinsdale-Armstrong third. The Robbinsdale-Armstrong girls skied strong to take the team title, St. Paul Highland Park moving up to take second by just three points over Stillwater! Results linked in, along with big photosets from all the races.
Web Roundup
February 13, 2019
Heart on Fire - Jessie Diggins prepares for the World Championships, sharing a number of her favorite quotes.
Dealing with Uncertainty - Alayna Sonnesyn recaps her recent international racing experience, including competing in the Norwegian Nationals.
The Bubble - Elspeth Ronnander shares her Vasaloppet race story, and the bubble of racing.
Snow Farmers - MPR had an extensive feature on the snow farmers of the Vasaloppet.
Ski Legends - A brief history on the people that helped develop the biggest races in the lower peninsula of Michigan.
FIS Chief Out? - FIS President is in hot water after making comments implying he was not on-board with climate change theory.
Doper Action - Skiers unhappy with IOC's anti-doping policies are demanding meeting with FIS leaders.
By the Numbers - Some interesting numbers coming out of the bonanza of February snow.
Kikkan Randall Honorary Race Starter for the Birkie
February 13, 2019
Olympic Gold medalist Kikkan Randall has been announced as the honorary race start for the 2019 Birkie! Randall will be racing in the 50K freestyle race, as well as making a number of appearances as part of Birkie week. There is even a special drawing to help support Kikkan's fight against cancer.
Minnesota State Meet Preview
February 12, 2019
Thursday is the big wrap up of the Minnesota high school Nordic skiing season: the State Meet! Conditions and weather are looking fantastic, and the competition should be intense. We've put together our annual preview of top contenders and our predictions.
Related:
Charlie Banks Relays Results

Fast Wax Headed to Mongolia
February 12, 2019
Fast Wax's new "Ski Skin Wax" will assisting volunteers surveying wolverine populations in northwestern Mongolia. The Ski Skin Wax is a new product designed specifically for skin skis.
Rice Lake Birkie Shuttle
February 12, 2019
As an alternative to staying in Hayward, Rice Lake is offering a free Birkie shuttle bus for those staying in Rice Lake area hotels. Review the participating lodging and sign up for the bus.
Minnesota High School Nordic Skiing Rankings - Final Round
February 11, 2019
With sections in the books and the State Meet just days away, we take a final crack at the Minnesota high school Nordic ski rankings. Lots of shuffling in the last round as sections provided some amazing results.
Related:
Minnesota State Meet Start Lists
Collegiate Racing Recap: EISA
February 11, 2019
A light weekend on the collegiate racing circuit with only the East coast schools in action. Mary Kozloski has the breakdown on the racing action, including the Midwest skier highlights.