Trail Report / Training Report Drawing
Submit a trail report and be entered into our weekly $100 lodging gift certificate drawing.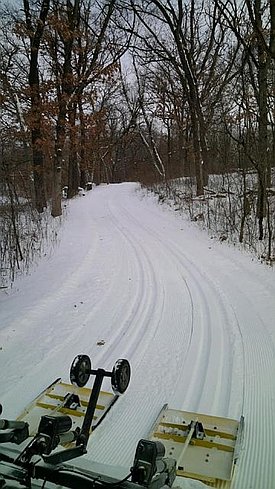 Lebanon Hills, January 15, 2018 (Photo: Dakota County Parks)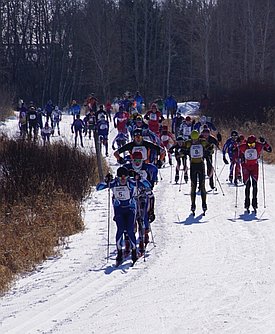 Boys field rolls out, ABC Relays, January 13, 2018 (Photo: Mary Johnson)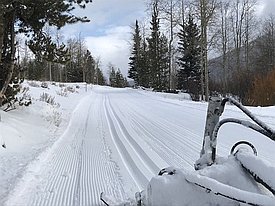 Snow Mountain Ranch, January 14, 2018 (Photo: Bill Pierce)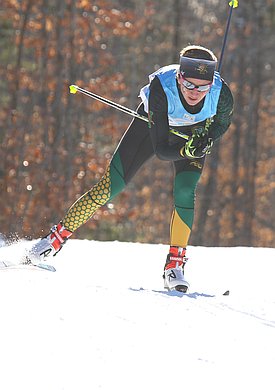 Alayna Sonnesyn, Colby Carnival, January 14, 2018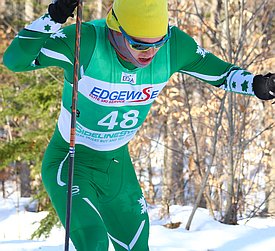 Luke Brown, Colby Carnival, January 14, 2018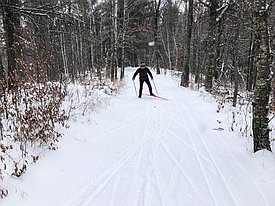 Soaring Eagle, January 14, 2018 (Photo: Deane Johnson)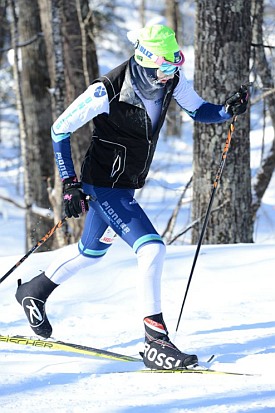 Seeley Hills Classic, January 13, 2018 (Photo: Kelly Randolph)
Skinnyski FAQ
December 4, 2011
We've collected together a bunch of common questions to assembly our own FAQ for cross-country skiing in the Midwest and using the Skinnyski website.
Skinnyski Photos
February 5, 2009
Found a photo you'd like to get a copy of? Looking for images from a past event? Find out how to dig through our archives and help support the web site by purchasing photographs.

Collegiate/Elite Racing: CXC Marathon Cup, EISA, RMISA
January 15, 2018
Mary Kozloski reviews top racing action from the Seeley Hills Classic, start of the CXC Marathon Cup, as well as the opening races for the east coast (EISA) and Rockies/west coast (RMISA) collegiate race series.

Racing Outlook
January 15, 2018
Updates on the upcoming events - perhaps most importantly, registration closes for this weekend's JNQ races in Cable at the end of day Tuesday!

Registration Open For Borah Epic
January 15, 2018
Registration is now open for the 2018 Borah Epic mountain bike race, Saturday, Jun 9th in Cable, WI. The point-to-point, single track challenge runs from Cable to Hayward, Wisconsin annually, with a registration cap of 750 riders.

Weekend Trail Reports
January 14, 2018
While it was a chilly weekend around the Midwest, a lot of good skiing was being reported. New reports from Spidahl Gaard, Land O' Lakes, Odana Hills GC, Cleary Lake, Brown Deer, Sugar Hills(2), Honey Tree Farm, William O'Brien SP(2)

, Legion(2), Lebanon Hills(2), Hixon Forest, Pioneer Creek, Tilson Creek(2)

, Spring Rapids, Coon Lake, Afterglow Lake

, Reforestation Camp, Levis/Trow Mound, Terrace Oaks

, Theodore Wirth North(3), Whitefish Dunes SP

, Lester(2), Tamarack Nature

, Saint Mary's Univ, Mt. Ashwabay, After Hours

, Pincushion Mtn(2)

, Newman Springs

, McMiller

, Chain of Lakes

, Hyland Lake, Balsam Branch, UW-Parkside, Neshota

, Theodore Wirth South

, Nordic, Lake Elmo, Hormel Nature, Rapid River, Snowflake

, Zillmer, McNaughton Lake, Madeline Lake, Kamview

, Mount Itasca

, Lindenwood, Phalen GC(2), Maasto Hiihto, Battle Creek West(2), French, Point Beach SF

, Swedetown, Greenbush, CLCF, Sheboygan Jaycee, Mecca, Nine Mile Forest, Navarino Wildlife

, Lowes Creek, Timberland Hills, Como GC, Raven, Bagley Nature, Cannon Valley, Jackson Meadow, Lapham Peak, Northwoods, Maplelag, Tower Ridge, Magney-Snively, and recent reports from Northland Arb(2), Wolf Lake, Lake Elmo, Hiawatha GC, Hoffman Hills, Goose Lake(2), Boulder Lake, Hickory Ridge, Minocqua Winter, Balsam Branch, Levis/Trow Mound, Coulee Experimental SF, Univ of Minnesota GC, Lapham Peak, Cassian Two-Way, Nordmarka, Nose Lake, Afterglow Lake

, Carver

, Superior MF, Washburn Lake, North End, Elm Creek(2)

, Lebanon Hills(2)

, Afton SP, Baker, Spring Lake, Erkki Harju, Maplelag(2)

, Northwoods, Manka, Honey Tree Farm, Hiram, Three Eagle

, Sugarbush(3)

, Irondale

, Red Cedar River

, Phalen GC

, Korkki(2)

, Escanaba, CLCF, Fort Snelling SP

, Willow River SP(3), Saint Mary's Univ, Theodore Wirth North(3)

, Spirit River Nature, Nine Mile Forest, Carleton College Arb(2)

, Chester Woods, Mt. Ashwabay, Highland 9-hole GC(2), Jay Cooke SP

, Hixon Forest, Hyland Lake, Nordic Ridge, Saint John's Abbey Arb, Battle Creek East, Bridgewood, Woodland(2), Columbia GC, William O'Brien SP, Sunfish Lake, Voyager Village GC, Hornet Hiihto, Chain of Lakes, Heartwood, Blue Hills, Birkie, ABR

.
Related:
Regional Snowfall Reports
The House: XC Specials
January 14, 2018
Shop TheHouse.com and save up to 60% on XC and Outdoor Gear. Free shipping and free gear on most orders over $50.

Special Feature: EISA Series Colby Carnival Coverage
January 14, 2018
For years, a large percentage of Midwest juniors have been making the leap to East coast colleges, racing the Eastern Intercollegiate Ski Association (EISA) series. This past weekend, we made a special trip out to Waterville, Maine, to feature the Colby Carnival, the first stop of the season, with an emphasis on the Midwest skiers. Warm weather (temps in the 40s) and rain generated havoc with the trails and venue Saturday, forcing organizers to cancel the races and scramble to salvage a trail section for Sunday. Organizers shoveled and groomed up a 1.7K loop for Sunday, and much colder weather and bright sunshine helped generate a fast (and somewhat tricky) course for individual start freestyle races. Minnesota's own Alanya Sonnesyn, racing for Univ of Vermont, and hot off a strong US Nationals performance, dominated the womens field, winning by almost 20 seconds. Host Colby's Zane Fields won the mens 10K, with Minnesotan Luke Brown, skiing for Dartmouth, taking third. Big photosets from Sunday's races, and we'll have a full collegiate recap from Mary Kozloski coming Tuesday.
Related:
Photoset:

Womens 5K - 351 photos,

Mens 10K - 331 photos
Photoset:

Top Picks (high res) - Womens 5K,

Top Picks (high res) - Mens 10K
Results: Women's 5K freestyle, Men's 10K freestyle
EISA Official Recap: Fields Brings it home for Colby while UVM and Dartmouth teams Dominate

Enjoy this type of coverage? Help keep us running, support this site by purchasing a Skinnyski Membership -- Join today!

Hoigaards: Fast Wax Clinic Tuesday
January 14, 2018
Hoigaards is helping you get your skis ready for the Masters World Cup and the Ski Rennet hosted by Three Rivers Parks with a waxing clinic with Fast Wax founder Dan Meyer, Tuesday evening, January 16th.
World Cup Dresden: Freestyle Team Sprints
January 14, 2018
Another exciting (and beautiful) day of World Cup racing along the Elbe River in Dresden, Germany, as skiers participated in freestyle team sprints (2-person relays). The American women were part of the fireworks, taking the women's race down to the wire and a photo finish, as the duo of Ida Sargent and Sophie Caldwell came in third. Sweden took the top two steps of the podium, with the pairing of Ida Ingemarsdotter and Maja Dahlqvist first and Hanna Falk and Stina Nilsson second. The flat course also kept the men's race very tight, with six teams vying for the victory. But it was Italy's combo of Dietmar Noeckler and Saturday's winner, Federico Pellegrino that burst ahead of the pack finish. Sweden's Emil Joensson and Teodor Peterson were best of the rest, with Russian's Andrey Krasnov and Gleb Retivykh third. The US men were 8th.
Related:
Video:

Men's Highlights,

Women's Highlights
Results: Freestyle Team Sprints
US Ski Team: USA Sprints to Dresden Podium
ABC Relays Results
January 13, 2018
Charlie Rietschel reports: A chilly start, but the low winds, sun, and the wonderful people of Mora made for a great day of racing at ABC Relays. Victories were earned by the Mora boys and Armstrong girls. Top times on the day: Ben Olson, Blaine, in classic, Cooper Lennox, Mora, in the boys freestyle; Luci Anderson, Armstrong, for the girls classic, Maes Barnes, Armstrong, in freestyle.
Biathlon: US Olympic Squad Finalized
January 13, 2018
U.S. Biathlon has selected Leif Nordgren (Marine, Minn.) and Russell Currier (Stockholm, Maine) as the final two members of the U.S. Olympic Biathlon Team following their performances at recent IBU Cup races. The announcement finalizes the 10-member team that will compete at next month's Olympic Winter Games in South Korea.
Seeley Hills Classic Coverage
January 13, 2018
Racing under a bright ski and crisp temperatures, an amazing amount of skiers turned out Saturday for the Seeley Hills Classic. Team Gregg, Caitlin and Brian, swept the shortened marathon distance (38K) races! In the 18K events, Betsy Youngman and Quinn Duffy took the titles. Results linked in, along with a photoset from Kelly Randolph.
World Cup Dresden: Freestyle Sprints
January 13, 2018
World Cup racing resumed Saturday in the city of Dresden, Germany, with freestyle sprint events. The nearly flat course along the Elbe River provided some extremely fast racing. Federico Pellegrino, Italy, made his move on the one slight hill to jump in front of Norway's Johannes Klaebo and take the men's sprint final, with France's Lucas Chanavat third. Simi Hamilton advanced all the way to the semi-finals, finishing 10th. Even with Jessie Diggins and Sadie Bjornsen taking the weekend off, the US women continued to shine. Sophie Caldwell made the sprint finals, and survived being boxed in for most of the last 1/3 of the race to take third in a photo finish. Sweden's Hanna Falk took the victory with teammate Maja Dahlqvist second. Sunday will be team sprint freestyles races, streaming live on the Olympic Channel at 4:15 am CST.
Related:
Video:

Women's Highlights,

Men's Highlights
Results: Freestyle Sprints
US Ski Team: Caldwell Podium in City Sprint
US Ski Team: Junior Worlds, U23 Teams Named
January 12, 2018
The line up for the World Junior Championships and U23 Championships, to be held in Goms, Switzerland, has been announced. The Midwest is well represented -- selected are: Zak Ketterson, Ian Torchia, Andrew Egger and Nicole Schneider (along with Alayna Sonnesyn, who declined) for the U23 crew, Hannah Rudd on the WJC squad, and Ben Loomis for the U23 Nordic Combined team.
Ski Test Guys: Effect of Dirt Accumulation
January 10, 2018
The Ski Test Guys are back, this time discussing the impact that dirt has on the performance of your skis.
Web Roundup
January 9, 2018
Elver Snow - Snowmaking at Elver Park in Madison has picked up steam this season.
Diggins - City Pages ran a full feature on Jessie Diggins as one of America's best hopes for the Olympics.
Skin On - Gear West's Jenny Beckman highlights reasons for checking out the newest skin skis.
The Trailhead - Star Tribune profiles the Loppet Foundation's new Trailhead project at Theodore Wirth.
Grading - The NWS is rolling out a grading system for their winter storm forecasts.
Gear Up - Vakava Racing's Elspeth Ronnander shares tips on skiing and training in sub-zero weather.
Stranded - Heavy snow and avalance warnings have trapped thousands at the Swiss ski resort of Zermatt.
Frozen Iguanas - Last week's cold snap stretched down into Florida, where iguanas were seen falling from trees.
Harvest Time - Old school harvesting of ice blocks for the construction of St. Paul's ice castle.
Riverbrook Announces New Store Location
January 9, 2018
Riverbrook Bike and Ski, located on Main Street in Hayward, has opened a new location up in Cable!
Skinnyski.com High School Rankings - Round 2
January 9, 2018
Finally, round 2 of the Minnesota High School Nordic Skiing rankings. We've shaken up the rankings for both individuals and teams, but the top holds: Mara McCollor and Luc Golin for the individuals, Minneapolis Southwest girls and Wayzata boys for the teams.
Detroit Lakes Invite Coverage
January 9, 2018
Jay Richards reports: After enduring some of the coldest temperatures in the country in the recent cold spell, skiers from Northwest MN and Section 8 were greeted to balmy conditions for the 24th running of the Detroit Lakes Invitational hosted by Maplelag Resort. The course was changed from recent years for Varsity skiers whom competed on a 8km double tracked classic course utilizing the outer trail North Loop after crossing the Goat Ranch road. Fresh off his top three finish at Mesabi, Hunter Zupko dominated the boys field, posting the only sub 25 time and putting exactly a minute over fellow teammate Colton Yorek. In Girls Varsity, Sadie Hamrin of Brainerd had an impressive result in the girls race, posting the only sub 30 minute time, almost 2 minutes to the next finisher, Kate Ludwig of Moorhead.