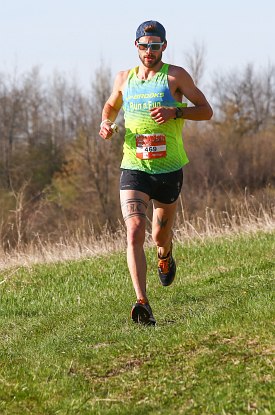 Mens 50K champ Kevin Leiferman, Trail Mix Race, April 22, 2017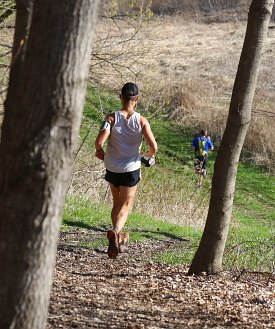 Trail Mix Race, April 22, 2017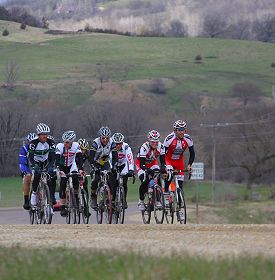 Ken Woods Road Race, April 23, 2011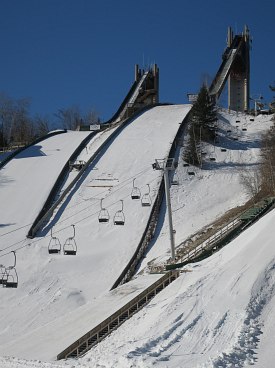 Ski jumps at Lake Placid, March 5, 2017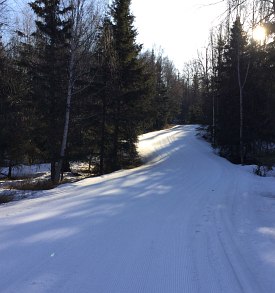 Kincaid Park, Anchorage, Alaska, April 19, 2017 (Photo: Gavin Kentch)
Skinnyski FAQ
December 4, 2011
We've collected together a bunch of common questions to assembly our own FAQ for cross-country skiing in the Midwest and using the Skinnyski website.
Skinnyski Photos
February 5, 2009
Found a photo you'd like to get a copy of? Looking for images from a past event? Find out how to dig through our archives and help support the web site by purchasing photographs.

Trail Mix Coverage
April 22, 2017
Temperatures soaring into the 60s made for warm conditions at the annual Trail Mix running races at Lake Rebecca on Saturday morning. A large field turned out to compete on the mostly turf 12.5K trail around the park, with a few sections rerouted due to the wet spring conditions. Photos up from the 25K and 50K solo races.
Related:
Photoset:

50K Solo - 3K - 61 photos,

50K Solo - 9K - 105 photos,

25K Solo - 1K - 23 photos,

25K Solo - 3K - 99 photos
Photoset:

Top Picks (high res)
Results: Trail Mix
Olympic Caliber Ski Jump Proposed for SE Minnesota
April 19, 2017
Plans for a 120 meter Olympic sized large hill ski jump at the Mt. Frontenac Golf Course, south of Red Wing, are moving forward after zoning and a permit approvals last week.
Related:
Proposal: Olympic Ski Jump to come to Frontenac
Possible Olympic Skiing Complex for Madison Area
April 17, 2017
CXC is working with officials from Middleton, Wisconsin, on a proposal to develop an Olympic cross-country skiing complex including lighted ski and rollerski trails, biathlon range, and even a year-round "snowmaking barn".
Web Roundup
April 17, 2017
Harder to Kill - Annie Hart wraps up her season, sharing one theme that helped shape her season.
Loppet Goes to Norway - Read the full blog on the Loppet Norwegian Exchange program.
Beat by 10-year-old - Star Tribune highlights a 10 year-old runner who is already making waves early in her career.
220K DP - Crazy 220K double pole race last week saw Canadian Brian McKeever finish 12th!
63 Feet - Northern California mountains break record for wettest water year after nearly 63 feet of snow this season!
Branson Snow - The tourist town of Branson, MO, is planning their latest attraction: a 300-foot synthetic snow hill.
Unlaced - Researchers attempt to explain why shoelaces become undone while running.
Mega-merger - Aspen Skiing acquires Steamboat, Winter Park, Stratton, and others, creating one enormous downhill conglomerate.
2017 Collegiate Tally Board
April 16, 2017
We've been updated the 2017 collegiate tally board, but could use some updates as skiers make their plans this spring.
Spring Classifieds
April 16, 2017
There is a lot of products up on the classified boards, everything from skis to bikes to rollerskis.
University of New Mexico Ski Team Cut
April 14, 2017
The University of New Mexico ski team has recently been cut, in a surprise move. Supporters are asking for your help in getting the program back by signing their petition.
Jessie Diggins Welcome Home Celebration
April 12, 2017
A big turnout Wednesday evening at the new Slumberland Headquarters for the Jessie Diggins Welcome Home Celebration. Jessie Diggins signed posters for the first hour then was introduced by her high school coach and best friend, Kris Hansen, before Jessie gave a recap of her World Cup season. At the end of the presentation, Diggins revealed there is an effort underway to bring a World Cup race to the Twin Cities (fundraising needed!). The evening wrapped up with a big raffle, including a pair of Salomon Carbon skis, and more poster signings.
Related:
Photoset:

35 photos
Photoset:

Top Picks (high res)
Maine Coaching Position
April 12, 2017
University of Maine - Presque Isle is seeking candidates for Nordic ski coach for the upcoming season.
Mpls Ski Club Spring Training for Juniors
April 11, 2017
Under the direction of Kevin Brochman, the Mpls Ski Club is offering spring junior training sessions. Plus details are up for the summer/fall junior and adult training programs, as well as a new youth program coming next fall.
Summit Lake Biathlon Red Book Class April 22nd
April 11, 2017
Mark Torresani, from Blackhawk Ski Club in Madison along with Birkie Biathlon, are offering a USBA Biathlon Safety Certification Class -"Red Book" on April 22nd. The class open to youth and adults and there will be a small lunch provided. Wisconsin native Paul Schommer from the U.S. National Biathlon Team will be there helping out!
Endurance United Spring Junior Programs Start April 18th
April 11, 2017
The spring training is almost underway, and Endurance United starts their spring junior programs on Tuesday, April 18th. The spring program includes running, rollerskiing, technique work, and strength training.
Related:
Endurance United Summer Junior Programs
Finn Sisu Training Programs
April 10, 2017
Finn Sisu's spring and summer training programs have been posted and open for registration, including Vakava Juniors, Vakava Masters, and strength training (which starts April 12!)
Web Roundup
April 10, 2017
Season Recap - Erin Moening recaps her racing season and post-season shoulder surgery recovery.
Season Wrap - Jessie Diggins wraps up her season with World Cup races in Quebec, and a public party this week!
World Record Ping - Grace Ping continues to set world records, the most recent last week's a new 5K record for 13-year olds.
Run Away - Kenyan women's marathon star Jemima Sumgong tested positive for EPO in out-of-competition testing.
Gander - Some incredible snowfall images from Gander, Newfoundland, where they received 95" of snow in early April.
Electric Binding - Rottefella is developing an electronic XC ski binding that can be moved forward and back while skiing.
More Mammoth - The Sierra Nevada range continues to build up snow this spring!