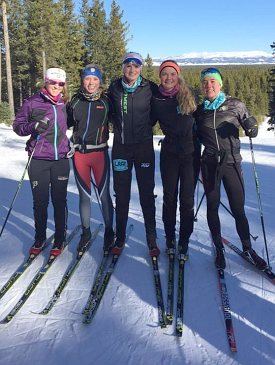 Some of the Loppet Nordic Racing juniors, West Yellowstone, MT, November 24, 2015 (Photo: Loppet Foundation)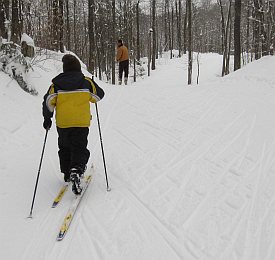 Birkie trail, May 3, 2013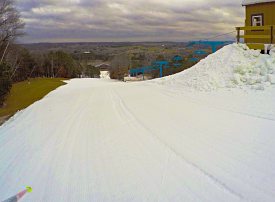 View from the top of the Trollhaugen downhills, November 25, 2015 (Photo: Ben Mullin)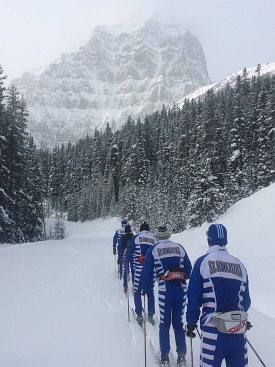 St Scholastica at Lake Louise, British Columbia, November 24, 2015 (Photo: Ryan St. Clair)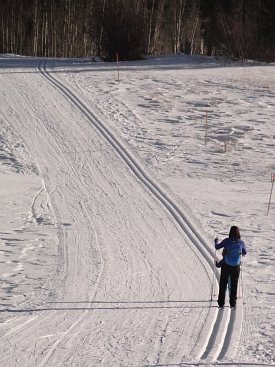 Snow Mountain Ranch, November 24, 2015 (Photo: Stephen Lee)
Skinnyski FAQ
December 4, 2011
We've collected together a bunch of common questions to assembly our own FAQ for cross-country skiing in the Midwest and using the Skinnyski website.
Skinnyski Photos
February 5, 2009
Found a photo you'd like to get a copy of? Looking for images from a past event? Find out how to dig through our archives and help support the web site by purchasing photographs.

World Cup Ruka: Classical Sprints
November 27, 2015
The World Cup season opened Friday at Ruka in Kuusamo, Finland, with classical sprint events. Andy Newell showed remarkable form, narrowly missing the podium as he came in fourth in the men's sprint final (just a second behind Petter Northug). The US women did well in the qualifiers, placing four in the top 30. Ida Sargent and Sadie Bjornsen both advanced as far as the semifinals. Saturday will be freestyle 5K and 10K races. Winners on the day were Norwegians Sondre Turvoll Fossli and Maiken Caspersen Falla.
Related:
Results: Ruka World Cup

Black Friday Deals!
November 26, 2015
Gear West - A number of free gifts with purchase, plus 20% off all base layers.
BNS Midwest - Offering 20% all in-stock regularly priced clothing, including pants, jackets and long underwear.
Birkie Trail - Get your Birkie trail pass now and you'll receive a free arm band perfect for carrying the pass.
Pioneer Midwest - Some big savings like 50% off wax irons, 10-50% off outerwear and footwear, and free hats with purchase for first 30.
Midwest Mountaineering - Coupons for 20% off one item, free beanie with purchase, and even $20 gift certificate for early birds.
Hoigaards - Buy one, get one half off on wax and a number of clothing items. Plus coupons $25 to $100 off purchases.
Ski Hut - Anniversary sale this weekend with special pricing on Nordic packages and some of their lowest prices of the season.
Bike Dr - White Friday Sale with 20% off Toko gloves and hats, Bliz eyewear, and more.

Classified Deals
November 26, 2015
Do a little cyber shopping, save some significant dollars with user equipment. The classified ads section is brim full of deals on skis, poles, boots and more.

Womens XC Weekend Clinic Dec 11-13
November 26, 2015
Riverbrook and Gear West are co-hosting a weekend ski clinic on the Birkie trail for women. Receive high quality instruction, with treats like chocolate, coffee and wine. December 11-13, registration online.

Ski Hut: Bindings Ins and Outs
November 25, 2015
New to cross-country skiing, or looking to update your knowledge base? Ski Hut has a primer on the current binding systems being offering for Nordic skiing.

USSA: Nordic Combined Team Named for 2016
November 25, 2015
Olympians Bryan and Taylor Fletcher were named to the 2016 U.S. Nordic Combined Ski Team. They will open the 2015-16 season this weekend with the kickoff to the International Ski Federation's Nordic Combined World Cup tour in Ruka, Finland. Eau Clarie's own Adam Loomis will also be part of the squad competing on the World Cup circuit this season, including the opening series in Ruka this weekend.

SuperTour Yellowstone Starts Friday
November 25, 2015
The Yellowstone Ski Festival comes to a culmination this weekend as skiers get a chance to test their fitness with citizen and SuperTour races. Friday will feature freestyle sprints, Saturday are freestyle distance races. Two of the top Midwest collegiate graduates, Kyle Bratrud and Alice Flanders will be shooting for a podium position.

Bike Dr: Thanksgiving, Womens Group, Snowmaking
November 25, 2015
The latest newsletter from the Bicycle Doctor highlights their new womens social media group, Bock with Doc event, volunteer call for Lapham snowmaking, and more.
Trollhaugen Nordic Clinic This Weekend
November 24, 2015
Greg Weier will be leading up a two day Nordic clinic at Trollhaugen this Saturday and Sunday. Saturday will focus on classic, Sunday skate, with video review. Plus equipment demos, wax clinics, and more.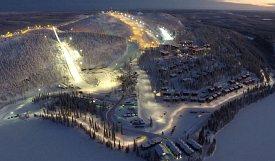 World Cup Ruka Weekend Series
November 24, 2015
The FIS World Cup series launches this weekend with three days of competition in Ruka, Finland. Friday will feature classical sprints, Saturday freestyle individual start 5K and 10K races, and Sunday is classical pursuit 10K and 15K events. Minnesotans Jessie Diggins and Caitlin Gregg will be competing. Most of the events will be early morning hours in the Midwest, and may be streamed on NBC Live Extra (requires cable/satellite subscription).
Related:
Results: FIS Live Results
World Cup Ruka Facebook Page
World Cup NBC Live Extra Streaming
Noah Hoffman Fantasy Cross Country League


USSA: Head Coach Chris Grover's 2015-16 Season Preview
Pioneer's Black Friday Deals
November 24, 2015
Ski season is just on our doorstep - Stop in to Pioneer this weekend for their personalized service and of course, check out special free offers for early bird customers on Friday!
USSA: 2016 Cross Country Team Named
November 24, 2015
The 2015-16 U.S. Cross Country Ski Team was announced Tuesday, just before the International Ski Federation (FIS) World Cup opener in Ruka, Finland. A total of 16 athletes were named to the A, B and D Teams, including 2015 World Championship medalists Jessie Diggins and Caitlin Gregg.
Trail Report Updates
November 24, 2015
Trollhaugen and Telemark have some snowmaking for Nordic, and still some skiing in the banana belt. New reports from ABR, and recent reports from Trollhaugen downhill(3)

, Bruces

, Snow Mtn Ranch

, Univ Ridge GC, Honey Tree Farm, Telemark

.
Local Stars
November 23, 2015
Game Face - Jessie Diggins, hot off a pair of FIS victories last weekend, writes about her pre-race rituals and prep.
Grateful - Annie Hart celebrates Thanksgiving with a list of little but important things she is grateful for.
Heading Out - Adam Loomis posts a recent recap as he makes one last stop home before heading to Europe for the World Cup.
Yellowstone Prep - Paige Schember offers some quick tips about how to get the most out of your week in West Yellowstone.
NMU Top 10 - With a help of a number of NMU skiers, the NMU cross-country finished 9th at Nationals last weekend!
Eagan Stars - Star Tribune profiles Patrick Acton and Ryan Steger of Eagan high school Nordic ski team.
West Metro Squads - Robbinsdale Armstrong and Wayzata teams get the spotlight in a recent Star Tribune article.
Midwest Mountaineering: Black Friday Weekend Coupons
November 23, 2015
Midwest Mountaineering has their own Black Friday specials, including a $20 gift certificate on Friday morning, as well as coupons for 20% off an item and free hat with sock purchase.
Podiumwear Opens Jessie Diggins Seasonal Store
November 23, 2015
This holiday season, Podiumwear Ambassador Jessie Diggins has worked with Podiumwear to develop several men's and women's ski suit designs for the Podiumwear Seasonal Store. Check out the new designs, and place your order by Dec 4th to guarantee a holiday delivery!
Mesabi East Meet Details Posted
November 23, 2015
Organizers have released the full meet information packet for the 2016 Mesabi East Invite, to be held Jan 9th at Giants Ridge. Mesabi East is the single largest one day high school meet in the nation.
FIS: Gallivare Freestyle Results
November 22, 2015
Another amazing day in Sweden Sunday as the American women continue to show great form early season. Jessie Diggins won the womens 10K freestyle with Caitlin Gregg collecting third! Liz Stephens and Rosie Brennan also had top results, finishing 4th and 5th. Canada's Alex Harvey was second in the mens 15K race, with Noah Hoffman the top American at 6th.
Related:
Results: 10K, 15K Freestyle
El Nino Update: Wet November Too?
November 21, 2015
Mark Lahtinen returns with more data on the historical El Nino events and possible correlations with wet Novembers.
FIS: Gallivare Classical Sprints Results
November 21, 2015
Starting off their season with an exclamation point, the US women had an excellent classical sprint Saturday morning in Gallivare, Sweden, posting top times through qualifying and then going on to the finals where Jessie Diggins won with Sophie Caldwell second! Caitlin Gregg had a strong showing as well, advancing to the semifinals. Andy Newell had a great day for the American men, finishing second in the mens final.
Related:
Results: Classical Sprints
Significant Snowfall for Iowa, Southern WI and Northern IL
November 21, 2015
The season's first major winter storm delivered the goods on Friday night for much of the banana belt region as Iowa, far southern Wisconsin, and northern Illinois got hammered with snow! Many locations reporting 10" or more of heavy, wet snow.
Related:
Regional Snowfall Reports
Found Snow? Post Your Trail Report!
Ski Hut's 61st Anniversary Sale
November 20, 2015
Ski Hut's latest newsletter reveals their 61st anniversary sale, a lodging special with National Forest, and an unadvertised Fat Bike deal.
Finn Sisu: In West Yellowstone
November 20, 2015
Finn Sisu gives a shout out for skiers to stop by and see them at West Yellowstone -- they'll have lots of gear to demo. Plus, here in Minnesota, they've got 20% off new 2015-16 jackets, new products from Kikkan and YOKO, Monday night wax clinics and lots of training opportunities.
US Stars in Action this Weekend
November 19, 2015
World Championship medalists Caitlin Gregg and Jessie Diggins will get their first racing action of the season this weekend in Gallivare, Sweden with some early FIS racing. Saturday is classical sprints while Sunday will be freestyle distance events.
Related:
Results: FIS Live Results
Zak Ketterson Signs Intent Letter with NMU
November 19, 2015
Top junior prospect and Minnesota state high school champion Zak Ketterson, Bloomington Jefferson, has signed a letter of intent with Northern Michigan University. He'll be joining up with two other Minnesotan friends: last year's state champ, Leo Hipp and another of the top US juniors, Ian Torchia.
Madshus Memories Giveaway
November 18, 2015
Madshus has announced a promotional contest with the famous Devil's Thumb Ranch Resort and Spa in the Colorado Rocky Mountains. The sweepstakes $5000 prize package will include air travel for two, two full Madshus setups, and two night stay at Devil's Thumb Ranch with trail passes and some meals.
Out There: Just for the Ladies Clinic Jan 2nd
November 18, 2015
Out There's very own Kris and Bjorn Hanson, along with Physical Therapist April Hill, and yoga teacher Jasmine Wiley, will be featured in a full day womens clinic on Jan 2nd in Rice Lake. Get the latest on classic and skate technique and PT/yoga.
Bike Dr: Ladies Night, Meet Tammy, Bock On
November 18, 2015
Bicycle Doctor will have a special Ladies Night event tonight, Nov 19th, and welcome their newest employee Tammy Foltz, and starting making plans for the Bock with Doc night coming Dec 10th.
Ski and Tea Clinic Scheduled for Jan 1st
November 17, 2015
The Seeley Ski and Tea group is hosting a special womens technique clinic on Jan 1st on the Birkie trail. The clinic is open to all abilities, from beginners to advanced, and will be led by Jan Guenther, Cindy Swift and Kelly Skillicorn.
CXC Marathon Cup Just Months Away
November 17, 2015
There is just two months left before the first CXC Marathon Cup race, the Seeley Hills Classic. The series brings the six most prominent marathons from three states (MN,WI,MI) into one cohesive competition. Register today to secure your series scoring (team or individual).
Last Chance: FAST Kids Thanksgiving Ski Camp
November 17, 2015
There is still some room for the Loppet's FAST Kids Thanksgiving Ski Camp, Nov 23-27, out in West Yellowstone.
Local Stars
November 16, 2015
Coming Soon - Brian Gregg is fired up for the racing season and heading to West Yellowstone for his first day on snow.
Fun and Games - Jessie Diggins wraps up her training state-side, enjoying workouts with Stillwater and Winona high school teams.
October Training - Elspeth Ronnander shares her October training with the Vakava Race Team, including a unique Halloween costume.
Building Endurance - Niki Reker files a quick update on her training and life as part of the CXC Masters Team.
Volunteers Needed for 2016 US Nationals
November 16, 2015
Michigan Tech is seeking volunteers to help with the 2016 US Nationals in January. The event consists of four race days: classic distance races on Jan 3, freestyle sprint races on Jan 4, freestyle distance races on Jan 7 and classic sprints on Jan 9.
Spotlight: Ely Nordic
November 16, 2015
A cool and damp afternoon for the opening day of practice of the mighty Ely Nordic ski team at their home field of Hidden Valley ski trails. The went through a series of agility drills, dryland technique progression drills and then ended with some ski walking/moosehoofing. Orange was the theme of the day as deer hunting season is still in progress.
Related:
Photoset from Tyler Fish:

Opening Day - 16 photos
Birkie Video Challenge Grant Announced
November 16, 2015
The American Birkebeiner Ski Foundation is excited to offer a $2500 youth racing development grant for junior ski clubs or teams (kids 13-18 years of age). The focus of the grant is for groups that encourage junior racing and training. To enter the grant contest, please submit a video that expresses what a healthy, active Birkie lifestyle means to you, your training, your team, and your life.
Related:
Video:

Annie Hart Birkie Grant Announcement
Up Up and Away Coverage
November 14, 2015
Roughly a dozen skiers participated Saturday morning in a rollerski time trial up the infamous Blue Mound road just west of Madison. Chris Pappathopoulos posted the top time, with Abby Jarzin clocking the fastest female time. Results and some photos posted.
Bike Dr: SuperFit Weekend, Ski Swap, Ladies Night and More
November 13, 2015
Bicycle Doctor Nordic Ski Shop is ready for winter, kicking things off this weekend with the SuperFit event and ski swap, then Ladies Night coming next Thursday, and Fat Bikes on sale.
Start Pole Gurus at SuperFit Events this Weekend
November 13, 2015
Start Poles will have their own pole fitting experts at both the Joe's Ski Shop and Bicycle Doctor SuperFit events this weekend.
North End Ski Club to Offer Masters Clinics
November 13, 2015
The North End Ski Club will offer a series of clinics for adults interested in learning to ski and improving their cross country skiing skills with sessions beginning on Nov 19th and running thru Feb 11th.
Hoigaards: Team Night Tuesday
November 13, 2015
High school skiers (and of course parents!) are encouraged to come out to Hoigaards this Tuesday, Nov 17th, for their special Team Night. They'll have extra staff on hand to help select the right equipment, and special savings and team discounts.