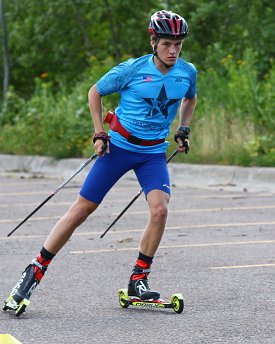 Anders Sonnesyn, National U16 Camp, July 25, 2016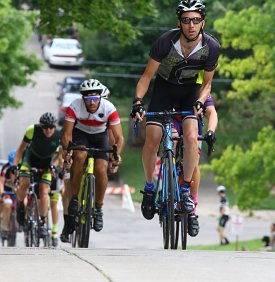 Nordeast Grind, July 23, 2016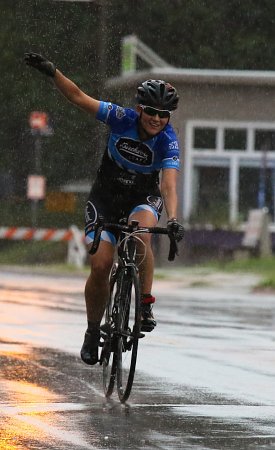 Nordeast Grind, July 23, 2016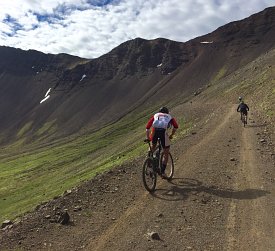 Iceland National MTB Championship, July 16, 2016 (Photo: Jay Richards)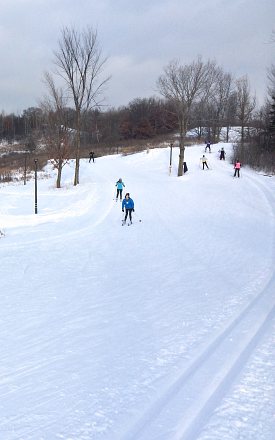 Busy day at Hyland, December 28, 2014 (Photo: Bill Lundberg)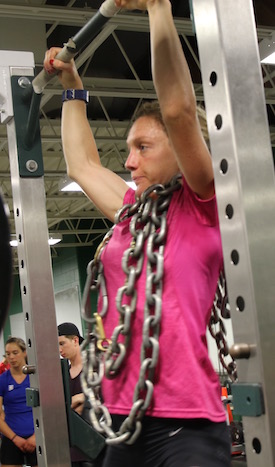 Caitlin Gregg lifting some extra weight, Midwest REG Camp, July 9, 2016 (Photo: CXC)
Skinnyski FAQ
December 4, 2011
We've collected together a bunch of common questions to assembly our own FAQ for cross-country skiing in the Midwest and using the Skinnyski website.
Skinnyski Photos
February 5, 2009
Found a photo you'd like to get a copy of? Looking for images from a past event? Find out how to dig through our archives and help support the web site by purchasing photographs.

National U16 Camp - Monday Coverage
July 25, 2016
The National U16 training camp is being held in Duluth, MN, this summer, on the campus of the College of St. Scholastica. Monday was the first full day of training, starting with a morning rollerski technique/drills session, to be followed in the afternoon with strength assessment testing.
Related:
Photoset:

Monday Rollerski Session - 112 photos,

Monday Strength Assessment - 71 photos
Photoset:

Top Picks (high res)
Video:

Monday Rollerski Session,

Monday Strength Assessment
Nordeast Grind Coverage
July 23, 2016
Bike racing action came to the streets of Northeast Minneapolis Saturday for the Nordeast Grind, part of the new Big Waters Classic three day series. After a steamy morning, the water finally broke out on the field for the womens Cat 4 race and most of the afternoon events as well. Photos from most of the morning races, with results linked in.
Related:
Photoset:

Cat 5/Citizen - 65 photos,

Mens Cat 4/5 - 57 photos,

Juniors - 94 photos,

Womens Cat 4 - 99 photos
Results: Nordeast Grind
Midwest MTB Report
July 19, 2016
This week's Midwest MTB Report has a major international flavor as Jay Richards writes about an epic trip to Iceland, including participating in their National MTB Championship. Plus catch up on the local races, some national stars, the Strava Ride of the Week, and the upcoming events.
Web Roundup
July 18, 2016
Olympics - Annie Hart writes about Olympic dreams and one of her new sponsors.
Alaska Pt 1 - Jessie Diggins covers her early training sessions in Alaska before heading up for glacier skiing.
Is it the bike? - Does a $2000 bike simulator make you fitter?
Spotlight: Nordicwerks Program
July 18, 2016
On a warm Monday evening Nordicwerks training program hosted a combined workout and rollerski time trial with Endurance United elite members. After an easy warm up rollerski tour around the time trial course, the teams got down to business with an interval start skate rollerski time trial. Endurance United's Jack Christianson passed Tamer Mische-Richter in the final meters to post the top time on the evening. Fellow teammate Erin Moening raced to the top time for the women. After the time trial wrapped up, skiers finished with a warm down on the quiet backroads near Scandia.
Related:
Photoset:

210 photos
Photoset:

Top Picks (high res)
Video:

Warmup
Rivet Run Coverage
July 17, 2016
Eve Graves reports: The impending storms luckily stayed away for Sunday's 5k Trail Rivet Run/Walk at Pattison State Park. We had light rain pre-race and sunny skies with temps in the lower 70's during the event. Participants ranged in age from 3 to 67, with well over 100 registered and 82 starting and finishing. Braden Curnow was the first overall male in a time of 20:36 (and he ran the 26 mile grueling Curnow trail race yesterday too!). Laura Mueller was the first female to cross the line in 28:13.
Related:
Photoset:

Rivet Run
Results: Rivet Run
Mora Welcomes Swedish Juniors
July 15, 2016
The Mora community has been host to junior athletes from their sister city, Mora, Sweden, for a week of training and bonding with the Mora Mustang Nordic training program.
Loppet Job Openings
July 15, 2016
The Loppet Foundation has three new openings posted: Sponsorship Sales Manager, Marketing/Communications Manager, and Adventure Center Director -- all full-time positions.
Hoigaards Paddle Derby Results
July 15, 2016
The first seven events of the Hoigaards Paddle Derby are on the books. Check out the updated results, and join them for one of the last three events this season.
Related:
Results: Paddle Derby
Hoigaards Paddle Derby
Finn Sisu: Dr. Heather Cichanowski on Tales of a Traveling Team Physician
July 15, 2016
Finn Sisu continues their lecture series with Dr. Heather Cichanowski speaking next Monday, July 18 about her experiences as the team physician for the US Cross Country Team. She'll also have tips on how to stay healthy during the skiing season.
Bike Dr: Flamingo Fest, MTB Clinic, HS MTB
July 13, 2016
The latest Bicycle Doctor newsletter highlights their Flamingo Fest events this weekend, MTB clinic this Sunday, and formation of high school MTB teams.
National Development Project Grants Awarded
July 13, 2016
New for 2016, the National Development Project is a program designed to directly benefit the many clubs, coaches and officials that play a tremendous role in skiing development across the United States. Wayata Nordic, Iola Winter Sports Club and CXC were part of the inaugural recipients.
Web Roundup
July 11, 2016
Haig Yes - Maria Berg put together a nice highlight video of the recent Midwest trip to the Haig Glacier.
Haig Recap - Brian Gregg posts an update on recent training, including a trip to the Haig Glacier.
Comfortable with Uncomfortable - Annie Hart covers the topic of pain vs discomfort.
Dinomite - Team Gregg gets a living fossil to try rollerskiing -- seriously.
Air Travei - Jessie Diggins devotes this week's blog to the trials and tribulations of air travel.
Back in the UP - Caitlin Gregg joins the REG and Dream Camp workouts in Marquette last week.
Podium Project Recap - Recap video from the recent Development Podium Project camp in Utah.
War - Russian developers are working on a "war theme" ski resort.
Butt Kicker - Scientists breakdown just how hard the Tour de France is on a cyclists body.
Spicy Solution? - Could spicy foods be the key to preventing muscle cramps?
Duluth Planning Commission Hearing on Grand Avenue Nordic Center
July 11, 2016
The City of Duluth Planning Commission will be holding a Public Hearing this Tuesday evening, July 12th, to receive comments on the Spirit Mountain Recreation Area Environmental Assessment Worksheet, which addresses projects including the Grand Avenue Nordic Center, as well as a number of other silent sport efforts.
USSA: Bryan Fletcher Talks Future in Nordic Combined
July 8, 2016
USSA reports: After winning the annual Fourth of July nordic combined cup on Howelsen Hill, soon-to-be-dad Bryan Fletcher talked with Joel Reichenberger of Steamboat Today about his Olympic history, his hopes for future medals...and why he was wearing a hot pink suit.
REG and Dream Camp Coverage
July 6, 2016
CXC is holding the Central Regional Elite Group camp, as well as their Youth Dream Camp up in Marquette, MI, this week. The REG group took in an uphill time trial run and agility testing on rollerskis in the opening days.
Related:
Photoset from CXC:

REG Camp,

Youth Dream Camp
Results: Uphill Run TT, Double Pole Time Trial
Midwest MTB Report
July 5, 2016
This week's Midwest MTB report by Jay Richards covers a wide range of topics, from Buck Hill races to the World Championships, viral videos and bear attacks, and of course, the Strava Ride of the Week and a look at the upcoming events.
Wisconsin High School Nordic Championship Venue Change
July 5, 2016
The Wisconsin State High School Nordic Championships have announced they will help christen the new Birkie start area with their big event scheduled their for early February.
Web Roundup
July 4, 2016
TV Stars - NMU's Nordic skiers and their summer training were recently featured by local TV news.
Racing - Jason Kask writes on the topic of racing and perspectives.
Easy and Awesome - Jessie Diggins posts a quick update on training with SMS and their annual Independence Day Parade on rollerskis.
Training, Travel and Adventures - Felicia Gesior travels across the globe, finding new adventures and squeezing in some training.
Sweet Westerlies - Ben Saxton discusses the latest doping revelations and keeping things in perspective.
June Recap - Head coach Chris Grover recaps the US Ski Team June training, primarily in Bend, OR and much of it on-snow.
Totally Tubular - Star Tribune featured the winter sports/snowmaking project at Edina's Braemer Park.
No Motor Bikes - NPR highlights how the Tour de France is planning to catch the use of motorized bikes.
In Your Gut - New study suggests chronic fatigure syndrome may be related to gut microbes.
Afton Trail Run Coverage
July 2, 2016
Beautiful conditions Saturday morning for the annual Afton Trail Run events at Afton State Park. Temperatures were in the low 60s to start and rose into the upper 70s by late morning as runners did one (25K) or two laps around the big park. In the 50K, Kurt Keiser took the lead early and stretched it to a five minute margin of victory. Annika Hempel won the womens division, just a minute ahead of runner up Lisa Dunnigan. Matthew Berens also had a strong performance for the men in the 25K, winning by over three minutes. Kate Pallardy cruised to nearly a five minute lead over the womens 25K field.
Related:
Photoset:

50K - 264 photos,

25K - 414 photos
Photoset:

Top Picks (high res) - 50K Race,

Top Picks (high res) - 25K Race
Results: Afton Trail Run
Bike Dr: July 4th Web Sale
July 1, 2016
Bicycle Doctor's latest newsletter highlights their online only 4th of July sale, the upcoming Crafty Cow ride, their FlamingoFest in a few weeks, and MTB events for juniors and adults.
CXC Coaches Symposium at REG Camp
June 30, 2016
CXC is hosting a coaches symposium at the Midwest Regional Elite Group (REG) Camp, open to coaches of all levels (and free). The symposium will be held July 9th at the Superior Dome in Marquette and will feature Bryan Fish, Sten Fjeldheim, Andy Keller and more. The REG Camp runs July 5-11th.
Related:
2016 REG Camp
Midwest Mountaineering: Firecracker of a Sale
June 30, 2016
Midwest Mountaineering is running their 4th of July sale now through Monday, including some big deals on Patagonia samples, and a coupon for a free stainless steel liter bottle with any purchase.
Loppet Trail Kids Girls July Session
June 29, 2016
The Loppet has cooked up a special month of July for girls ages 7-13, feauturing mountain biking with an emphasis on the importance of goal-setting and promoting healthy lifestyles.
Related:
LNR MTB Race Results/Photos
Hoigaards Paddle Derby: C1 Day
June 29, 2016
The weekly Thursday evening paddle race series at Lake Calhoun, the Hoigaards Paddle Derby, this week highlights the solo canoes with a C1 derby division. Plus Paddler's Potluck this week!
Spotlight: Loppet Nordic Racing Summer Juniors
June 29, 2016
Loppet Nordic Racing (LNR) is one of the largest programs in the country. We caught up with them Wednesday morning in south Minneapolis. The group did a overdistance rollerski, splitting into a number of small groups with coaches to pair up skiers with similar abilities. Most of the advanced and immediate girls headed east, crossing the Mississippi River and skiing to downtown St. Paul, lead by Olympian Caitlin Gregg and head coach Piotr Bednarski. Most of the groups finished the 2-3 hour workout with some running and short drills.
Related:
Photoset:

Overdistance Rollerski - 95 photos
Photoset:

Top Picks (high res)
Video:

Overdistance Rollerski
Midwest MTB Report
June 28, 2016
Jay Richards has a jam-packed MTB report this week, covering the Lutsen 99er, the Duluth Enduro series, and WORS Firecracker races, the Strava Ride of the Week, and a look at some upcoming races and clinics.
Web Roundup
June 27, 2016
Woulda, Coulda, Shoulda - Finn Sisu features skiing advice from the old and new: Jim Carlen and Tom Woolhouse share some of the things they'd do differently in hindsight.
Back At It - Nichole Bathe checks in with an update on her recent vacation and summer training.
Headwind - Annie Hart reflects on perceptions and training, enjoying the time with teammates and some sun.
Training with the Enemy - Norwegian VG spotlights Jessie Diggins's training with the Norwegian womens team.
Coach Babikov - Canadian's Russian import, Ivan Babikov, has announced his retirement and the start of a career in coaching.
Motivation Monday - The fierce competition level of Petra Majdic, overcoming some major injuries was featured on the Olympic website.
Shocko Choco - A recent study uses electrical shocks to generate a healthier (and tastier) version of chocolate.
Doping - HBO Humorist John Oliver takes on dopers in a recent Last Week Tonight segment.
USSA Announces Seven Stop Super Tour for 2016-17
June 27, 2016
Top cross country athletes from across America will participate in 16 races at seven different stops as part of the U.S. Ski and Snowboard Association's (USSA) annual USSA SuperTour. There will be two stops in the Midwest this season: Feb 17-19 in Ishpeming, MI and Feb 25 at the Birkie.