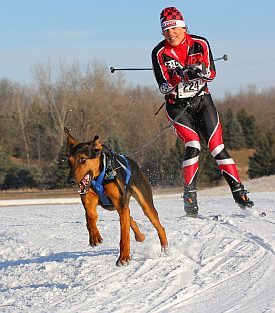 Skijor race, King Boreas, January 8, 2012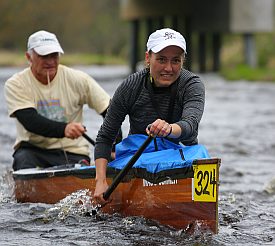 Snake River Canoe Race, May 5, 2012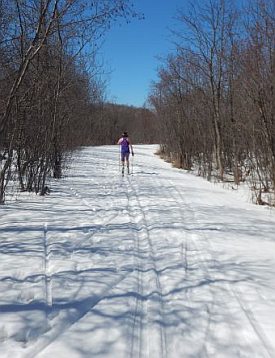 Snowflake Nordic, April 16, 2019 (Photo: Eve Graves)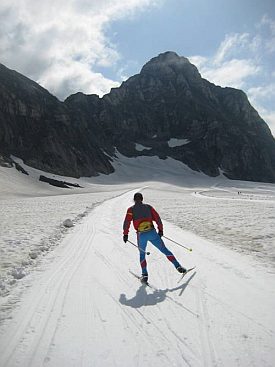 Matt Liebsch at the Haig Glacier, August 1, 2009 (Photo: Brian Gregg)
Planning Calendar for 2019-20 Season
January 16, 2019
For events already looking ahead to next season, we've started collecting key dates to help in the planning process.
Skinnyski FAQ
December 4, 2011
We've collected together a bunch of common questions to assembly our own FAQ for cross-country skiing in the Midwest and using the Skinnyski website.
Skinnyski Photos
February 5, 2009
Found a photo you'd like to get a copy of? Looking for images from a past event? Find out how to dig through our archives and help support the web site by purchasing photographs.

Gear West Job Openings
April 19, 2019
Gear West has job openings for Nordic Sales Associate, Inventory and Receiving Associate and Ecommerce Associate.
Weekend Events
April 17, 2019
Apr 20 Earth Day Races - St. Cloud hosts Earth Days with a half marathon running race in their 20th season.
Apr 20 Quarry View Races - 5K and 10K running races along the big quarry in Menomonee Falls.
Apr 20 Wisport Friendly Century - Start the season with friendly race, warm up 20-40 miles, then optionally race the last 20.
Apr 20 Herd 'Em Up 5K - A 5K race to benefit restoration of Myrick Park in La Crosse.
Duluth Community Bike Swap Apr 27-28
April 17, 2019
Continental is hosting their annual bike swap the weekend of April 27-28th. A wide selection of bikes will be available and part of the proceeds benefit local charities.
Endurance United Coaching Positions
April 16, 2019
Endurance United is seeking qualified coaches and assistant coaches to work with the adult training year round programs, which start their new season on May 7th. Most of the training sessions are evenings.
Haig Glacier Trip this Summer
April 16, 2019
Final openings are filling fast for the June week long trip to ski on the Haig Glacier in Canada. Led by Matt Liebsch, this unique training experience provides invaluable on-snow time in the middle of summer.
Birkie: Med Sleds Donated for Safety of Outdoor Enthusiasts
April 15, 2019
The Town of Spider Lake Volunteer Fire Department has donated a Med Sled for the Outdoor Center at the Hwy OO Trailhead and Spider Lake residents Bobbi and Pete Huot donated a second Med Sled to be based out of the Boedecker Trailhead. The Med Sled is designed for a single person to pull an injured individual over snow or grass.
Glen Johnstone Passes
April 15, 2019
The Mora ski community is mourning the passing of the founder of the Vasaloppet USA ski race, Glen Johnstone, who died Friday, April 12th at the age of 90. Johnstone was the driving force in creating the Vasaloppet ski race and his vision for a high quality ski race with a hometown flair helped guide the race throughout it's 48 year history. A Memorial Mass will be held at Tuesday, April 23th at St. Mary's Catholic Church in Mora.
Related:
Johnstone Obituary and Memorial Service Info
Trail Kids Spring Mountain Bike Info Session
April 15, 2019
Registration is now open for all spring and summer TRAIL KIDS Programs and camps at Elm Creek, Wirth and Lebanon Hills. Attend a Spring Mountain Bike Pre-Season Informational Meeting Monday, April 29th to learn about the spring and summer program.
Weekend Skiing and Trail Reports
April 11, 2019
With Thursday's snowfall, a number of skiers took the opportunity for one last ski. New reports from Keweenaw backcountry(2)

, Snowflake

, Wolverine

, Maplelag

, and recent reports from Snowflake, Magney-Snively.
Related:
Regional Snowfall Reports
EU Summer Training Programs
April 11, 2019
Endurance United is ramping up for the summer training season with offerings for juniors and adults:
Summer Juniors - Tailor your own plan with 2 to 7 sessions a week. Plus summer camps.
Adult Training - Many options available, from race team to just learning how to rollerski.
Coaches Association Spring Meeting this Saturday
April 11, 2019
The annual Minnesota high school Nordic skiing coaches association meeting is this Saturday, April 13th, at the Vasaloppet Center in Mora. There will be an opportunity for Level 100 Coaches Education with CXC's Joe Haggenmiller earlier in the morning, before the coaches meeting. Please RSVP.
Finn Sisu: Spring-Cleaning Sale
April 10, 2019
Finn Sisu has a spring-cleaning sale going on with a nice range of demo skis on sale. Also check out their roller ski maintenance check list and discounts on Marwes for EU Learn to Roller Ski participants.
CXC Annual Awards
April 10, 2019
CXC will honor a number of individuals as part of the CXC Congress in late April. Awardees include lifetime commitment: Jack Jeffery; volunteer impact: Jim Tervo; community leader: Ted Theyerl, Chippewa Valley Nordic Ski; excellence in coaching: Kevin Brochman, Minneapolis Ski Club.
Gear West: Road and Triathlon Gear Swap
April 9, 2019
Gear West is hosting a road and triathlon gear swap on Saturday, April 27th. Bring your unused equipment or come shop for deals. Plus savings on older inventory.
NNF: Lumi Experiences Prepares for Next Season
April 8, 2019
Lumi Experiences wrapped up the World Cup season trips with the Seefield World Championships and already has big plans for 2020, including trips to Oberstdorf and Dresden.
Finn Sisu: Vakava Juniors Summer Training Program
April 8, 2019
Finn Sisu's Vakava Juniors summer training program registration is now open. Training kicks off in early June!
Haig Glacier Trip in June
April 7, 2019
Once again, Matt Liebsch of Pioneer Midwest will be leading a summer skiing trip to the Haig Glacier, this year, June 18-23rd. The trip is open to master, senior and junior skiers interested in getting some solid on-snow ski training. Space is very limited, so act quickly!