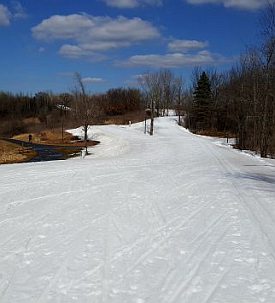 Hyland Lake snowmaking loop, March 25, 2019 (Photo: Rick Wheeler)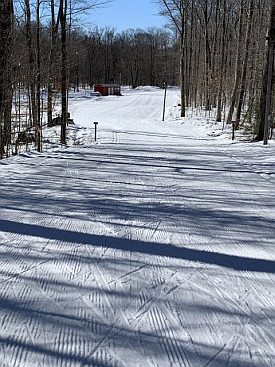 Birkie Trail, March 23, 2019 (Photo: Carolyn Senty)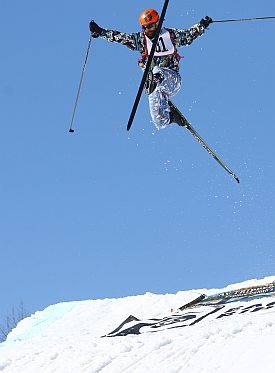 Nordic Cross National Championships, March 23, 2019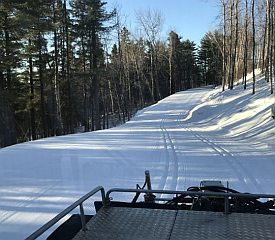 Grand Avenue Nordic Center, March 21, 2019 (Photo: Erik Blow)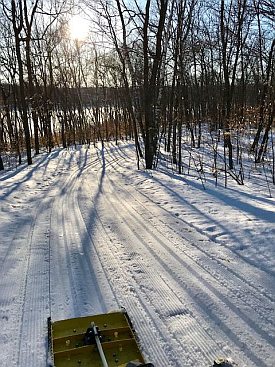 Maplelag Resort, March 22, 2019 (Photo: Jay Richards)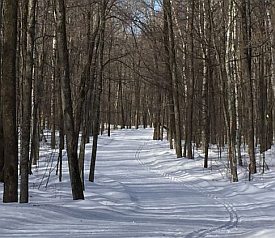 Lakewood ski trails, March 19, 2019 (Photo: Tom Lane)
Planning Calendar for 2019-20 Season
January 16, 2019
For events already looking ahead to next season, we've started collecting key dates to help in the planning process.
Skinnyski FAQ
December 4, 2011
We've collected together a bunch of common questions to assembly our own FAQ for cross-country skiing in the Midwest and using the Skinnyski website.
Skinnyski Photos
February 5, 2009
Found a photo you'd like to get a copy of? Looking for images from a past event? Find out how to dig through our archives and help support the web site by purchasing photographs.

Junior Informational Meetings this Week
March 25, 2019
Mar 26 LNR Informational Meeting - LNR will be hosting their spring informational meeting at the Trailhead on Tuesday evening.
Mar 27 Endurance United Informational Meeting - Interested skiers and parents are invited to informational presentation by Head Coach/Program Director Liz Peterson at Endurance United offices Wednesday evening.

Weekend Trail Reports
March 24, 2019
Skiing is rapidly winding down across much of the region. New reports from Elm Creek

, McNaughton Lake

, Woodland, Hyland Lake(5)

, Birkie

, Nine Mile Forest, Lester, Swedetown, Theodore Wirth North, and recent reports from Lester(2)

, After Hours, Hyland Lake(4)

, Riverside, Mecca, Birkie, Elm Creek, Grand Avenue, Mt. Ashwabay, Howard Wagoner

, Escanaba, Northland Arb.
World Cup Quebec: Freestyle Pursuit Races
March 24, 2019
The World Cup season wrapped up on Sunday in Quebec with freestyle pursuit format races. Temperatures near freezing provided a second day of fast conditions. Stina Nillson, Sweden, started with a 33 second lead and held off Norwegians Ingvild Flugstad Oestberg and Therese Johaug to win by 12 seconds, Johaug second, Oestberg third. Sadie Bjornsen was the top American, finishing 11th, with Jessie Diggins moving up to 14th after starting 23rd. In the men's race, Johannes Klaebo's fairly large lead of 52 seconds was eventually eliminated as Alexander Bolshunov, Russia, and Alex Harvey, Canada, skied up to join him. However, Klaebo appeared to be just resting up, as he dropped the hammer of the final climb and skied away to victory, with Harvey pulling off another amazing finish to take second ahead of Bolshunov. Erik Bjornsen was the top American in the men's race, taking 20th. The final World Cup standings were recognized as well with Klaebo and Oestberg collecting the overall titles. Diggins was 6th in final standings.
Related:
Results: 10K, 15K Freestyle
Biathlon: Bronze Finish to Season for Egan
Fischer: Crystal globe rain for the Fischer Race Family
Nordic Cross National Championships Coverage
March 23, 2019
A beautiful sunny morning on the slopes of Spirit Mountain for the self-proclaimed Nordic Cross National Championships in Duluth on Saturday. A technical course with a pair of large jumps provided some big air and great spectating. After opening heats, many of skiers competing for altitude and style in the Big Air event before the finals in the Nordic Cross.
Related:
Photoset:

Warm up - 7 photos,

Heats - 242 photos,

Big Air - 372 photos,

Finals/Awards - 69 photos
Photoset:

Top Picks (high res)
Last Chance Ski Race Results
World Cup Quebec: Classic Mass Start Races
March 23, 2019
A great day of racing with mass start classic events for the World Cup in Quebec Saturday. Cooler weather created a fast track. In the women's race, the field eventually shredded down to three: Norwegians Therese Johaug and Ingvild Flugstad Oestberg along with Stina Nilsson, Sweden. Nilsson used power, some fast skis, and eventually her sprinting skills to best the Norwegians, pulling ahead of Johaug to take the victory (and finally breaking Johaug's streak) with Oestberg third. Sadie Bjornsen lead for the US women, finishing 18th, Jessie Diggins was 23rd. The men's race was equally exciting as it came down to the finish with five in contention, and again it was the sprinter, Johannes Klaebo, Norway, that toasted the field for the win, with crowd favorite Canadian Alex Harvey pulling off his best race of the season to finish second, Didrik Toenseth, Norway, third. Erik Bjorsen topped the US mens field, finishing 18th. Sunday wraps up the World Cup with freestyle pursuit start races. The women's 10K skate will be at 8:30 am CDT, men's 15K at 9:45 am.
Related:
Results: 10K, 15K Classic
MNSA Nordic Banquet Scheduled for April 7th
March 22, 2019
The Minnesota Nordic Ski Association (MNSA) will honor top Nordic skiers in Minnesota along with two Lifetime Achievement Award winners during an awards ceremony on Sunday, Apr 7th at the Mora Vasaloppet Nordic Center. The Minnesota Nordic Skiing Lifetime Achievement Award is given annually to an individual who has contributed significantly to the advancement of Nordic skiing in the state of Minnesota. This year's award winners are Rollie Ring Jarvi and Glenn Fuller. Event is free but reservations are required.
World Cup Quebec: Freestyle Sprints
March 22, 2019
Racing action got underway Friday in Quebec with freestyle sprints. The US squad qualified five in the sprint heats, with Sadie Bjornsen making it to the women's final. Sweden's women's team continues to get better each week, and on Friday they swept the podium with Stina Nilsson just barely staying ahead of Maja Dahlqvist with Jonna Sundling third. Norway's Johannes Klaebo proved again he's the top sprinter by far, taking the men's victory with Italy's Federico Pellegrino best of the rest and Klaebo's teammate Sindre Skar third. Saturday will feature mass start classic races, with the women's 10K beginning at 8:15 CDT.
Related:
Results: World Cup Quebec sprints
Saint Mary's University of Minnesota Hosting Outdoor Focus Day Sunday
March 21, 2019
On Sunday March 24th, Saint Mary's University of Minnesota will be hosting Outdoor Focus Day for prospective students who have an interest in the outdoors. High school students will be led through various activities by university professors and will be introduced to members of outdoor-focused clubs, including the men's and women's Nordic ski club. This event includes lunch in the student dining hall, a campus tour, and a multitude of hands-on outdoor experiences.
LNR Juniors Information Session Tuesday Evening
March 21, 2019
LNR will be hosting their spring informational meeting at the Trailhead this Tuesday, March 26th. Come find out about the spring, summer, and year-round LNR 2019 Devo and Comp team programs including LNR training philosophy, seasonal training schedule, and training camps. Open for athletes ages 13-19 and their parents.
World Cup Quebec Weekend Series
March 20, 2019
The World Cup travels across the pond to wrap up the racing season in North America with three days of skiing in Quebec City. Friday features freestyle sprints, Saturday classic mass start races, and Sunday concludes with freestyle pursuit start races. The field is full of Midwest skiers this weekend: Kyle Bratrud, Ben Saxton, Kevin Bolger, Alayna Sonnesyn, Rosie Frankowski, and of course, Jessie Diggins. Friday's sprint heats begin at 12:20 pm CDT.
Related:
World Cup Quebec Website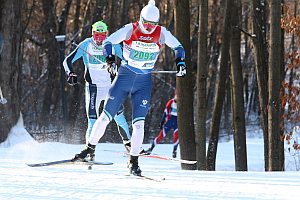 The Curious Case of the Boulder Mountain Tour
March 19, 2019
Last February, Matt Liebsch had an epic race at the famed Boulder Mountain Tour in Sun Valley, Idaho, which came down to a photo finish. But the story didn't end that day and has taken an unusual twist.
CXC Congress Scheduled for Late April in Eau Claire
March 19, 2019
Cross country club leaders from around the Central Region will have an opportunity to play a role in the future of the sport during Central Cross Country Skiing's annual CXC Congress. The event features three days of workshops and meetings set for April 26-28 in Eau Claire, WI, and is free and open to all interested parties.
Last Chance Ski Race Announced
March 19, 2019
The Vasaloppet crew has announced their final race of the season, the Last Chance Ski Race this Saturday, March 23rd. Exact distances will depend on the final grooming, but organizers hope to pull of a 5-10K loop with the option to race 1-3 laps.
Web Roundup
March 18, 2019
Seefeld Revisited - Jessie Diggins looks back on the week of the World Championships, including the doping scandal.
Birkie 2019 - Elspeth Ronnander shares her 2019 Birkie story, skiing out of the Birkie elite skate wave for the first time. You can also catch her recap on the Finlandia.
Birkie 2019 - Craig Cardinal posts his Birkie story, switching to classic this year and surprising himself in the process.
Glide Factors - Gear West has a post on the factors that go into having a fast pair of skis.
Big Fat - New Moon has a short summary and big photo montage from the Fat Bike Birkie.
350 Mile Winner - Rob Henderson of Minneapolis won the 350 mile Iditarod Trail run, completing it in just over five days!
Vasaloppet Climate - New Yorker Magazine had an extensive article on racing the famed Swedish Vasaloppet and the impact of climate change.
Chamberlain - Former biathlete BethAnn Chamberlain has been making a huge impact in the world of adaptive skiing.
SMF Groomers - Duluth public TV has a video profile on the groomers at Superior Municipal Forest.
Pablo 360 - KARE11 talks with Pablo Urriche of the Loppet Foundation, a native of Chile, who has come to love skiing.
Cold Shoulder - The government's new weather forecast model has been off, forcing many to resort to models from Europe.
Exercise Before Sleep? - New study finds exercising in the evening doesn't negatively impact sleep patterns.
Big Apple - The crazy guys from NRK, Helt Ramm, took their skiing antics to the streets of New York City. And catch all their coverage from the World Championships.
Blue Mound State Park Planning Survey
March 17, 2019
MadNorSki is asking all skiers to provide input on the Blue Mound State Park master plan via an online survey. There is some concern over part of the plan that might impact the current ski trail layout.
Victor C. Dunder Award Nominations Sought
March 17, 2019
Nominations for Victor C. Dunder awards are due by March 31st. The Victor C. Dunder award is designed to get quality equipment to first year skiers in financial need.
Salomon Nordic Team USA 2019-2020
March 17, 2019
Salomon Nordic has announced details on their 2019-2020 Nordic Team program, including benefits and requirements.
World Cup Falun: Freestyle Races
March 17, 2019
Another warm day of racing in Europe as the World Cup skiers competed in 10K and 15K freestyle races in Falun, Sweden. Jessie Diggins had one of her best races of the season, finishing on the podium in third place as Norway's Therese Johaug won yet race, Sweden's Ebba Andersson second. Sadie Bjornsen and Julia Kern both placed in the top 25, Bjornsen 12th, Kern 25th. And Midwest native Rosie Frankowski was 35th. Alexander Bolshunov, Russia, won the men's 15K with Norway's Martin Sundby and Didrik Toenseth finishing second and third. David Norris led for the US men, finishing 16th. Midwest native Kevin Bolger notched 45th.
Related:
Results: 10K, 15K Freestyle
Loppet Winter Triathlon Coverage
March 17, 2019
Fast conditions Sunday morning for the Loppet Winter Triathlon, held on the snowmaking trails at Theodore Wirth. Joel Lafrance posted the top ski leg and second fastest bike leg to rocket to a big lead heading in the running portion, and came in first by just over three minutes as Jacob Keehan used the fastest running leg to power up to second place, Somer Shrock finishing third. Jan Guenther won the women's title convincingly with Andrea Tremaine and Tara Makinen rounding on the podium. Top relay team was the Skier Chicks - Brandy Stewart, Laura Bednarski and Mary McKelvey. Results linked in, along with photos.
Junior Nationals: Team Relays Results
March 16, 2019
Saturday was the final competition of the 2019 Junior Nationals in Anchorage, Alaska, featuring the 3x3K team relays. Midwest finished strong with the U16 boys team of Victor Sparks, Drew Sampon and Adrik Kraftson claiming victory as well as a second MU16 team taking third place and the U20 girls taking third place.
Related:
Press Release: Alaskans Kramer, Schumacher finish four-race sweeps with relay victories at Junior Nationals
World Cup Falun: Freestyle Sprints
March 16, 2019
A crazy day of racing in Falun, Sweden, in freestyle sprint World Cup competition on Saturday. Warm weather and a technical course resulted in a number of crashes, including Jessie Diggins and Sophie Caldwell. The women's final came down to a battle between favorites Stina Nilsson, Sweden, and Maiken Caspersen Falla, Norway, with Nilsson pulling ahead in the final stretch to take the win with Maja Dahlqvist third. The men's final was an intense battle as Norway's golden boy Johannes Klaebo barely survived the semifinals then squeaked out a tight victory over teammates Emil Iverson and Sindre Skar. Sadie Bjornsen and Sophie Caldwell both made the semifinals, finishing 10th and 11th. Simi Hamilton was the top American male, at 22nd, with Midwest's own Kevin Bolger 27th. Sunday is a pair of freestyle races, women's 10K starting at 5:30 am CDT, and men's 15K at 8:30 am.
Related:
Results: Freestyle Sprints
Junior Nationals: Classic Coverage
March 15, 2019
Friday was the big mass start classic races at Junior Nationals in Anchorage, Alaska. Leading the day for the Midwest again was the U20 girls, as Hannah Bettendorf took second place in the 10K event. The U16 boys really shined as well with Caden Albrecht taking 2nd and Jasper Johnston 3rd (and six in the top 10)! Other top 20 results: FU20 - Luci Anderson 6th, Regan Duffy 8th, Mae Barnes 14th, Cece Boyle 15th; MU20 - Anders Sonnesyn 13th, Luke Mackinnon 16th, Jackson Adler 17th; FU18 - Emma Albrecht 5th, Libby Tuttle 6th, Sarah Olson 9th; MU18 - Henry Snider 12th, Cooper Lennonx 13th, Matt Bourne 14th, James Schneider 19th, Eli Gore 20th; FU16 - Molly Moening 4th, Lauren McCollor 7th; MU16 - Isak Nightingale 5th, Victor Sparks 6th, Adrik Kraftson 8th, Drew Sampson 10th, Owen Williams 13th, Noah Erickson 17th, Stas Bednarski 18th. Results linked in along with photos from Jackie Schneider.
Related:
Press Release: Alaska's Kramer, Schumacher complete race sweeps with classic mass start wins
World Cup Falun Weekend Series
March 14, 2019
The World Cup shifts to Sweden this weekend for a pair of races in Falun. Saturday is freestyle sprints, Sunday is freestyle distance races. Saturday's sprint heats will be aired live beginning at 8:30 am CDT on Olympic Channel and NBC Sports Snowpass.
Related:
World Cup Falun Website
CXC Marathon Cup Closes Season at Great Bear Chase
March 14, 2019
CXC Marathon Cup wrapped up last weekend with the Great Bear Chase. Read a full recap on the race, plus review the final standings.
Related:
CXC Youth Cup Wraps Up With Midwest Championships
Endurance United Junior Programs Info Session
March 14, 2019
Endurance United Junior Seasonal Training and Development Teams start as soon as April 15th. Interested skiers and parents are invited to informational presentation by Head Coach/Program Director Liz Peterson at Endurance United office March 27th.
Related:
Endurance United Junior Programs
Junior Nationals: Classic Sprint Coverage
March 13, 2019
Classic sprints were the featured event on Wednesday at Junior Nationals in Anchorage, Alaska. Minnesota native Anja Maijala, racing for Alaska this year, won the U20 title, with Luci Anderson scoring 3rd. Other skiers making the semi-finals: FU20 - Hannah Bettendorf 9th, Cece Boyle 10th; MU20 - Jackson Adler 8th, Luke Mackinnon 10th, Anders Sonnesyn 12th; FU16 - Molly Moening 8th; MU16 - Drew Sampson 7th, Caden Albrecht 10th, Jasper Johnson 12th. Results linked in, along with photos from Jackie Schneider.
Related:
Press Release: Schumacher, Kramer go 2-for-2 in Junior Nationals titles during action-packed, drama-filled classic
New Moon: Post Fat Bike Birkie
March 13, 2019
New Moon's latest newsletter has recaps of the Fat Bike Birkie, one of their picks for spring skiing wax, liquid wax demo, and Lumi Experiences feature.
Trail Work Jobs at Snow Mountain Ranch
March 13, 2019
Spend your summer restoring trails on the Continental Divide in Colorado! Job openings for people with experience in trail maintenance, construction, and outdoor work to work at Snow Mountain Ranch. Application deadline is March 23rd!
Lotsa Snow
March 12, 2019
Mark Lahtinen shares some of his insights on the cold and snow this second half of winter, comparing it to historical data.
Pioneer Midwest: End of Season Sale
March 12, 2019
Pioneer Midwest has everything 20-50% including all skis and boots, as well as 40% off hats and gloves, and more deals.