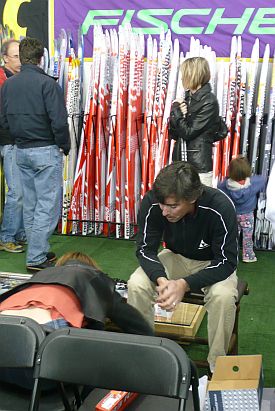 Checking out some new boots, Hoigaard's Tent Sale, September 14, 2007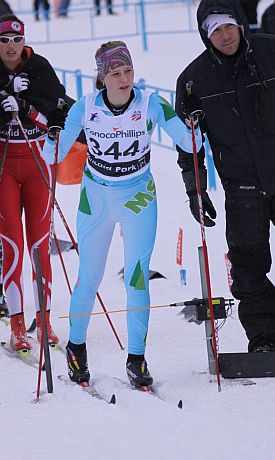 Annie Hart ready to race, US Nationals 5K classical, January 6, 2010 (Photo: Ben Dubay)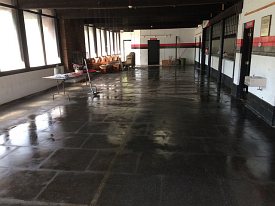 Big progress on the Lester-Amity Chalet cleanup, September 14, 2014 (Photo: David Johnson)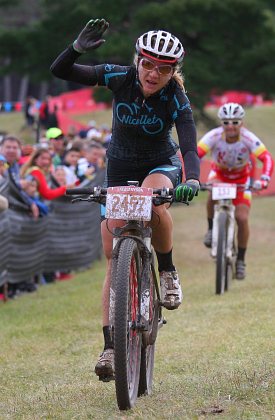 Chequamegon 40, September 13, 2014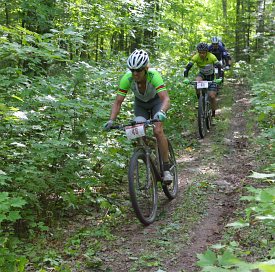 Chequamegon 40, September 13, 2014
Skinnyski FAQ
December 4, 2011
We've collected together a bunch of common questions to assembly our own FAQ for cross-country skiing in the Midwest and using the Skinnyski website.
Skinnyski Photos
February 5, 2009
Found a photo you'd like to get a copy of? Looking for images from a past event? Find out how to dig through our archives and help support the web site by purchasing photographs.


Finn Sisu Blue Awning Sale
September 17, 2014
Finn Sisu's annual Blue Awning sale this weekend, Sep 19-21, is a pre-season ski extravaganza featuring fitting and advice from manufacturers' reps (Rick Halling, Fischer and Isaac Wilson, Salomon & Atomic), free SNS bindings on Salomon and Atomic skis, and special deals on summer and winter clothes.


Gear West Pig Out Sale
September 16, 2014
Starting Thursday and running through Sunday, Sep 18-21, is the Gear West sale you've been waiting for - the Pig Out Sale. Best prices of the year on skis, boots, poles, accessories and clothing. Bacon samples on the barbie Saturday morning (until it's gone)!

Hoigaards Tent Sale
September 16, 2014
Hoigaard's is proud to announce that their Tent Sale will return for it's 47th year this weekend, Sep 19-21. For 47 years, the Hoigaard's Tent Sale has served as a kick-off for the winter season as thousands of skiers, snowboarders and outdoor lovers converge upon the "big tent" that fills much of the western side of the Miracle Mile Mall parking lot.

Midwest MTB Racing Report
September 16, 2014
A big Chequamegon recap is the primary feature this week in Jay Richards weekly MTB racing report, along with the usual look at upcoming events.

Local Stars
September 15, 2014
Ambassador Hart - The Birkie introduces their first ambassador, Annie Hart.
Bouncing - Jessie Diggins enjoying some "down time" in her training schedule.
Pep Talk - Rosie Frankowski shares her favorite pep talk.
Fall - Adam Loomis updates with some high intensity work out in Park City.
Movement - The Birkie office is being remodeled, so they have moved to new, temporary digs off Hwy 77.

2014 CXC/Wayne Fish Coaches Certification and Conference
September 15, 2014
CXC will be offering a coaches certification and conference, Oct 17-19, at Lakewoods Resort in Cable. The weekend will be focused on CXC/USSA Level 100 Coaches Certification and will introduce the CXC/USSA Level 200 Coaches Certification with specific hands-on session for Adaptive coaching.


Borah Teamwear: Donít Wait for Snowflakes!
September 15, 2014
Borah Teamwear is sounding the horn -- get those orders rolling, snow season is just around the corner!

Jobs, Jobs, Jobs
September 15, 2014
A number of coaching positions have been recently posted, as well as sales positions.
Lester-Amity Chalet Open House Sep 20-21
September 14, 2014
There will be a Lester-Amity Chalet Open House this Saturday and Sunday, Sept 20th and 21st. The purpose of the open house is to showcase the chalet, share with the community our vision for the building and grounds, and gather support from the community as we move forward with this exciting project.
Northshore Inline Marathon Rollerski Race Results
September 13, 2014
A small by very competitive field cranked it up Saturday morning for the Northshore Inline Marathon rollerski race. Flying from Two Harbors to Canal Park in Duluth, Andre Watt and Caitlin Compton took top honors.
Chequamegon 40 Coverage
September 13, 2014
Brian Matter held off Jeremy Bishop to repeat as the Chequamegon 40 champion Saturday morning in Cable. Travis Woodruff along with five other riders all cracked the two hour barrier in the fastest race on record. Jenna Rinehart took the womens title, also posting a new course record time. Area crew did a fantastic job clearing the trail of major storm damage from the prior week, including a huge amount of fallen trees.
Related:
Photoset:

Kids Race/Start - 20 photos,

Rosies Field - 45 photos,

Mid-race - 106 photos,

Finish - 98 photos
Photoset:

Top Picks (high res)
Results: Chequamegon Fat Tire Festival
Chequamegon Fat Tire Festival Saturday Recap
Chequamegon Fat Tire Festival Sunday Recap
Request For Midwest Team Coaches Applications
September 11, 2014
Junior Nationals will be held March 5-15 in Truckee, California. Applications are now being taken for the head coach, glide and kick coaches, as well as general coaching staff positions. Application deadline is November 1st.

Gear West's New Grind
September 11, 2014
Gear West is the proud new owner of a Tazzari RP23, the only grinder designed specifically for nordic skis and the same grinder used by nearly every World Cup racer on the planet. Now serious master, collegiate and high school racers can get the Tazzari edge at Gear West.
FAST KIDS Fall Adventure Run Series
September 10, 2014
The Loppet Foundation's Fall Adventure running series for kids kicks off this Thursday, Sep 11th at Wirth. There will be four events in the series, including age-gap relays and singletrack races.
Related:
Photoset from LNR:

FAST KIDS Adventure Race
Midwest MTB Racing Report
September 9, 2014
Jay Richards latest MTB racing report highlights the Treadfest WORS event, the first race in the MN high school MTB series, plus updates on the mighty Chequamegon and the rescheduling of Blacks River Crossing race.
Gandy Dancer Trail Marathon Fee Increase Approaching
September 9, 2014
CyclovaXC, major supporter of the new Gandy Dancer Trail Marathon is encouraging athletes to get their registrations in by Sept 15th to avoid the final price hike. The inaugural event is Oct 11th in Luck, WI, with 500 participants expected.
Willow River Trail Challenge Oct 4th
September 9, 2014
Willow River State Park will be home to a trail running events on Saturday, October 4th. The course is a scenic mix of steep climbs and descents though Willow River State Park totaling 10.6K (with a shorter 6.6K option available).
Local Stars
September 8, 2014
Momma Bear - Mary Beth Tuttle goes mano a mano with a Yellowstone black bear.
Shadow - Jessie Diggins writes on the benefits of shadowing fellow athletes to work on technique.
Super Power - The mighty Loppet Nordic Racing club is profiled in a recent FasterSkier article.
Baking Queen - Annie Hart maintains a regular baking column, with recipes and photos.
Training Days - Caitlin Gregg has been working high intensity, including a great showing in the Climb to the Castle event. Husband Brian writes about his workouts with inner city youth and the Heart of the City 5K.
Chequamegon 40 Update
September 8, 2014
The Chequamegon and Birkie crews have been active every day since the big storm rolled through last Thursday, knocking down a lot of trees and dropping a lot of water on the trail system. Progress is being made, but expect some reroutes along the course for the Chequamegon 40.
Illinois Roller Ski Race Series Results
September 7, 2014
Organizers report great conditions Sunday for race #2 in the Illinois rollerski race series. Jan Myrda and Maria Castellese posted the top mens and womens times in the 10K race. The next event will be Oct 5th.
Related:
Illinois Roller Ski Race Series Race Report
Climb to the Castle Results
September 6, 2014
Saturday brought out some of the best US skiers for the annual Climb to the Castle rollerski race in New York. The race climbs roughly five miles with an average 8% grade up the summit of Whiteface Mountain (just under 4900 feet). Caitlin Gregg did the Midwest proud again this year, finishing second only to champion Liz Stephens. Jessie Diggins was 7th, Anne Hart 13th, Paige Schember 17th. In the mens race, biathletes stacked the field with Tim Burke taking the title. Ben Saxton was the top Midwest result finishing a strong 8th.
Related:
Photoset from NNF:

Climb to the Castle
Results: Mens, Womens
Bike Duluth
September 4, 2014
Ski Hut has updated their Duluth area cycling guide, just in time for that fall adventure.
Midwest Mountaineering: End of Season Clearance Sale and Coupons
September 3, 2014
Midwest Mountaineering is ramping up for fall with deal coupons on mugs, beanies, and hats, and clearance deals on summer camping, clothing and paddlesports. Plus check out their upcoming clinics and events.
Lester-Amity Chalet Clean-Up and Open House
September 3, 2014
The Friends of the Lester-Amity Chalet are asking for local supporters to come out this Sunday, Sep 7th, and next, Sep 14th, to help prepare the Lester-Amity Chalet for an open-house on Sep 20-21st.
Madshus Partners with the Vasaloppet
September 3, 2014
Madshus has announced a ski and boot partnership with the Swedish Vasaloppet.