Chad Giese on a fall rollerski workout, October 11, 2004

Laddies Loppet cross-country, September 1, 2013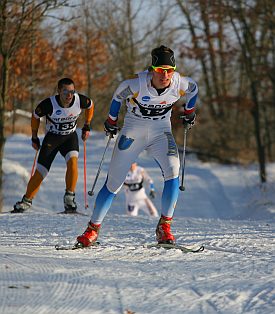 Jake Richards, Minnesota College Championships, January 11, 2014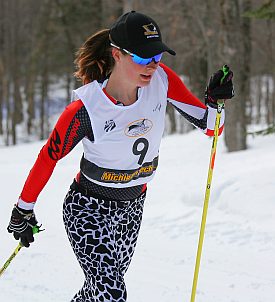 Michigan Tech test sprints, March 30, 2014
Skinnyski FAQ
December 4, 2011
We've collected together a bunch of common questions to assembly our own FAQ for cross-country skiing in the Midwest and using the Skinnyski website.
Skinnyski Photos
February 5, 2009
Found a photo you'd like to get a copy of? Looking for images from a past event? Find out how to dig through our archives and help support the web site by purchasing photographs.

Midwest MTB Report
September 1, 2015
Jay Richards MTB report takes a look at the impacts of trail development, reviews some homebrew trails in northern Minnesota as well as new trails being developed at Andes Tower Hills, and wraps up with a big selection of upcoming events, including Maplelag's own Laddies Loppet!

Local Stars
August 31, 2015
Big Month - Kyle Bratrud posts a summer training update as he trains with the SMS group out East.
Outside the Bubble - Jessie Diggins writes about her Norwegian summer training (and racing) trip.
Northshore Livin' - Rosie Frankowski highlights some on-snow training, as well as a trip back to Minnesota. Rosie is also firing up her fundraising drive.
NZ - Ben Saxton shares his experiences from New Zealand, along with the trip back state side.
And one more ...
Bolt Bowled - World Champion 100 and 200 meter sprinter Usain Bolt is bowled over during a post-race celebration.

Head Nordic Coach Position Posted for St. Olaf
August 31, 2015
St. Olaf College in Northfield, MN, has posted the position of head Nordic coach for the mens and womens ski teams. Applications can be submitted online.
USSA: Fletchers Lead USA in Summer Grand Prix
August 30, 2015
Olympian Taylor Fletcher set a torrid pace with the second fastest roller ski time to finish 12th in a FIS Nordic Combined Summer Grand Prix Sunday in Oberwiesenthal, along the Czech border. Eau Claire native Adam Loomis was 28th.
More Jobs
August 28, 2015
Over the last few weeks a number of jobs have been posted, including many assistant coaching positions, as well as some graphic design and print technician opportunities.
Hoigaards Rollerski Clinic Saturday
August 27, 2015
Looking to kick off your winter training and improve your rollerski skills? Hoigaards will have a Rollerski 202 clinic this Saturday, Aug 29th, with emphasis on hills (up and down!).
CXC Masters Camp in Park City
August 27, 2015
CXC will be hosting a four-day Masters training camp out in scenic Park City, Utah, Sep 23-27th. Former US Ski Team coach Torbjorn Karlsen along with CXC's own Yuriy Gusev will led the workouts.
Midwest MTB Report
August 25, 2015
Jay Richards MTB report this weekend includes recaps from the Flugly in Moorhead and the Seeley Pre-Fat and a look ahead to the 25th anniversary Laddies Loppet coming Labor Day weekend.
Rollerski Racing Events
August 25, 2015
Just two major rollerskiing events left on the calendar right now...
Aug 30 Illinois Rollerski Race - Just one race this season for the Illinois crew, held at Moraine Hills State Park.
Sep 19 Northshore Inline Marathon - A separate rollerski division, racing the full 26.2 mile marathon course -- get those race wheels on!
Midwest Wax Coaches for 2016 Junior Nationals Announced
August 25, 2015
In charge of the Midwest fast skis for the 2016 Junior Nationals, Head Kick Wax Scott Putman and Head Glide Wax Jason Kask were announced recently by CXC Skiing. Applications are still being taken for the six coaching positions. The 2016 Junior Nationals will be in Cable, WI.
Local Stars
August 24, 2015
Symbol of Hope - Caitlin Gregg makes headlines in Norway when she returned for the rollerski festival last week.
Norwegian Adventure - Caitlin Gregg recaps many memories from an exciting training and summer racing trip in Norway.
Norway Camp - Jessie Diggins shares 20 thoughts from Norway, just prior to the big rollerski races.
Man Camp - Brian Gregg holds his own training routine back in the Midwest.
And some news from earlier this month...
Wirth Rec Center Winning - The Loppet Foundation's project to help develop a silent sports center at Wirth wins preliminary approval. More details on the project.
Rise of the e-Bike - What does the rise of e-bikes hold for cycling? Velonews weights the pros and cons.
Training Programs
August 24, 2015
Many fall groups are about to start up in September, with some junior programming already under way. Check out our roundup of the area training programs.
Winter Park Meeting Scheduled for Thursday Sep 10th
August 24, 2015
If you're interested in the plans for developing a winter recreation area in Ramsey County, most likely at Battle Creek, the next work session meeting is scheduled for Thursday, Sep 10th. Please RSVP.
USSA: Toppidrettsveka Day 3 - Diggins Top 10 in Final Stage
August 22, 2015
In front of a packed crowd that felt more like a winter World Cup than a summer roller ski race, Jessie Diggins led the U.S. Ski Team in the 15k pursuit finale at the Toppedrittsveka stage race that concluded Saturday in downtown Trondheim. Diggins finished 10th, just ahead of Kikkan Randall (11th), as four Americans cracked the top 16.
St. Paul Urban Trail Marathon Coverage
August 22, 2015
The St. Paul Urban Trail Marathon brought a record field Saturday morning as athletes ran from Battle Creek to lowertown St. Paul. Windy conditions and warm temps kept the trails dry, providing for nice course conditions. Ryan Albu won the mens marathon by over 15 minutes, with Lauren Opp taking the womens title. Half marathon winners were Erik Solberg and Ariella DePrenger-Gottfried.
Related:
Photoset:

Marathon Opening - 189 photos,

Half-marathon Opening - 161 photos,

Indian Mounds Park - 45 photos
Photoset:

Top Picks (high res)
Results: St. Paul Urban Trail Marathon
Birkie Seals Land Deal for Start Area
August 21, 2015
Upon completion of their Phase I Capital Campaign, the American Birkebeiner Ski Foundation (ABSF) has secured land and easements for a permanent start area and is looking forward to the construction of two new buildings for the 2017 event!
USSA: Toppidrettsveka Day 2 - Stephen, Randall Top 10
August 21, 2015
Liz Stephen and Kikkan Randall cracked the top 10 in the third stage of Toppidrettsveka—a 15k skiathlon at the Knyken ski center in Orkdal, Norway, on Friday. Caitlin Gregg had a strong race, taking 11th, with Jessie Diggins 16th.
USSA: Toppidrettsveka Day 1 - Caldwell Takes 5th
August 20, 2015
Olympian Sophie Caldwell opened the three-day Toppidrettsveka rollerski stage race, finishing fifth in a classic sprint. Topidrettsveka is an annual weekend festival that this year has attracted the top World Cup cross country ski racers from Norway, Italy, Germany and the U.S. Ski Team. The stage race opened with an uphill foot run in the morning that saw the USA scored a pair of podiums with both Noah Hoffman and Liz Stephen finishing third.

Gear West: Fall Training Groups
August 20, 2015
Gear West's Technique and Training Program fires up in early September. Learn to ski faster, farther, smoother. The program meets every Wednesday night at French Park with Fall and Winter sessions available.
Related:
More Assistant Coaching Positions Posted
Memorial Service For Daniel Johnson
August 19, 2015
Daniel Johnson, heavily involved in western Wisconsin cycling, as well as ski grooming and volunteering at the Birkie, passed away earlier this month. There will be a memorial service next Saturday, Aug 29th, in Frederic, WI.
Outdoor Recreation Alliance Announces New Executive Director
August 19, 2015
The Outdoor Recreation Alliance of the 7 Rivers Region has announced the hiring of Jack Zabrowski as their new Executive Director.
Bike Dr: Bike Sale, Wheeling Wednesday, Ride to the Barns
August 19, 2015
The Bicycle Doctor's latest newsletter highlights Wednesday evening rides, upcoming Ride to the Barns, women's Mountain Bike Monday, and a number of sale items.