Borah Teamwear Launches Individual-Custom Ski Suit Platform
August 28, 2014
Borah Teamwear has announced a new design and build process that allows them to produce individual, custom designed ski suits. Check out the online system and try your hand at your own design.

Hoigaards Labor Day Weekend Sale
August 28, 2014
Hoigaards has a number of deals this Labor Day weekend, including the summer clearance offerings. This weekend summer clearance discounts climb to 50% of select apparel and footwear.

Nordic Sales Positions at Joes
August 28, 2014
Joe's Sporting Goods is seeking part-time sales associates for the Nordic ski department. Apply online.

Weekend Events
August 27, 2014
Aug 30-31 Laddies Loppet - Maplelag celebrates the MTB season with a big weekend stage race event.
Aug 30-31 Flambeau 40 - Road race on Saturday, time trial on Sunday - both Wisport events.
Aug 30 Badgerland FX - 6, 12 and 24 hour running events, all on a 400m track at Germantown HS.
Aug 30 Women Rock - Womens 5K, 10K or half marathon, with the course running along the St. Paul waterfront.
Sep 1 Victory 10K - Going on 32 years, this popular Labor Day tradition races on Victory Memorial Drive in Minneapolis.

Gear West Sales Opening
August 27, 2014
Gear West is looking for part-time sales help at their Run and Ski shop. Hours flexible, some evenings and weekends.
Volunteer Program for IPC Nordic Skiing World Championships
August 27, 2014
Organizers of the 2015 IPC Nordic Skiing World Championships taking place in Cable, Wisconsin, USA, have launched their volunteer program aimed at recruiting the multitude of helpers needed to host such a prestigious international event.
Hoigaards: Interval Training With Brian Gregg
August 26, 2014
Olympian Brian Gregg will be at Hoigaards this Wednesday evening for a presentation on interval training. Just a talk, so no need to get sweaty!
Midwest MTB Racing Report
August 26, 2014
Fall is on the doorstep as Jay Richards recaps the latest MTB racing news including reports from the Pre-Fat, Flugly, and WORS, while looking ahead to weekend events, including Maplelag's own Laddies Loppet stage race!
Local Stars
August 25, 2014
It Takes a Team - The strength of training as a team is emphasized in Jessie Diggins latest post.
Friendships - Rosie Frankowski reflects on friendships and motivation.
Life - Tough family health issues has Caitlin Gregg blogging on pushing through those difficult times and leading by example.
Back in the Game - Brian Gregg enjoys some well earned recovery and working with local youth programs.


Gear West: Custom Race Ski Selection
August 23, 2014
Let Birkie champ Matt Liebsch select your new race skis! Next week Matt heads to the U.S. distribution centers for Rossignol, Atomic and Salomon to hand pick the best skis.
Urban Trail Marathon Coverage
August 23, 2014
While the clouds obscured the sun, the high dewpoint made for a warm and humid Urban Trail Marathon Saturday morning in Saint Paul. The sticky weather did little to slow down Gerad Mead, who took the marathon title in strong fashion. Kevin Johnson and Timothy Villaran rounded out the top three. Paula Marozas and Jan Guenther raced together for much of the marathon before Marozas pulled away in the final miles to take the womens title, with Megan Maiser collecting third.
Related:
Photoset:

Indian Mounds Park - 83 photos,

Battle Creek Woods - 39 photos,

Battle Creek Prairie - 115 photos
Photoset:

Top Picks (high res)
Results: Urban Trail Marathon
Hoigaards Summer Clearance
August 22, 2014
With fall just around the corner, Hoigaard's is running their Summer Clearance sale. Save up to 40% on apparel and footwear (with even deeper discounts after Labor Day). Plus discounts on some summer equipment like bikes, bike accessories, inline skates, etc.
Maplelag Scholarship Winning Entries
August 21, 2014
Maplelag Resort has published the winning entries from their Scholarship contest, which recognizes graduating high school skiers who attended a training camp at Maplelag. Winners were Angela Patel (Rochester) for her essay, and David Uvig (Champlin Park) for his poem.
Bike Dr: Once In A Lifetime Sale
August 21, 2014
The Bicycle Doctor is clearing out 100 road bikes to get ready for this Nordic season, and throwing in 12 month financing on top end bikes. Plus check out the Ride to the Barns and future CXC clinics.
Midwest MTB Racing Report
August 19, 2014
Jay Richards MTB report this week features series racing taking place in Minnesota, Wisconsin and North Dakota with first-hand reports from the Minnesota and North Dakota races, mountain bike related items to note and the look ahead as summer starts to wind down and kids get ready to go back to school!
Finn Sisu State Fair Newsletter
August 19, 2014
Finn Sisu's latest update features State Fair sauna deals, 50% off running gear, a lecture on Monday, Aug 25th on nutrition basics for athletes, and info on fall training programs.
MNJRC Season Wrap
August 19, 2014
Jakok Ellingson reports: MNJRC, Minnesota Junior Cycling, concluded their road-racing season on Saturday at the Minnesota State Road Championships. Photo albums from the season season are posted. MNJRC supports junior riders ages 10-21, primarily in "drop-bar" cycling; Road, Track and Cyclocross. The outdoor riding season starts in April with a weekend camp, continues with a week long summer camp, and meets twice weekly through the end of the season.
BNS August Newsletter
August 19, 2014
Boulder Nordic Sports August newsletter highlights the development of their new Twin Cities shop, updated stonegrinding service, Woodski rollerskis, and trail running shoes sale.
Local Stars
August 18, 2014
Home - Nordic combiner and Eau Claire native Adam Loomis blogs on his recent vacation back home.
Sprints - Ben Saxton and Jessie Diggins rollerski sprint photos from SMS.
Opening Day - Wayzata girls CC program was featured as part of the kickoff for cross-country season.
Ironwood - Big photoset from a combined LNR, CXC camp up in Ironwood, MI.
Little Things - Jessie Diggins writes about the small details: adjusting priorities and schedules.
Trollhaugen Closes Down Nordic Trails
August 18, 2014
Trollhaugen has officially announced it will not be making snow for the Troll Hollow Nordic Center this season. The string of recent good snowfall seasons have made the Nordic operation unprofitable. They are planning to continue offering early morning Nordic on the downhills at the start of the season.
Midwest Mountaineering Customer Appreciation Party Aug 21st
August 18, 2014
Midwest Mountaineering is hosting their annual Customer Appreciation Party on Thursday, August 21st. Check out coupons for party specials, including free food and drink!
Urban Trail Marathon Saturday
August 17, 2014
Endurance United hosts their second annual Urban Trail Marathon this coming Saturday, August 23rd. Racing from the streets of downtown to the trails of Battle Creek, the event offers distances ranging from a quick 10K to a full marathon. Online registration closes Thursday (onsite Friday/Saturday).
Out There Newsletter
August 14, 2014
Out There shop has deals is offering additional discounts on existing markdowns, youth equipment exchange program, tips and options on growing the Nordic sport.
Trail Marathons Approaching
August 13, 2014
Three big trail marathons are fast approaching...
Aug 23 Urban Trail Marathon - Endurance Uniteds point-to-point race from downtown Saint Paul to Battle Creek.
Sep 20 Trail Loppet - The Loppet Foundation's big fall trail run is reporting big numbers of registrations and possible wave closures.
Sep 27 Birkie Trail Run and Trek - Save a little cash by registering before the next price hike on Aug 16th!
CXC Masters Clinic in Milwaukee
August 13, 2014
CXC will be hosting a Masters Clinic in Milwaukee this weekend, Aug 16-17. The clinic will feature morning workout sessions, covering both classic and skate technique.
Midwest MTB Racing Report
August 12, 2014
Sporting a huge update this week, Jay Richards MTB report has two first-hand accounts from the Ore to Shore, a report from Single Speed USA, a feature on Copper Harbor MTB trail system, as well as a look at the busy upcoming weekend events!
Local Stars
August 11, 2014
Soaring - St. Paul's own Christian Friberg won the US Ski Jumping Large Hill National Championship in Park City, UT, last week.
Two Weeks - Jessie Diggins recounts the past two weeks, including some Fast and Female camps and a little summer vacation time.
LNR TT - Some video highlights from a recent LNR rollerski time trial.
Patience - Rosie Frankowski reflects back on a serious injury recovery as she works through a summer cold.
U16 Camp Recap - Video montage from the U16 National Camp, in which a number of Midwest skiers participated.
Back in Town - Kyle Bratrud wraps up his Alaskan training time with APU and is back in the Midwest.
Crunch Time - Gear West begins their latest expansion with the demolition the old Adrenaline/casual store.
Performance Testing in Nordic Skiing Webinar
August 11, 2014
CXC is hosting a live streaming webinar on Performance Testing in Nordic Skiing, with Matt Whitcomb, Women's XC Coach, U.S. Ski Team. In addition to answering questions from coaches, Matt will share his personal testing philosophy, as well as some specific workouts that are effective benchmarks. The event is scheduled for 5 pm CST, Thursday, August 14th.
Deux Pipe Coverage
August 11, 2014
Eve Graves provides coverages on the Deux Pipe paddling races last weekend in Cloquet.
Related:
Photoset from Eve Graves:

Deux Pipe
Results: Deux Pipe
Vermont Coaching Position
August 11, 2014
Mansfield Nordic in Jericho, Vermont, is seeking to hire a Junior Team Development coach. Position may lead to the Head Coach for the Junior Competition Team next season.
Midwest Skiers Heading to NTG Camp
August 10, 2014
The National Training Group (NTG) camp for juniors (U20) starts this Thursday, August 14th, in Park City, Utah. The NTG camp brings the nation's best developing athletes together for a week of intense training and testing. The elite skiers representing the Midwest include Vivian Hett, Mattie Watts, and Zak Ketterson. (Rosie Frankowski was selected for the U24 group.)
Related:
NTG Camp Schedule Aug 13-20
NorthShore Inline Marathon
August 10, 2014
The next big rollerski event is the NorthShore Inline Marathon rollerski division race, September 13th in Duluth. A full marathon (26.2 miles), many skiers opt for race rollerskis (usually race wheels/bearings).
Hoigaards Paddle Derby Wrap
August 9, 2014
Jim Lind reports: The ten race 2014 Hoigaard's Paddle Derby ended on a high note with a record 61 race boats at the starting line. We had an excellent year with strong competition in canoe, kayak and stand up paddleboard divisions and paddlers aged from 9 years to 81 years old. With 33 seasons of paddle racing behind us we had the children and even the grandchildren of our early paddlers at the starting line this summer. Hoigaard's would like to thank everyone for showing up at Thomas Beach, paddle in hand, and we look forward to seeing you all next spring!
Related:
Results: Final 2014 Paddle Derby Results, Championship Awards
Ringer Roll Coverage
August 8, 2014
The Ringer Roll once again experienced great conditions for the annual 10K rollerski race around Baker Park, as skiers enjoyed light winds and temps in the mid 70s. CXC coach Andy Keller posted the fastest time on the day, racing on a pair of smoking race skis, following by Endurance United's Jeremy Hecker (also on race skis). Zak Ketterson was third overall, but tops in the stock skate rollerski division. Jen Rolfes edged out Bonnie Weiskopf-Albrecht by 11 seconds to take the womens stock skate division. Alex Larson and Sarah Bezdicek were the top classic division skiers. Results are up, plus a big batch of photos.

Duluth Ski Trails Master Plan Review
August 7, 2014
Duluth Parks and Rec will be presenting their mini master plan for the Duluth ski trails to the Parks commission on August 13th. Public opinions on the plan are being actively sought. Review the plans online and make your voice heard!
Midwest MTB Racing Report
August 6, 2014
Jay Richards latest MTB report contains race stories from Border Crossing, Wausau 24, and Wilderman, plus a look ahead to the Ore to Shore and UP riding.
Birkie Filling Fast
August 6, 2014
With more than 8,000 now registered, the Birkie events are filling fast and waves have been closing. If you're still planning to do the race and haven't registered, get to it!
National U16 Camp: An NNF Pillar Project Explained
August 5, 2014
National Nordic Foundation explains the U16 Camp, including the selection process and goals, plus links for coverage.
Related:
Photoset:

National U16 Camp
Finn Sisu: Running Deals, New Fischer Boot, Lectures and Training
August 5, 2014
Finn Sisu's latest newsletter highlights a 20% savings on running gear, the new Fischer racing boot, their summer lecture series, and signups for the fall Vakava training program.
Ski Hut: Demos and Raffles
August 5, 2014
Ski Hut's latest newsletter features upcoming Trek and Specialized demo events, a Trek bike raffle, and baseball bike evening.
Local Stars
August 4, 2014
Chester Gone - Chester Bowl ski jumps in Duluth are coming down.
Post Glacier - Jessie Diggins updates on activities after training up on the Eagle Glacier.
Coach for a Day - Nordic combiner Adam Loomis takes a turn at coaching.
Summer Ending - Enjoying her 23rd birthday and the final days of summer in Alaska, updates from Rosie Frankowski.
More Glacier - Kyle Bratrud posts another update from the Eagle Glacier.
And a bit further away...
A to B - A truly epic rollerski: 4,200 miles in 90 days!
Blink Photos - Loads of photos from the big Blink Festival (rollerski) in Norway.
Illinois Rollerski Race Series Race Report
August 4, 2014
Chris Pappathopoulos and Erica Mennerick took the opening titles in the Illinois Rollerski Race Series, held last Saturday. The series resumes with the next event in early September.
Related:
Rollerski Results 2014

Gear West Training Program Registration Open
August 4, 2014
Registration is open for Gear West Technique and Training Program. This program is designed to help skiers of all levels learn to ski faster and more efficiently–for the Birkie or just to enjoy Minnesota parks!
Spotlight: Vakava Juniors Summer Program
August 4, 2014
As the Minnesota summer junior Nordic training programs wind down their season, we caught up with the Vakava Juniors at Battle Creek on Monday morning. After a short warm up, the group performed a three lap fitness test, later graphing the results to compare their performance improvements over the summer. They also went through a set of strength tests, finishing up the session with consultations with the Vakava coaching staff, led by head coach Ahvo Taipale.
Related:
Photoset:

113 photos
Photoset:

Top Picks (high res)
Firehouse 50 Coverage
August 3, 2014
The annual Firehouse 50 is one of the most popular citizen cycling races in the Midwest. Kelly Randolph shares photos from this year's event.
Related:
Photoset from Kelly Randolph:

Road Race,

Time Trial, Ride the Divide
Results: Firehouse 50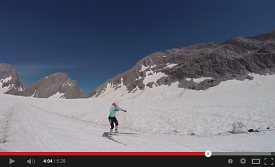 Haig Glacier Coverage
August 2, 2014
Coverage from the 2014 Haig Glacier Camp hosted by Endurance United and led by Matt Liebsch, including some cool video recaps by Taag Ebert.
Birkie Development Grants Program Now Open
August 1, 2014
The Birkie Foundation annually provides grant funding opportunities to skier development programs throughout the nation. Deadline for all applicants is September 1st.
Jumping: U.S. Ski Jumpers Compete for Champs Title
August 1, 2014
U.S. Ski Team ski jumping and Nordic combined athletes will be vying for national championship titles this weekend at the U.S. Ski Jumping Championships at the Utah Olympic Park in Park City Sunday, Aug 3rd.
Related:
Video:

Aug 2 Springer Tournee Livestream,

Aug 3 Large Hill Nationals
FAST KIDS August Camp
August 1, 2014
The Loppet Foundation is offering a special camp this August 18-21 for youth ages 8-13. The camp has two tracks, one for introductory and another for advanced level kids, and will feature sports like mountain biking, rollerskiing, and other fun outdoor activities.


New Toko Rollerski Gloves
July 31, 2014
Toko has released a new rollerski glove this season, the Toko Rollerski 2.0 glove. Plus a new product to help kill the odors in ski boots!
National U16 Camp Update
July 31, 2014
The National Nordic Foundation has posted a big update from the U16 camp going on this week in Jackson, WY. Midwest skiers Claire Benton, Anna Johnson, Amanda Kautzer, Erin Moening, Hannah Rudd, and Henry Gore are in attendance.
Related:
Photoset:

National U16 Camp
Midwest Mountaineering July Newsletter
July 30, 2014
Midwest Mountaineering's latest newsletter features a number of coupons, including 50% off deals and even a way to earn a free pair of SmartWool socks. Plus a big slate of upcoming events.