Trail Report / Training Report Drawing
Submit a trail report and be entered into our weekly $100 lodging gift certificate drawing.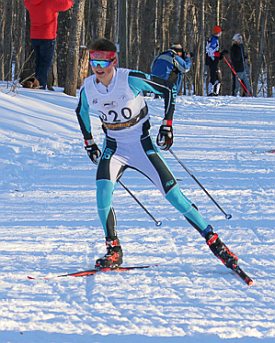 Alex Nemeth, Houghton JNQ freestyle race, December 16, 2018 (Photo: Jackie Schneider)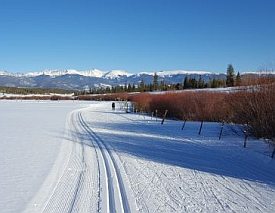 Snow Mountain Ranch, December 16, 2018 (Photo: Ken Kunzia)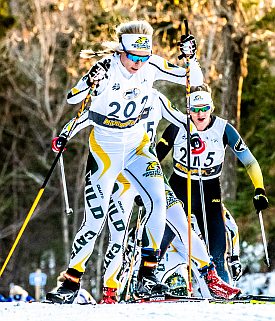 Women's 10K freestyle race, Houghton JNQ/CCSA, December 16, 2018 (Photo: Chris Schmidt)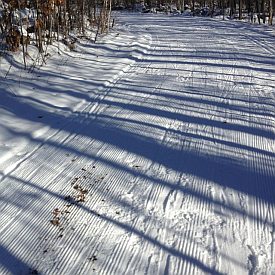 Giants Ridge, December 15, 2018 (Photo: Robin Raplinger)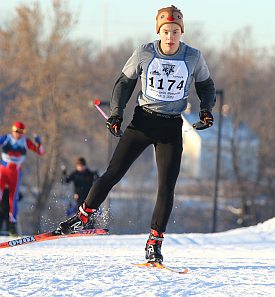 Dan Lee taking the junior boys team to victory, Hoigaards Relays, December 15, 2018
Skinnyski FAQ
December 4, 2011
We've collected together a bunch of common questions to assembly our own FAQ for cross-country skiing in the Midwest and using the Skinnyski website.
Skinnyski Photos
February 5, 2009
Found a photo you'd like to get a copy of? Looking for images from a past event? Find out how to dig through our archives and help support the web site by purchasing photographs.

MInnesota High School Nordic Skiing Rankings - Round 1
December 17, 2018
Our first round of in-season rankings is out! The Houghton JNQ races play a major factor in shuffling the individual rankings. Alex Nemeth, St. Cloud Cathedral-Sartell, takes the top boys ranking as Mara McCollor, Wayzata, solidifies her number one girls position. Stillwater continues as the top ranked teams.

Collegiate Racing Recap: CCSA, Alaska
December 17, 2018
Mary Kozloski recaps the weekend of collegiate racing with action from the Houghton races, as well as Midwesterners competing in the Alaskan Besh Cup series.

Finn Sisu: Cross-Country Skiing Basics Course
December 17, 2018
Finn Sisu is offering a four-week cross-country skiing basics program starting in early January at Como Park Ski Center lead by the shop's very own Ahvo Taipale. Suitable for beginning skiers or those looking for a technique tune-up. Separate nights for classic and skate technique.

Racing Outlook
December 17, 2018
Racing Outlook fires up with updates on the weekend events, including cancellation of the Skinny Santa race.

Weekend Trail Reports
December 16, 2018
For the most part, not too much damage from the warmer weekend weather. Still plenty of good skiing to be had. New reports from Theodore Wirth North(3), Maplelag

, Minocqua Winter, Elm Creek, Lapham Peak

, Grand Ave, Snow Mtn Ranch(2)

, North End, Mt. Ashwabay, Chester Woods(2)

, After Hours, Saint Mary's Univ

, Honey Tree Farm

, Hyland Lake, Mecca, and recent reports from Hyland Lake(3)

, Theodore Wirth North(3), ABR, Hoffman Hills, Valley Spur(3), Maplelag(3)

, Tower Ridge(3)

, Minocqua Winter(3)

, Flathorn-Gegoka, Afterglow Lake, Lapham Peak(4)

, Giants Ridge

, Honey Tree Farm, Swedetown, Standing Rocks(2), Birkie, Mirror Lake SP, Mount Itasca

, Iola Winter Sports, Pincushion Mtn, WinMan

, Bergland

.

World Cup Junior Racing Opportunity
December 16, 2018
Juniors, ever dreamed of racing at a World Cup event? The Quebec World Cup will offer a special Rising Stars juniors race on March 23, 2019 featuring a 10K classic mass start race (separate mens and womens events)! The race has a limited field with registration opening on morning of January 15th.
Related:
Korte Elite Wave Placement for Juniors

Houghton JNQ/CCSA Freestyle Coverage
December 16, 2018
Sunday on the trails at Michigan Tech skiers competed in mass start freestyle race for the Houghton JNQ/CCSA. Both mens and womens races came right down to the wire. In the women's 10K, Sarah Goble, MTU, outsprinted NMU's Nicole Schneider for the victory with Julie Ensrud, NMU, third. Mara McCollor was again the top non-collegiate junior, finishing 5th. The men's race saw NMU's Zak Ketterson best teammate Ian Torcia for the win with another NMU skier, Mathias Aas Rolid finishing third. Alex Nemeth was the top junior again on Sunday, taking 10th overall. Results linked in, photos featured from Jackie Schneider and Chris Schmidt.

World Cup Davos: Freestyle Distance
December 16, 2018
Period 1 of the World Cup wrapped up on Sunday with freestyle distance races at Davos, Switzerland. Norway's Therese Johaug continued her unbeaten streak, taking the victory in front of teammate Ingvild Oestberg with Finland's Krista Parmakoski third. Jessie Diggins notched a top five finishing 5th and Rosie Brennan pulled out another career best in 6th. Russian Evgenly Belov won the mens 15K with France's legend Maurice Magnificat second and Norway's Martin Sundby third. The best US mens performance was David Norris at 61st.
Related:
Results: Freestyle Distance
US Ski Team: Diggins Fifth, Brennan Posts Career-Best Sixth In Davos
Maplelag Invite Coverage
December 15, 2018
Jay Richards reports: St Paul Highland Park was host to the Natural Snow Season Opener 4.1km skate race under sunny skies and balmy conditions on the Maplelag trails this morning that included skiers from Chaska/Chan, Fergus Falls, Richfield and Brainerd. St Paul Highland Park swept both the individual and team titles with individual honors going to Nathaniel Alden in the boys race who edged out Nick Scheller from Chaska by one second. Anna Schmidt won the girls race, leading St Paul Highland Park to a top five sweep of the girls varsity.
Houghton JNQ/CCSA Classic Coverage
December 15, 2018
The Junior National Qualifier season kicked off on Saturday with classic races on the trails at Michigan Tech Univ in Houghton. The event also marked the first official collegiate (CCSA) race of the season. Number one ranked high school skier Mara McCollor put in a devasting race, taking the overall womens 5K title by 18 seconds. MTU's Sarah Goble was second followed by Nicole Schneider in third. The men's 10K was a close battle with NMU taking the top five, Kjetil Baanerud first, Zak Ketterson second and Ian Torchia third. Alex Nemeth posted the top junior time, finishing 13th overall. Results linked in, photos from Jackie Schneider and Chris Schmidt posted.
Hoigaards Relays Coverage
December 15, 2018
Nice weather on Saturday morning as temperatures were in the 20s and the sun was out for the Hoigaards Relays at Elm Creek. Jason Dalebroux summarizes: Masters Men was a close one, with Matt Liebsch / Joel LaFrance edging out Paul Olson / Alex Reich by a few seconds. Masters Women was another close race, the youngsters Lisa Garretson / Emily Muelner edging out the "oldsters" Laura Cattaneo / Heather Cichanowski by a few seconds as well. Masters Mixed was highly competitive, with some stiff competition. Spencer Ware-Joncas / Daisy Richmond with the win, and they were not far behind the Men's podium finishers! Juniors raced on a shorter loop, Boys title taken by Joey Quick / Dan Lee. Girls narrowly won by the threesome of Zoe Camp / Ava Cole / Katy Scott. Mixed title went to another threesome of William Minnich / Kate Dwyer / Lily Richmond.
World Cup Davos: Freestyle Sprints
December 15, 2018
The World Cup traveled to Switzerland this weekend for racing action at Davos. Saturday featured freestyle sprints and results showcased many skiers returning to form. Sophie Caldwell had an incredible comeback day, qualifying first and taking all her heats, and eventually battling Sweden's Stina Nilsson for the women's title, finishing second overall! Stina's teammate Maja Dahlqvist was third. Jessie Diggins, Sadie Bjornsen, Ida Sargent and Rosie Brennan all qualified for the sprint heats as well! Simi Hamilton led the US men's squad, advancing to the men's semifinals before dropping out. Wisconsin native Kevin Bolger just missed the heats, qualifying 31st. Sunday's events are freestyle distance races.
Related:
Results: Freestyle Sprints
US Ski Team: Caldwell Second In Davos Sprint
CXC Year End Matching Grant Challenge
December 13, 2018
CXC is in the middle of their year-end fundraising effort, and right now there is a matching grant for every dollar contributed. Help them reach their goal of $45,000.
World Cup Davos Weekend Series
December 13, 2018
The World Cup moves to Switzerland this weekend for two events at the ski resort of Davos. Saturday will feature freestyle sprints, Sunday is 10K womens and 15K mens freestyle races. Live coverage on NBC Sports Gold (snowpass) and Olympic Channel website, with broadcast replays on Olympic Channel later in the day. Times: Saturday sprint heats at 6:30 am CST, Sunday womens 10K at 2:30 am, mens 15K at 4:30 am.
Related:
US Ski Team: 12 Americans Ready For Davos Sprint, Distance Weekend
Davos Nordic Website
Web Roundup
December 11, 2018
Sparkle Season - Jessie Diggins reports in from the World Cup stops in Norway, including the big relay event.
Altitude - Alayna Sonnesyn's latest blog addresses her issues with altitude (and crashes/injuries) in the early SuperTour races.
Bussey - Meet the Loppet Foundation's new Event Director, John Bussey.
Kids on Skis - New Moon highlights the new Nordic Kids program in Hayward and has tips on encouraging your kids to love skiing.
8K A Day - Another Olympic article: Elite cross-country skiers eat as much as 8,000 calories a day!
The Woman - NY Times features former Minnesota State Champ Courtney Dauwalter and how she has been winning ultradistance running events.
Mesabi East Invite Information
December 11, 2018
Details on the 2019 Mesabi East Invitational have been posted. Mesabi is the biggest single day high school meet in the nation! Registration deadline is Dec 31st.