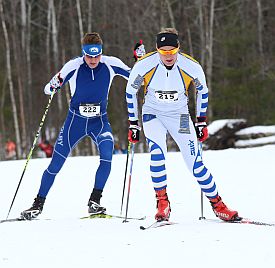 Dan DeLestry and Ian Liphart, Double Pole Derby, December 28, 2016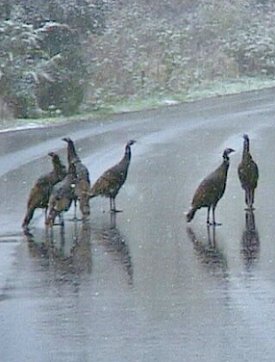 Turkeys hog one of the backroads near Afton, MN, November 26, 2002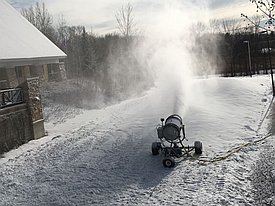 Snowmaking resumes at Elm Creek, November 19, 2017 (Photo: Pioneer Midwest)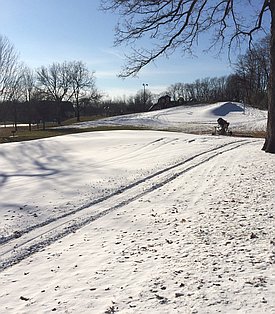 Snowmaking begins at Hyland Lake, November 19, 2017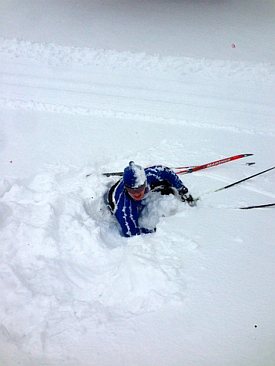 Deep snow, Chester Bowl, December 3, 2013 (Photo: Jay Richards)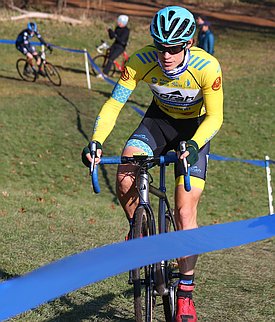 Mens 1/2 champ Bjorn Selander, Minnesota State CX Championships, November 18, 2017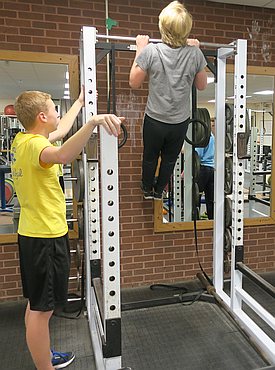 Winona High School Nordic ski team, November 13, 2017
Skinnyski FAQ
December 4, 2011
We've collected together a bunch of common questions to assembly our own FAQ for cross-country skiing in the Midwest and using the Skinnyski website.
Skinnyski Photos
February 5, 2009
Found a photo you'd like to get a copy of? Looking for images from a past event? Find out how to dig through our archives and help support the web site by purchasing photographs.

World Cup Ruka Series
November 22, 2017
The World Cup seasons opens this weekend in at Ruka Nordic in Kuusamo, Finland! Events include classical sprints Friday, classsical 10K/15K on Saturday, with an exciting freestyle pursuit 10K/15K format on Sunday. Most of the US squad is expected to complete, including Minnesota's own Jessie Diggins. Live streaming on NBC's Olympic Channel, starting with the heats Friday morning at 5:30 am CST.
Related:
Video:

NBC Olympic Channel
Results: FIS Live Results
World Cup Ruka Facebook Page
World Cup Ruka Competition Program
World Cup Ruka Website


US Ski Team: Wall-to-Wall Nordic Coverage from NBC Sports Group

CXC Marathon Cup Ready for Third Season
November 22, 2017
The CXC Marathon Cup kicks off the series on January 13th with the Seeley Hills Classic in Hayward. The series offers a number of competitions, allowing for skiers of all ages to participate.

End of Year Racing in NW Wisconsin
November 22, 2017
Post-Christmas racing action in NW Wisconsin:
Dec 29 Spooner Holiday Dash - Mass start high school races on the Spooner City Trails.
Dec 30 Double Pole Derby - High school classical races in the morning, citizens freestyle racing in the afternoon.

Trail Report Updates
November 22, 2017
Cooler weather is improving ski conditions up north, plus reports from out west. Trollhaugen will have open XC hours on Friday! New reports from Central Gunflint

, ABR, Elm Creek

, Baggs Field, Michigan Tech Univ

, Rendezvous, Lappe, Theodore Wirth North

, and recent reports from ABR(2), WinMan

, Giants Ridge, Flathorn-Gegoka

, Trollhaugen downhill

, Snow Mtn Ranch

, Rendezvous

, Lappe

, Terrace Oaks, Snowflake(2)

, Swedetown.

Black Friday Deals and More
November 21, 2017
A number of shops are running specials this Thanksgiving holiday...
Gear West Black Friday Sale - Starts Wednesday, special packages and deals on current model skis and boots.
Hoigaards Holiday Sale - Special coupon for 20% off purchases of $100, $250, $500 and $1000.
New Moon Black Friday Sale - Blowouts specials, deals on hats, apparel, wax, ski equipment and more!
BNS Turkey Dale Deals - 50% off closeouts along with special ski packages.
Finn Sisu Small Business Saturday - Save 30% on all current model Yoko cloth, including the famous lobster mitt gloves.
Out There White Wednesday Sale - Specials starting Wednesday!
Pioneer Midwest Holiday Sale - Loads of XC gear on sale, including some big discounted items.
Ski Hut Anniversary Sale - Three days only, great deals on ski packages and more.
Three Rivers Nordic Opener Coming Dec 9th
November 21, 2017
Three Rivers Park District is celebrating the start of cross-country ski season with a huge event planned for Saturday, Dec 9th at Elm Creek. A large vendor presence is planned including demo products from nearly all the major manufacturers, plus local shops, races, lodging and more. And presentations throughout the day.
Related:


Lt. Governor Tina Smith to Proclaims Dec 9th to be Nordic Ski Opener Day in Minnesota

Midwest Snowmaking Projects Update
November 20, 2017
There is significant snowmaking expansion happening across the upper Midwest this season, and even more in the development stages. We take a look at a number of the projects and their current status. Many of these projects need additional funds to reach their goal -- please consider a contribution today!
Thanksgiving Events
November 20, 2017
As tradition, there are a number of Thanksgiving Day events on tap...
Nov 23 Walk Trot Run Eat - A morning 5K race, based out of the Sawyer County Airport in Hayward.
Nov 23 Turkey Day Trail Trot - Endurance United hosts a 5K trail run at Battle Creek.
Nov 23 Turkey Day 5K - Life Time Fitness big Thanksgiving 5K in downtown Minneapolis.
Nov 23 Gobble Gallop - Duluth's 5K Thanksgiving run, out and back on Superior Street in downtown.
Nov 23 Turkey Trot - Madison's own 5K event, through and around Quann Park.
And many more events going on, search your hometown event calendar.
Web Roundup
November 20, 2017
Thunderstruck - Caitlin Gregg had a little unnecessary excitement in West Yellowstone last week, being struck by lighting as reported by FasterSkier.
Living It Up - NMU freshman Erin Moening posts her first blog update since joining the ski team last fall.
Martin Rolls - Adam Martin took top honors earlier this month out East a 10K classical rollerski race in Stowe, VT.
Odd - Loppet Foundation profiles one of their premiere Master skiers, Odd Osland.
Frozen Timing - Zone4 provides an inside look (video) at their timing of the Frozen Thunder event last month.
Epic Snow - Ski resorts out West are enjoying big snow depths for the opening of the downhill season.
Duluth Yesteryear - MPR looks back at the glory days of ski jumping in Duluth.
Stream It - NBC is planning to stream 1,800 hours of Winter Olympic coverage.
100 Days of Winter - The City of Lakes Loppet was featured in Outside Magazine's 100 Days of Winter event list (as well as the Fat Bike Birkie).
Loppet Thanksgiving Midwest Ski Trip
November 20, 2017
Weren't able to get to West Yellowstone but still want to get on snow this Thanksgiving? Join the Loppet Ski Club on a trip to the ABR Trails in the UP, Friday thru Sunday, Nov 24-26. Options for transportation and lodging available!
ABR Grooming Clinic Set for Jan 30th
November 20, 2017
ABR will be hosting their annual Grooming Clinic on Tuesday, January 30th. The clinic provides a chance to learn about grooming technique from experts in the field, as well as checking out the latest equipment.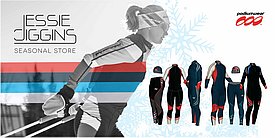 Podiumwear: Jessie Diggins Season Storefront Now Open
November 19, 2017
In what has become an annual holiday season tradition, Podiumwear is again offering Nordic apparel with designs by Olympian and hometown hero Jessie Diggins! Check out the new suit designs, the classic "over the top" socks, as well as hats and neck cozy.
FIS and Collegiate Racing Update
November 19, 2017
Mary Kozloski recaps the opening weekend of major FIS races in Norway and Sweden, as Midwesterners Nichole Bathe and Annie Hart competed. Plus a brief recap and results from the first collegiate racing action in Alaska - the Alaska Cup, with three Minnesota gals taking part.
Chester Bowl Shared Trail Use Survey
November 19, 2017
DUluth Parks and Rec has announced that Chester Bowl trails will be designated as shared use for walkers and skiers this season, and they are requesting public input on the trail usage.
Classified Deals
November 19, 2017
Plenty of great used equipment on sale in the classifieds. Find your own "Black Friday" deal!
Minnesota State CX Championships Coverage
November 18, 2017
Sunny Saturday for the Minnesota State Cyclocross Championships at Bassett Creek in Crystal. Pro rider Bjorn Selander broke away early to easily capture the mens 1/2 division title. Racing action continues Sunday.
Related:
Photoset:

Mens 1/2 - 143 photos,

Womens 1/2/3 - 60 photos
Photoset:

Top Picks (high res)
Results: Day 1
Bearskin November Newsletter
November 17, 2017
The latest Bearskin Lodge newsletter from up on the Gunflint features their grooming and skiing already this season plus has some special offers.
Weekend Ski Swaps
November 16, 2017
Another big weekend for ski swaps! Events going on in Minneapolis, Long Lake, Mora, Grand Marais, and Marquette.
New Moon: Skin Skis
November 16, 2017
New Moon has a breakdown on the hot trend in classic skis -- skin skis. Learn what a skin ski is, and how the new versions provide better performance is nearly all conditions. Then stop in their shop to demo a pair!
Related:
New Moon Catalog Signup
Salomon: Jessie Diggins Video Premiere in Yellowstone
November 15, 2017
If you are attending the West Yellowstone Ski Festival, join Salomon at the Holiday Inn on Friday evening, Nov 24th for the World Premiere of Jessie Diggins' Salomon TV Episode. And there will be prize giveaways from Swix, Nuun, Bose, and Salomon!
Out There: Ladies Clinic January 6th
November 15, 2017
Out There is hosting a Ladies Clinic in early January and it's filling up fast. Advanced and Beginner sessions (classical and/or skate) with strength and conditioning afterwards, followed by dinner.
Biathlon: Roster Announced for Opening World Cups
November 14, 2017
The U.S. Biathlon International Competition Committee met today and named Paul Schommer to join Lowell Bailey, Tim Burke, Leif Nordgren and Sean Doherty on the men's World Cup Team for World Cups 1-3. Additionally, trials winner Kelsey Dickinson along with Emily Dreissigacker were named to join Susan Dunklee and Clare Egan for the women's World Cup Team for World Cups 1-3.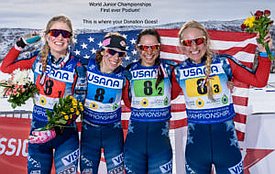 NNF Drive for 25 Campaign - Where the Money Goes
November 14, 2017
The National Nordic Foundation has released a slick video highlighted the impacts NNF funding has had on some of the top juniors. Please show your support by contributing to one of the fundraising campaigns of your favorite Midwest ambassador:
- Jessie Diggins
- Bryan Fish
- Team Gregg
- Nicole Schneider
- Yuriy Gusev
- Ian Torchia
- Abby Jarzin
- Loppet Nordic Racing
- CXC Team
- Northern Michigan Univ
- Adam Loomis
- Ben Loomis
Web Roundup
November 13, 2017
Bet on Yourself - Jessie Diggins posts a November update as she wraps up her state-side training before heading overseas for the start of the season.
Ice and Intensity - Nordic Combiner Adam Loomis reports on an intense 11 day training sessopm in Oberstdorf, Germany.
Four Legged Friend - Gear West's Jan Guenther shares tips on how to include your dog in your ski training.
Sparkle - NBC's Olympic website has a video feature on Jessie Diggins and her sparkle. More coverage.
To Belgium - Corey Coogan Cisek moves to Belgium for a 90 day crack at the cyclocross circuit.
Scaling the Top - Former high school XC champ Courtney Dauwalter's strength in ultra running is profiled by the Star Tribune.
Bike Sharing 2.0 - Minneapolis may soon offer dockless bike rentals.
Imagination - One incredible urban freestyle skiing/music video featuring Tom Wallisch.
Snoring App - A St. Paul inventor/wizard is launching a phone app that aims to help people with snoring problems.
Washington County Undertaking Snowmaking Study for Lake Elmo
November 13, 2017
Washington County will discuss a fesability study for snowmaking at Lake Elmo Park in their Park and Open Space Commission meeting this Thursday evening, November 16th at the Cottage Grove Service Center.
Opening Day: Winona High School Nordic Ski Team
November 13, 2017
Minnesota's high school Nordic skiing season started on Monday! We dropped in on Winona High School for opening day practice. Under the guidance of new head coach Jacob Teichroew, the team briefly met for some introductions then headed out for a short warmup run around part of Lake Winona. Skiers then participated in a strength test session to establish a an initial benchmark for the season. The test included sets of pull ups, sit ups, box jumps, push ups and bench dips. Practice wound down with locker assignments and general first-day paperwork. The team plans to be out on their fleet of rollerskis by mid-week, and hopefully on snow at St. Mary's University by early December.
Related:
Photoset:

Winona High School Nordic Ski Team - 72 photos
Photoset:

Top Picks (high res)

Midwest Racing Season Preview
November 12, 2017
With the ski season already underway for some and racing action starting up in less than a month, we present our annual Midwest Racing Season Preview. Find out about some of the new events and changes this season, as well as a few that will drop off, and start making your plans for the season!
Gear West: West Metro Ski Swap this Weekend
November 12, 2017
On Saturday, Nov 18th, Gear West will host the West Metro Ski Swap with proceeds benefiting the Nordic teams from Mound-Westonka, Orono and Wayzata. Drop your stuff off Thursday, Friday evenings, then get out there early Saturday morning for the deals!
Related:
Fall Ski Swaps
Fischer: Yellowstone Ski Festival Demo Reservations Now Open
November 12, 2017
Heading West for the big Yellowstone Ski Festival around Thanksgiving? Fischer has opened their online reservation system, allowing you to score dibs on some new boards and boots to test drive on snow!
Rivet Run Coverage
November 12, 2017
Eve Graves reports: Sunday morning's Rivet Run event went off without a hitch despite having icy, snowy conditions thanks to hard working volunteers who sanded, salted, shoveled and used an ice pick to make the trail safe for participants. We had 93 participants ranging in age from 11 to 76 who all finished safely. Paul Gucinski, 37, won this year's event in 25:50 and 11 year old Sofia Brandis, of Ashland, WI was 5th overall and the first female with a time of 27:18. Proceeds from benefit the trails at Pattison State Park.
Related:
Photoset from Eve Graves:

Rivet Run
Results: Rivet Run
BNS: Jason Cork Clinic Monday
November 10, 2017
BNS Midwest is hosting a clinic with US Ski Team World Cup coach Jason Cork Monday evening, Nov 13th at their Bloomington shop. Cork is Jessie Diggins' coach so expect a report on how she and the rest of the US Team are preparing for the upcoming season.
Battle Creek Snowmaking Effort Renewed
November 9, 2017
Finn Sisu is urging skiers to contact members of of the MN House and Senate investment committees and voice their support for snowmaking at Battle Creek. The project is seeking $2.1 million in state bond funding with an equal amount being provided by Ramsey County and private donors. Check out Jessie Diggins' call-to-action video, plus talking points and contact info for legislators.
Weekend Ski Swaps
November 9, 2017
Once of the biggest ski swap weekends of the season! Find events in Duluth, Brainerd, St. Cloud, Plymouth, and in Wisconsin at Hayward, Stevens Point and Dousman.
LNR JNQ and Collegiate Racing Presentation
November 6, 2017
Loppet Nordic Racing is presentation this Sunday, Nov 12th, for those interested in learning about Junior National Qualifier (JNQ) racing and XC skiing in college. LNR Coaches Chris Harvey and Piotr Bednarski led the discussion with Q&A afterwards - skiers and parents are invited!
Birksgiving Twin Cities
November 9, 2017
Embrace the giving season by supporting Phase 2 of the Birkie Honoring the Legacy - Ensuring the Future Capital Campaign with a special event in the Twin Cities, Nov 29th. Find out the latest on snowmaking, a new outdoor center at OO, Birkie at the Super Bowl, and even a Telemark update! Register now for the event.