Midwest MTB Report
October 26, 2016
Jay Richards Midwest MTB report this week covers Blacks Grove Crossing, the Sawtooth Challenge, updates on Minnesota and Wisconsin high school racing (as well as articles on programs out east and west), the new Otso bikes, Red Bull Rampage, and the usual look at upcoming events.

Grand Avenue Nordic Center Campaign Fall Kickoff Party Thursday
October 25, 2016
Join DXC for a party Thursday evening to kick off the fall season and the campaign to bring Grand Avenue Nordic Center to life. There will be a live band (The Boomchucks), and they'll have a casual dinner and cash bar.

CXC Chairman's Awards
October 25, 2016
At the CXC/USSA Wayne Fish Coaches Conference last weekend, the Chairman's Awards were presented, honoring some big contributions by individuals from the Midwest. The Igor Badamshin Coach of the Year award went to NMU's Sten Fjeldheim, Craig Jarvinen was named volunteer of the year, John Hugus Leadership award went to the Loppet's John Munger, and Dennis Kruse was recognized with the Tony Wise Lifetime Achievement Award.

Web Roundup
October 24, 2016
Family Time - Caitlin Gregg pays tribute to the family members helping to support Team Gregg.
Lathi 2072 - Ben Saxton writes from the future, where the World Championships are held on a beach.
Fall Update - Jessie Diggins updates on her fall training with plenty of photos.
Ironwoman - Jan Guenther reflects on her Wisconsin Ironman and lessons that extend to life and work.
Breaking the Silence - Numerous skiers contribute to a message on eating, skiing and body image in XC skiing.
Roller Bank - The new US Bank stadium will open its doors for inline skating and running this winter.
50 Years Running - Outside Magazine features an 80-year-old runner and his philosophy on running after 50 years.
Zwift - Indoor cycling goes massive multiple player online gaming.
SuperFit Weekend at Finn Sisu
October 24, 2016
CXC's Super Fit series makes their first stop this season, working with Finn Sisu this weekend, Oct 28-30. Stop in and get top advice from CXC athletes and coaches, as well as the Finn Sisu experts, and bring your old equipment for evaluation.
SISU Ski Fest First Price Hike Nov 1st
October 24, 2016
The Sisu Ski Fest will have their first price hike coming up on Nov 1st. Read up on some of the changes they have planned this year, and get registered at the ground floor pricing!

BNS: Stone Grinder Update
October 24, 2016
Dave Chamberlain of Boulder Nordic Sport provides an update on the Boulder Nordic Sport stone grinding operation, including performance of their new stone grinding machine, pre-grinding new skis, and results of their testing from the previous seasons.

New Moon Ski Catalog
October 24, 2016
New Moon has released the cover for their 2016-17 season catalog and will begin shipping them out on Nov 1st. Sign up now to get your free catalog.
Ride and Glide Ski Club Workouts Begin Nov 1st
October 23, 2016
Ride and Glide provides weekly technique and workout sessions at Lake Elmo Regional Park and at Elm Creek on Tuesday nights. Formal sessions begin on Nov 1st and run through February. The group is open to all levels.
Related:
Midwest Training Programs
Frozen Thunder: Canmore Opens Snow Loop
October 23, 2016
Over the weekend, Canmore Nordic Center in Alberta, Canada, opened their fall snow loop which will be used for the Frozen Thunder events later this week. The loop is created from snow harvested last season and kept undercover over the summer. The first race is this Friday, Oct 28th, and will cover 7.5K freestyle for the women and 10K for the men. The following Tuesday and Thursday will be sprint events.
Related:
Video:

Oct 20 Frozen Thunder grooming
Oct 23 Canmore Snow Report
Frozen Thunder
LNR MEA Time Trial Coverage
October 22, 2016
Loppet Nordic Racing held an MEA weekend time trial in the Hayward area on Friday. Skiers competed on classic rollerskis over a 5.8K course. Xavier Mansfield and Kelly Koch posted the top times for the field.
World University Games Staff Positions
October 21, 2016
Team USA is seeking two experienced service staff members for the 2017 World University Games in Almaty, Kazakhstan, Jan 25-Feb 9th. Staff members will work in a service team of three, including the Head Wax Coach, to prepare internationally competitive race skis for a 16-athlete team.
CXC On Snow Juniors Camps
October 21, 2016
CXC is offering a couple of on-snow training camps this winter, including weekends at Wolverine Village in Ironwood and Telemark Condos in Cable. The camps are open to juniors 14-19 years old and will be led by coaches Karmen Whitham and Bruce Manske.
Fast and Freaky 5K Fundraiser
October 21, 2016
Orono Nordic Ski Club is holding a Fast and Freaky 5K Halloween Fun Run on Saturday morning, Oct 29th. Post race activities include a bonfire, treats and awards.
Three Rivers Park District Ski Clubs
October 20, 2016
Three Rivers Parks District offers cross-country ski clubs for beginning, intermediate, and advanced skiers. Whether the goal is to get out and ski with other beginners, or get conditioned and learn racing techniques for a citizen ski race, there are several ski clubs to choose from.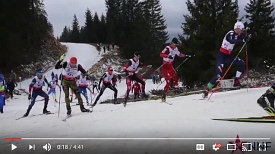 Drive for 25 Matching Grant Challenge
October 20, 2016
Make your donate worth double -- contribute now to the NNF Drive for 25 campaign and help them earn a $25,000 match grant. And check out their great promotional video!
Related:
Video:

Why Drive for 25?
Team XC United 2016-17 Season
October 19, 2016
Matt Liebsch has announced details on the 2016-17 Team XC United, which is open to all abilities while focusing on intermediate to advanced skills and training techniques. There are a number of perks with the team including wax services discounts and lactate profile with video. The first training session is this Sunday, Oct 23rd.
Midwest MTB Report
October 18, 2016
Jay Richards MTB report this week covers border crossing MTB racing, Robin Williams bike collection, Steve Tilford's accident, trail repairs in Duluth, and a look ahead to Black's Grove Crossing race.
Fall Ski Swaps
October 18, 2016
A couple of fall ski swaps are on tap this weekend, including a celebration of the grand opening of the new chalet at Giants Ridge, swap at Kamview in Thunder Bay, and kids ski swap as part of the Loppet's Trail Kids winter kickoff on Monday.
CXC SuperFit Series
October 18, 2016
CXC Super Fit is a weekend sale program at select Midwest locations where you can receive information first hand from CXC Team athletes and coaches about equipment, ski fitting, pole and wax selection. Plus bring in your existing equipment and have it evaluated. Stops this fall include Finn Sisu, Fontana Sports, Bike Doc, and Joe's Ski Shop.
Web Roundup
October 17, 2016
More - Team Gregg helps support fellow In-The-Arena athlete Zoila Gomez during the Twin Cities Marathon.
Slacking - Paul Schommer updates on his fall training, including slack line sessions and correlations to life.
Duluth Recovery - Trail clearing after the July windstorm in Duluth is taking longer than expected.
MN High School Fall Coaches Meeting Update
October 17, 2016
The Minnesota High School Fall Coaches meeting is coming up at the end of the month, and they are requesting RSVPs for those planning to attend.
DXC Wednesday Night Hill Bounding Sessions
October 17, 2016
Duluth XC is offering Wednesday evening hill bounding workouts with Jason Kask at Chester Bowl. The sessions are free.
Over the Peak Kick Off Party Nov 12
October 16, 2016
Come out Saturday evening, Nov 12th, for a discussion about cross country skiing in Southeastern Wisconsin and beyond. Guest speaker Ben Popp, Director of the American Birkebeiner Ski Foundation, will describe the exciting changes coming for Birkie 2017!
New Moon: Ladies Night Coming Nov 12th
October 14, 2016
New Moon's Annual Ladies Night is on the calendar for the evening of Nov 12th. Held in conjunction with the popular HASTA Ski Swap, this is a great weekend to visit Hayward and get fired up for the coming ski season!
Out There: Fall Frost Update
October 12, 2016
Out There reports frost in the woods and a lot of activities going on, including Team Out There athletes flying high, podcasts, new ski kits, youth equipment exchange, Trail Kids winter sessions, and exciting news about a new club in Barron County.