CSS/St.Olaf Meet at Marshall School, December 7, 2013 (Photo: Dave Johnson)
Related:
Collegiate Results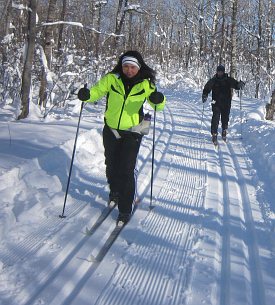 Piedmont, December 7, 2013 (Photo: Eve Graves)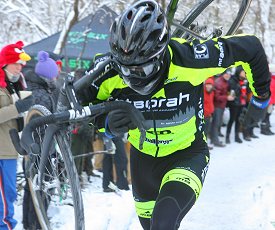 Eric Thompson, Minnesota State CX Championships, December 7, 2013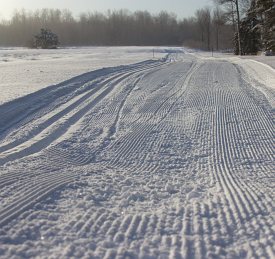 ABR, December 7, 2013 (Photo: Ben Mullin)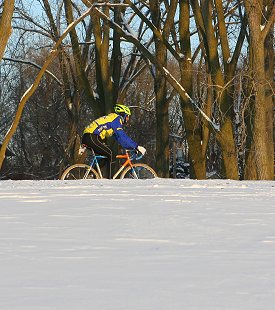 Minnesota State CX Championships, December 7, 2013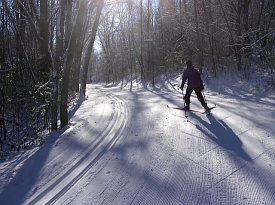 French Regional Park, December 7, 2013 (Photo: Bill Lundberg)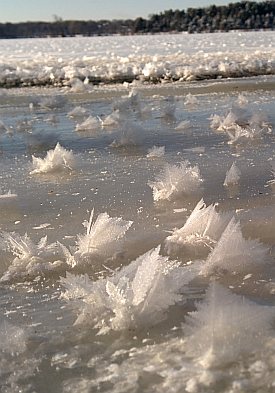 Ice feathers on Lake Vadnais, December 6, 2013
Skinnyski FAQ
December 4, 2011
Probably long overdue but we've collected together a bunch of common questions to assembly our own FAQ for cross-country skiing in the Midwest and using the Skinnyski website.
Skinnyski Photos
February 5, 2009
Found a photo you'd like to get a copy of? Looking for images from a past event? Find out how to dig through our archives and help support the web site by purchasing photographs.

US Ski Team: USA Matches Best-Ever Relay
December 8, 2013
World Champion Jessie Diggins anchored a strong U.S. team made up of Kikkan Randall, Sadie Bjornsen and Liz Stephen to take third in the 4x5k relay and match the best-ever World Cup result for any U.S. cross country relay team. Heavy snow hammered the 1994 Olympic course, but Randall was able to give the team a solid start in the podium hunt. Norway I took the relay. In the mens event, Russia posted a surprise upset over the top two Norwegian teams. US men were 17th.
Related:
Nordic Combined: Fletcher Top 10 in Lillehammer

Sovereign Lake NorAms: Freestyle Results
December 7, 2013
Brian Gregg and Matt Liebsch posted phenomenal races in British Columbia Saturday for the Sovereign Lake NorAm freestyle races, taking first and second overall!
Related:
Results: 10K, 15K freestyle

Minnesota State CX Championships Coverage
December 7, 2013
Racing in some of the coldest temperatures in event history, a solid turnout contested titles in the Minnesota State Cyclocross Championships at Bassett Creek Park Saturday. Temperatures below zero were only slightly tempered by bright sunshine and light winds for the afternoon races. In the womens race, Jennifer Nowlin pulled away from Carol Jeane Sansome to be crowned the Cat 1/2 champion. Eric Thompson capped his dominance of the mens Cat 1/2 cyclocross scene, adding State champion to his long list of victories this season. More titles will be decided on Sunday.
Related:
Photoset:

Womens Cat 1/2 - 65 photos,

Mens Cat 1/2 - 113 photos
Photoset:

Top Picks (high res)
Results: Day 1

Submitting Race Results and Photos
December 7, 2013
With the high school racing season underway, we're posting a refresher course on submitting race results (and hopefully some photos -- parents?).

US Ski Team: Bjornsen 7th Again in Lillehammer
December 7, 2013
Sadie Bjornsen delivered another breakout result Saturday in the Lillehammer 10k classic World Cup, where she skied into seventh and matched her career-best individual result set just a week ago in Kuusamo, Finland. Randall was 16th, Diggins 30th.


Mt Borah: New Pro XC Race Suit Designs
December 6, 2013
Mt. Borah is releasing five new Pro XC Suit designs and matching hats, available now, just in time for the holiday. Online ordering available.

Midwest Grooming Expo/Clinic Jan 15-16
December 6, 2013
ABR will be hosting their annual grooming expo and clinic, January 15-16 (midweek), showcasing the latest equipment, and offering seminars and tips for beginners to seasoned grooming vets. Expo is free, there is a cost for the clinic (second day).
Weekend Skiing and Trail Reports
December 5, 2013
Groomers have been busy and a lot of trail systems are coming online, with more every hour. Don't let the cold temperatures dampen your enthusiasm, dress appropriately and enjoy the great snow this weekend! New reports from Como GC(4)

, Zippel Bay SP, Theodore Wirth(3), Gooseberry Falls SP

, Boulder Lake(2)

, Elm Creek(4)

, Eagle Lake

, North End, Troll Hollow, Snow Mtn Ranch, Phalen GC, Graystone, Noquemanon, Minocqua Winter(2), Valley Spur, Highland 9-hole GC, Andes Tower Hill, Hartley, Willow River SP, Rainbow, St. Croix SP

, Fort Snelling SP, Woodland(2), Spirit Mtn(2), Hornet Hiihto, Magney-Snively, French(3), Korkki, Terrace Oaks, Hiawatha GC, Tower Ridge(2)

, Brown's Creek, Baker, Jackson Meadow, Irvine, Barron Association, Razorback Ridges, Battle Creek West(2), Sugarbush(2), Two Harbors, Superior MF, Snowflake, Birkie, Piedmont

, Jay Cooke SP, William O'Brien SP, ABR

, McNaughton Lake, Lester GC, Carver, Mt. Valhalla, Michigan Tech Univ, Vasaloppet, and recent reports from Mt. Ashwabay(2), Hartley, Highland 9-hole GC, North End, Wood Lake Nature

, Terrace Oaks

, Lebanon Hills

, Sunfish Lake

, Tamarack Nature

, Vadnais/Sucker Lakes

, Snail/Grass Lakes

, Lake Elmo(2), Valley Spur(5), Chester Bowl

, Snowflake, Sand Dunes SF

, Vasaloppet, Birkie(2), Blue Hills, Rainbow

, Mother Bear, Piedmont, Baker(2), After Hours(3), Theodore Wirth, Ashland, Central Gunflint, Lester

, Battle Creek East, Como GC(3), Boulder Lake(2), Eagle Lake, Camp Forest Springs, Carleton College Arb, Maplelag

, Univ of Minnesota GC, French

, Lindenwood(2), Lake Minnewashta, Baylor, Elm Creek, Flandrau SP, Rendezvous, Timberland Hills, Ramsey Countys, Northland Arb, Noquemanon, Aurora

, Raven, McNaughton Lake, Madeline Lake, Escanaba , Two Harbors.
Related:
Cross-Country Ski Rentals
NE Minnesota Dec 2-5 Snowfall Map
Dec 3-4 Snowfall Map
Mesabi East Registration Open
December 5, 2013
Registration is now open for the 2014 Mesabi East high school invite at Giants Ridge, scheduled for January 11, 2014. Registration must be completed online, and by the January 3rd deadline. And this year, there is a field limit of 1300.
Final Ski Swaps
December 5, 2013
The final two big ski swaps/used equipment sales are coming up: Dec 7th Hoofer Resale in Madison, Dec 14th Three Rivers Used Ski Sale.

Womens XC Training Weekend
December 5, 2013
The snow is here, so don't delay on this any longer -- Riverbrook and Gear West are hosting a Womens XC Training Weekend, Dec 14-15 on the Birkie Trail! Top notch coaching, and a bit of pampering as well.
Related:
Gear West Womens XC Training Weekend
NFL Family Special
December 5, 2013
National Forest Lodge is offering a family special package with big discounts on some of the biggest holiday weekends this winter. You'll need to book by Dec 8th to take advantage of these rates.
Weekend Events
December 4, 2013
Nordic racing season starts next weekend, so this is the last of the weekend events updates...
Dec 7-8 Minnesota CX Championships - The Minnesota cyclocross championships should be another epic event with all the new snow!
Dec 7 Wisconsin CX Championships - While not quite as snowy, the Wisconsin championships in Milwaukee will still have some cold weather to deal with.
Elm Creek Series Results
December 4, 2013
Enduring slippery roads, major traffic backups, and dropping temperatures, over 15 skiers turned out Wednesday night for the opening race of the Elm Creek series. Craig Stolen and Maddie McKeefry collected the top times.
Jakob Ellingson: Canmore
December 4, 2013
Jakob Ellingson, the Minnesota State Meet champion from last season as well as one of the up-and-coming biathlon junior stars, is taking a season off from post-secondary education to focus on training and competing full-time. Ellingson checks in on his last day in Canmore, Alberta, after spending nearly a month training and racing in Canada.
Bike Dr Weekly Newsletter
December 4, 2013
The Bike Doctor's latest newsletter highlights their Bock with the Doc (beer and waxing!), updates on the snowfall, special ladies event, and their monthly drawing.
CXC Challenge Grant
December 4, 2013
CXC has a matching challenge grant drive on-going, attempting to raise $40K by the end of the year in order to receive a $20K matching donation. Special Sochi mittens for $100 donors!
Birkie Trail Pass
December 4, 2013
With all the fresh snow, and sound of grooming equipment around the northland, it's a good reminder to start getting those trail passes! If you enjoy skiing the Birkie trail, then a Birkie trail pass should be on your holiday shopping list!
Related:
Trail/Park Fees
SEC Freestyle Relays Coverage
December 3, 2013
Scoring the first high school meet of the season, the SEC conference competed in a two-person freestyle sprint relay format at Troll Hollow on Tuesday evening. Top ranked Forest Lake edged out tough squads from Mounds View and Stillwater to take the boys victory. Stillwater girls topped the Roseville and Forest Lake teams in another tightly matched competition. Results and photos posted.

Gear West Winter Technique and Training Group
December 3, 2013
Improve your technique and fitness with great coaching and a fun group of skiers with Gear West's Wednesday Night Training Group. Winter session starts Wednesday, Dec 4th, but you can start a week or two later if needed.
Kyle Bratrud: Thanksgiving Break and Upcoming Races
December 3, 2013
Kyle Bratrud enjoyed the Thanksgiving break skiing -- and not at West Yellowstone, but rather right here in the Midwest. Catch up on his training (and a little school work), plus get a tip for watching World Cup racing.
RollerskiShop Holiday Gift Guide
December 3, 2013
RollerskiShop.com has published their own holiday shopping guide, offering a wide range of products for the skier on your shopping list.
Save Lebanon Hills Wilderness Rally Dec 9th
December 3, 2013
Citizens concerned about possible development plans for Lebanon Hills that include an asphalt trail system that may impact the ski trails, are encouraged to attend an information rally meeting on Monday, Dec 9th, at the Falcon Ridge Middle School.
MSHSL Proposal Voting Update
December 3, 2013
Voting on the changes to Minnesota State Meet qualifying proposal shows roughly half the teams have weighed in. The remaining member teams have until Friday, Dec 6th to cast their ballots.
Local Stars
December 2, 2013
Ruka Recap - Diggins recaps her adventures in Finland for the Ruka Triple.
Yellowstone - Bill Pierce has a write up and loads of photos from the CXC group in Yellowstone.
Waxing On - Timelapse video of wax techs preparing for Yellowstone races.
Great Gregg - Fasterskier highlights Caitlin Gregg's sweep of the Yellowstone SuperTour. And Gregg's photo collection.
Thanksgiving - Brian Gregg gives thanks to the support they've received.
And dipping back a little...
Champlin Roller - Fun rollerski video with the Champlin Park team.
Ben Saxton: First Races
December 2, 2013
Ben Saxton reports in from Montana, recapping his West Yellowstone racing experience as he prepares for the next SuperTour events in Bozeman.
Racing Outlook
December 2, 2013
The Racing Outlook fires up for the first time this season as it appears there will be racing this Wednesday night at Elm Creek! And maybe a short-notice race up north this weekend??