Trail Report / Training Report Drawing
Submit a trail report and be entered into our weekly $50 store gift certificate drawing.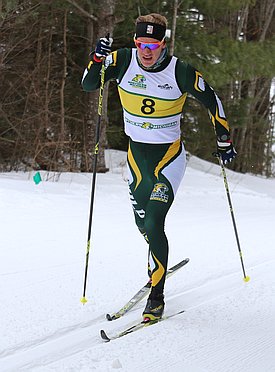 Zak Ketterson strides to the top collegiate time, CCSA Regionals/SuperTour, February 18, 2018 (Photo: Jackie Schneider)
Related:
Results and photos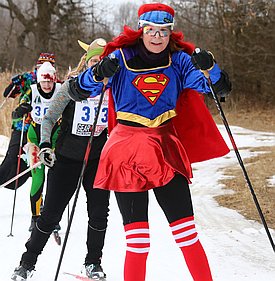 Snowflake/Inga-lami races, February 18, 2018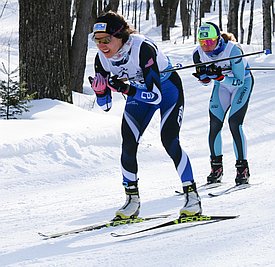 Chelsea Holmes and Caitlin Gregg out front, CCSA Regionals/SuperTour, February 17, 2018 (Photo: Jackie Schneider)
Related:
Results and photos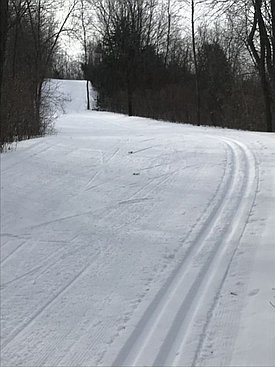 French Regional Park, February 17, 2018 (Photo: Tom Ajax)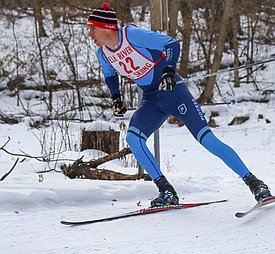 Zach Varty, Woodland Loppet, February 17, 2018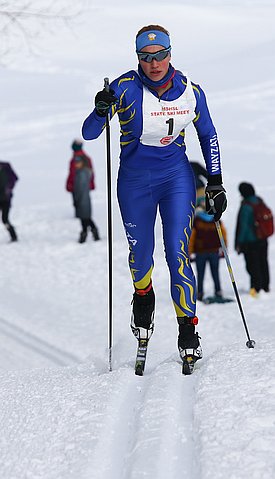 Mara McCollor leads out the field in the girls classical pursuit, Minnesota State Meet, February 15, 2018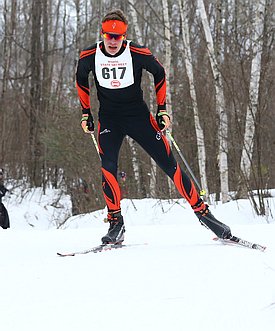 Garrett Beckrich, boys champion, Minnesota State Meet, February 15, 2018
Skinnyski FAQ
December 4, 2011
We've collected together a bunch of common questions to assembly our own FAQ for cross-country skiing in the Midwest and using the Skinnyski website.
Skinnyski Photos
February 5, 2009
Found a photo you'd like to get a copy of? Looking for images from a past event? Find out how to dig through our archives and help support the web site by purchasing photographs.

Midwest Junior National and U16 Championship Teams Announced
February 19, 2018
After the final JNQ races at Mt. Itasca on Sunday, the points were tallied up and the Midwest team was announced, along with the preliminary roster for the U16 Championships. Note that this list will likely change some as there may be a few collegiate skier additions, and possibly some declines.
Related:
Midwest Junior National Team Info, Forms

Fast Wax Birkie Clinics, Expo
February 19, 2018
Fast Wax will be hosting a couple of waxing clinics this week, and will be up in Hayward later in the week for clinics and the big Birkie Expo.

State Meet Recap
February 18, 2018
We look back on the Minnesota State Meet, providing a short recap and delving into some expanded stats, as well as reviewing predictions.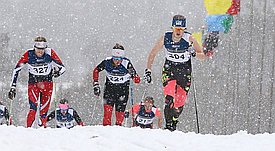 Junior Nationals Coverage Support
February 18, 2018
Looking for Skinnyski coverage on the upcoming Junior Nationals competition this March at Soldier Hollow? Help make that happening by supporting our funding effort with your individual or company contribution.

Weekend Trail Reports
February 18, 2018
While the warm weather has continued to erode some trail systems, there was still plenty of great skiing around much of the region over the weekend. New reports from Irondale, Highland 9-hole GC, Baker, North End(2), Amen Lake, Suomi Hills, Sugarbush, Hiawatha GC, Birkie(3), Willow River SP, Hickory Ridge, Saint Mary's Univ, Battle Creek West, Lake Elmo

, Escanaba, Forest Springs Camp, Razorback Ridges, Rib Lake, Honey Tree Farm, Valley Spur, Balsam Branch, Mukwonago, Nine Mile Forest

, Hyland Lake, Northland Arb, Cut Lake, Wolverine, Gatineau, Minocqua Winter, Chomonix GC, Washburn Lake Solitude, Elm Creek, Legion, Three Island

, Goose Lake, and recent reports from Reforestation Camp(2), Northwoods, French, Chain of Lakes, Theodore Wirth South, Spring Rapids, Northland Arb, Tower Ridge, Cleary Lake, Lapham Peak, CLCF(2), Nordic Woods, Escanaba, Hickory Ridge(3)

, Elver, Wild River SP, Forest Springs Camp, Swedetown, Murphy-Hanrehan, Nine Mile Forest, Lakewood XC, Maplelag, Red Cedar River, Bagley Nature, Cannon Valley, Timberland Hills

, Central Gunflint

, Giants Ridge, Levis/Trow Mound, Sugar Hills, Nordmarka, Honey Tree Farm, Hyland Lake, Tamarack Nature, Minocqua Winter.

Midwest Junior Championships March 2-4
February 18, 2018
The Midwest Junior Championships (MJC), hosted by the Loppet Foundation and MYSL, is a weekend of competitive and festival events focused on youth and young juniors. It is a great way for all middle school school skiers that raced with their High School teams to have a chance at age group competition, as well as a friendly way to introduce younger kids to competition. Check out the full schedule of events, set for March 2-4 at Theodore Wirth.

Coleraine JNQ Freestyle Races
February 18, 2018
Wrapping up the JNQ series on Sunday, Mt. Itasca hosted 5K and 10K freestyle races. Luci Anderson skied to the top of the women's 5K field, posting the only sub 17 minute time with Mara McCollor just 3 seconds back. Showing the depth of the men's U18 field, Peter Moore took the 10K race today with James Schneider second, along with two Mt. Itasca skiers, Alex Kelling and State Champ Garrett Beckrich, who all skied under 30 minutes. U16 victories went to Cooper Lennox and Mia Case.
Related:
NCAA Regionals/SuperTour 5K, 10K Classical Results

Snowflake/Inga-lami Coverage
February 18, 2018
After some heroic shoveling efforts over the past couple of days, the Baker Park ski trails had enough natural snow to host the annual Snowflake/Inga-lami fun ski events on Sunday morning. Results pending, photos up now.

Olympics: Men's Relay
February 18, 2018
It was the men's turn on Sunday for relay racing with the 4 X 10K event at the Winter Olympics. Once again the athletes from Russia played a major role in the event, as Alexander Bolshunov ripped apart the field in the second leg of the classical portion. Norway's Olympic star Simen Hegstad Krueger managed to reel in the deficit on the first leg of the freestyle, and then Johannes Klaebo toyed with the leaders on the final leg, on some rocket fast skis. Klaebo eventually expended some energy in the last 500 meters to take gold for Norway. Russia was second, with France taking the bronze medal. The US men had a rough day, finishing last in the 14 team field.
Related:
Results: Men's Relay

Coleraine JNQ Classical Sprints
February 17, 2018
Mt. Itasca was host on Saturday for classical sprints in the Midwest Junior National qualifying. Mt. Itasca's own Alex Kelling won boys U20/U18 sprint final with Peter Moore, 2nd (top U18), and Ryan Mead third. The girls U20/U18 final was all U18 as State Champ Mara McCollor took the victory, followed by Triana Willmert and Regan Duffy. Daniel Huhtala and Libby Tuttle won the U16 finals.
Related:
NCAA Regionals/SuperTour 15K, 20K Freestyle Coverage

Minnesota Finlandia Results
February 17, 2018
Over 130 skiers turned out Saturday for the Minnesota Finlandia races at Buena Vista ski area north of Bemidji. Wynn Roberts collected another Finlandia 50K freestyle title, with Kerrie Berg taking the women's field. The 25K Bemidjithon titles went to Cory Ellertson and Susanne Vande Vyvere. Craig Cardinal and Elspeth Ronnander won the 25K classical races, with 25K pursuit victories earned by Erik Pieh and Anna Dehler.
Related:
Woodland Loppet Coverage
Eirawen20 Results
Olympics: Women's Relay
February 17, 2018
An exciting women's relay race at the Winter Olympics on Saturday night as race positions changed frequently, sometimes dramatically, on each leg. In the end the race came down to the final leg with Sweden's young sprinter Stina Nilsson taking on Norway's veteran Marit Bjoergen. For a while it appeared Nilsson was just drafting, waiting for the final 250 meters, but it was Bjoergen that added to her own legend, keeping the tempo high to the finish and eliminating any final run from Nilsson as Norway captured gold, Sweden silver, and some athletes that happen to come from Russia, third place (for now). The US women fell behind under a tough early pace but recovered to take 5th.
Olympics: Men's 15K Freestyle
February 16, 2018
The men's turn on Friday for the distance freestyle race as they competed in a 15K interval start event at the Winter Olympics. Switzerland's Dario Cologna skied a strong race to come out 18 seconds ahead of Simen Hegstad Krueger for the gold, with RUssian Denis Spitsov collecting the bronze. Scott Patterson had the top US result finishing 21st. Canada's Alex Harvey was 7th.
State Meet Coverage
February 15, 2018
Overcast with temps in the low 20s made for fast conditions for the morning skate races at the Minnesota high school State Meet at Giants Ridge. Mara McCollor, Wayzata, took the opening freestyle race but has some pressure from Luci Anderson, Armstrong, Hannah Bettendorf, Proctor/Hermantown, and Sarah Olson, Blaine, all within 30 seconds. The boys race was even closer with Grand Rapids star Garrett Beckrich the skate leader followed closely by Wayzata's Luc Golin and Peter Moore, SPA, both within 11 seconds, and another six skiers within 30 seconds! In the afternoon classical pursuit, Mara McCollor held the lead to the finish to win the girls title, followed closely by Hannah Bettendorf, with Sarah Olson, Blaine, taking third in a sprint finish with Regan Duffy, Forest Lake. In the boys pursuit, Garrett Beckrich kept his narrow advantage over the field and powered in to victory with Anders Sonnesyn, Wayzata and Luc Golin finishing second and third. The team races were a highly contested battle with the Wayzata boys just barely holding on to first, by two points, over Stillwater, Forest Lake third. The girls title was won by Stillwater, Forest Lake second and Robbinsdale-Armstrong third. Results posted, along with big photosets.
Madshus: Optimizing Skin Skis
February 15, 2018
Madshus offers a 3-step guide to perfect kick and glide with skin skis. Skin skis continue to top the sales charts, and it's easy to see why: Skin skis make it a breeze to get out for a weeknight workout.
Olympics: Women's 10K Freestyle
February 15, 2018
A day of dramatic and heartbreaking finishes on Thursday for the Winter Olympics in the women's 10K freestyle race. Jessie Diggins narrowly missed setting American women's history coming up less than 4 seconds short of a medal, finishing fifth. Norway's newest star on Ragnhild Haga crushed the field for the gold medal with Sweden's Charlotte Kalla taking silver and a remarkable tie between Finland's Krista Parmakoski and Norway's Marit Bjoergen for bronze. The US women had a strong showing with Sadie Bjornsen 15th and Kikkan Randall 16th.
Cook County: Candlelight and Ski Festivals This Weekend
February 14, 2018
Visit Cook County is excited to share multiple fun-filled cross country ski events for President's day weekend, February 16-18th. On Saturday enjoy the Sugarbush Candlelit Ski and Snowshoe event along the Sugarbush Trail, Sunday check out the Pincushion Mountain Family Ski Festival in Grand Marais.
New Moon: Spectating, Stats, Sales, and Ski Demos
February 14, 2018
The latest New Moon newsletter highlights supporting Your Birkie Skier, a look at Birkie Stats with Jim Coors, their Annual Birkie Sale revs up and free Fischer Twin Skin Ski Demo at OO.
Gear West: Birkie Wax Clinics
February 14, 2018
Gear West is offering two Birkie wax clinics next week:
Monday - Skate Waxing Clinic by Matt Fox
Tuesday - Classic Waxing Clinic by Brian Knutson
BNS: End of Season Sale
February 14, 2018
BNS is offering end of the season pricing, even with a number of weeks left to go yet. Savings on current model skis plus last year's boot models from Madshus, Rossi, Fischer, Alpina, and Salomon at 50% off.
PSIA Valley Spur Cross-Country Clinic Feb 17-18
February 14, 2018
Amy Powell will be hosting a Professional Ski Instructors of America (PSIA) Classic and Skate Technique Workshop for the beginner to the advanced skier this weekend, Feb 17-18 at Valley Spur in Munising, MI.
Minnesota State Meet Preview
February 13, 2018
The Minnesota high school State Meet is this Thursday, Feb 15th, at Giants Ridge. We've got our breakdown on the top individuals and teams, including our picks, as well as some helpful resources.
Related:
Send Skinnyski Back to SOHO
Web Roundup
February 13, 2018
Annie's Olympics - Annie Hart has been posting blog updates from the Olympics, primarily from the opening ceremonies so far.
Vasaloppet - Elspeth Ronnander of Vakava Racing shares her Vasaloppet 42K classic story.
College Skiing - Erin Moening, now with NMU, covers her experience making the transition from high school to collegiate racing.
Birkie Peaking - Gear West's latest podcast covers how to peak for the Birkie, as well as race feeds.
Birkie Fanguide - New Moon offers suggestions for the Birkie spectator or support person, including places along the course.
Gear Talk - Finn Sisu has guest writer Marje Carr-Oxley highlights some of her favorite products for the big events ahead.
Flexibility - Jake Brown's blog updates on his biathlon season as they travel to Norway and extend their racing season.
Nordic Skiing is Fun - Slate has a rebuttal to a NYT Magazine feature that drew a strong response from the skiing community.
Snow Destroyer - Reports out of the Winter Olympics claim cold snow is destroying, literally, downhill ski bases.
Ski's the Limit - Star Tribune feature on Jessie Diggins hard work and goals (just one of dozens of articles on Diggins in the last week - another from Washington Post).
Klaebo Gump - You've seen the movie 'Forrest Gump'? And you've noticed Norwegian Klaebo's unusual classic technique? Then enjoy this spoof video from NRK.
Olympics: Classic Sprints
February 13, 2018
Another windy and cold day of racing at the Winter Olympics as skiers competed in the classic sprints. The US women qualified three for the heats: Jessie Diggins 7th, Sadie Bjornsen 9th and Sophie Caldwell 12th. Diggins advanced all the way to the final, including an impressive stretch finish in her semi-final, but it was Sweden's sprinting star Stina Nilsson that easily captured gold with Norway's Maiken Caspersen Falla silver and Russian Yulia Belorukova bronze. Johannes Hoesflot Klaebo, Norway, looked unbeatable throughout the heats and crushed the men's field on the final climb to take gold, Federico Pellegrino of Italy silver and Russian Alexander Bolshunov bronze. Simi Hamilton had the best performance for the US men, qualifying 19th with Erik Bjornsen 30th, but neither advanced from the quarterfinal stage.
Racing Outlook
February 13, 2018
Updates on upcoming events: Snowflake/Inga-lami is scheduled for Baker this weekend; Wednesday night series are on, Finlandia course looking fantastic.
Skinnyski.com High School Rankings - Final
February 12, 2018
The final Skinnyski.com Minnesota high school rankings are out, with some shakeup after sections. Anders Sonnesyna and Mara McCollor, both of Wayzata, remain the top ranked skiers, but Stillwater girls take over #1 team position, as the Wayzata boys glide on in front. State Meet Preview coming up hopefully Tuesday night.
West Yellowstone Annual Rendezvous Ski Race March 3rd
February 13, 2018
Ready to head back to West Yellowstone? The annual Rendezvous Ski Race on the trails in West Yellowstone is coming up on March 3rd. A great way to continue your Birkie form and enjoy a vacation out West.
Collegiate Racing Recap: CCSA, RMISA, EISA
February 12, 2018
Another full weekend of racing on the collegiate circuit as all the major divisions were in action. Mary Kozlowski brings us up-to-date on the winners and Midwest performances across the wide span of races.