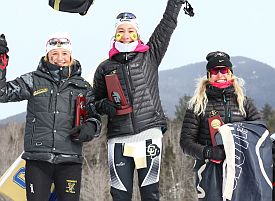 Alayna Sonnesyn on the womens 15K freestyle podium in 2nd, NCAA Championships, March 11, 2017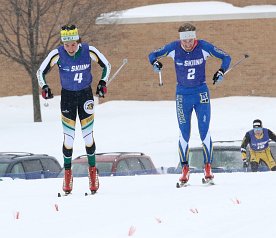 Close cens finish, NCAA Regionals, February 21, 2016 (Photo: Karen Brown)

Michigan Tech Twin Cities Engagement Event this Weekend
September 19, 2017
Michigan Tech University is holding an alumni and friends of the MTU Varsity Cross Country, Nordic Ski, Track & Field Team event in the Twin Cities this weekend, Sep 23-24. Come out and cheer on the team at the Roy Griak races Saturday morning, then hit the trails at Hyland Park in the afternoon with food and drink afterwards.
Midwest JN and U16 Coaching Openings
September 12, 2017
CXC and Midwest junior committee has posted openings for Midwest Junior National and NENSA U16 Coaching positions for the big events coming in March 2018. Application deadline is mid-October.
Related:
Job Opening: Ski Technician at NTDC in Thunder Bay
Tom Smith Announced as Michigan Tech Nordic Coach
June 13, 2017
Tom Smith has been named the head coach of the Michigan Tech men's and women's Nordic ski teams MTU athletic director Dr. Suzanne Sanregret announced today. Smith, a native of Bend, Oregon, comes to Houghton after serving as the Head Coach of the Sun Valley Ski Education Foundation in Ketchum, ID, and brings 14 years of coaching experience.
2016-17 Season Highlights
May 1, 2017
Catch highlights plus full results and photos from the 2016-2017 collegiate racing season.
University of New Mexico Ski Team Cut
April 14, 2017
The University of New Mexico ski team has recently been cut, in a surprise move. Supporters are asking for your help in getting the program back by signing their petition.