Alayna Sonnesyn, NCAA Championships, March 9, 2017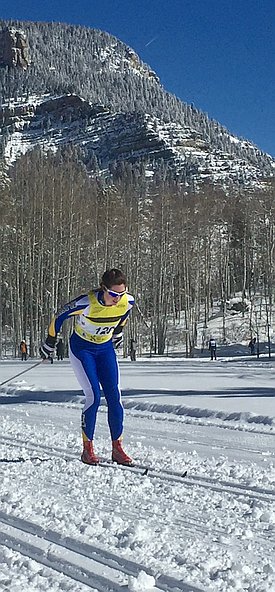 Anja Maijala, Denver Invite, February 11, 2018 (Photo: Mary Kozloski)
Jeremy Hecker Named UW-Green Bay Nordic Coach
September 7, 2018
Green Bay Director of Athletics Charles Guthrie has announced the hiring of Jeremy Hecker as the new head men's and women's Nordic skiing coach, effective September 2018. The native of Andover, Minnesota, comes to Green Bay after spending a year as an assistant collegiate Nordic skiing coach with Williams College.
Nordic Combined: USA Nordic Announces 2018/2019 Junior National Team
May 31, 2018
USA Nordic has announced that 23 athletes from around the country have been named to the 2018/2019 USA Nordic Junior National Teams in the disciplines of Ski Jumping and Nordic Combined. Included on the roster are two Minnesota siblings, Aiden and Charolette Ripp of Cloquet, MN. Jumpers from Wisconsin, Illinois also made the squad.
Collegiate Racing: From Cross-Country Skiing to the Marine Corps
May 3, 2018
Minnesota native and Colby College skier Andrew Egger outlines his journey from cross-country skiing to the Marine Corps, and reflects on the many benefits and support he received along the way.
2017-18 Season Highlights
May 1, 2018
Catch highlights plus full results and photos from the 2017-2018 collegiate racing season.