UWGB team at the Stump Farm trail race, October 28, 2018 (Photo: Cathy Putman)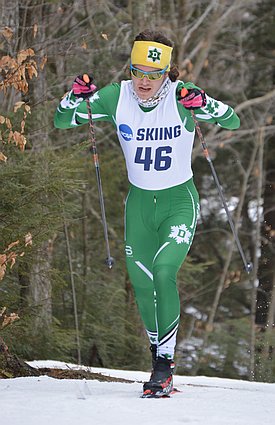 Luke Brown, Middlebury Carnival, February 23, 2018 (Photo: Linda Kerker)

Collegiate Racing Recap: CCSA, RMISA
December 10, 2018
Mary Kozloski is back for another season, bringing us racing recaps from the collegiate scene across the US with emphasis on the Midwest skiers. Kozloski kicks off the coverage with recaps of the CCSA races last weekend as well as early racing action up in Alaska.

CCSA: UP Opener Classic Coverage
December 9, 2018
The format switched to classic on Sunday for the UP Opener but the results were the same -- Zak Ketterson, NMU, and Sarah Goble, MTU, repeated as champions. Ketterson's victory was over a minute ahead of teammate Mathias Rolid with Kjetil Baanerud third as NMU men took the first five places. Goble's winning margin was much smaller, less than four seconds ahead of Nadine Matter, NMU, with Sarah Bezdicek, NMU, in third. Results linked in, along with photos from Jackie Schneider of the men's race.
CCSA: UP Opener Freestyle Coverage
December 8, 2018
The Central Collegiate Ski Association (CCSA) season got underway on Saturday with freestyle races at Al Quaal in Ispeming, MI. Michigan Tech's Sarah Goble captured the first win of the season in the women's 5K with Northern Michigan's Nicole Schneider and Sarah Bezdicek taking second and third. Zak Ketterson showed strong early season form in posting the only sub-25 minute time in the men's 10K. MTU's Gaspard Cuenot was second with Kjetil Baanerud, NMU, third. Results linked in, photos from Jackie Schneider posted!
Midwest Junior Trip Staffing Announced
December 5, 2018
The Midwest region coaching and support staff for Junior Nationals, the U16 Championships, and the Canadian Nationals has been announced. Julia Curry, head coach, and Chris Harvey, trip leader, will drive the Junior National squad, Bjorn Hanson directs the U16 Championships team, and Bruce Manske will be in charge of the Canadian Nationals trip.
CCSA Season Preview
December 2, 2018
The Central Collegiate Ski Association (CSSA) begins their 2018-19 racing season this weekend! Mary Kozloski has an in-depth look at the coaches and skiers for all the teams in the CCSA.
SuperTour: West Yellowstone Weekend
November 28, 2018
The SuperTour series starts this weekend with races in West Yellowstone, MT. Saturday, Dec 1st, is freestyle sprints, Sunday, Dec 2nd, is 10K and 15K interval start freestyle races. CXC will be offering free livestreaming this weekend: sprint heats 12:45 pm Saturday; freestyle races starting at 11 am Sunday.
Related:
Super Tour West Yellowstone Website
CXC Announces College Cup Series
November 19, 2018
The CXC College Cup is a newly established race series for college clubs and teams in the Midwest region. It aims at creating a competitive structure for clubs/teams outside of the NCAA circuit.
Related:
CXC Junior Cup Race Series Prepares For Its Second Season
LNR Presentation on JNQ and Collegiate Racing This Friday
November 6, 2018
LNR Coaches Chris Harvey and Piotr Bednarski will be hosting a presentation on Junior National Qualifying and Collegiate Racing this Friday evening, Nov 9th, at the Trailhead at THeodore Wirth. This presentation is open to all parents and junior skiers.
NNF: Drive for 25 Underway, Ambassadors Needed
October 21, 2018
The annual major fundraising campaign for the National Nordic Foundation, the Drive for 25, has begun. While in the early stages, they could use your help: donate today and/or become an ambassador!
CXC: Call for Spring Junior Trip Coaches Applications
September 30, 2018
Volunteer coaches are being sought for the Midwest Junior Nationals, U16 Junior Championships, and U18 Canadian Nationals trips coming up next spring.
Related:
CXC Annual Coaches Conference and Certification, Oct 19-21
CXC Fall Coaches Education Clinics
Endurance United Junior Cup Meeting Set for Thursday
September 23, 2018
Endurance United is hosting an information meeting on junior racing this Thursday, Sep 27th, at their offices in St. Paul. Athletes and parents are encouraged to attend.
Jeremy Hecker Named UW-Green Bay Nordic Coach
September 7, 2018
Green Bay Director of Athletics Charles Guthrie has announced the hiring of Jeremy Hecker as the new head men's and women's Nordic skiing coach, effective September 2018. The native of Andover, Minnesota, comes to Green Bay after spending a year as an assistant collegiate Nordic skiing coach with Williams College.
2017-18 Season Highlights
May 1, 2018
Catch highlights plus full results and photos from the 2017-2018 collegiate racing season.