Borah Teamwear Releases Custom Cycling Sock Program
Coon Valley, WI. Borah Teamwear has officially launched its latest addition to the companies long list of made in USA custom apparel items, custom sublimated socks. "We spent well over a year and thousands of miles trying to get these socks just right", said Chris Jackson, company owner. "It was a real trick to develop a cuff which had similar properties to high quality knit designs, yet was able to be sublimated", added Jackson. The company is confident they achieved the right balance of performance and design options with the new socks, allowing for full custom designs, unlimited colors, and a 24 pair minimum order quantity. While most custom cycling sock companies require 120 pair minimums, the sublimated sock program reduces the amount of setup and therefore allows for the super low minimums. Small teams, clubs and corporate accounts can now match their team kits without the hassle of limited design options and large MOQ's.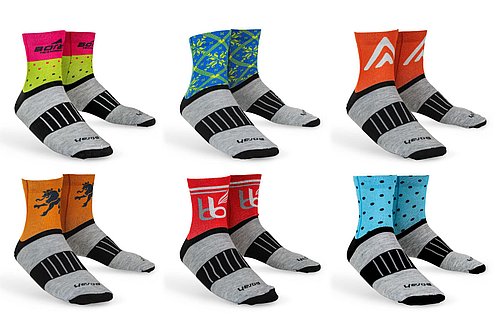 Borah Teamwear offers the new custom socks in sizes small/medium and large/x-large. Two cuff lengths are available, both a regular 4" cuff and a longer 6" cuff. The socks cost $15.00 for regular cuff length and $17.50 for long cuff length, all setup fees included. Learn more about Borah Teamwear's custom sock program.
About Borah Teamwear
In business since 1997, Borah Teamwear has grown to become a premier manufacturer of high-quality custom sublimated active outdoor apparel. Borah's offering includes cycling, running, triathlon, nordic, alpine and casual wear.
All of Borah's products are 100% custom made at the company's solar-powered headquarters in Coon Valley, WI, where the latest technological advancements in apparel design and production are utilized