Fast Wax Slick Kit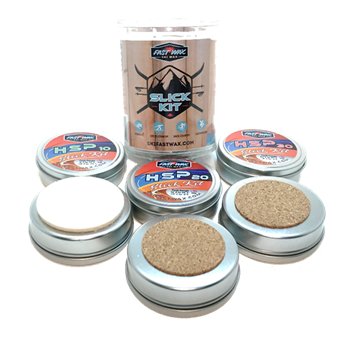 Announcing the Fast Wax Slick Kit. The Slick Kit has everything you need to quickly and easily wax your skis at the mountain or at the trail head!
The kit includes three tins of paste wax covering all winter temperature ranges. Inside each tin is a wax applicator and on the bottom is a cork or felt pad. So small and well built you can keep your Slick Kit in your boot bag!
Application instructions are included on the back of the label. The container features a tight-fitting lid to keep the paste wax from drying out.
An easy to use and affordable solution for casual skiers or boarders looking to go fast. Ideal for Nordic or alpine skiers, anyone who wants to go fast needs to wax!
Kit Contents
HSP 10 (25 g) w/felt pad
HSP 20 (25 g) w/cork pad
HSP 30 (25 g) w/cork pad
(3) Applicators
Application instructions
Fast Wax Sticker
Heavy duty container w / hanger