Elite Racing Weekend Recap
by Mary Kozloski
February 20, 2017
CCSA/SuperTour - Central
ISHPEMING, Michigan (February, 17-19 2017) - The CCSA and the SuperTour circuit races coincided on the Al Quaal trails for a weekend of extremely competitive races. NCAA qualification were on the line for the CCSA, as they raced their NCAA Central Region Championships which consisted of a 15/20k freestyle mass start and a 5/10k individual classic race. The USSA Hall of Fame SuperTour kicked off Period III, with a freestyle sprint and a 5/10k individual classic race. Northern Michigan University dominated once again, in the final races of the season. Tyler Kornfield (APU Nordic Ski Team) and Julia Kern (SMS Elite Team) grabbed the SuperTour sprint titles, while David Norris (APU Nordic Ski Team) and Kaitlynn Miller (Craftsbury Green Racing Project) took the classic distance wins.
"Wow, the Ishpeming and Marquette community threw a great welcome to the Super Tour community," said Brian Gregg. "It is wonderful to have the Super Tour back in the Midwest and the courses, volunteers and organization of the events was fantastic. It is unique to be racing in such warm temperatures during February but the warm weather proved great for spectating and the courses held up great."
Competition began Friday for the SuperTour racers, beginning with a freestyle sprint. A photo finish determined first place In the women's final heat, stacked with sprinting queens. Julia Kern (SMS Elite Team), Caitlin Patterson (Craftsbury Green Racing Project), Jennie Bender (Bridger Ski Foundation) and Kaitlynn Miller went head to head in the final heat. In the final stretch, Kern and Patterson lunged for the finish line but it was Kern who was able to lunge a toe further to steal the win by eleven tenths of a second, while Bender finished third. Minnesota native Anne Hart finished fifth overall.
"I was very impressed with the Ishpeming Super Tour races," said Anne Hart. "They did a great job dealing with mother nature- who is just not cooperating right now. The sprint day proved to be beautiful and sunny. The course was pretty long (over four minutes!) and just a pretty steady grind. After a decent qualifier, I skied my quarterfinal in control and kept the pace relaxed to ensure I had lots of energy moving forward through the rounds. I was feeling really good, and I unfortunately poled between my legs right off the line and after a great catch up effort, only had enough to cross the line third, and due to the structure of the race (no lucky loser, which was sort of a bummer) I ended my day in fifth!"
In the men's sprints Tyler Kornfield remained strong throughout the day qualifying third and then continued to dominate in the heats the remainder of the day. The star studded final heat was made up of Tyler Kornfield, Patrick Caldwell (SMS Elite Team), Reese Hanneman (APU Nordic Ski Team) and David Norris (APU Nordic Ski Team) which made for a competitive race. Kornfield was able to hold on to the lead until the finish just 1.14 seconds ahead of Caldwell and Hanneman who finished third. Brian Gregg (Team Gregg/Madshus, Minneapolis, MN) just missed out of the final heat, landing him in sixth overall.
"I felt really good coming off of my altitude prep camp with Caitlin as she is preparing for the 30km at World Championships," explained Gregg. "I have been focusing on the Birkie and the freestyle races. I had a really good sprint day for one of my best SuperTour sprint days."

Julia Kern and Nicole Schneider, NCAA Regionals, February 18, 2017

Saturday began the NCAA Central Region Championships, with a 15/20k freestyle mass start. A mix of masters and collegiate competitors added another level of competition to the races. In the men's 20k, A photo finish between Evan Palmer-Charrette (NTDC Thunder Bay) and NMU's Adam Martin determined the overall win. The men raced three laps around a grueling 6.7 kilometer course. In the final stretch Palmer-Charrette had the final burst of energy to lunge a toe further across the finish line next to Martin, to claim first just three tenths of a second ahead, while teammate Michael Somppi (NTDC Thunder Bay) was third overall. Martin dominated the collegiate competition, finishing first nearly two minutes ahead of teammate Fredrik Schwencke and Michigan Tech University's Thomas Bye who was third.

"Saturday was a very tactical race between the top 4 skiers and I ended up getting 2nd among that group," said Adam Martin.

In the women's 15k Julia Kern snagged first overall 7.3 seconds ahead of NMU's Nicole Schneider and Annika Richardson (National Team Development Centre Thunder Bay) who was third. Nicole Schneider was back on top in the collegiate racing field, grabbing first just six seconds ahead of teammates Kristen Bourne and Vivian Hett who was third.

"For the skate race, I felt pretty confident going into it," said Nicole Schneider. "15km skate races are my favorite event. My plan was to just stay up on my feet and attack on the last lap! Julia Kern and I pulled away on the first climb of the last lap, and continued to push each other to the finish."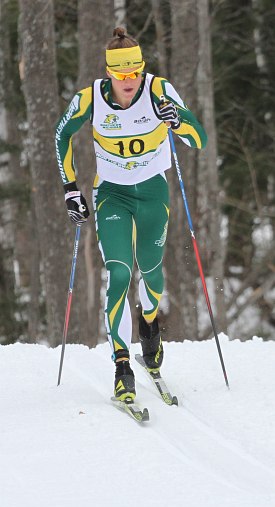 Adam Martin, CCSA Regionals, February 19, 2017 (Photo: Jennifer Brisbois)

Competition concluded Sunday for both the CCSA and SuperTour with a 5/10k individual classic race. In the women's 5k, Kaitlynn Miller (Craftsbury Green Racing Project) skied to a first place finish by just 6.4 seconds ahead of teammate Caitlin Patterson and Elizabeth Guiney who finished third to complete the CGRP women's podium sweep. Minnesota natives Rosie Frankowski (APU Nordic Ski Team, Minneapolis, MN) and Anne Hart (SMS Elite Team, Stillwater, MN) finished fourth and sixth. In the collegiate competition, NMU's Nicole Schneider grabbed her second win of the weekend to stamp her ticket to NCAAs. Schneider finished first just 4.5 seconds ahead of teammates Vivian Hett and Kristen Bourne for another NMU women's podium sweep.

"For the classic race, I knew that the downhills wouldn't be a problem since the snow was so slow," explained Schneider. "I hammered on every climb. My coaches Sten and Shane nailed the kick and so I was able to fly up the hills. I'm very happy with my races and look forward to NCAAs!"

"I felt great on the classic day, and went out with every intention of winning," explained Hart. "I had a great first three kilometers, and the last two I had a little trouble with some seriously lactic acid production. Overall a good weekend. It wasn't exactly what I was hoping for, but if I've learned anything this season it is to just keep on pushing through, and understand that the lows are what make the highs so nice."

In the men's 10k race, David Norris (APU Nordic Ski Team) snagged first from NMU's Adam Martin by 3.8 seconds while Matthew Gelso (Sun Valley SEF) finished third overall. Gregg just missed the top ten overall, finishing in 11th. Not only did Martin finish second overall, he also dominated the collegiate competition. Martin skied to a convincing first place finish nearly one minute ahead of MTU's Gaspard Cuenot and NMU's Fredrik Schwencke who was third.

"Sunday was an earnest 'ski as hard as you can the whole way' kind of race, which I love, explained Martin. "I felt good both days, and was happy to have high quality competition in both events."

"I had a decent Classic race but felt that I struggled a bit on my pacing and my ability to double pole fast while still being relaxed," said Gregg. "Everyone is excited now for next weekends American Birkebeiner."

NCAAs are up next for CCSA skiers, March 8-11 at Jackson Ski Touring Center in Franconia, New Hampshire.

SuperTour period III continues at the American Birkebeiner in Hayward, WI February 25th.
EISA - East Coast
MIDDLEBURY, Vermont (February, 17-18 2017) - Middlebury College in conjunction with the Rikert Touring Center played host to the EISA's Middlebury Carnival competitions. Friday's competition was a 15/20k freestyle mass start and Saturday was a classic sprint team relay. Once again, Minnesota natives Abigail Drach (Dartmouth, Eden Prairie, MN) and Luke Brown (Dartmouth, St. Paul, MN) came away with two first place finishes and a second place finish, while Alayna Sonnesyn (University of Vermont, Plymouth, MN) took third in the 15k freestyle.
"The skiing was great this weekend, said Alayna Sonnesyn. "We had fresh snow leading up to the carnival and the sun came out for the races so it was pretty much skier's heaven."
Competition kicked off Friday with a freestyle mass start. In the women's 15k race, Abigail Drach snagged first from Kelsey Phinney by 14.3 seconds while Alayna Sonnesyn finished close behind in third. Minnesota native Amy Bianco (Colby College, Ely, MN) and Wisconsin native Olivia Amber (Colby College, Lake Nebagamon, WI) grabbed spots in the top ten finishing seventh and eighth, respectively.
"It was my second 15k skate race and I implemented much better strategy than my first one! Said Drach. "I stayed behind the race leaders for the first two laps of the race and at the beginning of the third lap I took the lead in order to push the pace. I am happy to say that this was the first mass start race that I haven't fallen in! The conditions were a little soft with all of the freshly fallen snow that week."
In the men's 20k, Dartmouth's Fabian Stocek edged teammate and Minnesota native Luke Brown by just 2.3 seconds to claim another EISA win, while Colby College's Zane Fields finished third.
Competition concluded Saturday with a classic team sprint relay. In the women's relay, Abigail Drach and teammate Lauren Jortberg skied to a convincing first place finish for Dartmouth 27.5 seconds ahead of their teammates on Dartmouth II, while the University of New Hampshire finished third.
"On Saturday, it was a sunny for the classic team sprint and warming up rapidly throughout the morning," said Drach. "Me and another freshman, Lauren, were on a relay team together. Lauren came in a great position after her first lap and throughout the race we managed to keep a lead on the field. It was a great team sprint day for Dartmouth as our teams finished first and second! It was exciting to watch my teammate Emily edge out another team in the last 100 meters for second place! Our team relay success is largely due to our hot pink ponytails."
"The team sprint was a fun time with lots of energy," said Sonnesyn. "Unfortunately a crash and a broken pole on the first leg set me and fellow Minnesota native Mattie Watts back a bit, but it was still a great day and our boys crushed it!"
In the men's sprint relay, Minnesota native Luke Brown and teammate Gavin McEwen edged Williams College by six tenths of a second to claim first for Dartmouth, while the University of Vermont finished third.
Competition continues for EISA, February 24 - 25 in Bates, Maine for the NCAA Regional Championships.
RMISA - West Coast/Rockies
No racing this past weekend.
About the author...

Mary Kozloski is from Green Bay, WI and is a UW Green Bay Ski Team Alumni, where she skied and studied Communications and Business Administration for four years. Mary continues to love and stay connected to the sport through writing. She is a travel and outdoor enthusiast and enjoys exploring everything Colorado has to offer, which she has called her new home state since fall of 2016.