Midwest MTB Report
by Jay Richards
May 30, 2017
The racing scene was light but the trails were busy including the two lift service areas in Minnesota, Spirt and Detroit Mountains that opened the lifts for the first time this year as well as the destination areas of the Midwest. This weeks report includes a recap from Ride the Keweena Dirt Festival enduro, a look at the growth of the FM Trailbuilders, funding approved for trail development at Cuyuna, a couple mountain bike related links and the look ahead to the weekend races including the first major point to point race, Mt Borah Epic.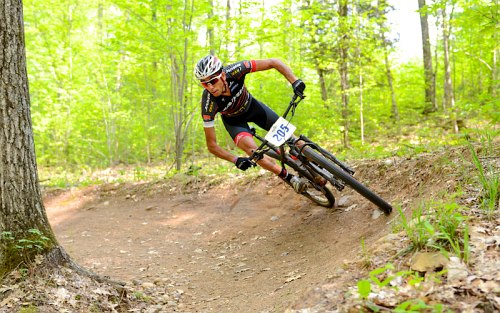 (Photo: Berm action at Mt Borah Epic)
Ride the Keweenaw
In addition to the trails being busy with folks enjoying the long weekend, the trails of Cooper Harbor were host to the Ride the Keweenaw gravity events. Minneapolis rider Dan DeRoma made the long trip east and files are report:
This year I decided to make the long trip up to Copper Harbor to get some riding in over the holiday weekend. I knew a lot of bikers from the mid west were also making the trip so the town was packed with bikers! This memorial day weekend was the Ride The Keweenaw event with events in Houghton and a Sunday Enduro to kick off the Lake Superior Gravity Series. I have never ridden and Enduro but had planned on giving it a shot. There were two categories, Sport and Expert with the Expert class tacking on a third run which was the DH run "overflow". I had signed up for Expert but after riding Overflow trail the day before and rain in the forecast I decided race morning to ride Sport and skip the overflow trail.
Race started at 10am and all the racers were geared up and in the park in downtown copper harbor. After a few announcements they were like OK GO! Thank goodness I had some friends in the race, you could literally take any trail up to any of the three stages and then start, I would have been so lost it's not even funny. I followed a group of strong peddlers up the climb and decide to hit "red trail" to "dancing bear". This was the longest stage and since it just started raining the group wanted to ride that trail first. Our crew of about 6 arrived at the first stage before the well over 30-40 other riders that were following us up, this gave us great starting position and we didn't have to wait around in the bugs and rain. Just like that stage one was off, Rocky, Technical, Wet, Loose and lots of pedaling, more than i thought there would be for an Enduro! that stage was over 10 minutes for me and an absolute rush, I knew I was in for a good day!

(Photo: Enduro Racing Action, Credit: Garrett Neese/Daily Mining Gazette)
After stage one we had to pedal up Brockway Mtn, this was a road transition with LOTS of steep climbs. I managed very well with the transitions with all the XC riding i have been doing. Stage two was shorter as we had to pedal down a trail off brockway mtn to connect to the start which was in the middle of nowhere, again thank goodness I was with some locals who knew where to go. This stage was awesome, flowy and a MUD Fest. Since you could pick which stage to ride first, about 40-50 riders had already done this stage so it got really loose and muddy in areas, it did not keep me from having fun as the trails are all still very ridable when wet, it made for some great photos and bikes were a mess!
After stage two I was technically done with my Sport enduro but I was so charged up I had to ride more, I rode up the Bockway road transfer again and watched some friends ride the overflow stage, I was regretted dropping back to the Sport and wanted to ride down that course so bad! Next year! After the race they had awards in the park with live music and some great art from local artist, the prints were all names of bike trials, very cool!
Copper Harbor trails did not disappoint all weekend long, Rode Shuttles all day Saturday and Enduro most of the day Sunday it was a weekend full of biking fun. Everyone in town is there to rip on their bikes and you will even see some crazy Yoopers on the trails with old bikes and no helmets!
Related:
Coverage on Upper Michigan Source
Coverage on Mining Gazette
OTSO Front Page Action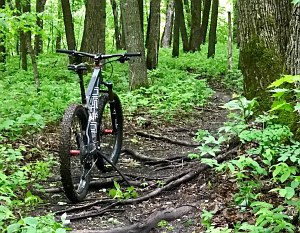 It was pretty cool to see a local bike and parts manufacturer, OTSO, make the cover of Mountain Bike Action magazine, one of the longest running mountain bike publications around.
OTSO posted; "Thrilled and honored to make the cover of Mountain Bike Action. "It's Fat, its light and you deserve one".
Trail Ride with the FM Trail Builders
In today's world of pack mentality, the press and coverage up the popular trails rule the roost. These place are fun to ride, no doubt, but what make mountain bike unique, in my opinion, are all the little trail systems that quench the thirst for dirt and the ability to keep the wheels moving at the small local areas. One of these places is in Moorhead which includes the trail systems at Gooseberry and MB Johnson parks. The FM Trailbuilders have grown into a nice size group building and sustaining off a community model to provide mountain bike opportunities for new and seasoned riders alike. Last week the group organized a ride that was well attended and a celebration of sorts of the evolution of the trails and mountain biking in the Fargo Moorhead area.
One of the original club members, Tom Hellman reflected on a recent Facebook post:
We held a community ride tonight and I'm pretty amazed at how this group has evolved from a two man operation with sticks and shovels to an awesome collection of dedicated volunteers who have an amazing and life changing passion for getting outside! Nearly a decade ago a car pool conversation between a couple people who liked biking turned into a random idea to build trail in our community. We didn't know what we were doing, we didn't know if we could, but we started creating trails that were an escape. Although short in length and somewhat off the radar they were an oasis. A place to escape and enjoy right in our backyard. It wasn't long until we realized, this should be accessable for everyone! Luckily we had Moorhead Parks and recreation in full support from the get go and we were off!


(Photo: FM Trailbuilders group ride)
Fast forward to 2017 and there is more than 9 miles of natural trail in the area accessable to everyone and more to come. Each zig zag, scoop of shovel, tree fall clearing, and step had its own unique signature. Brought to you by those silent and hard working volunteers (yes they are ALL volunteers)! As I ride the trails today I know almost every imprint and face who has dedicated time to this and it's just awesome. There are so many people to thank that it's impossible to put them in this post. Whether you swung a weed tool, wielded a pen, worked in mud because "it's the best time for dirt work", or donated money your efforts are not unnoticed by anyone who has biked, hiked, or walked these trails. We are a better community with better memories because of it and I just want to thank everyone who has helped along the way.
Major Coin for Cuyuna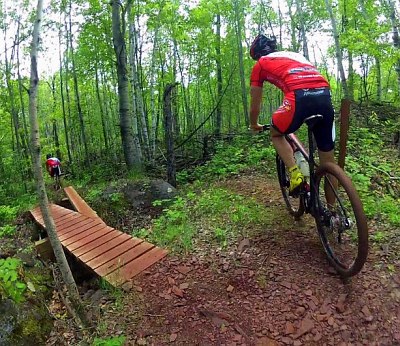 The Cuyuna Mountain Bike group were excited to announce big news for their trails. Fans of the trail system were also excited to hear about expansion of trails from 25 to 75 miles and a few hopefully of more classic type trail to add diversity. The Cuyuna group presse:
The Minnesota Legislature passed a $988 million bonding bill last week, including $3.6 million for the Cuyuna Country State Recreation Area Mountain Bicycling Trails (CCSRA). Governor Mark Dayton is expected to sign the bill in the next week.
"We are thrilled with this result," said Aaron Hautala, volunteer president of the Cuyuna Lakes Mountain Bike Crew (CREW) a chapter of the International Mountain Bicycling Association (IMBA). "Our regional chambers, economic development organizations, businesses and citizens made this a top priority for funding last year and again this year. Your emails, letters, and phone calls helped get this project across the finish line in St. Paul."
"We appreciate the leadership of Representatives Dale Lueck, John Poston, Josh Heintzeman and the critical support of Senator Carrie Ruud and Senate Majority Leader Paul Gazelka. They fought hard to make sure CCSRA was included in this year's bonding bill. We are grateful for their advocacy."
"With state bonding dollars, we will be able to implement the Master Vision for Trails," Hautala added. "And look forward to a growing dynamic economy based in Cuyuna."
In partnership with the Minnesota Department of Natural Resources, the Master Vision expands the trail system from 27.5 miles to 75 miles, adds true expert trails, increases capacity to host major events and races, and creates easier access to the trail system from surrounding communities.
CCSRA was established in 1993 and contains pristine mine lakes and overburden hills, supporting a variety of vegetation. It offers 21st century human powered outdoor recreation opportunities, including scuba diving, kayaking, paddle boarding, paved trail cycling, mountain bicycling, and winter fat bicyling. ? Cuyuna is known for its growing status as an international destination for tourism and its role in the regional economy of Crow Wing County. The mountain bicycling system was developed and opened in 2011 with a combination of federal and state dollars, and the surrounding communities have recognized the opportunities and economic benefits that the CCSRA has created for the region.
Related:
Cuyuna Master Vision for Trails
YMCA and Cops
Youth Outdoors-Duluth of the YMCA is proud to be partnering with the Duluth Police Department this summer for a Youth Adventure Series in mountain biking and needs some COGGS volunteers to help out.
The mission of Youth Outdoors-Duluth is to ensure that all youths have access to a progression of nature-based experiences through communitywide coordination of resources and expertise.
There are three events in the Youth Adventure Series coordinated by Youth Outdoors-Duluth that partnering youth-serving agencies can sign up for. The intention of having the police department involved is to build trust and positive relationships between the community and the police force.
The events will be structured similar to a mountain bike skills clinic. Twin Ports Cyclery will be there fitting the bikes and going over basic bike maintenance with the kids. There will be three other stations for kids to cycle through to learn basic skills, techniques, trail etiquette, etc. They will then bring the kids onto the trails for a group ride. Each event will have two available time slots for 14 youths.
They are in need of volunteers that hold one or more of the following certifications: Wilderness First Aid/Wilderness First Responder/WEMT or a comparable certification, NICA/PIMBA or comparable certification for teaching mountain biking.
These events are focused on reaching Duluth's at-risk youth population, so volunteers are required to go to one cultural awareness training session for working with diverse groups of youths. There is no charge to attend these classes.
Peru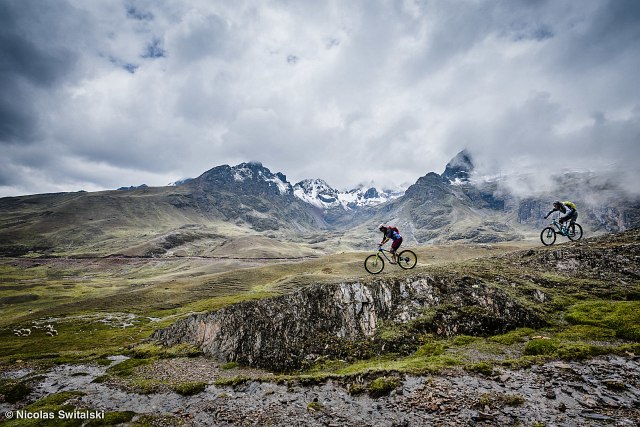 (Photo: Mountain biking in Peru, Credit: Pink Bike with incredible photos)
Peru might not be at the top of everyone's bucket list for a place to ride but Sacred Rides stakes claim as one of the best destination areas in the world. The possibility of descending nearly 12,000ft is a eye grabber, Check out the 7 Amazing Peru Mountain Bike Videos | Sacred Rides
Looking Ahead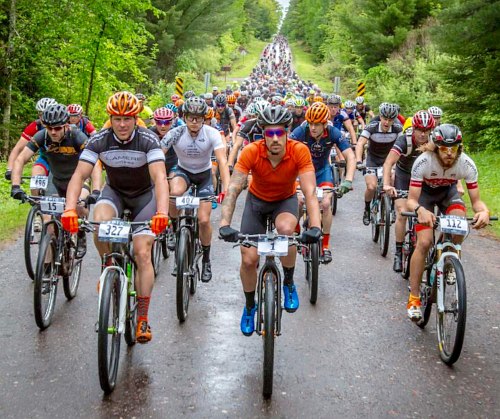 The Borah Epic celebrates five years of racing on the CAMBA trails featuring mostly purpose build singletrack and rider favorites such as the "Gravity Cavity". Going into race week organizers were still promoting open spots for last minute registrants and ideal weather conditions of "sunny and 68" for race day. All proceeds from the event go back into the trails. Also on tap is live music, tasty eats and beverage and, of course, mountain bike fellowship.
Bluff Rider Charge Race #3 MNMBS
The Minnesota Series heads south to Mankato to take on the fast flowing track and climbs of Mt Kato. The course starts with a nice warm-up climb to the top of the ski area. Once on top, all racers make a large traverse along the front of the ski area. The course has a good balance of climbs, descents and technical sections with switchbacks. The approximate vertical gain per lap is 500 feet. Peace Coffee Racing and Mt. Kato have paired up once again to host the Bluff Riders Charge! This event is run entirely by volunteers from the Peace Coffee Racing team and their family members with help from MNMBS staff and series volunteers. This will be the 7th year PRC has hosted this event.
Battle of Camrock Race #3 WORS
Capital Off Road Pathfinders, CORP has worked to build CamRock Park into one of the true gems of Wisconsin mountain biking. CORP is an IMBA-affiliated volunteer organization that builds and maintains all of the off-road cycling trails in and around Dane County.
Keep the wheels moving!
About the author...

Jay Richards maintains a very active lifestyle. He somehow finds time between managing a full-time resort (Maplelag) and bringing up a family of four boys with his wife Jonell, to compete in both mountain bike and a few cross-country ski races. Jay rides for Maplelag Resort, manages the Maplelag mountain bike team and enters his 27th year of racing and promoting mountain bike races.

Have an event or mountain bike related information to share from the Midwest? Feel free to contact Jay at