Midwest MTB Report
by Jay Richards
July 18, 2017
Hot and steamy weather greeted most riders this weekend as race #6 in the Minnesota Series was held at Rebecca park, Welch Village opened for mountain biking with lift service on their new gravity runs and the UP kicked off their busy second half of the summer for racing with the Miners Revenge. This weeks report includes recaps from this events a couple news and notes items and the look ahead.
MNMBS Rebecca Lake Classic
Lake Rebecca was a new stop on the Minnesota series, providing long lap racing featuring a 14 mile lap of flat, fast rolling racing. Sauna like conditions greeted riders as temps soared into the 90's. A strong elite field toed the line in both the male and female divisions. Last weekends female Elite winner at WhiteTail Ridge, Eleanor Bacso, nailed down a third place finish and provides a recap from the female race: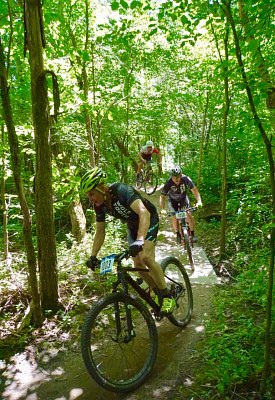 Waking up on Saturday, I knew that this weekend was going to be an absolute scorcher. While we were packing up the car to head out to the race we already had beads of sweat on our foreheads! During our drive to Rebecca my brother-in-law Kasey Bacso had a weird illness set in and we arrived in the lot, we got him to the shade right away. He ended up feeling better after eating and drinking--it may have been caused from an electrolyte imbalance from the heat of the day. As we were hanging out in the shade there were tons of riders coming off the course wetting their heads under the water spigot. Friends who finished the said there was virtually no breeze because of the high reeds and bushes. We knew that the race was going to be a difficult one!
Finally, the time had come to line up, as we all wished each other good luck we hit our pedals as the gun went off. We headed out in a pace line into the single track almost right away. I was sitting 4th wheel behind Kyia, Robin and Kristina. I was able to pass Kristina and ride with Kyia and Robin for a chunk of the first lap. Suddenly I started feeling a little bit of heat sickness and I had to back off to get my stomach settled. I tried riding as smooth as possible and all of a sudden, I came across my husband, Mason with a broken chain! Unfortunately, he had to run for about 5 miles before he could get it fixed.
As I was coming into my second lap I jokingly asked the series volunteers if they were sure we had to do another loop. I got some laughs and cheers to keep on going. I got my bottle hand up from Mason's parents and all of a sudden, I saw Kim Rudd right on my tail! I decided I really needed to put the hammer down this lap. I felt quite a bit better and was unknowingly was gaining time on Robin. I continued to try and ride smooth and fast and take my opportunities to ride hard on the uphills and hammer the downhills. I ended up finishing was less than 30 seconds away from second place! As soon as I finished I had to lay down in the shade to cool off. A friend of mine in the weather service industry said the heat index of that day was 98-100 degrees! No wonder everyone was completely spent.
My favorite part of the day was seeing all of our friends in the series and especially that it was a Saturday race. It was the most perfect day to go swimming in Lake Rebecca afterwards with ice cream and pizza for dinner!
(Photo: Racing action at Rebecca Park. Credit: Minnesota Trails)
In the men's race, Jesse Lalonde used his one gear skill set mindset to power away on the flat course, winning in convincing fashion over legend Jeff Hall by over 2 minutes. Eric Thompson, Dominic Talerico and Josh Bauer rounded out the top five. Mason Bacso was in the mix taking the hole shot and the early leader. "I tried to stay under control but fast in the dusty conditions. I settled in and let some others take the lead. As I went to accelerate again back onto their wheels, my drive chain got caught up and my chain snapped in half." Bacso was able to get rolling again but soft pedaled with his brother Kasey who was victim to the heat.
Miners Revenge
The Miners Revenge was one of many races in the UP that happens in the later part of the season featuring some of the most raw and natural singletrack in the Midwest and the distinct feature of riding through a old mine!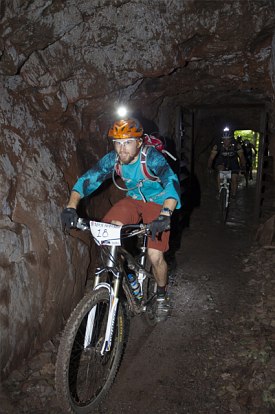 Ronnie Lajoie provides a recap:
I knew this was a different kind of event within 15 minutes of our pre-ride. As told by the race promoters, the course was wet - slippery and dirty! The 6 mi lap course starts with a climb leading to the event's infamous mine. Complete darkness (lights required), cool air (48 degrees) and loose rock greeted us at the mine's entrance! By the 2nd lap threw the 1/3 mi mine section, I learned glasses were not a good idea; the humidity from the pedalers passing threw created a mist that gave the mine portion of the course an exceptionally eerie vibe! The spooky feeling continued as we biked our way threw old buildings - around foundations, threw doorways and abandoned mining equipment.
The mine feature alone is far out and draws riders from all around, but the rest of course was some of the most rugged, raw, handcut single track I've ridden! It's a rocky, rooty, slippery trail with technical ascents and descends - everything a rider would want in a challenge!
I felt strong during each lap and knew I was keeping a decent pace when the only rider to pass me was Brian Matter (experts - male and female - started together)!
The day was warm and humid so the finish line water spigot felt fabulous and the post-race pig roast was tasty! The evening's atmosphere was fun with a coolly-lit stage and funky band. And the free onsite camping made everything super convenient!
Miners Revenge XC race = two thumbs up!
High-fives and karate kicks, Ronnie
Welch Village Opens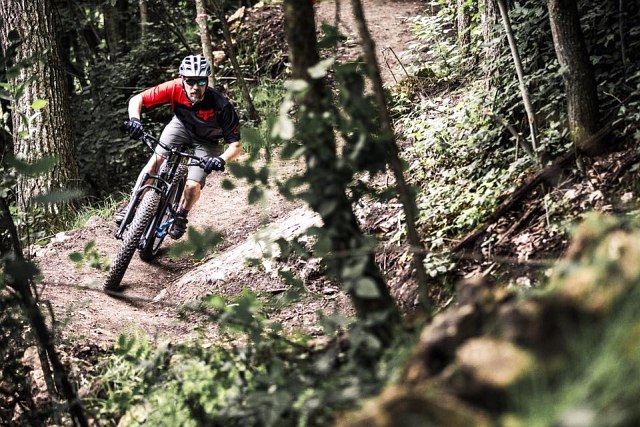 (Photo: Framed Bicycle team checking out one of the new trails at Welch Village)
Welch Village opened this past weekend, becoming the third ski area in the Midwest to offer lift service mountain biking. Only two trails are open this time for gravity but more trails to be open soon including possible third trail this weekend for their Grand Opening. Latest updates
NICA - New Normal
Kyia Anderson shares a personal note on a YouTube video put out by NICA. "After walking away from MTB racing in 2010 with an injury and recently rediscovering my love again for the bike and racing I can't share this enough. The bike race scene is such a positive environment and the friends and families I have gotten to know over the years are in this for the long haul, it's a life long sport. Watch this video and share it, this might change another gal or guys life that could be struggling to find their way in life in school or even hanging with the right crowd.
Looking Ahead
Racing in the UP of Michigan continues as one of the original and big point to point races is coming up fast, Ore to Shore First things first, Ipsheming will be host this weekend to the Red Earth Classic, named by some Pros as the hardest race in the Midwest. This years version is tuned down a bit with less climbing and less grueling finish. However, racers can still expect raw and natural singletrack with a little bit of forest road mixed in.
Colectivco Coffee Bean Classic
A challenging course snakes its way up, down, and around the moraines of Minooka Park. Racers will face steep climbing and flat out speed on a mix of flowy single track with huge berm turns, technical segments and flat out stretches that will approach road bike speeds. A mix of new and re-routed trails should increase flow and passing.
Like country music and mountain bikes? Detroit Mountain will be host to Music on the Mountain featuring country music veterans Sawyer Brown on August 25th. The lifts will be running until 5pm and gates for the concert open at 6pm. Four food trucks on site this along with full adult beverage service. All proceeds go towards finishing paving of entrance drive and landscape restoration.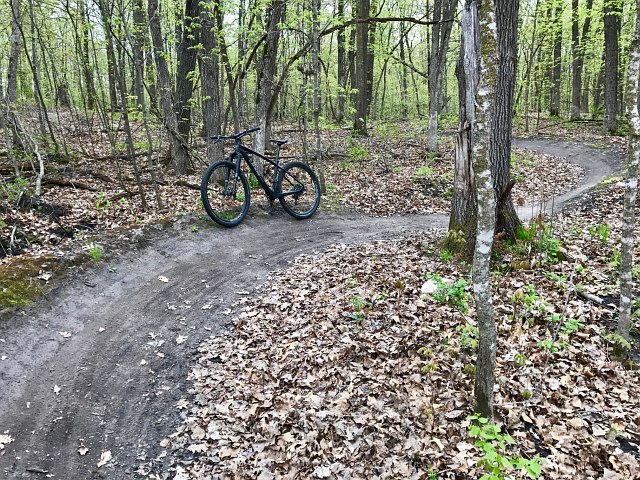 (Photo: Flow trail at Detroit Mountain)
Race organizers are getting the word out now to pre-register for the Seeley Pre Fat which features a mix of forest road and CAMBA singletrack in the Chequemegon Forest.
Keep the wheels moving!
About the author...

Jay Richards maintains a very active lifestyle. He somehow finds time between managing a full-time resort (Maplelag) and bringing up a family of four boys with his wife Jonell, to compete in both mountain bike and a few cross-country ski races. Jay rides for Maplelag Resort, manages the Maplelag mountain bike team and enters his 27th year of racing and promoting mountain bike races.

Have an event or mountain bike related information to share from the Midwest? Feel free to contact Jay at