Midwest MTB Report
by Jay Richards
July 25, 2017
Summer is rolling along with the last weekend of July already upon us. Another busy weekend of racing in the books including the USA Cycling Mountain Bike Championships taking place in Snowshoe VA, that saw some solid placing by Midwest riders. This weeks report includes recaps from the Red Earth Classic, a first hand report from the Cuyuna Camp, Duluth Enduro recap and a look ahead to the last weekend of July.
USA Cycling National Mountain Bike Championships
Snowshoe Mountain in West Virginia was host to the USA Cycling National Mountain Bike Championships and a handful of Midwest riders competed posting some solid results. Brian Matter (Sheboygan, WI) and Samuel Elson (Breezy Point, MN.) both posted top 15 finished in the Pro short track with Matter posting a 9th place and Elson in 15th. In the Pro cross country Wisconsin was represented well with , Matter posting a 14th place finish, Cole House (Oneida, WI) 17th and Cory Steles (Madison, WI) 20th and Ben Senkerik (Wauwatosa, WI) 29th. In U23 male, Peter Karinen (Calumet, MI) placed in the top 10 at 9th and Elson 29th and U of Vermont student Samuel Hedlund (Minneapolis, MN) 31st.
The Category races were represented well by Wisconsin riders and notable finish in the short track was Caleb Swartz of Madison who took home a National jersey winning in the Junior Cat 1 15-18 division. Anna Christian recorded a top 10 in the womens 17+ Cat 1.
(Photo: Caleb Swartz crossing the finish line in first, USA Cycling National Mountain Bike Championships)
Related:
Human Race: Cole House - Peloton Magazine
Red Earth Classic
Minnesota riders Kyia Anderson and Scott Kylander-Johnson made the trek to the UP of Michigan and file first hand reports:
This is the fifth year of the Red Earth Classic in Negaunee/Ishpeming, MI and Sara and I have gone to all of them. Each year the course has been a little different but it is always tough - 2500 ft of climbing according to my Garmin this year over the 26-mile course. The course has an excellent mix of tricky singletrack, double track and gravel roads. It has also turned into a family vacation since we take a few extra days and hang out with the Schouten family and their four girls, playing in the pool, riding bikes and checking out Lake Superior around the Marquette area. Tristan and I pre-rode about fifteen miles of the course on Friday and contemplated doing the entire thing since it was so fun, but we knew we had to get back to swim with the girls and let Sara and Jamie explore the woods around the campground.
On race day Tristan and I rode to the course for our warm up on a quiet blacktop path which led right to the start line. The long race billed as 32 miles, started first at 9:30 followed by the shorter version of 20 miles at 11:00. I believe there was also a 12 mile and a plethora of running races too, so there was something to do for everyone.
The start was calm and quite slow which was great for me. It didn't go uphill until the luge climb that the Ore2Shore uses and that is when I realized I didn't have much for climbing legs. I got shelled and had to work my way back to the group on the first long singletrack section. Tristan was already long gone by the time I caught on. Our group of four rode together on and off and ended up catching Tristan again when he stopped to grab his bottle at the 15-mile mark or so. After a couple of miles of riding together a single track climb, the Gully Climb, I think broke the group apart and I was left riding alone in 5th place for most of the race until I caught a guy with 5 miles to go on a tricky, steep rocky climb.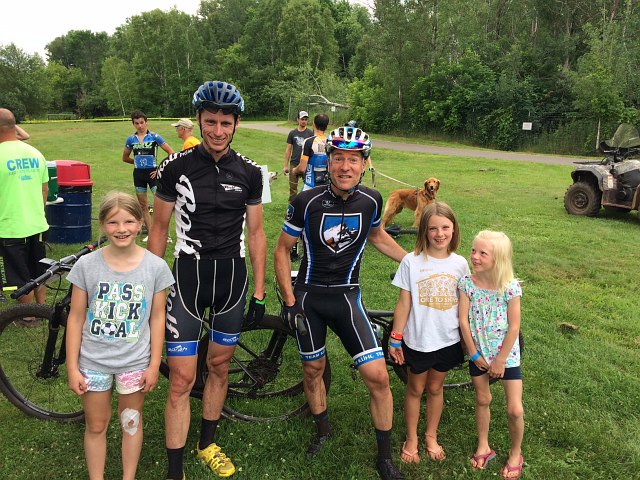 Tristan easily won and Brent and Zeb were able to battle it out for the last couple of podium spots.
If you are looking for some fun, old school singletrack, I'd highly recommend the Red Earth Classic!
Kyia's recap:
The trails in Negaunee and Ishpeming are certainly some of my favorite trails in the UP. Beautiful hand cut trails that are rough and rugged, with steep climbs, rocky drops and a lot of tight and twisty rocky rooty singletrack! I've been eying up the Red Earth Classic for years but it's just never worked with our schedules to get up and do the race. This year it worked out and we headed up to enjoy the Marquette, MI area and get in some great racing! I got a front row call up and it was fun to be on the line with Scotty KJ, Tristen Schouten and others. We blasted off the start line (I had a good laughed when I heard Tristen utter his legs were already feeling it) and off we went to climb every out cropping of rock above Negaunee and Ishpeming.
Right off the bat I could tell I couldn't dig as deep as I was able to a week ago so I just tried to stay out front, out of trouble and ride a clean race. Somewhere around 9 miles in I made a wrong turn off the bike trail and started following the shorter courses. After two turns and a steep climb facing me I figured I was off course. I back tracked and got back onto the 32 mile course and set off as quickly as I could go.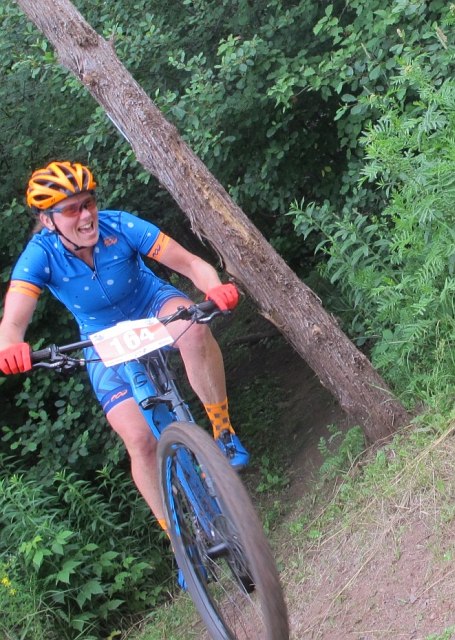 At about 17 miles in I came across my support crew of Mr. Anderson, Little Man (Aunders) and Steve Ferguson, they told me I was 3 minutes down from the next gal (Lexxie Mapes) . I was shocked that I had been off course that long and set my legs to work. I was able to reel Lexxie in by the "Last Bluff" climb and passed her near the top. My legs were screaming at me but I wasn't giving up so I hammered up and over the Bluff and down into the descent. I could hear her just behind me so I kept on the gas as much as I could and soon had a little gap. A few more sections of single track and double track and then finally the finish line! The race ended up being about 26 miles so I think that was playing with my head a little bit as I was expecting it to be 32 miles. Overall the Red Earth Classic race course is awesome and challenging and I was stoked to take away the 1st place trophy!
Duluth Enduro
Last week I made my way over to Duluth again for the round 2 in the Duluth Enduro series. Stage one was held on Hawk's Ridge which is part of the Duluth Traverse and stage two was a descent in the Lester Park system. Another fun evening of racing with some riding mixed in between. Goal number one was accomplished, rubber side down, and good to see faces haven't seen in a while. The next day before heading home son Jake and I rode from Brewer Park over to the Keane trail segments. This new trail segment has a different feel than the other flow built trails in Duluth, reminded me of some of the over flow trails at Copper Harbor, be sure to check it out if going to Duluth to ride.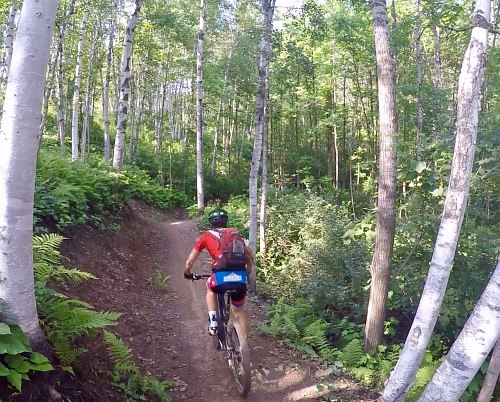 (Photo: Riding up middle Keane trail segment)
Cuyuna Camp
Northwest Composite Cycling Team coach Anne Ellefson was one of many coaches to partake in the True North MTB camp, sponsored by the the Minnesota High School Cycling League and NICA (National Interscholastic Cycling Association) and provides a first hand report:
Kids from all over the state of Minnesota, and North Dakota converged at the Cuyuna Lakes Mountain Bike Trails this past week Coaches gathered at the Bike House Saturday where Joel Woodard led us in pre camp orientation and we met our coaching crews for 8 'teams' that would be put together after a skills/hill climb TT assessment on Sunday.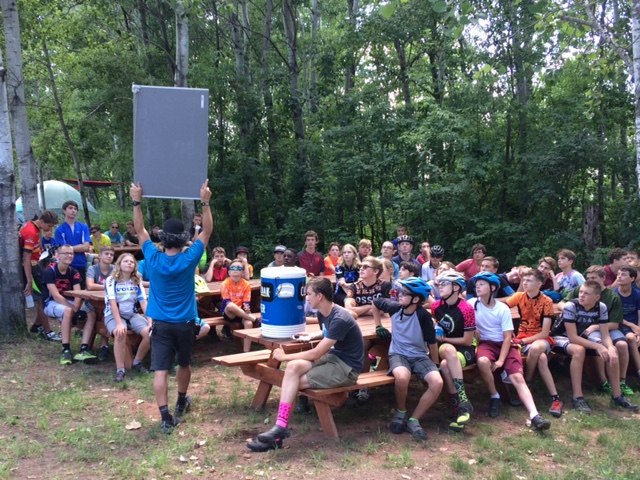 (Photo: Coach Joel giving instructions)
We later dispersed in our team coaching groups and hit the trails to scope out routes and locate areas to conduct skills sessions for our activity blocks during the week.
Coaches spent time designing their individualized coaching plans and brainstormed in small groups on team building activities.
In its second year the camp doubled in size from last year with 65 kids registered!
Kids started rolling in around noon for check in day Sunday. Parents dropped kids,bikes and camping gear off at the base camp check point and then headed up to set up tents and hang the hammocks! When that was done kids geared up and wheeled their bikes to a bike check station and from there took part in the skills course and hill climb to be assessed and placed on appropriate teams.
With teams set the kids were ready to meet their coaches and hit the dirt!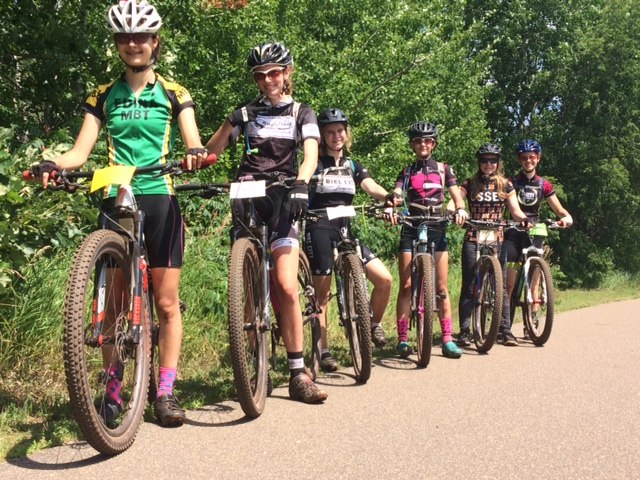 (Photo: Ready to ride!)
Each day was rise and shine with breakfast catered in by 8 am and teams out on the bike working on skills then riding the trails by 9 am.
Special events were scattered throughout the week including Teri Holst (Penn Cycle) presenting a skills clinic and girls ride, Movie night with a 'Race across the Sky' showing, campfire with smores and more. We held both morning and afternoon rides and skills sessions where the kids were eager to learn and apply the skills to the trails.
One day of the week teams could choose to have an ice cream shop stop on the ride and we somehow all decided with the heat and humidity that day was Tuesday! One team after the other made its way to the Mixed Company- I've cream shop and Kava House and we enjoyed malts, shakes, and cones cleaning them out of the crowd favorites Superman and Cotton Candy ice cream!
Storms later that day had League Director Josh Kleve and crew working magic to keep the kids safe, dry and FED! Lots of riding meant lots of hungry kids and coaches and the food catered by Maucieri's Italian Bistro came through on that big time.
With the weather still a risk Wednesday morning, we made a convoy ride to the Hallett community center where kids took part in games stationed in the gym or hung out socializing,relaxing or reading. Skies cleared and groups were able to choose swimming activity or back out on the trails!
The week culminated in an Amazing Race Event created by Bonnie Larson where teams were formed mixing all ages and abilities and they set off from the Rally Center trails with a set of clues and map making their way to different 'check points' where they would perform a task. They also had en route activities and bonus points were given for trails ridden. The event was a success and all teams worked together to make it shrediculously fun!
With the Amazing Race points being tallied the kids made there way to the camp ending celebration led off with a slide show put together by St Croix coach Julie Gujer then teams and coaches met together to reflect on goals set, skills learned and memories made!
Parents began to arrive as each team was brought up and acknowledged by their coaches on gains made and strengths observed during the week.
As a coach, it was an honor and great educational experience to take part in such a well organized quality camp with so many knowledgeable and inspired riders, coaches/assistants who volunteered their time giving the best of themselves in all areas including riding skills, bike knowledge, training,athlete/personal development, trail stewardship etc.
The fun was had - friends were made - The Red was Shred at Cuyuna Camp 2017
Related:
High School Mountain Bike racing exploding in popularity-Star Tribune
Looking Ahead
One of the longest running 24 hour races in the Midwest, 24 hours of Wausau goes down at the popular Nordic trail system, 9 mile. Registration is still open, closing Thursday evening, for any last minute riders looking to go big!
The Minnesota series heads south to Rochester for the Lakeside Grind at the new mountain bike venue, Gamehaven a beautiful 265 acre camp and the Gamehaven Sports and Activities Park – Rochester's newest 460 acre regional park with a 42 acre lake. Gamehaven has been a popular site for Minnesota High School races the past 4 years. Trails are built and maintained by volunteer members of the Rochester Active Sports Club. New trails are being added each year.
Keep the wheels moving!
About the author...

Jay Richards maintains a very active lifestyle. He somehow finds time between managing a full-time resort (Maplelag) and bringing up a family of four boys with his wife Jonell, to compete in both mountain bike and a few cross-country ski races. Jay rides for Maplelag Resort, manages the Maplelag mountain bike team and enters his 27th year of racing and promoting mountain bike races.

Have an event or mountain bike related information to share from the Midwest? Feel free to contact Jay at