Midwest MTB Report
by Jay Richards
August 22, 2017
One weekend left in August and one race left in both the Minnesota and Wisconsin series! Although the summer season is winding down, Midwest high school teams have been busy practicing for the first race of the season this weekend and riders are gearing up for the big races this fall. This weeks report includes recaps from the Seeley Pre-Fat, Great Deer Chase, the Reforestation Rambler, the Cuyuna Crusher, and a look ahead to the last few weeks of August.
Seeley Pre Fat
The CAMBA trails and area forest paths were host to the Seeley Lions Club Pre-Fat bike race. Always top notch hospitality, a solid turnout for a fun day of racing and riding. Ronnie Lajois provides a first hand report:
Sunny skies, mild temps and a bunch of smiling Lions club volunteers greeted us at the start of this year's Seeley Lions Club Pre-Fat Bike Race. The events started at 9a with a 10 mile citizen race, followed by 15 mile sport and fat bike categories at 930a and a 25 mile expert diversion at 10a.
Hard-packed gravel made for a FAST, FAST, FAST start in the expert category! Toss in the occasional logging road, a few giant puddles and close to 100 speedy, expert riders jockeying to be first into single-track and we have ourselves a grand time!
10 miles into the course, we transitioned onto CAMBA's (always a good time!) single-track with a climb to High Point (about 1000ft per my Garmin) followed by the well earned reward of cruising 38 Special and back towards OO. The trails were in great shape - dry and fast!
It wouldn't be a Seeley event if we didn't have a bit of Birkie trail mixed in so the expert's ended with a few punchy Birkie trail climbs that made for fun, exciting finishes!
The Lions Club knows how to host a bike event - the trails were well marked, the aid stations were stocked with tasty treats, the food/beverage stands at the trailhead grilled up yummy food choices, the awards and shwag were cool, friendly bike shop tents and mechanics were available, I could go on and on…!
If this event isn't on your calendar yet, please put it there! The Lions Club folks do an excellent job! With about 270 riders of all abilities in this year's race, I expect it to keep growing!
Great Deer Chase
Extending her stay in the UP after the big win at Ore to Shore, Kyia Anderson chalks up another dub and provides a first hand report of the racing in Calumet, MI this past weekend:
One might think I have moved to the UP of MI with all of the races I've done up there this summer, not a bad idea, I really love the riding there and the cycling community is pretty awesome too! I spent the week between the Ore To Shore and The Great Deer Chase riding various trails in Marquette with the 906 HS NICA Gals Monday night and then moved onto Copper Harbor for the rest of the week where my family and I enjoyed the man made and natural wonders around Lake Superior. The Deer Chase was an added bonus as it's a fun local Mountain Bike race that rolls through Historic downtown Calumet and blasts off towards the trails of Sweedetown and finishes back in Calumet. My goal going into the 30 mile race was to see how high up I could finish in the overall event and to really push myself as much as I could on the rocky and technical single track. The single track is relentless and a full suspension bike is a must.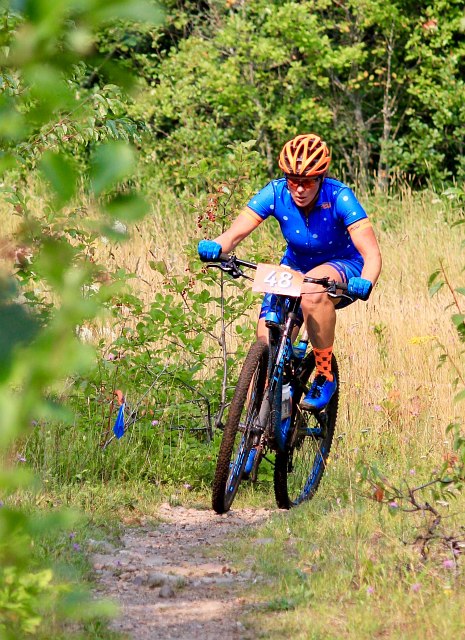 (Photo credit: Bill Stahl)
Drew Wilson (Cyclocarbon) launched an attack at mile 1.5 and Sam Kilpela (Red Jacket) was quick to jump on his wheel, I was a bit slow with my reaction to the move and was left dangling between two groups. By mile 3, that group caught on and I wanted to make sure to get a good placing going into the singletrack so I took second wheel of that group and was able to jump into the fast and technical singletrack with clean lines. I managed to keep my placing and only let two other riders get in front of me throughout the race, Evan Simula (Blackrocks Brewery) was one of them, he was pouring it on to finish 3rd in the UP Single Speed Championships! I battled back and forth for a while with another Red Jacket Racer, Troy, but he faded and I was able to stay in front of him and finished in 6th overall in the men's 30 mile and first in women. The back felt the singletrack a bit, but with some road riding ahead you gotta just go for it right? All fun and great to do this trail race 2 years in a row!
Cuyuna Crusher
The popular Cuyuna Recreation trail system was host to race #10 in the Minnesota series this past weekend. The race course was on the Mahnomen unit which in Ojibway means wild rice. Although the mining lakes aren't condusive to growing wild rice, the lakes did provide a nice refreshing dip post race. The racing was fierce in all classes as riders battle for late season series points as the season comes to an end.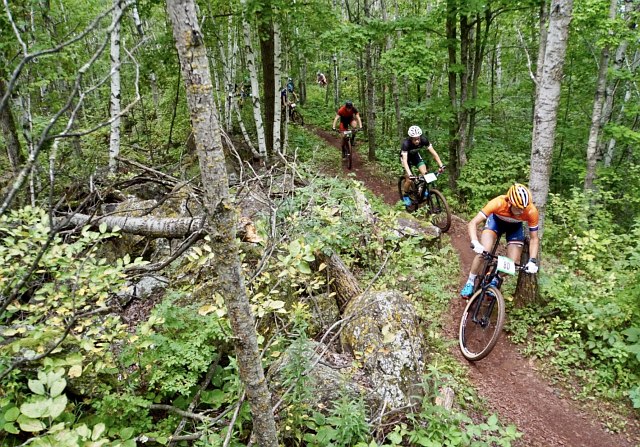 (Photo credit: Minnesota Trails)
I made the trek east Sunday morning, this time arriving with a bit more time to prepare for over 2 hours of racing. It is always good to see familiar faces including ones you haven't seen in a while and catch up a bit. Seeing that the race lap was almost 8 miles and Experts would be doing four laps, I prepared for a longer more marathon type race. This included a few extra water bottles. One of the persons I bumped into pre-race was Tom Camp who was fresh back from racing the Leadville 100. Tom wasn't racing today, allowing his body to recover a bit more but his usual high energy positive attitude was full on and offered to do hand ups for me which I was very grateful for. Tom was great doing feeds, not only handing off bottle perfectly but yelling out "find your happy place" each time I passed through.
I rolled to the line, lining up near the rear again with a race plan to ride conservative and move up as much as possible throughout the race. The race lap featured a 2 mile flat and fast rolling double track at the start of each lap. The seeding selected the group for the most part as it stayed together until we high the singletrack. The front group featured a new face this year in Doug Swanson. Swanson is no stranger to the Cuyuna trail system, having done much of the original machine work with his brother Dan which we highlighted in a report back in October of 2010. Doug also spends a fair amount of time on the Cuyuna trail system and knows how to ride it fast. As has been the case this season, there were young guns in the mix with the cagey veterans battling for position at the front before the fast back and forth flowing singletrack greeted riders.
When we hit the singletrack I was a bit farther back than I maybe wanted to be but I knew a long race was on tap and there would be plenty of time to move up. Off the bat I knew I was in for a little extra challenge, having forgotten to put my gloves on and running a bit higher higher pressure than I should of. Simple things that I was upset I overlooked. I settled in a group including Joe Surla that has been racing for about as long as I have along with Allan Shuros. We jostled back and forth during the race, exchanging spots as we moved up a few spots in the field. Everyone was riding clean and smooth and there were no issues on the course.
The third lap Joe and Al pulled away and I found myself with Kevin Thum and Charlie Jamieson. We rode together, again changing positions. Charlie took a nice dig at the end of the third lap and put a gap on Kevin and I before the start of the fourth. On the drag strip at the start of the final lap, Kevin and I worked together to bridge up to Charlie. We continued on and were able to drop Charlie. Kevin and I rode together, working through some lapped traffic than at the end of the fourth lap, Kevin made a beauty move getting around me smoothly and it stuck to the end. He ended up catching team mate Ben Olson but I wasn't able to drill it that hard to bridge to Ben. I did get to cool down with Ben afterwards spinning out the legs after nearly 40 miles of riding on the day. Post race took a dip into one of the mine lakes which was extremely refreshing.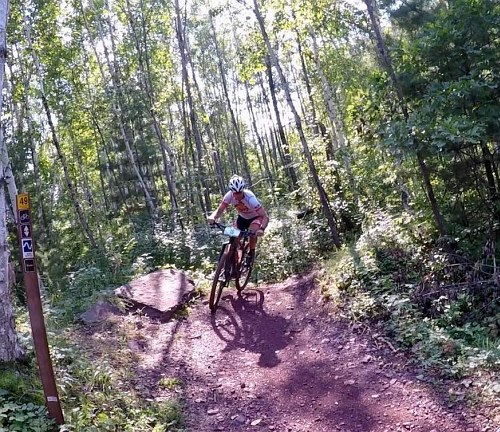 Jeff Hall took yet another win, just seconds of Swanson who put in an a very impressive result in the second spot. Mason Bacso, Brendan Bellew and 16 year old Junior Rider Calvin Sandberg rounded out the top five. My helmet is tipped to the junior riders who hammered out that long of a race. Personally I don't think it is good for junior racers to be racing that long, thinking long term.
Speaking of Junior riders, Braedon Anderson and Carson Thompson cranked out some of the fastest laps of the day with Braedon running near the front before both riders had to DNF.
The women's elite race saw Sara Kylander Johnson repeat back to back weekends with a win over Eleanor Bacso. Fifteen year old junior rider Zoe Camp put in a solid race for the third spot, as Kathryn Thompson and Christin Stuschka rounded out the top five.
Junior riders highlighted the Comp and Sport races which was very cool to see.
Highlights from the Comp race included four junior riders in the top five. Campbell Karjala took the win as Alex Sipe, Henry Hall sandwiched X Games star Tucker Hibbert with Ellis Nordhougen in th fifth spot.
Sport Female overall saw four of the top five spots junior. Sudie Hall took the win with Meryl Sudieth, Ellie Shuros rounding out the top three spots. Nikita Finnety prevented a top five spot as Gabi Gujer took fifth.
Sport Male was a clean sweep by juniors. Tom Beyer took the top spot, followed by Kaleb Bauer, Colin Freed, Evan Hutchinson and Emmet Donahue. The high school season kicks off and will be interesting to see how things play out when all riders come together and race shorter distances.
Results
Photos: Minnesota Trails
Reforestation Rambler
Scott Putman highlights the action from race #10 in the Wisconsin Off Road Series:
WORs #9 Reforestation Ramble was raced Sunday August 20 on the Brown County Reforestation Camp trails in Suamico, WI. This race is hosted by ANST and continues 10 years of action at the Camp. The weather was agreeable and it was a high effort race with the course a mix the Camp's flowy and rolling single track and double track at the start, finish and interspersed. Five hundred fifty racers showed up and were rewarded with some exciting racing. The single track was the key to the elite race with Broken Spokes duo of Leia Schneeberger and Cole House pulling away from Holly Lavesser – Neff Cycle service and Pete Karinen (BS) starting in the first mile and a half section of single track. With the leaders off the front pretty early, chase pace line packs formed on the fast 2 during the 4 seven mile laps for the men and the 3 laps for the women. The series is on the line this year and look for killer racing at Treadfest in Lake Geneva WI.
However, the coolest event was was no doubt the short track criterium under the light on Saturday night where 45 riders sped through the night in pace lines on a mile long loop of lit ski trail. This is second year of this race which is hosted as a partnership between ANST and Broken Spoke Bikes. Although we named it "A short track 35 minute race at dusk" could be called "The most fun you can have on a bike" overheard at the finish line. Broken Spoke's Cole House again won along with Team Linear Hanna Mork.
Photoset: Reforestation Ramble

7 photos (from Scott Putman)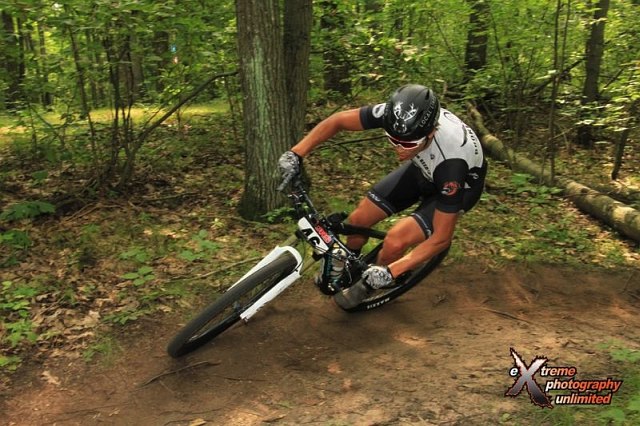 (Photo: Cole House railing berm en route to overall Elite male victory, Credit: Extreme Photography Unlimited)
Hanna Mork of WORS provides also provides a recap:
In the BelGioioso Women's race, Broken Spoke Racer, Leia Schneeberger also had the same goal as her teammate: Win. Off the start Linear Sport Racing Team's Katrina Hurst nabbed the hole shot and led the ladies out as Holly LaVesser(Neff Cycle Service) and Schneeberger sat back. Both Lavesser and Schneeberger moved up to the front as they approached the first section of single, but Schneeberger put in an early dig, in hopes of shaking any followers off her wheel. No one could hold her pace as she entered the single track first, and that was the last anyone saw of her.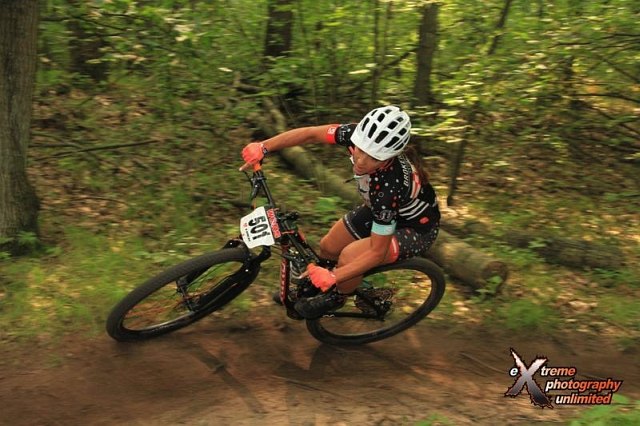 (Photo: Leia Schneeberger en route to the win, Credit: Extreme Photography Unlimited)
Looking Ahead
From the WORS Treadfest event page: The Treadfest features the crowd pleasing Rock Garden, the infamous Colorado Heartbreaker, the serenity of the Pines, the excitement of Butch's Playground and the fluid fast lines of The Big "O". TREADFEST has activities for riders and families including: a consumer expo, WORS Learn to Race Clinic, TREADFEST Kids Race, slacklines, tasty food and drink on site, TREADFEST T-shirts, the Next Door Pub Saturday night pasta feed, and all the weekend fun in beautiful Lake Geneva!
Maplelag Resort is geared up and excited for the 27th annual Laddies Loppet mountain bike weekend and the final race in the Minnesota Mountain Bike Series.
Another fun weekend of racing and mountain bike community fellowship is on tap with multiple activities. The cross country course will once again be different this year and we've taken feedback from the racers to improve on last years edition. Hot fresh waffles post race were a hit last year and they will be back again for this year!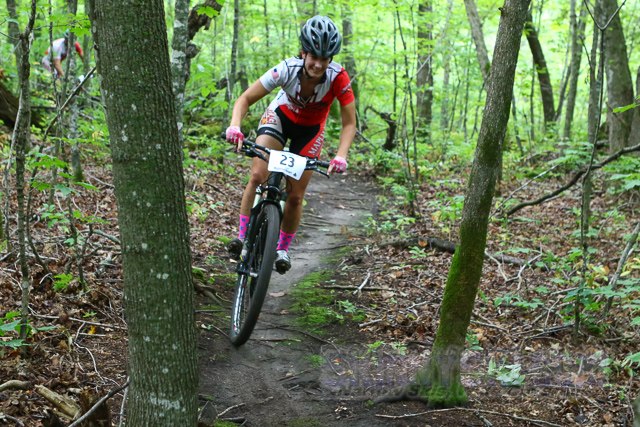 Outside of racing which includes the series cross country series race on Saturday and exciting short track on Sunday, other activities will include yoga sessions inside and outside on paddle boards, kids craft games, live music, complimentary adult beverage and root beer kegs, bonfire, pump/bmx track and lake jumping. Lodging and camping with meal packages still available.
Keep the wheels moving!
About the author...

Jay Richards maintains a very active lifestyle. He somehow finds time between managing a full-time resort (Maplelag) and bringing up a family of four boys with his wife Jonell, to compete in both mountain bike and a few cross-country ski races. Jay rides for Maplelag Resort, manages the Maplelag mountain bike team and enters his 27th year of racing and promoting mountain bike races.

Have an event or mountain bike related information to share from the Midwest? Feel free to contact Jay at