Midwest MTB Report
by Jay Richards
September 19, 2017
The Chequamegon Fat Tire Festival highlighted the mountain bike racing action last weekend with the 35th addition of the Chequamegon 40 and the Short and Fat 16 mile, the two main events. This weeks final report for the season includes a first hand recap from 40 female champion Kyia Anderson, a interview with 3rd place finisher in the 40, Jeff Hall, Short and Fat recap from Cole Johnson and a report from Caleb Swartz who recaps the World Mountain Bike Championships junior cross country race. Also, a look ahead to a handful races to cap of this weeks report.
Chequamegon Fat Tire Festival
Warm and humid conditions greeted racers at Chequamegon this year. The mens race was stacked with first time participant and Marathon National Champion Payson McElveen who took the top spot on the podium with a time of 2:03:39. McElveen stated: ""There was a pack of us midway through the race and as we got closer to Fire Tower I could see between five and 10 people drop off," he said. "I was very tactical in my thinking and was able to move out ahead. I've heard a lot of great things about this race, and it lived up to what I was expecting. I came into it feeling I could do well."
We connected with third place finisher Jeff Hall who capped off a another successful season, for a interview: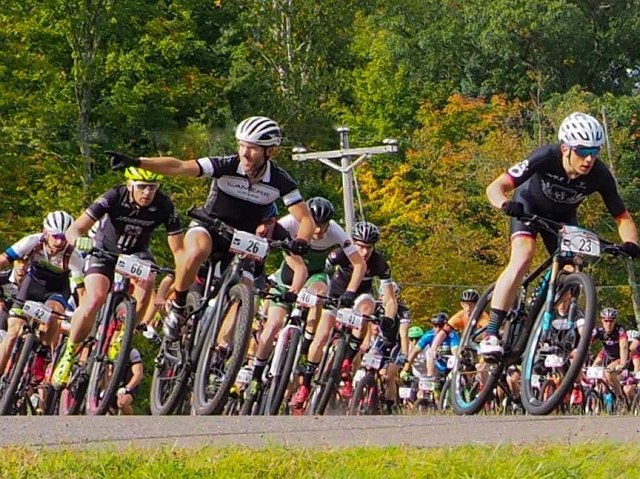 (Photo: A confident Jeff Hall gives his family a wave at the start)
You've had another solid season in the Midwest, capping off a great Chequamegon with a third place overall. How did the race play out from start to finish?
Fast start once again with a big group of about 25 forming a few miles in. Nothing too hard until the pace starts to pick up after 00. After that the group was around 20 coming into the fire tower climb, after that it was down to 10ish. The last Birkie section is where the real racing started with Payson McElveen, Brian Matter, Corey Stelljes, and myself going clear until the finish where Payson dropped us on the last climb and Brian and myself gaping Corey. We were all with in 11 seconds of each other with Payson taking the win Brian and myself sprinting for 2nd and Corey taking 4th. It was a very select group and I was pumped to be in it.
Finishing 3rd against the field that there was is very impressive. I know there are so many variables to put much stock into goals for placing but did you have anything different in mind this year what you felt you were capable of doing? Anything unusual or different happen?
I always go into the 40 wanting and thinking I can win so with that it was like any other year just see how it plays out and react. For myself if don't think I can win it I most likely won't race it, it is just how I am wired. Nothing different happened other than the pack was much bigger than normal...just shows you how strong everyone is. I would still love solo for the again, maybe next year.
When I talked to you Laddies Loppet weekend, you reflected on the life and racing of Steve Tilford. What was it like not having him in the race this year?
You really knew Steve wasn't there. He was always at the front of the packs holding on as long as he could and always good for a chat early in the race. Many great memories and a true legend of bike racing.
How was your bike set up different than years past? And why did you choose this option?
My bike was the same as the last 3 years. I ran the LaMere 29er full rigid. It was the same setup I had in 2015 when I won it solo so it is hard to go away from it. It does bounce you around a bit not having shocks but this old guys needs the lightest bike for the climbs to keep up with all the young pups...and Brian.
Anything else you did differently this year as far as nutrition?
Funny you ask. This year I eat more food closer to the start of the race hoping I have more energy for the last half. Maybe my body is just changing. During the race was pretty much the same with a small amount of food with about 4 bottles. It was hot this year so I made sure I drank enough.
You have one of the most unique support crew, with your dad Mike following the race along in his dirt bike. Anything different for him this year?
It is pretty cool to have him out there and after all these years and races we just keep doing it the same way...he wouldn't miss it for anything. If you ever see him after the longer point to point races you would see how much fun he has out there taking pictures and watching the race unfold. I am very lucky to have him doing that as I think it is the main reason I can be so successful. Thanks big Mike!
I know you do a lot of miles commuting, any change in your preparation this year or did you follow same plans as years past?
Same as the last 10 years, about 50 miles a day commuting back and forth to work. That is pretty much all the time I have for "training" with a family and 3 kids. I am on the bike at 2:45 am sharp year round and home shortly before dinner. I start work at 4:30. I run on about 4 hours asleep a night during the week. Great training!! If there is no race on a weekend we do some family rides and that is always my favorite training.
What are your plans for the rest of the season and moving forward?
The race season is pretty much done for me. I most likely will do some fat bike winter races this year on my LaMere and just play it by year for next summer. I am still feeling strong for most part so I am sure I will be back for another summer of racing. Doing it for 30 plus years it is hard to give it up. I just love winning races!!
In the female 40 division, Kyia Anderson threw down a dominating performance to take her second win, last one coming in 1995. Kyia has quite a story having spent time in Europe leading up to Chequamegon, without her own bicycles! Kyia provides a full recap of events leading up to the race and how things went down race day:
The Chequamegon was not on my list of events to race this year as I knew we were going to be traveling to Italy for a friends wedding for about two weeks prior to the event, but with my win at the Ore To Shore in mid August I was certainly toying with the idea. A message a few days before we left for Italy from the Chequamegon race director Gary Crandell put an end to those "maybe" ideas and I was in!
How to keep fitness while traveling to an Italian wedding? The few days before our trip I loaded as much training as I could into my legs, 270 miles to be exact. Once to a hotel in Italy I went searching for the "hotel bike". Off I went with a water bottle in my basket and the goal of hammering as hard as I could for :30 minutes. Luckily right away I found a bike path and then this little gem of a climb "Salita San Daniele". My single speed made it up once, so I gave it a go a few more times – found out later I got 5th on Strava! I had a fan who was out for his morning walk and soon he had his IPad out and taking video or photos of me and hollering words of encouragement as I climbed and descended 5 times. I stopped to say "Bonjourno" on my last hill repeat and he was all smiles and rattling on about something. I told him I didn't speak Italian so he took his hand and slapped his thigh a few times and pointed at me. So good! I found hotel bikes or stationary bikes 6 of the 10 days we were there to do some sort of intensity. We also had some lovely hikes in the Dolomites…I will be back there some day to ride those mtn passes.
Back to MN the week before the Chequamegon life was ON full gas! NICA race at the Jail Trail, my son starting Kindergarten, getting back to work, bike set up for the Chequmegon and finding some time to sleep and ride my bike was in there too. Racing the Chequamegon actually seemed like a vacation!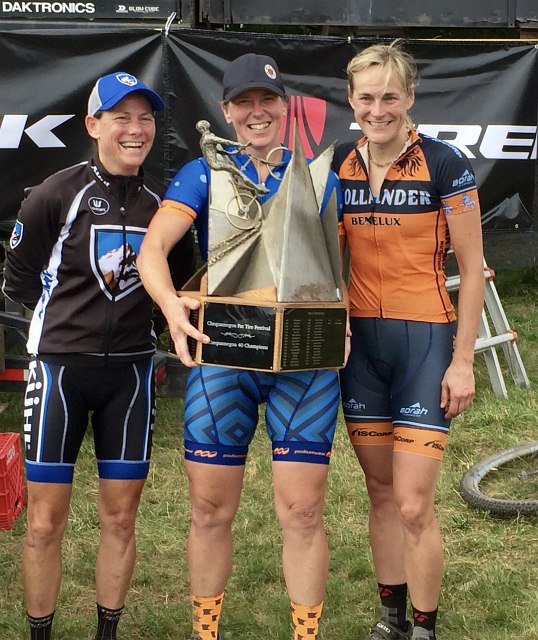 (Photo: Kyia Anderson all smiles, as usual, with her second Chequamegon 40 title -- 18 years since the first one!)
The 35th Annual Chequamegon 40: I had a great and safe roll out, my new Wolftooth 34T chain ring was the ticket, I could tuck in behind the masses rolling down Hwy 77 and get in a good position for Rosies Field. I was pushed a little wider than I hoped and had to do a break check to get a safer line but soon I was on my way. I wasn't too sure if there were any women ahead of me so I put my legs to work right away. My goal was to ride a clean and conservative race. I set to finding that right wheel to follow and a few miles in Ben Olson (Maplelag) was powering up a climb as I was passing Carley Jackson (Orion Racing/Podiumwear) , I stood to grab his wheel and I knew that was a good move as instantly we were setting a good pace down the Birkie Trail. On Phipps Firelane I was given the thumbs up by Mr. Anderson and he confirmed I was in first. Nice, just stay with this group of male riders and all should be good. Up and over the Birkie trail, hammering the gravel roads and slaying the two track. A few miles before the "Tower Hill" climb while riding through an area that had recently been logged I got a stick in my rear derailleur, I had to stop and pull it out. There went my group. I got back on my bike as quickly as I could and hammered back up to the group I had just lost…that was tough and I had a hard time recovering as soon we were on Tower Hill. I made my way up that beast of a climb and at the top I was given a Coke, that sugar was exactly what I needed! The Birkie Rollers were painful and the last 8 miles I was on my own catching a draft here and there from some faster male racers. Finally I was at a mile to go and I was catching air on the bumps down into the bowl of the finish area!! Woohoo! The crowd was amazing and it was so fun to push it that last little bit into the finish line! What a ride! 18 years since my last win at the Chequamegon. Wow!
The Short and Fat once again saw the juniors record impressive finishes led by Anna Christian in the female division who set a course record in the time of 55:15. Rounding out the top three were Rebecca Sauber at 56:28 and Hanna Mork at 58:55. In the Short and Fat men's, Daxton Mock came in first at 51:19, followed by Calvin Sandberg at 51:22 and Pavel Nelson at 51:49. Top 30 finisher and frequent contributor to the MW MTB report, Cole Johnson, provides his version of the race: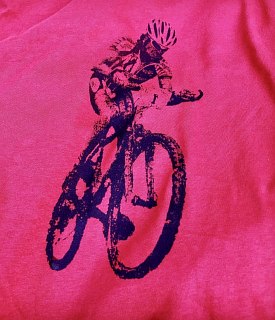 (Photo: Custom Steve Tilford shirt screened by Cole Johnson's father Matt)
The 2017 chequamegon short and fat has been a focus of mine this season and I was very happy to be able to finish 25th, cut 6 minutes off my time from last year, and qualify for the first start gate next year. It was a perfect day for racing with temperatures around 70 with clouds as we started in downtown cable. I was in the back of the second start gate so probably 70 people back from the front. There were two four wheelers that held the pace at 20 mph on the rollout so passing was hard as the gaps weren't opening up, but I was able to get to the right side of the road and roll into the leading group. Unfortunately I has some issues with my legs getting super tight on the start, possibly a result from a subpar warm up, so I dropped off the back of the lead group to around 30th place. I was able to slowly work my way back up to about 25th as we entered the birkie ski trail at about mile 8, and raced with two other guys for most of the way before dropping one and getting dropped by the other. I ended up rolling in to telemark at 57:36 in 25th place (of 950 finishers) which was about 6 minutes behind winner Daxton Mock. I was very glad to finish this well because I had improved on my previous years time by six minutes which I was proud of. The course was super fun and challenging with a combination of gravel road and the birkie ski trail that always sucks the power from the legs. This race is so unique from other races in the midwest and it is always just as fun. Congrats to Daxton Mock and Anna Christian on their wins as well!
UCI Mountain Bike World Championships
Last week we briefly highlighted the performance of Caleb Swartz who competed in the mens junior division. Caleb is back at school, caught up for most part and sent in a report from Worlds:
Racing the World Championships in Cairns, Australia was an incredible and eye-opening experience for me. I've raced cyclocross in Europe and experienced some pretty brutal and difficult courses but the course at the Smithfield Mountain Bike Park was something else. Difficult, technical, steep climbing, big drops, gnarly rock rolls and tire destroying rock gardens made up much of the course. On top of that I dealt with temperatures near 90 degrees, sticky humidity and blinding clouds of dust that coated everything making every corner loose and slick.
When the gun went off on Thursday afternoon it was full gas into whirlwind of gravel and dust. I snuck around a crash in the first corner and accelerated again into the darkness hoping that no one would go down in front of me. We tore up the start loop and I came through the start finish somewhere in the 50s.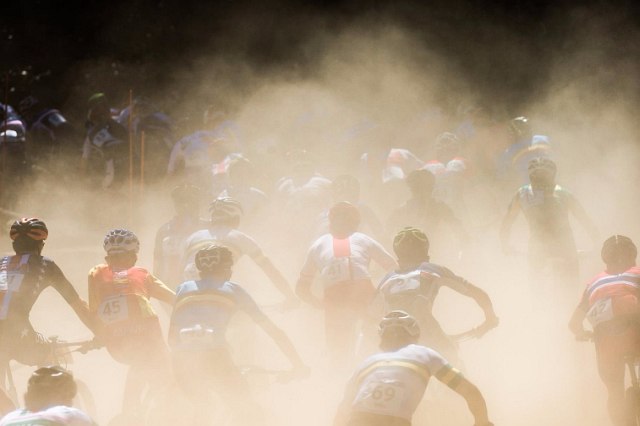 On the rodeo drop off I took the B-Line around some downed riders and made up some time. On the crusher drop there was a line of riders who were stopped, waiting to drop into the steep rock roll. I took the B-Line again gaining a few spots. From there it was full gas all the way to the top of the course with my heart rate deep into the red. When I reached the top, I dropped straight into the infamous "Croc Steps" rock garden followed by the "Croc Slide" rock chute. I made it through cleanly and took the B-Line on "Jacob's Ladder," a vertical, flat inducing rock roll followed by a rock garden. I lost a few spots and kicked myself for still being skittish after I crashed hard there on Monday. Next up was the caterpillar jump section, the most fun part of the course and the only place I could really recover.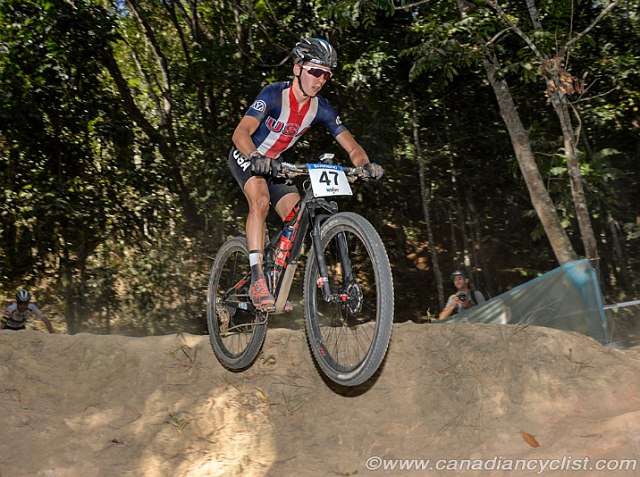 Coming into lap two I was somewhere in the upper 40s and maintained my position until the Croc Steps where I took the B-Line to go around a downed rider. I almost missed the corner that cut back onto croc slide and dabbed, launching down the sheer rock slide with one foot unclipped! I flew down to the bottom managing not die, and as a bonus the crowd went wild recognizing my narrow escape of a race ending crash.
For the next three laps, I tried to move up the best I could, but the heat and humidity took its toll on my heart and body. My heart rate was so high (max of 202, average of 192 for 1:15) that I could hardly even push my legs without maxing out my HR. When I crossed the line I was utterly spent, but elated about racing my first mountain bike World Championships.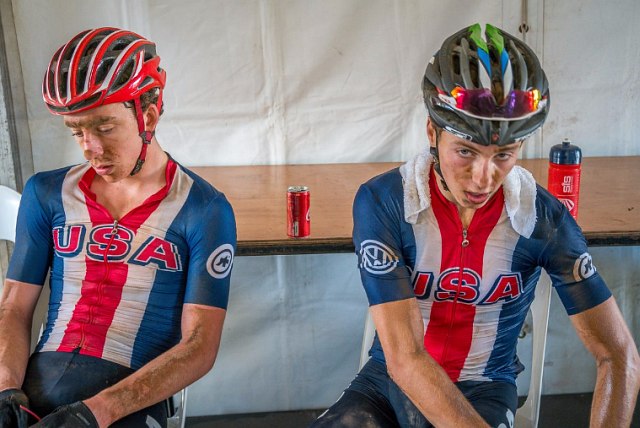 My result was far from what I had hoped and trained for, and I am still quite disappointed in that. However, I rode a clean race and conquered every obstacle on the course overcoming my fears. In addition, I learned a great deal about international mountain bike racing, as it was my first ever over-seas UCI race and my fourth ever UCI cross-country race. On top of that I made lots of amazing new friends from the U.S. and other countries, swam in the ocean, watched the pro races, saw kangaroos and crocodiles, and overall had the trip of a lifetime!
For that I'd like to thank my family and all my friends for their amazing support and contributions, my coach, Joseph Maloney for helping me have my best season yet and accomplishing the highest goals I set, the Marian University cycling community for helping me prepare, and finally thanks to my amazing team Linear Sport Racing and to my awesome sponsors: Trek Bikes, Bontrager, Wheel & Sprocket, Styled Aesthetic, Kettle Moraine Preservation and Restoration, and David Hobbs Honda, as well as Honey Stinger, Mike's Mix, Englewood Grass Farm, Wolf Tooth Components and ESI Grips!
New Trail at Sylvan Hill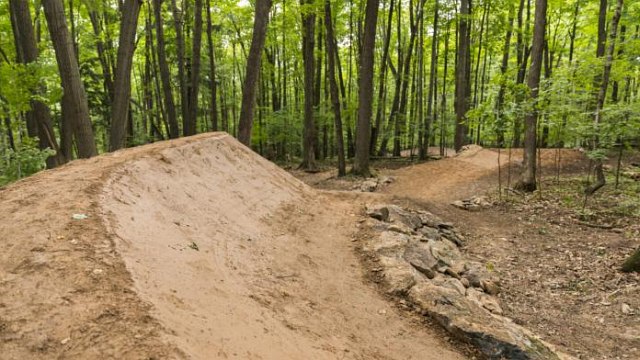 (Photo: Massive new flow trail at Sylvan Hill)
In Wausau, WI, the Central Wisconsin Offroad Cycling Coalition (CWOCC)—an IMBA chapter—recently completed a multi-year project that resulted in a pumptrack, four bike-optimized downhill trails of varying difficulty and a beginner-friendly loop built on an old ski hill and managed by the Marathon County Parks Department. Full article.
Looking Ahead
Cross is in full swing, high school mountain bike season is in the big ring and the fat bikers are starting to dial in the rides for the winter season soon to come. However, there are a still few mountain bike races to happen including the Iceman Cometh which runs right into winter and some local goodies.
"Everyone's favorite race of the year", The Deer Fly Chase is back for a seventh year!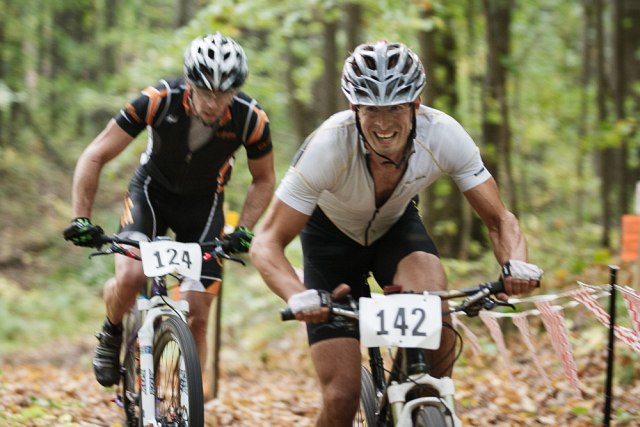 (Photo: Aaron Swans battling in the singletrack, Deer Fly 2016)
The race course will be as epic as ever -- outstanding terrain, a mix of gravel roads, ski trails and the best singletrack around (new singletrack every year, that's our promise to you).
For those familiar with the area, key route highlights are: Rolling paced start on blacktop from Dog Island; the race will start with the Rattlesnake hill equalizer climb; rolling dirt roads offer plenty of fast riding; balanced with technical singletrack and ski trails for passing; a long gravel climb on Deer Fly Trail and even more sweet singletrack, will further separate the contenders (long course racers); fast open ski trail finish near Dog Island.
Other unbelievable highlights include: Complimentary food and Fat Tire beer to all finishers (ages 21+), prizes and awards to top finishers.
Talking to riders that have done both the Marji and Maah Daah Hey events, these two ultra endurance mountain bike events have been the two hardest in the Midwest. 12,000ft of climbing over 100 miles with some tech sections truly test the endurance junkies that features 100-miles of rocks, roots, punchy climbs, jump lines, flow trails and soul crushing grinding that DNFs nearly 60% of the field each year.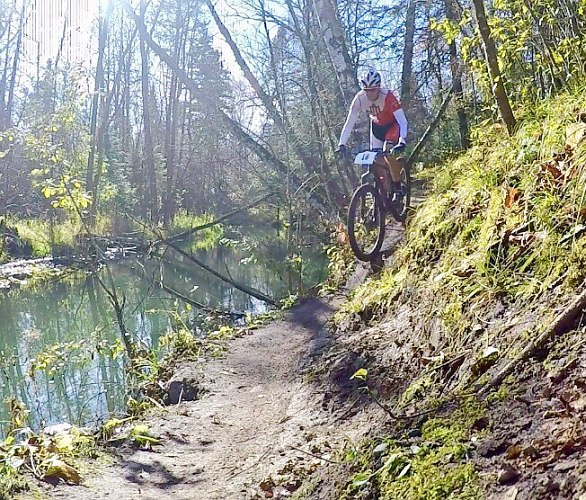 (Photo: Tight lines along the river, Blacks Grove)
The enthusiastic, with an extra emphasis on fun, group at Black's Grove are starting to fine tune what is one of the more challenging and old school technical races in Minnesota. There are plenty of roots with sharp turns and quick up and downs that challenge the skill set nicely. Always a fun post race gathering at the big spruce log chalet and a soothing creek nearby.
Big cash field, fast course, unpredictable weather defines the Iceman Cometh. Oh, some pretty sweet post race shenanigans post race.
Thanks to everyone who contributed to the reports, helping make it another great season. And special shout out to all the race promoters, volunteers and trails builders that help make it happen.
Keep the wheels moving!
About the author...

Jay Richards maintains a very active lifestyle. He somehow finds time between managing a full-time resort (Maplelag) and bringing up a family of four boys with his wife Jonell, to compete in both mountain bike and a few cross-country ski races. Jay rides for Maplelag Resort, manages the Maplelag mountain bike team and enters his 27th year of racing and promoting mountain bike races.

Have an event or mountain bike related information to share from the Midwest? Feel free to contact Jay at