Collegiate Racing: Midwest Skiers Summer Training
by Mary Kozloski
October 15, 2017
Mountains, moose and training with Olympians...sounds like an idyllic summer training experience for the average collegiate skier, right? For Minnesota natives and collegiate athletes Alayna Sonnesyn (Plymouth, MN), Caroline Brisbois (Falcon Heights, MN) and Hannah Rudd (Plymouth, MN), it was!
With strong collaboration across teams and clubs around the nation, collegiate athletes have the opportunity to experience summer training with other teams beyond their high school and college teams. Whether athletes venture near or far for their summer training, unique opportunities arise wherever they go. In this article, Alayna, Caroline and Hannah each share their intriguing summer training experiences.
Alayna, who skis for the University of Vermont and Caroline, who skis for Northern Michigan University, leaped at the opportunity to train out west. Alayna in Bend, Oregon and Caroline in Anchorage, Alaska.
"I was looking for a new place to train during the summer after my freshman year at University of Vermont," explained Alayna. "I was looking into a few options... but when I asked my coach, Patrick Weaver, he strongly recommended going to Bend Endurance Academy (BEA). He had trained there as a professional athlete for many years and he had many of his own athletes travel out there for the summer, only to come back in great shape and form for the next season. I had never been to Bend, had no idea what the town, training, club, or coaches were like, but I put my faith in my coach and decide to go for it!" Now, Alayna has been training with Bend Endurance Academy (BEA) for three summers in a row.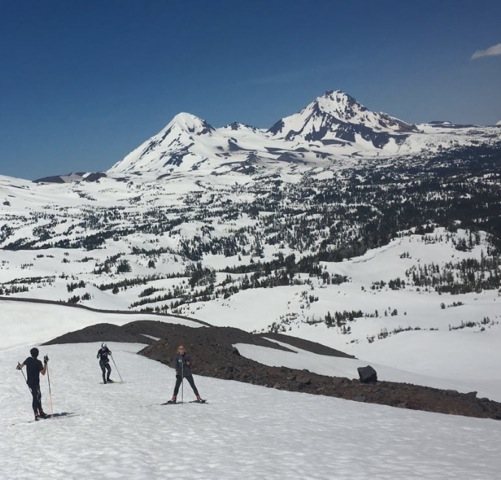 Photo: Alayna skiing the circumference of Broken Top (June 2017).
For Caroline, the mountains were calling her, so she went! Caroline trained with Alaska Pacific University (APU) Nordic Team, based in Anchorage, AK.
"As a flatlander, I wanted to experience living and training in a different place for a summer with a new landscape (mountains!) and group of training partners," said Caroline. "It is also really cool how accessible the mountains are. In just a 15 minute drive you can be on your way to adventure for hours."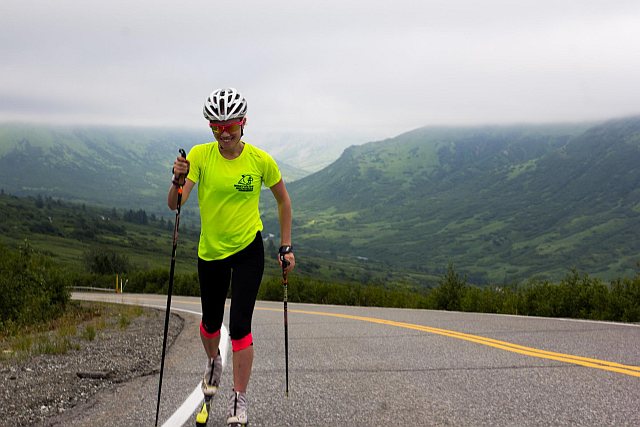 Photo: Caroline Brisbois skiing up Hatchers Pass (3,886ft.). The pass is located north of Anchorage and winds through the southwest part of the Talkeetna Mountains.
Not only did Caroline have an opportunity to train on outstanding terrain, she also had the opportunity to train and learn alongside a few outstanding athletes, World Cup skiers Kikkan Randall and Sadie Bjornsen.
"I was really excited to have the opportunity to participate in workouts with Sadie and Kikkan," said Caroline. "They are super nice and gave me advice when I was dealing with injuries, because they too have had to overcome injuries and are still able to compete at the highest level. This was motivating and showed me that you can achieve any goal no matter what issues you have, you just have to be creative and figure out what training is best for you."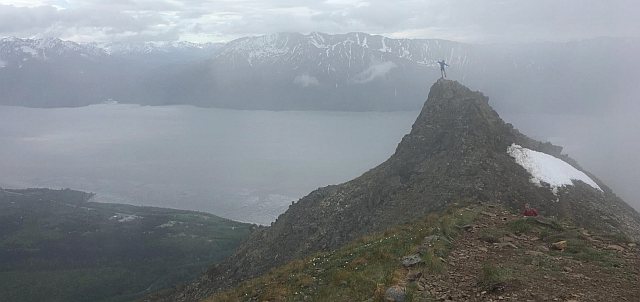 Photo: Caroline Brisbois at the peak of the Bird Ridge Trail in Anchorage, AK.
For Hannah Rudd who skis for the University of Alaska Anchorage, took advantage of the amazing training opportunity right in the back door of her hometown, Plymouth, MN. Rudd trained with Loppet Nordic Racing (LNR), a team based in Minneapolis, MN. Not only does LNR have a deep and strong collegiate training group that brings together some of the best women on the collegiate circuit, the team is also lead by World Championship bronze medalist and Olympian, Caitlin Gregg.
"It's pretty unique and motivating to be able to train with athletes from other schools around the country," said Hannah. "It's easy to get into a comfortable routine with your own college program, but training and learning from Caitlin and other college skiers was super motivating and really pushed me."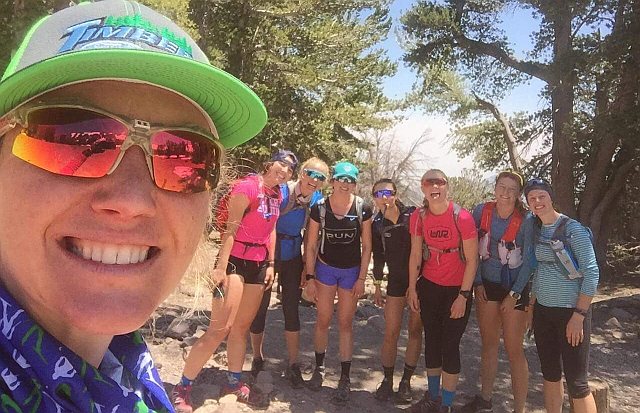 Photo: Hannah Rudd and the LNR collegiate women's training group with coach, World Championship Bronze Medalist and Olympian, Caitlin Gregg.
Another benefit of training with several different coaches and athletes throughout the year, is the exposure to a wide range of perspective on training as well.
"The BEA coaches don't focus on hours or intervals," explained Alayna. "They realize that as a collegiate athlete we are at the point in our training where we can either determine those points for ourselves, or turn to our college coaches for advice. Instead, the BEA coaches work on making each individual athlete increase their efficiency at skiing. They narrow in on a skier's weakness and develop workouts and technique drills that help the athlete ski faster while working less."
"This summer the LNR team did a substantial amount of L3 running and skiing," said Hannah. "The Greggs had us checking our lactate levels during these workouts so I feel like I was really able to dial in my zones and threshold pace."

Video: LNR women's collegiate summer training group sprint workout.
"It was super valuable to train with a group of really fast girls and learn from them. It was nice to meet new skiers with different strengths through APU," said Caroline."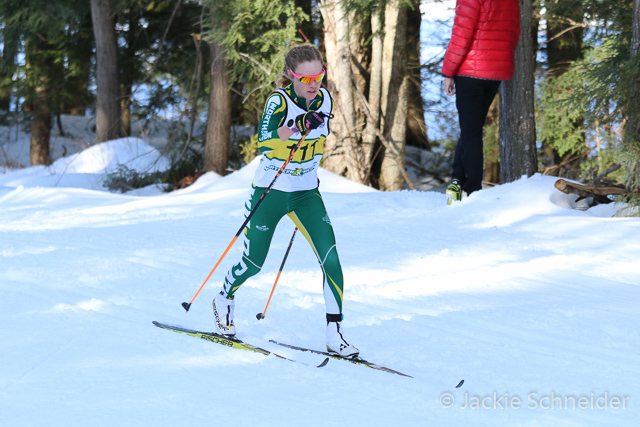 Photo: Caroline Brisbois skiing for NMU in the 2017 NCAA Regional Championships in Ishpeming, Michigan.
These training locations and plans have worked out immensely for all three athletes. Sonnesyn has been dominating the Eastern Intercollegiate Ski Association which stamped her ticket to the 2017 NCAAs, where she earned two outstanding podium finishes - third in the 5k classic and second in the 15k freestyle mass start and was the top American finisher in both races as well. [a][b]And, both Caroline and Hannah have consistently placed in the top ten in each of their conferences throughout the ski seasons.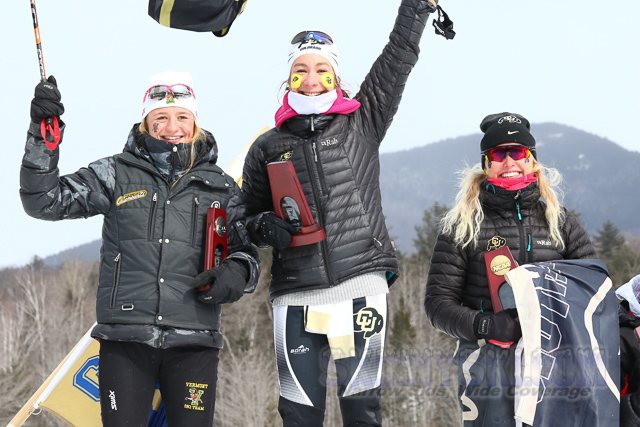 Photo: (Left) Alayna Sonnesyn on the women's 15K freestyle podium in 2nd, NCAA Championships, March 11, 2017
"The training in Bend improved my classic skiing immensely," explained Alayna. "I used to get so nervous for any classic race because I knew I wasn't as strong at it. Now I get excited for them! I am more confident in my classic skiing now than I ever was before."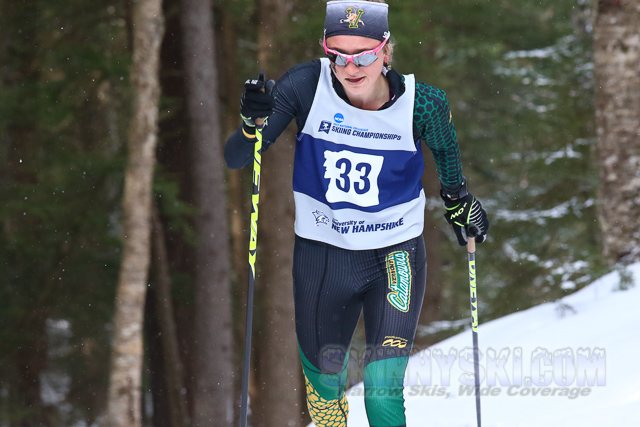 Photo: Alayna competing in the 2017 NCAA Championships classic race.
After talking with these women it is evident they are passionate, determined and hardworking, but most of all, what keeps them coming back is their ability to have fun in everything they do!
"I have absolutely fallen in love with Bend as a town, training location, and club/coaches/athletes have changed the way I look at skiing forever," said Alayna. "There have always been two things to remember while training in Bend, work hard and have fun doing it!"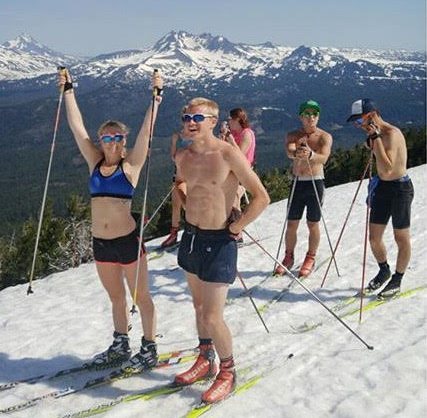 Photo: Alayna skiing in mid-June on Mt. Bachelor, in Bend, OR (June, 2016).
By now these girls have been back with their teams for over a month concentrating on rigorous fall training and before we know it, the snow will be flying and races will be underway. For most, the first big races of the season will be at the U.S. Cross Country National Championships. Houghton, Michigan, who has hosted Nationals the past two years at the Michigan Tech University trails, is passing the baton to Anchorage, Alaska, where the races will be taking place at Kincaid Park, January 2 - 4, 2018.
About the author...

Mary Kozloski is from Green Bay, WI and is a UW Green Bay Ski Team Alumni, where she skied and studied Communications and Business Administration for four years. Mary continues to love and stay connected to the sport through writing. She is a travel and outdoor enthusiast and enjoys exploring everything Colorado has to offer, which she has called her new home state since fall of 2016.