Collegiate/Elite Racing: Houghton, Alaska, and British Columbia Racing
by Mary Kozloski
December 18, 2017
HOUGHTON, Michigan (December 16 - 17, 2017) - The Central Collegiate Ski Association (CCSA) kicked off the season this weekend with a freestyle sprint on Saturday and a 15/10k classic mass start on Sunday. Northern Michigan University (NMU) were dominant in both the men's and women's races this weekend, proving the depth and strength of their team season after season.

NMU leading the men's 15K classical race, Houghton CCSA, December 17, 2017 (Photo: Jackie Schneider)
Competition started on Saturday with sprint races. In the men's sprint, Wisconsin native Kevin Bolger (Minocqua, WI) who now skis for Sun Valley Ski Education Foundation (SVSEF), qualified first and kept his momentum going through to final heat. Bolger stole first from NMU's Zak Ketterson (Bloomington, MN) by 1.6 seconds while Ian Torchia (Rochester, MN) and Michigan Tech University's Thomas Bye (Eden Prairie, MN) finished second and third, respectively.
NMU swept the podium in the women's sprints. Anikken Alnaes (Akershus, Norway), who qualified second, continued to dominate throughout the heats. In the final heats, snow was falling on the competitors which made for an even more grueling sprint. The fresh snow did not slow down Alnaes however, she edged teammate Vivian Hett (Burnsville, MN) by 3.25 seconds, while Sarah Bezdicek (Osseo, MN) finished third to guarantee the NMU podium sweep.
"I was very happy with my result from the sprints!", said Hett. "I was fortunate to be a lucky loser in my quarter final and be able to move all the way to the final. In the final heat, I knew I had to make my move on the last large uphill before the finish because I know I'm not the strongest skate skier on the flats. With my move on the hill, I was able to move into the front and ended up finishing in second."
The weekend concluded with a 15/10k classic mass start, where NMU men and women swept the podium. In the men's 15k classic, Zak Ketterson and Ian Torchia battled for first until the final stretch. Ketterson was able to have the final burst of energy at the end to secure the win, 5.1 seconds ahead of Torchia, while Lars Soensterud (Oslo, Norway) finished third.
Zak Ketterson summed up his weekend: "The sprint was an interesting experience for me and our whole team since it was basically our first time skating on snow since Thanksgiving week. Since sprinting takes some time to get used to, I felt a bit unbalanced and awkward but I was still happy with my qualifier and heats. Kevin Bolger was too strong for me to beat that day. Some quality time on snow at home for the next couple weeks will definitely help. The classic mass start was a ton of fun as well. With Ian Torchia back on the starting line I knew the pace would be unrelenting. Tactics wise, I was just trying to save as much energy as I could for the last few kilometers since that is usually one of my strengths, but still trying to help out with the lead since it was a group of Wildcats and the front and we were trying to distance ourselves from the rest of the pack. I was lucky to feel strong in the last few kilometers and keep the pace up enough to finish first, although Ian put up a really good fight. Ian will be extremely tough for me, let alone anyone, to beat at Nationals, as he is in insanely good shape and has a tendency to step it up when it matters most. Regardless, I was happy with how well my team performed and excited for nationals soon!"
In the women's 10k, the finish was determined by a final sprint between CXC's Felicia Gesior (Waukesha, WI) and Vivian Hett.
"The classic mass start 10km was one of the most fun races I've done!," said Hett. "It was exciting to push myself with my teammates and former teammate, Felicia."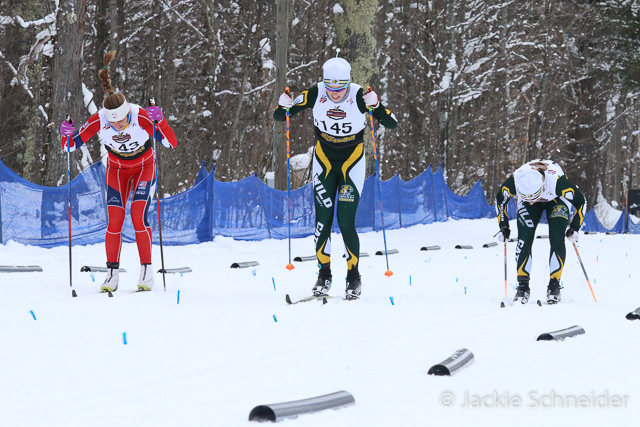 Three way sprint for women's 10K classical finish, Houghton CCSA, December 17, 2017 (Photo: Jackie Schneider)
Gesior was able to steal first from Hett by just 0.6 seconds while Kristen Bourne (Lake Elmo, MN) and Nicole Schneider (Plymouth, MN) finished third and fourth respectively.
"Throughout the race I tried to remain steady and not expend too much energy because I knew it was going to come down to the end," said Hett. "At the bottom of the course before we climbed up to the finish I tried to make a move and pick up the pace. Felicia and Kristen stayed with me all the way to the end and make it an exciting sprint at the finish! Overall, I'm happy with the results from the weekend and look forward to US Nationals in Alaska with my teammates! Go wildcats!!"
Men's Sprint Results
Women's Sprint Results
Men's 15k Classic Results
Women's 10k Classic Results
---
FAIRBANKS, Alaska (December 16-17, 2017) - The Besh Cup races in Alaska kicked off this weekend. The races were scheduled to take place in Anchorage, but due to an unfortunate lack of snow, the races were moved to Fairbanks. The races included a 1.3k classic sprint race on Saturday and a 15/10k freestyle race on Sunday. Plymouth, Minnesota natives Hannah Rudd and Michaela Keller-Miller who both ski for the University of Alaska Anchorage (UAA) had top ten finishes this weekend.
"Currently in Alaska there is only about 4 hours of daylight in Fairbanks, the sprint course was switched to the lighted loop at Birch Hill," explained Rudd. "It was a little strange starting the qualifier before the sun rose and finishing in the dark as well...but I suppose it just added another interesting element to the race."
In the women's sprints, Rudd started the day qualifying seventh and continued pushing through to the final heat. Alaska Pacific University (APU) Nordic's Becca Rorabaugh dominated throughout the day and claimed first 5.1 seconds ahead of teammate and Minnesota native Rosie Frankowski (Minneapolis,MN) and Alaska Winter Stars (AWS) athlete, Molly Gellert U18, had an impressive third place finish overall. Rudd finished sixth overall and was first for U20 women.
"On Saturday, it was about 30° with fairly fast conditions," said Rudd. "I felt pretty good for the first race and was able to qualify for the final along with my teammate Casey Wright. Both Casey and I ended up crashing in the final round but overall I am still happy with how the day went."
In the men's classic sprint, APU swept the podium. Reese Hanneman dominated the race, finishing 13.2 seconds ahead of teammates Tyler Kornfield and Erik Packer.
The weekend concluded on Sunday with a 10/15k freestyle mass start. In the men's race, APUs David Norris edged AWS's Gus Schumacher (U18) by three seconds, while Packer finished third. Frankowski dominated the women's race, finishing 15.20 seconds ahead of teammate Becca Rorabaugh and AWS's Molly Gellert who finished third. Rudd and teammate Michaela Keller-Miller grabbed spots in the top ten, finishing eighth and tenth respectively.
"From the very beginning, Rosie Frankowski took the lead and held it the entire race," explained Rudd. "For most of the race, I was in a pack with Michaela Keller-Miller, a few of my other UAA teammates, and some UAF athletes. The Besh Cups are super well run races and they are a really great opportunity to compare yourself to top level athletes."
Men's and Women's 1.3k Classic Sprint Results
Men's and Women's 15/10k Freestyle Results
---

ROSSLAND, British Columbia (December 15-17, 2017) - Brian Gregg and Caitlin Compton- Gregg of Team Gregg headed to Canada for the Rossland NorAm Mini-tour, hosted by Black Jack Ski Club this past weekend, to get a few more races in before U.S. Nationals in January.
"Great weekend of racing in the Rossland NorAm," said Brian. "I wish that we had the whole Super Tour field here racing since the Black Jack Ski Club puts on a fantastic race. The courses in Rossland are World Cup level and some of the most difficult we race all year."
The races included a 10/5k classic interval start on Friday, a 1.4k sprint and distance freestyle race on Saturday and a 15/10k freestyle pursuit race on Sunday.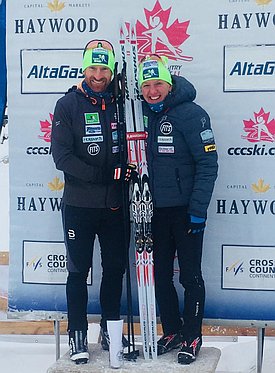 "A huge thank you to our friends at the National Training and Development Center Thunder Bay for the race support this weekend. We have had several training camps with the Thunder Bay team and athletes and it was really great of them to provide the infrastructure for our success this weekend."
Friday's 10/5k classic races were just the beginning of the Team Gregg domination. In the men's 10k, Brian skied to a convincing first place finish 28.2 seconds ahead of Scott Hill of Team BXC and Bob Thompson of NTDC Thunder Bay who finished third. In the women's 5k, Caitlin finished nearly 47 seconds ahead of Canmore's Annika Nicks and Sophie Carrier-Laforte of Skinouk.
"Our greatest success of the weekend came on day 1 in the classic race," said Brian. "We put a big focus this year on our classic skiing with some on snow training camps in May in Iceland/Norway and August/September in New Zealand and it is great to see that showing on the results page. It also helped that our skis were amazing. Temperatures were around 31 F with a dusting of fresh snow but we had great grip which we could slap free at the top of the climbs."
In the sprints Caitlin grabbed first by a toe, just 2.5 seconds ahead of Andrea Dupont and Zina Kocher who finished third. Brian just missed the A final heat but scored second in the B final and eighth overall.
"The sprint course is fast and fun with both men and women racing the same 1.4 km course," said Brian. "The course climbs from the beginning and Caitlin was able to stretch out the field to take the win. The men's heats came down to a drag race for the final 150 m with many photo finishes."
The tour concluded with a 10/15 freestyle pursuit race. Caitlin claimed her third podium and Mini-tour overall title, finishing 48.28 seconds ahead of Zina Kocher and Andrea Dupont. Brian grabbed his second podium of the weekend by winning the pursuit race just 7.6 seconds ahead of Andy Shields or Lappe Nordic and Jack Carlyle, Soo Finnish.
"We entered the final day as the rabbits for the rest of the field," explained Brian. "It is odd to feel that the others are just a few meters behind, but also a great exercise in remaining focused on your own race. I focused on racing as a time trial with a conservative start and the goal of negative splitting each lap."
Men's and Women's 10/5k Classic Results
Men's and Women's 1.4k Sprint Results
Men's and Women's 15/10k Freestyle Pursuit
About the author...

Mary Kozloski is from Green Bay, WI and is a UW Green Bay Ski Team Alumni, where she skied and studied Communications and Business Administration for four years. Mary continues to love and stay connected to the sport through writing. She is a travel and outdoor enthusiast and enjoys exploring everything Colorado has to offer, which she has called her new home state since fall of 2016.