Collegiate Racing Recap: CCSA, EISA, RMISA
by Mary Kozloski
January 22, 2018
CCSA Series
CABLE, Wisconsin (January, 20 - 21 2018) - The American Birkebeiner Foundation hosted the 2018 'Gitchi Gami Games' at the new and iconic American Birkebeiner race stadium, where the Central Collegiate Ski Association (CCSA) along with Junior National Qualifying races met for a weekend of competitive competition. The name Gitchi Gami Games is more than just a fun alliteration, it is a reference to one of the most significant competition events in U.S. cross country skiing history that dates back to 1977. The original event took place on the old Telemark Trails and was created by the late Tony Wise, creator of Telemark Lodge and the American Birkebeiner race. Click here to read more about the history of the original Gitchi Gami Games.
Races included a 10/5k individual classic on Saturday and a 15/10k freestyle mass start on Sunday. Caitlin Gregg (Minneapolis, MN) of CXC/LNR/Team Gregg swept the weekend competition claiming both the classic and freestyle titles, while Kjetil Banerud (Oslo, Norway) of Northern Michigan University won the men's classic race and Tom Bye (Eden Prairie, MN) of Michigan Tech University won the men's freestyle distance race.
In the men's individual classic race, Banerud skied to a convincing first place finish. Jacob Ajax (Minneapolis, MN) of University of Wisconsin - Green Bay, who has shown his strength in classic racing in past seasons, finished 21.7 seconds behind Banerud to claim second, denying NMU of a men's podium sweep. NMU's Mathias Rolid followed close behind to finish third overall. Ryan Mead (Scandia, MN) of Nordicwerks SkiKlubb was the top U18 male in the 10k classic race, while Cooper Lennox (Mora, MN) was the top U16 male in the 5k classic.
Mara McCollor (Plymouth, MN) of Wayzata Nordic Ski Team had an impressive 5k classic race, finishing just 12.7 seconds behind Caitlin Gregg to claim second overall and first for U18 women. Vivian Hett (Burnsville, MN) of Northern Michigan University finished third overall and was first for the collegiate women.
"I am happy with my results from the weekend in Cable!" said Hett. "It was good to see that they changed the course from last year, making it a little more challenging. In the classic race on Saturday, luckily we started at 9am so the kick wax conditions were not too tricky. I decided to go with a little less kick than usual just because the uphills on the course were so short and pretty steep that a quick herringbone would be just as fast as attempting to stride."
Hett edged teammates Kristen Bourne (Lake Elmo, MN) by 2.2 seconds, followed by Anikken Alnaes (Akershus, Norway) who was third to secure an NMU women podium sweep. Gretchen Haggenmiller (Duluth, MN) of Duluth XC Ski Club had an impressive classic day claiming first for U16 women and 11th overall in the women's 5k.
"This was our first 5km race of the season so I was just focused on going as hard as I could throughout every part of the whole race and I ended up happy with my result!" Said Hett.
Competition concluded with a freestyle mass start. The men's 15k race was a battle between Tom Bye and Kjetil Banerud, which ended in a photo finish. In the final stretch Bye and Banerud were neck and neck, but it was Bye who had the final push to stretch his toe an inch further, to claim first and denying Banerud his second podium of the weekend.
"Sunday was sweet because the chevron was heavily MTU like most of the race in the lead pack," said Bye. "I did feel a little sluggish through a lot of the race. However, after Kjetil made his last move I got a nice surge for the final downhill and sprint, it felt like a weight was lifted at the finish."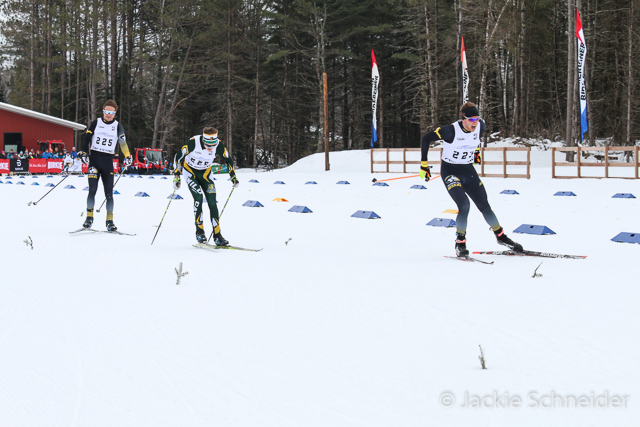 Bye edged Banerud by 7 tenths of a second, while Gaspard Cuenot (Le Cerneux-Pequignot, Switzerland) of Michigan Tech University was third. Anders Sonnesyn (Plymouth, MN) was first for the U18 men by just 0.4 seconds and Cooper Lennox was the first U16 male for the second day in a row.
In the women's 10k freestyle race, Caitlin Gregg was in her element and dominated the race, finishing nearly one minute ahead of the competition. Vivian Hett was second overall and grabbed her second win of the weekend for the collegiate women.
"In the 10k freestyle the conditions were fast the course was still fairly firm because the temperatures were right around freezing," said Hett. "Right from the start, the pace of the race was quick so I just tried to hold onto the group at the beginning because it usually takes me a while to get going in races."
Once again Hett and teammate Anikken Alnaes were battling for first, but it was Hett who had the bigger burst of energy at the finish line to steal the win by 0.9 seconds. Teammate Julie Ensrud (Saltnes, Norway) finished third to claim NMU's second podium sweep of the weekend for the women. Sarah Olson of Loppet Nordic Racing (LNR) was first for U18 women and finished seventh overall in the 10k, while Elizabeth Tuttle of LNR was the top U16 women in the 5k freestyle.
"After I got into my rhythm around the 3km mark, I decided to make a move and dropped the rest of the pack," explained Hett. "At that point I knew I was going to be racing alone because Caitlin had already taken off with the lead. As the race continued into the second lap, I just tried to hold off the big chase pack of girls that was slowly gaining on me. In the final stretch, my teammate Anikken came the closest to me but I was able to hold her off in a sprint finish which was really fun! Overall, I'm happy with the weekend and the conditions of the Birkie trail!"
Competition continues for the CCSA February 3 – 4. Races will be hosted by Michigan Tech University.
RESULTS

EISA Series
HUNTINGTON, Vermont (January, 20 - 21 2018) - The Eastern Intercollegiate Ski Association continued to have challenging race conditions for the second weekend in a row. The St. Michael's Carnival at the Sleepy Hollow Ski Center, dealt with the warm temperatures and variable snow, creating a 2.5k loop to have a 10/5k classic on Saturday and a 15/10k skate on Sunday. Minnesota native Alayna Sonnesyn (Plymouth, MN) of University of Vermont (UVM), remains undefeated so far this season, as she dominated both of the women's races, while Bill Harmeyer of University of Vermont won the men's 10k classic and Zane Fields of Colby College won the men's 15k freestyle. Several Midwest natives were also in the top 10 and top 25, including: Renae Anderson (Golden Valley, MN), Mattie Watts (New Brighton, MN), Margie Freed (Apple Valley, MN), Abigail Drach (Eden Prairie, MN), Ingrid Thyr (Minneapolis, MN), Luke Brown (Minneapolis, MN), Nick Gardner (Stillwater, MN) and Russell O' Brien (Madison, WI),
Warm conditions on Saturday, made for extremely tough classic racing conditions not only for the athletes but especially for the wax techs.
"Temperatures quickly spiked Saturday throughout the classic races so a few of us decided to double pole the 5k," explained Sonnesyn. "It was a decision some of us were prepared for, while others saw it as a last resort but I think that, overall, it worked out for us."
In the women's 5k classic, Sonnesyn's strength carried her through the rigorous course to claim first. Sonnesyn won by 10.6 seconds ahead of Cate Brams of Middlebury and Linda Sutro of UVM who was third. Five Minnesota natives finished in the top 25 on Saturday's 5k classic. Rene Anderson of Bowdoin College was in the top 15 finishing 13th overall, Mattie Watts finished 17th, Ingrid Thyr of Williams College was 15th and Margie Freed of (UVM) was 24th.
The men's 10k classic also turned into a double pole derby. Bill Harmeyer of University of Vermont narrowly won the race to secure a UVM podium sweep for the men's and women's classic titles. Harmeyer edged Minnesota native Luke Brown of Dartmouth, by 8.8 seconds while Peter Holmes of University of New Hampshire finished third. Minnesota native Nick Gardner of Williams College grabbed a spot in the top ten, finishing tenth, while Wisconsin native Russell O'Brien finished 23rd overall.
"The 10km classic race turned into a double pole competition for most of us as the 2.5k loop at Sleepy Hollow was decently fast," said Brown. "It was a quick and tight race. I felt pretty good though and felt like I held good double pole technique, tempo, and efficiency the whole way through the race. We had a solid team result on Saturday for a classic race but are looking for more!"
After a classic race of pure double poling, the distance freestyle race was nothing short of grueling for the athletes. In the women's 10k freestyle, Sonnesyn showed no signs of fatigue to her competitors as she claimed her second win of the weekend.
"The warm weather made the Sunday skate race pretty fast but a course with a lot of gradual up made it a very tough day," said Sonnesyn. "Really proud of how my teammates and I handled the slick conditions and we had our game faces ready to go no matter what. So far the carnival season has kept us on our toes and I'm looking forward to the excitement to come in the next few weekends! Cherishing every last moment as a Catamount."
Alayna finished nine seconds ahead of Lydia Blanchet of Dartmouth and Lina Sutro of UVM who finished third. Margie Freed and Abigail Drach of Dartmouth both finished in the top ten. Freed skied to an impressive sixth place finish, just missing the top five by 11.7 seconds, while Abigail Drach was ninth. Mattie Watts was 13th, Renae Anderson 16th and Ingrid Thyr was 18th overall.
"I was hopeful going into the race, although double poling the previous day's race left me pretty tired and sore," said Freed. "Conditions were fast, so I knew I had to stay focused throughout the entire race. My strategy was to really push it on the uphills, as there were long downhills right after to get some good recovery. I think getting into a strong rhythm during these parts was key to a successful race. I was thankful for all the spectators cheering and motivating me throughout the challenging spots."
In the men's 15k freestyle, Zane Fields of Colby College dominated the race to claim his second individual win of the season. Fields skied to a convincing first place finish, 25.1 seconds ahead of Peter Wolter of Middlebury and Finn O'Connell of UVM who finished third. Nick Gardner and Luke Brown both finished in the top 20, Gardner was 15th while Brown was 16th.
"The 15k skate Sunday was a pretty tough one for us overall," said Brown. "I was tired myself and didn't feel like I had too much to give but still gave it a solid effort. It was a really tough one for the Dartmouth men so we are looking for some major improvement in the next two weeks before the next carnival. Shoutout to our women's team though who did some great skating!"
Competition continues for the EISA, Feb 3 - 2 with the University of Vermont Carnival, hosted at the Trapp Family Lodge. Races include a Women's 20/15k Skate Mass Start on Saturday and a 10/5k classic race on Sunday.
PHOTOS
RESULTS
RMISA Series
WEST YELLOWSTONE, Montana (January 18 - 19, 2018) - The Rocky Mountain Intercollegiate Ski Association met on the Rendezvous Trails for the second weekend in a row to compete in the 2018 Utah Invitational. Competitions included a 10/5k classic on Thursday and a 20/15k freestyle on Friday. In the women's 5k classic, once again teammates Hedda Baangman and Petra Hyncicova of University of Colorado, Boulder (CU) duked it out once again for the win, while Dag Frode Trolleboe of Denver University (DU) skied to a convincing first place finish for the men's 10k classic. University of Utah (UU) swept the men's and women's freestyle podium on Friday. Guro Jordheim snagged her second freestyle win in two weekends while Hakon Hjelstuen won the men's 20k freestyle. Minnesota native Anja Maijala (Wrenshall, MN) of University of Alaska Fairbanks (UAF) had two top 25 finishes.
"Jumping into my first RMISA races these past weekends was definitely eye opening!" Said Maijala. "Being somebody who is fairly new to high level ski racing, I can say I learned a lot! First off it's not everyday that you get to (try to) race against such amazing skiers, so I've really tried to watch and learn from my competitors. The snow and conditions in West Yellowstone were simply superb, so it made for some great races!"
Competition kicked off Thursday with a 10/5k classic. In the men's 10k, DU's Trolleboe won by a sizable margin, finishing over 30 seconds ahead of CU's Petter Reistad and UU's Martin Bergstrom who was third. In the women's race, the battle for the the top of the podium was fierce and the top three finished within five seconds of each other. Baangman stole first from teammate Hyncicova by 3.7 seconds, while Guro Jordheim of UU was third. Maijala was in the top 25, finishing 24th overall.
"The first classic individual start was a great first RMISA race for me and I can definitely accredit that to my teammate Anni Uhl," said Maijala. "It's always nice to catch a ride with a good skier who passes you, and it's even better when it's your teammate. Skiing behind Anni helped me to ski with good technique and push hard on a tough course for me [a course with lots of double poling and not many hills]."
Races concluded Friday with a 20/15k freestyle. In the men's competition, UU's Hjelstuen edged DU's Trolleboe by 1.7 seconds while CU's Petter Reistad was third. In the women's 15k, UU's Jordheim took her turn on the top of the podium and claimed her second freestyle podium of the season. Jordheim won but just 1.7 seconds ahead of Linn Eriksen of DU and Baangman of CU who was third. Maijala had an impressive freestyle race finishing 18th overall, while Minnesota native Carolyn Lucca (Duluth, MN) of University of New Mexico was in the top 25, finishing 23rd.
"I also tackled my first collegiate skate mass starts, one being my first 15k, in which I got some experience skiing in some fresh snow," said Maijala. "As painful as the extra 5k was, I have to admit something about it was quite fun! A couple of my teammates and I skied close together throughout the entire race and I've never experienced that so it was super awesome having the teamwork spirit out on the course! In the end I'm super stoked with a couple top 20 Finishes for RMISA and top 3 finishes for my team. Training and racing for UAF has been a blast so far and I can't wait to travel back to the lower 48 for some more teamwork, learning, and racing in the RMISA!"
The RMISA will travel to the New Mexico Invitation at the Enchanted Forest ski trails February 3-4, 2018. Races include a 7.5k classic and a 5k freestyle.
RESULTS
About the author...

Mary Kozloski is from Green Bay, WI and is a UW Green Bay Ski Team Alumni, where she skied and studied Communications and Business Administration for four years. Mary continues to love and stay connected to the sport through writing. She is a travel and outdoor enthusiast and enjoys exploring everything Colorado has to offer, which she has called her new home state since fall of 2016.