Olympic XC Team Nominations: Annie Hart and Rosie Frankowski Join Jessie Diggins to Represent the Midwest in Pyeongchang
by Caroline Brisbois
January 26, 2018
It was a suspenseful few weeks after US Nationals in Anchorage, Alaska as the entire United States cross country ski community waited for the announcement of the 2018 Olympic team nominations. On Friday, January 26th at 10:00am CST, everyone breathed sighs of relief, screamed in despair and frustration, and cried tears of joy as the announcements rang out on social media.
Three of the 20 nominated athletes grew up in the Midwest, more specifically the Twin Cities metro area. Making up 15% of the 2018 Olympic XC ski team, the cross country ski nation can no longer ignore the fierce and stubborn determination of Midwest skiers who train year round to prove that flatlands breed skiers just as strong as mountain regions. The well-known sparkly and highly energetic Jessie Diggins will soon be reunited with her former Minnesota State High School League and Junior Nationals rivals, Annie Hart and Rosie Frankowski. But Hart and Frankowski did not just crawl out of the woodwork. They have consistently proven their strength and ability to perform at an elite level throughout their development from multiple All-American finishes at NCAAs, to U23 Championships, to podiums in Super Tour races, and top 10s and podiums at US Nationals.
With big goals to make history, Jessie ("medal muncher"*) Diggins has set her sights on a podium, and a medal (preferably of the color gold), at this year's Olympics. Since Jessie Diggins is a household name in the ski community, and we've already gotten multiple posters signed, we are going to introduce Annie and Rosie, the newest poster additions coming to a bedroom wall near you. It's local women like these that inspire young athletes to pursue their goals, work hard, and have fun while they are doing it.
We caught up with Annie and Rosie on Friday after the exciting announcement to learn their reactions and thoughts.
Annie Hart (Stillwater, MN -- SMS T2)
Annie ("sprint slayer"*) Hart has shown her new found strength in sprinting this year, qualifying first in the skate sprint at US Nationals by nearly 2 seconds and finishing first overall in the Super Tour skate sprint in West Yellowstone. She has competed on the international scene many times, beginning with Junior Worlds in Germany in 2010, U23 Championships in the Czech Republic in 2013 and Kazakhstan in 2015, and many races on the European OPA circuit. She also competed in the Tour de Canada World Cup races in 2016.
Initial reaction:
Upon receiving the call from Head Coach Chris Grover, I was just immediately overwhelmed with a very deep happiness. I almost couldn't believe it was happening, and to be perfectly honest I'm not sure it has totally sunk in! I just flashed back to all of the friends, teammates and coaches who have picked me up off the snow in the tough times and yelled splits and encouragement at me in the good ones. And then did a little happy dance with our bulldog Pudge, who still doesn't know what's going on.
Most excited for:
I am most excited to be a part of the success that I know Team USA will have across all sports, but most especially for the cross country team. I know that this is the year for a medal, and I can't wait to be celebrating that success with the rest of the country as a part of the team. And again if I'm being perfectly honest, I'm also pretty excited for the Nike and Ralph Lauren uniforms!
Dream of making the Olympics:
I never really focused on the Olympics until after college - during high school the Minnesota state meet was my Olympics, and during my time at Dartmouth NCAAs was the Olympics, and that was my goal. After deciding to pursue skiing full-time and professionally, I don't think I ever really believed I would be in a position to qualify. I remember talking to my strength coach in one of our first sessions, and I told him that the 2018 Olympics were a reach goal. I slowly chipped away at different parts of my skiing, and am so pleased that it all came together at precisely the right time.
Coming from the Midwest: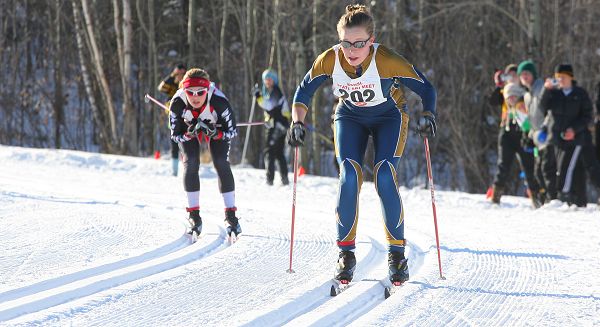 Annie Hart leads Jessie Diggins in the final 500 meters, Minnesota State Meet, February 11, 2010
Coming from the Midwest has become a huge part of why I think I've reached the levels of success in racing I have. I would not have become the racer I am today if I hadn't been racing against Jessie in high school, and would not have had the support to chase this Olympic quest without many, many, many individuals and organizations from the Midwest. The American Birkebeiner Foundation was my first official supporter as a professional racer, and that has been invaluable ever since. Beyond all of that, the belief that resonates throughout the Midwest is that hard work pays off, and if you work your hardest good things will happen. Having that ingrained in me from my days at the Tri-Metro conference, that has been my guiding principle and I think it is a good one.
Rosie Frankowski (Minneapolis, MN -- APUNSC)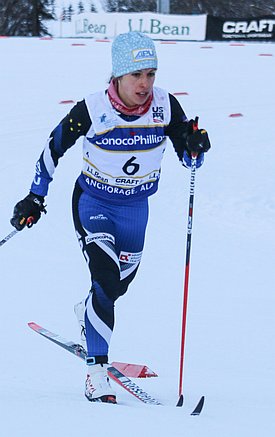 Rosie Frankowski skiing onto the podium, US Nationals 20K classical, January 7, 2018 (Photo: Jackie Schneider)

Rosie ("distance destroyer"*) Frankowski hammers every course she encounters, bringing out her best Nationals results of 4th in the 10k skate and 3rd in the 15k classic mass start. Frankowski has also spent time racing internationally, participating in the U23 Championships in Val di Fiemme, Italy in 2014 and competing at European OPA races.

Initial reaction:

I was completely shocked and floored with surprise! I just got off a redeye flight from Anchorage and was driving to Vermont to race the SuperTour series, and received a voicemail from the US coaches. I was shaking with excitement, and shock, and I just in my wildest dreams could not believe this was happening!

Most excited for:

I am most excited to represent my country on one of the strongest teams in the world. I can't wait to see my fellow APU teammates over there (I haven't seen Sadie, Rosie or Kikkan since November). I also have never been to Asia and I just want to soak it all in, meet other athletes from around the world, and see what is is like on the biggest stage of athletic competition (I have never even been at a World Cup!).

Dream of making Olympics:

Honestly, I didn't dream of being an Olympian. I thought Olympians were people who grew up skiing since age 2, raced throughout high school and college at the top of the top level, and then went on to making the US Ski Team. I don't fit that category in the slightest. My family is not made up of skiers, I had a great high school team and coaches, but I was not a star at all. I went to NMU and worked as hard as I could to make NCAAs. I'm not saying I didn't dream of going to the Olympics ever, but I just thought it was so impossible I didn't even think about it. I just worked as hard as I could at every level I could to improve, and then after racing in high school for 4 years, college for 5 years, and at APU Nordic Ski Center for 3 years, those small improvements (and hours upon hours of focused training) paid off in the best way ever.

Coming from the Midwest:

I skied for Southwest High School where Kate Ellis gave me her old skis to race on, because I couldn't get brand new fast ones. I made the JO team for the first time as a senior in high school, and I had help from the community to pay for my trip. I went to NMU, and after a rough first year, was given a second chance by Sten Fjeldheim to stay on the team, and then work hard enough to be runner-up at NCAAs. All of these communities: Minneapolis, Marquette, and the greater Midwest, made it possible for me to join APU and work amongst the best teammates in the country to get to this level where I can be named to an Olympic team. The community in the Midwest opened a lot of doors for me, both through coaching, financial support, and the good, ol' Midwestern ethic of "hard work pays off". There's a number of people who contributed to getting me to this level and convincing me to believe in myself through a lot of rough times. I couldn't be more grateful to everyone, and I am honored to represent our community on an international level.

*nicknames credit: Betty Brisbois
About the author...

Caroline Brisbois is from Falcon Heights, MN and is in her fourth year at Northern Michigan University where she skis and runs cross country while studying Biology-Zoology and Environmental Studies. Caroline loves spending the summers ski training, running, mountain biking, rock climbing, and exploring everything in her reach from the shores of Lake Superior to the mountains of Alaska. She currently resides in Marquette, MI where she is finishing her last few classes to graduate this spring.