Midwest MTB Report
by Jay Richards
May 22, 2018
Summer like conditions has quickly greeted the mountain bike season as the foliage has exploded in the woods and on the trails making for nice riding and racing and a sudden addition to trail work! A busy past weekend with the mountain bike race series in both Wisconsin and Minnesota welcoming racers. This weeks report includes first hand reports from elite riders Ben Senkerik from WORS #2 in at Englewood and the opening race in Minnesota at Woolly from Eleanor Bacso. A few international and national items to note caps this weeks report. A quiet weekend ahead for Memorial day weekend but riding continues as riders will either be crushing more gravel or get in some good training at the destination areas.
MNMBS #1 Woolly
The popular western Wisconsin trail system, Woolly in St Croix Falls, WI. was host to race #1 in the MNMBS hosted by the upstart Woolly Bike Club to entertain riders in race #1 in the MNMBS. MNMBS organizers stated themselves in a social media post "Great race today at the woolly what an awesome day for a mountain bike race. Hands-down one of the best organized races ever!! The Woolly does an incredible job! And a big thanks to the volunteers that support this great trail system:)" As expected, a large turnout hit the fast flowing hand built course that included some last minute trail builds.
Nearly 40 elite male riders toed the line for one of the longer races in the series with legendary rider Jeff Hall once again crossing first putting in a strong performance over second place finisher Brendan Bellew. Samuel Berkland crossed third as the Bacso Brothers Mason and Kasey rounded out the top five, respectively.
Third place overal elite Female rider, Eleanor Bacso provides a first hand report who crossed the line behind winner Corey Coogan Cisek and 16 year old junior rider Zoe Camp. Tracey Paradise and Tiffany Edholm rounded out the top five in a field of 13 riders.
Eleanor's report: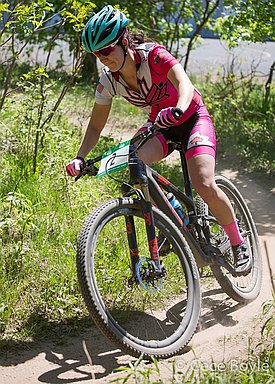 The very first race of the season is always a tough one as everyone feels slightly unsure of their fitness levels and the nerves are high. As Mason and I hopped in our car on the way down to St. Croix Falls we were talking in excitement of all of the other racer friends we hoped we would see that day. The ride down was absolutely gorgeous with bright green baby leaves popping along the highway.
When we finally arrived, we were able to catch Mason's parents racing in the Sport class and they looked like they were having an absolute blast. When they finished they told us the conditions were perfect out there. We ate some food, did a quick warm up and got lined up for the start which always comes up faster than one thinks.
As the race took off around the field I was excited to be racing with such a strong and large group of women. I took the lead for a long chunk of the first lap and felt really great! Then I started to realize that I was not going to be able to keep up the intensity for another two whole laps. Corey Coogan Cisek went off with a bang on the first gravel straight away and looked incredibly strong. Zoe Camp and I rode for a bit until the second lap where I encouraged her to go ahead because she was riding really fast and smooth. She also flew up the hill and I wasn't able to see much of her or Corey for the remainder of the race.
On the backside of the school in the sections with the huge climbs I reminisced when I first started racing and could not make it up the hills all of the way. I told myself to keep the wheels moving and to enjoy being outside looping through the woods in this wonderful spring weather.
(Photo: Eleanor Bacso pushing through a berm at Woolly, Credit: Cece Boyle)
As I pushed through my final lap with my legs yelling at me, I came across the line with a smile as the Woolly is always a blast. It was fun to congratulate all the other racers who had finished/ and were finishing. It was also incredible to see how many marathon racers were out there that day (65 competed)!
We saw the men's riders coming in with Jeff Hall leading the pack, then Brendan Bellew. Mason and Sam Berkland had an awesome cat and mouse sprint finish and Kasey Bacso also raced to the end with Calvin Sandberg. It was a great day for the Bacso family with Mason 4th, Kasey 5th, Kathy 2nd(age group) and Deano 8th (age group).
The Woolly is always an incredibly well put on race by Mat Fisk and his crew of wonderful volunteers. Events like these take a lot of planning, volunteer power, organization and support of sponsors. We are very lucky to have wonderful bike clubs such as the Woolly Bike Club and others all around the Midwest. We are also fortunate to have a strong Minnesota Mountain Bike Series who produces such great events.
WORS #2 Englewood
The diverse course at Englewood Grass Farms was host to race #2 in WORS on a beautiful day of racing. The elite female field continues to provide top notch racing action as a new rider topped the top spot for this season in Holly Lavesser. Leia Schneeberger moved up on the podium in second 2:35 bike as Caitlin Nueman, Katrina Hurst, and Lauen Lackman rounded out the top five. Elite male rider Ben Senkerik, who landed a podium spot in 4th place among another strong field of 70 riders, provides a recap of the elite male race. Cole House took the top spot in the male race with Pete Karinen, Caleb Schwartz and Isaac Neff in 5th.
Senkerik's report: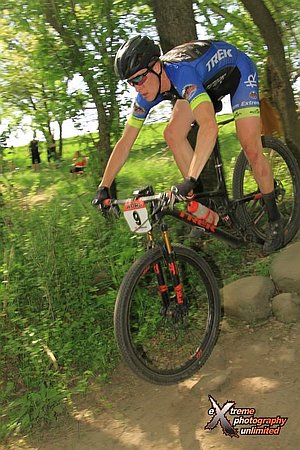 The course at Englewood Grass Farms is always a must on the WORS circuit. It has a solid mix of flowing single track, connecting double track, and some solid technical rock gardens. The race started off a little different than what most people would've expected. People are expecting me go hard off the start and lead it out: but not this year. The start was a long double track switch back into a long straight away, which always has a head wind. So off the start, I settled in behind a few guys, until just before the first single track section when Cole House took off. Pete and I chased hard and whittled down the lead group to Cole, Pete, Caleb, Isaac and myself.
(Photo: Ben Senkerik rolling through a rock feature, Credit: Xtreme photography)
After a comfortably hard first lap, we were still all-together. About half way through the second lap, we came into one of the more technical sections. The lead up was a hard sprint up a hill into 3 whoops through a rock garden. Cole attacked just before the whoops, and Pete tried to follow. He and Isaac came into it side-by-side and Isaac ended up stalling over the second whoop. This forced Caleb and myself to stop as well. This was the deciding moment where the gap was created. Caleb and myself chased hard but couldn't catch. After the last half of lap 2, I settled back and Caleb grew the gap that he had on me (at this point Isaac was popped).
The last 3 laps, Caleb held a steady 45 second gap in front and I was about 45 seconds in front of Isaac. We all road in no man's land and no one ended up catching the front 2. The finish came down to Pete and Cole "sprinting" it out for the win. Cole ended edging out Pete. The finish only had about a 100m finish straight, so if you came out of the woods and made the 180 degree turn first, you had it. The race was over but the post-race party was just beginning. They brought in live music, cooked up some of their grass fed burgers, brats and brisket, and Door County Brewing supplied the beers. The party went on until the early hours of the morning, until everyone crawled back into theirs tents and crashed for the night.
World Cup Short Track
The first ever Mountain Bike World Cup short track (XCC) was held last Friday evening in Albstadt, Germany, with Annika Langvad (Specialized) and Mathieu van der Poel (Corendon-Circus) coming out the winners. The top-16 finishers in the women and men filled the first two rows for Sunday's cross-country (XCO) races, plus the event offered World Cup substantial points – 50 per cent of the XCO. Personally I love the excitement and action of short track racing and cool to see the World Cup offer it for points, especially for riders that might be more keen to this discipline.
The 1.7-kilometre course began with the start of the cross-country circuit on pavement and then grass past the tech zone, followed by a section of the singletrack near the end of the XCO circuit and the pavement finish.
USA elite rider Chloe Woodruff who is familiar to Midwest riders with her victories at Chequamegon, had and outstanding 9th place finish and reported on social media: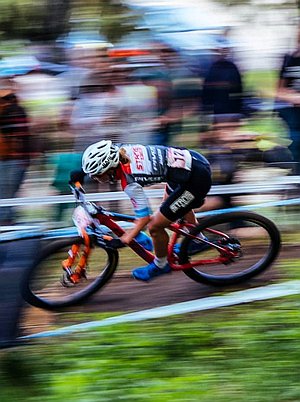 (Photo: Chloe Woodruff flying in the first ever World Cup short track)
It took an ambitious early season race schedule, lots of travel, hard work and the support from a lot of great people to get me to the start line of the very first World Cup Short Track. I went on to finish in 9th, (just off the front for one early lap) with the best cross-country racers in the world and [it] was exhilarating. While my experience will keep me hungry for more, the experience and opportunity, that those that lie ahead are keeping me motivated.
Results and full story on CyclingNews
IMBA Ride Centers
The International Mountain Bicycling Association (IMBA) announced the newest recipients of its IMBA Ride Center designation. The three locations, one in Virginia and two in Colorado, were extensively vetted by IMBA's trail design professionals and represent the pinnacle of mountain biking communities.
Virginia's Blue Ridge Silver-Level IMBA Ride Center: Roanoke, Virginia, USA
Vail Valley Silver-Level IMBA Ride Center: Eagle County, Colorado, USA
Steamboat Bike Town Silver-Level IMBA Ride Center: Steamboat Springs, Colorado, USA (Steamboat upgraded from its previous Bronze-Level Ride Center status)
IMBA Ride Centers feature extensive trail networks, masterfully designed for mountain bikers of every skill level and built by professional trailbuilders and local volunteers. From backcountry adventures to shuttle-served gravity trails, and from expert-only trails to family-friendly riding, mountain bikers can expect the best the sport has to offer at an IMBA Ride Center. Trails systems are integrated, well-designed, and embraced by the surrounding communities for the economic, tourism and other benefits they provide.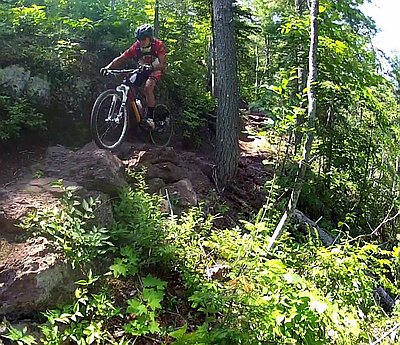 (Photo: Riding at Copper Harbor)
Full list which includes the popular Midwest areas designated as ride centers in Duluth, Copper Harbor, Cuyuna, CAMBA and the network of trails in the Minneapolis/St Paul area.
Looking Ahead
A quiet weekend on the racing front on tap which will allow racers to get some good training in and hit up the destination areas.
Keep the wheels moving!
About the author...

Jay Richards maintains a very active lifestyle. He somehow finds time between managing a full-time resort (Maplelag) and bringing up a family of four boys with his wife Jonell, to compete in both mountain bike and a few cross-country ski races. Jay rides for Maplelag Resort, manages the Maplelag mountain bike team and enters his 28th year of racing and promoting mountain bike races.

Have an event or mountain bike related information to share from the Midwest? Feel free to contact Jay at