Midwest MTB Report
by Jay Richards
July 17, 2018
Cooler weather on tap this week much welcomed after the dog days of summer hit hard last week. No stop in the racing action though as the Minnesota series went west a bit to race in Rockford at the Rebecca Park Reserve trails and those looking for gnar singletrack went east to Greenfield, MI.for the Miners Revenge. Reports from both of these events as well as highlights from the BC Bike Race, eBike race at Trollhaugen, the Andorra World Cup, rider jumping over peloton in Tour de France and the look ahead to top off this weeks report.
BC Bike Race
The BC Bike Race has been touted the "Worlds Best Mountain Bike Race" by Outside Magazine. All the riders I have talked to that have done the event absolutely rave about it. Seven days and seven stages of sweet BC singletrack cross country riding. Many Midwest riders have competed over the years and representing Minnesota this year, specifically the Mankato area and Nicollet Bike Shop, were the the open mixed team of husband and wife Justin and Jenna Rinehart. The Rineharts would roll on to take the top step after seven days of racing. Justin reports on social media: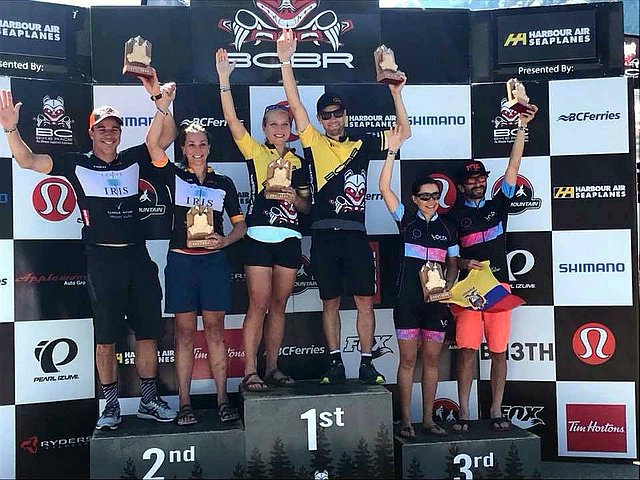 (Photo: Husband and wife teammates Jenna and Justin Rinehart on the top step at BC Bike Race)
Well... Jenna and I were able to pull off the win in the mixed Open category at the BC Bike Race. We lost the final stage by about a minute but still finished up the week around 15 minutes ahead of the 2nd place team. For those of you close to us you know we do everything together but this was such an amazing experience for us to share together. Super proud of Jenna for coming back from her broken femur just 1.5 years ago. She rode phenomenally! After 7 days of racing in a row and over 22 hours in the saddle we're heading home tired but smiling. We met some awesome new friends who get to call this area Home and shared stories with so many from all over the world. The BC Bike Race is the coolest, most unique thing we've ever done!
MNMBS #6 Big Woods Classic
The new Three Rivers Park trail system at Lake Rebecca was host to race #6 in the Minnesota Mountain Bike Series. Another warm day greeted riders and slightly smaller field in the Elite male race as the female division was solid with over 10 riders on the fast flowing big lap course.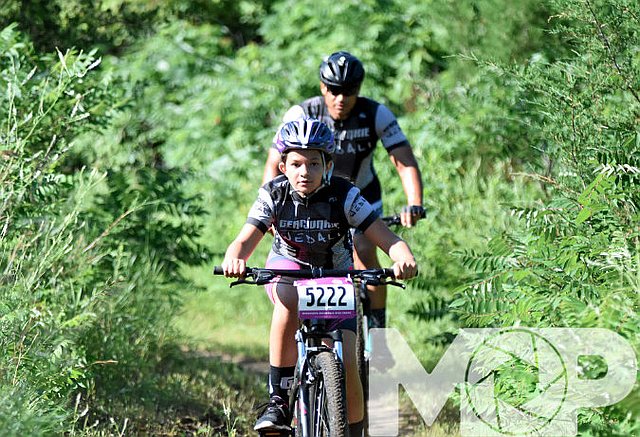 (Photo: Kids Comp racing action, Lake Rebecca, Credit: Dave Markman)
Both male and female riders competing on the same course each racing two laps. Taking the win in the Elite female division and finishing 15th overall among male and females was up and coming rider Zoe Camp. Zoe was just over 5 minutes from a top 10 finish overall. Danielle Larson, Tiffany Edholm, Kristi Henderson, Megan Lennon and Leslie Hale rounded out the top five. Previous series winner Brendan Moore (Wolf Tooth Components made an appearance for the first time this year to take an convincing over Adam Altman by a minute and a half. Sam Berkland, John Holtan and Casey Griesmer completed the top five.
In the Marathon division, Bruce Martens put in yet another crushing performance, and the only rider to crank out five laps in a time of 4:46:42. Chris Stewart, David Jensen, Ben Hey and no caps nikolai anikin rounded out the top five. The female division saw Chelsea Strate take the win over April Morgan. Sara Burroughs, Cass Struder and "constant" Constance Sjoquist polished off the podium.
Miners Revenge
The Greenland, MI, area and mountain bike community was host to the Miner's Revenge. The event featured cross country, downhill and Enduro racing. The event is distinct in the fact it features riding through a mine! It is also know for it's super technical sections that draw riders that like the gnar. I have always wanted to do this event and was close to making the trek over but didn't pan out this year. Hopefully next year!
Erica Wagner and her husband Zach made the trek east from Duluth and Erica provides a first hand report:
We rolled into Greenland, Michigan about 3 hours before the 5 pm evening start. We knew it was going to be a hot day to race so we hydrated well during the drive. Zach had previously done this race, but we wanted to preview the course because it is technical.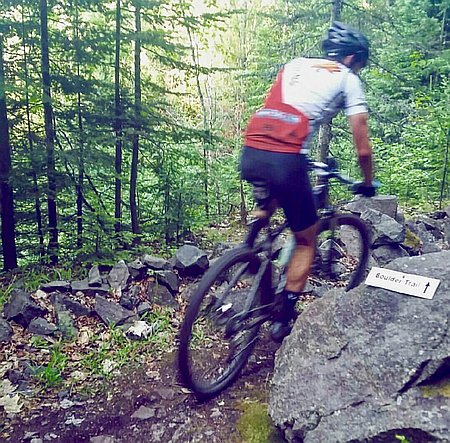 (Photo: Zach Wagner checking out the Miners Revenge course)
Each lap was 6 miles. Elite men did four laps and Sport was two laps. I decided to race Sport since it was my first time doing this race and there were no other women racing Elite.
The race started out with a double track gravel climb up to the old mine shaft. It was super fun to ride through the 1/3 mile tunnel knowing it was previously used for copper mining. While the temperature outside the mine was in the high 80s, the mine was 48 degrees with puddles. The mine shaft was definitely the highlight of the race; there's nothing else like it in any of the races I've previously done.
From there we climbed Lionsback.
I prefer technical uphills compared to downhills, so I tried to use this to my advantage. Crushing up the bedrock section, I passed a couple of competitors including the top woman. However, the descents were long and technical too and before I knew it I was flying over my handlebars on a tricky descent. The woman I was riding with helped me up and stood by for a few to make sure I was okay. From there, I tried to stay calm and ride smart. The next highlight (about halfway through the lap) was the "dangerous curves", which just like they sound were dangerous. Enough said. The remaining trail was less steep but still challenging. We traversed through old building foundations, boulder fields and rode skinny trails littered with slick roots and angular rocks.
The lap finished with two sets of stairs and children splashing you with cold cups of water. With the first lap done, I wanted to make sure my second lap was faster due to my crash. I was able to manage this despite a couple smaller tip overs. I pushed the up hills as hard as I could and maintained on the downhills. This course was challenging because there wasn't much recovery. You were either breathing hard uphill or focusing your attention on all the rocks, roots, and turns in front of you. I ended up 2nd woman and Zach was 6th in the long race.
After the race, there was a barbecue and live music. Zach, our friend John, and I camped out in the grass field at the Adventure Mine.
Overall, it was a fun and challenging race. I would highly recommend the Miners Revenge! Adventure awaits!
E-Bike Racing at Trollhaugen
Trollhaugen was host to a eBike race this past weekend as LaMere Cycles promotes the bikes aggressively in the Midwest. E bikes have really taken off in other parts of the country and overseas as many racers have found the bikes a nice way to ride technical terrain not possible with a regular mountain bike. Jeff Hall competed in his first eBike race and reports: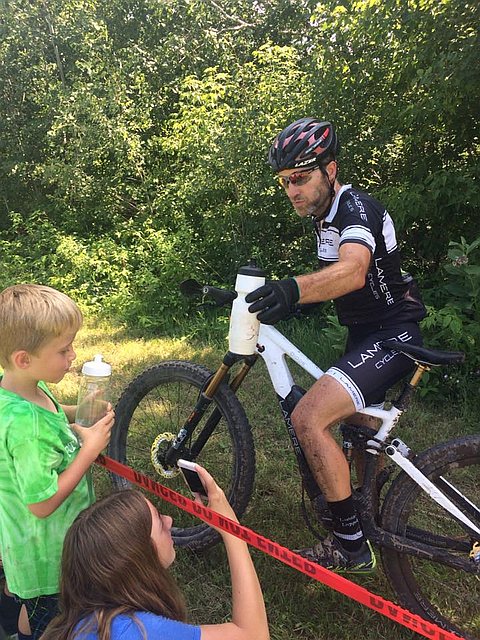 (Photo: Hall getting feeds from the family at Trollhaugen eBike race)
Did my first ebike race yesterday and had a blast. It was on a super technical motorcycle course with mud, steep climbs, sand and nasty single track. So fun!! We did 3 six mile laps and it was one hell of a workout. I recommend a ride on one, you won't be disappointed.
Andorra Downhill Highlights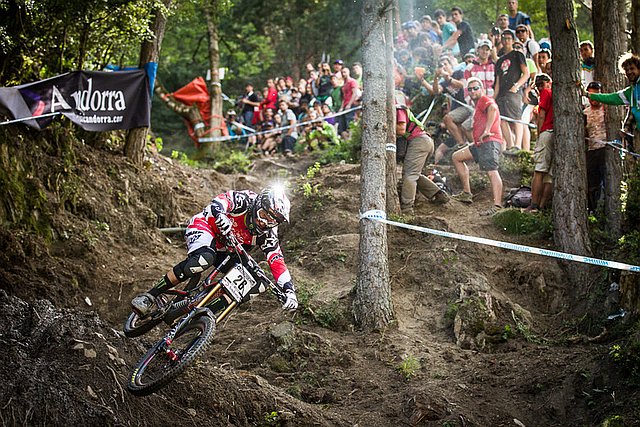 (Photo: Crazy downhill course at Andorra, Credit: VitalMTB)
Andorra was host to the latest round in the World Cup this past weekend and providing sweet courses for downhill, short track and cross country. There is always tons of coverage on social and what caught my attention from this round was Ben Cathro's "Cathrovision" break down of riders, their style, approach and technique on the super steep and technical downhill course. It is great info even for cross country riders looking for insight on how to ride technical sections.
Related:
PinkBike coverage
UCI Coverage
Mountain Biker Jumps the Tour De France Peloton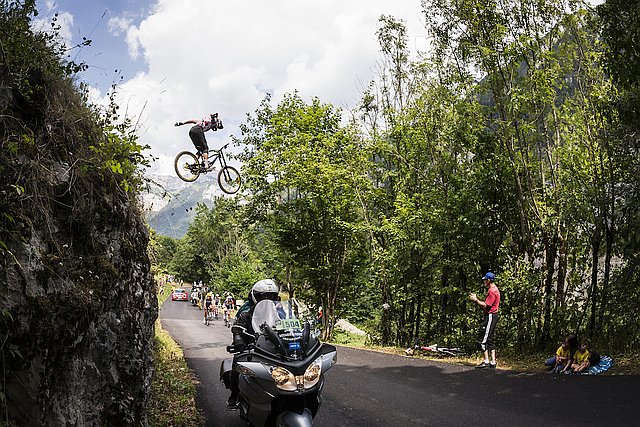 (Photo: Cycling over cyclists, Credit: PinkBike)
Alexis Bosson jumped over the lycra-clad peloton of the Tour de France today, as the riders climbed up the Montée du Plateau des Glières on Stage 10 of the race. You can watch the clip that played during the live broadcast of the event from FranceTV and on Twitter. And POV view on Pinkbike.
Looking Ahead
WORS #6 Colectivo Coffe Team Classic
From WORS website: The Colectivo Mountain Bike Team is a grassroots team focused on riding hard at every level, leaving every last drop of energy on the trail. But most importantly, we have fun in support of our fellow riders! That mission carries through in every element of the Coffee Bean Classic. We ride bikes because of the challenging fun, and that's exactly what you'll get on race day! A challenging course snakes its way up, down, and around the moraines of Minooka Park.
USA Cycling Mountain Bike National Championships
USA Cycling Mountain Bike National Championships are underway at the Snowshoe Ski area in West Virginia. Early reports are mud with lots of rocks and roots. Stars and Stripes will be awarded to multiple age categories and levels in cross country, short track, downhill and Enduro. A contingent from the Midwest is out east and look for first hand recaps in next weeks report.
Keep the wheels moving!
About the author...

Jay Richards maintains a very active lifestyle. He somehow finds time between managing a full-time resort (Maplelag) and bringing up a family of four boys with his wife Jonell, to compete in both mountain bike and a few cross-country ski races. Jay rides for Maplelag Resort, manages the Maplelag mountain bike team and enters his 28th year of racing and promoting mountain bike races.

Have an event or mountain bike related information to share from the Midwest? Feel free to contact Jay at