Midwest MTB Report
by Jay Richards
September 12, 2018
A relatively quite weekend on the racing front, some action in the UP of Michigan at Ironwood with the Copper Peak Trails Fest, high school racing in Minnesota and Wisconsin and a lot of big rides under beautiful weather as racers fine tuned for the big Chequamegon weekend. This weeks jam packed report includes a quick recap from Copper Peak Trails Fest, and highlights from the UCI World Mountain Bike Championships that saw a gold medal finish by Kate Courtney in Elite women and silver by Chris Blevins in U23 men. Also a Chequamegon preview with a special word from race director Gary Crandall who is retiring from directing the race after 35 years, and a few riders to watch. A couple of mountain bike related articles to pass along, and a look ahead as there are still plenty of events in one of the best times of years to ride to keep on the radar in addition to a jam packed weekend.
Copper Peak Trail Fest

The Ironwood, MI. area was host to a grass roots low key mountain bike event, the Copper Peak Trail Fest, with some sweet shredding on a course of purpose built singletrack, old school trail.
Hayward WI. resident Scott Chapin won the expert race in convincing fashion with a 7 minute gap over second place finisher Blu TenBrick with Jason Ruesch taking third. After taking the top spot on the podium and accepting his $250 check, he turned it back over to the Sisu Dirt Crew posting on Insta; "Got lucky and won a mountain bike race. Donated winnings back to local trail club. #trailsdontmaintainthemselves"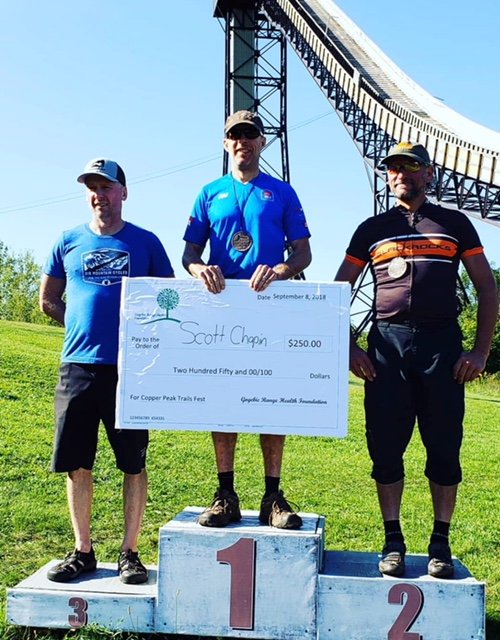 The female expert division saw Sara Agena take the win with Candace Jacobs and Samantha Lardinois battling for second, Candace edging Samantha by five seconds after 2 hours of racing.
UCI World Mountain Bike Championships
It was a great day for United States in the Cross Country races at Worlds held in Lenzerheide, Switerland over the weekend. Chris Blevins kicked things off with a silver medal in the U23 male division. His result was almost overshadowed by Kate Courtney's gold medal ride in the women's Elite field which created a huge buzz, naturally, among mountain biking circles in particular NICA which was quick to recognize Courtney's start in mountain biking with NICA.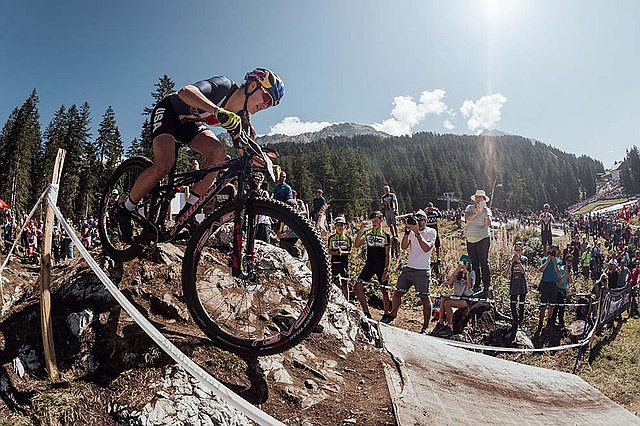 NBC Sports reported:
"Courtney, the youngest mountain biker in the 67-rider cross-country field at the world championships, became the first American to win a world title since Alison Dunlop in 1991."
"Kate has arrived and represents a new generation of American mountain bikers," Scott Schnitzspahn, USA Cycling Vice President of Elite Athletics, said in a press release.
"Courtney, 22 and in her senior worlds debut, passed 2016 World champion Annika Langvad of Denmark on the seventh and final lap in Lenzerheide, Switzerland, and won by 47 seconds in 1:34:55. Interesting, in March, Courtney and Langvad teamed to win the Absa Cape Epic in South Africa, a brutal eight-day, 400-mile stage race with more than eight miles of climbing.
Courtney has been mountain biking since age 6, sharing the back of a tandem bike with her dad to get pancakes on Sunday mornings. She competed for the U.S. national team while in high school in California and turned professional, signing with Specialized, after two years at Stanford. She graduated in 2017 with a bachelor's degree in human biology.
Courtney earned the 2017 World U23 silver medal."
Full article
CyclingNews coverage
Chequamegon Fat Tire Festival
The 36th Annual Chequamegon Fat Tire Festival presented by Trek and produced by Life TimeSM, the nation's only Healthy Way of Life brand is set for the weekend of Sept. 15 in Hayward and Cable, Wisc. The event is one of the longest running and largest off road cycling events in the nation.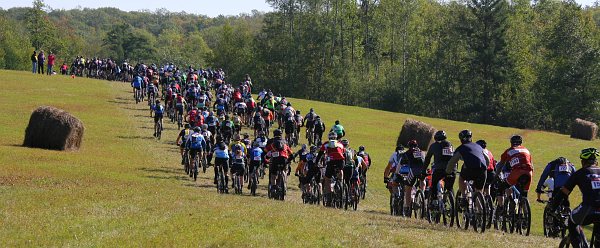 Chequamegon 40, September 13, 2014
A total of 3,100 riders will participate in the festival, including a sold-out field of 2,100 riders in the Chequamegon 40, which starts on Main Street in Hayward and finishes at Mt. Telemark. Another 1,000 riders will start at the same time in downtown Cable and race 16 miles in the Short & Fat, which also finishes at Mt. Telemark. Both events start at 10:00 a.m. on Saturday Sept. 15.
It will be a special year as race director Gary Crandall will be stepping down, (but not away) from 35 years of organizing one of the most legendary point to point races in the country. Gary announced in the spring he would be stepping down in the Spring Edition of "Fat Tracks"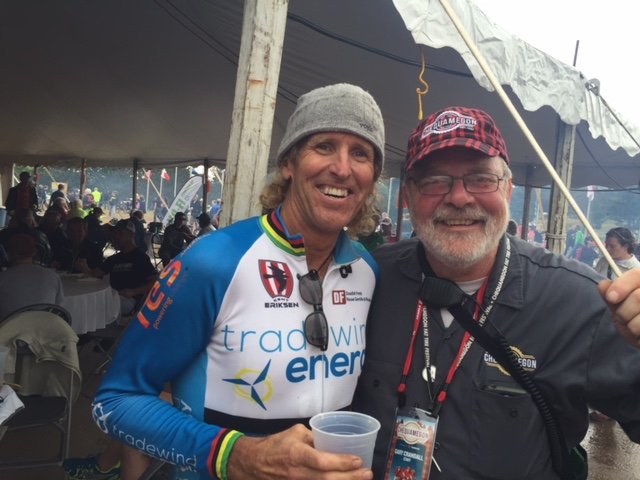 I touched base with Gary last week to catch some of his thoughts as he prepares for one of the busiest weeks in Cable:
I'm so busy getting ready for the 36th CFTF that I haven't really had time to think about what happens afterwards as far as my retirement. One thing is for sure soon I won't have a regular job getting in the way of my local volunteer opportunities.
This event is pivotal in the beginnings of the Northwoods bike culture that has developed over the past 36 years. From 27 riders in 1983, of which I was one, to the tens of thousands who have visited for this and many other great events and recreational rides in the area. I'm pretty proud to be part of that legacy.
It's a small town. I'm not going anywhere but soon you'll have a better chance to see me on the CAMBA trails riding than in my downtown office pounding on a keyboard. I enjoy both but look forward to more leisurely ride time.
My success and the success of the Chequamegon event is directly related to the local communities willingness to help out (what else would we do with our free time?), to our sponsors long time generous support, to my staff's professional approach to managing all key areas of the event and to the willingness of the local land managers to allow us to responsibly and sustainably utilize the great forest resource of Bayfield and Sawyer Counties.
Related:
New Moon Blog post tribute to Gary
Riders to Watch
It will be another interesting day as there really are 10 riders and probably more that could pull off the win in the 40 in both the male and female division. The Short and Fat will also be a tough battle with up and coming riders battling with the vets. Of course, all can change on race day with heavy legs, ate the wrong thing and the dark horse rider that no one expected to be at the front adding to race drama. Of course, for most riders, just finishing the race is a big accomplishment and there are tons of story lines of the many riders who have battled disease or sickness, injury and have the race for a goal. Congrats to all who roll to the line and the journey and process it took to get there. I did
Chequamegon 40 Males Rider to Watch
Cole House- Riders in the Midwest will agree that Cole has been on fire this year. He has multiple wins in WORS and a sprint finish win at Ore to Shore over Jeff Hall to name a few of his accolades. If it comes down to a sprint finish, I'll have to go to Cole who won the Short and Fat in 2004 but has yet to cross first in the 40.
Jeff Hall- Jeff has established himself as one of the legends in the Midwest. The two time Chequamegon 40 winner and two time Short and Fat winner seems to have taken it to another level this year. I talked to Jeff at the Laddies Loppet and in his humble way he gave credit to the advancements in technology, specifically his LaMere 29 full suspension. Jeff continues with a strict diet, commuting 50 miles a day on usually five hours of sleep a night. If Jeff is to win, he will fly in solo riding a pace that no one else could match.


Hall, Matter and Schouten at the front in Ore to Shore 2005
These riders continue to friendly battle for nearly two decades

Payson McElveen- Last years winner is back for Chequamegon racing fun and will be in the front group ready to mark any attacks and play his cards.
Brian Matter- The five time winner is still riding and training as strong as ever. His saviness of the course and race tactics definitely play to Matter's favor if there is a group in the latter part of the race.
Cory Stelljes-Former 40 winner makes the strong field even stronger. Like Matter, McElveen and Hall, the experience card will be huge.
TJ Woodruff- Previous previews I wrote one day Woodruff will win the 40. TJ has made the move to Arizona and flies under the radar but I've kept tabs on him via Strava and he's been putting in the training, often times with Matter and if legs are feeling good, don't be surprised!
Joseph Schmalz- Gary said he's a rider to watch. I don't know much about him other than he's a top domestic road pro but likes dirt. He's a friend of the late Steve Tilford that sadly passed last year and definitely a wild card.
Tristan Schouten- Tristan continues to ride and race strong and what is really cool about Schouten is how strong he has become in Nordic Skiing! Tristan will be in the mix, he's never won a 40 but could be the wild card.
Bjorn Selander-The former short and fat champion is back to see if he can mix things up at the front.
Samuel Elson- The young rider from Cuyuna Country, going to school out west, has had a great year on the National level and is dialed in to having a big race in Wisconsin.
Pete Karinen- Pete is a solid all around mountain biker, continues to get stronger and work his way up the ranks. Should improve on his placing of 7th from last year.
Ben Senkerik-Ben had a solid mountain bike season, taking second to Cole in the final WORS race, been up in the mix all year. He's transitioned to cross but ready to be at the top in the 40.
Sam Berkland- Berkland finished second overall in the Minnesota Series this year. Definitely riding stonger, should jump 10 spots from his 23rd placing last year.
Travis Brown- Brown might not be a contender for the top spot but at 49 he is still riding strong and top 20 contender. Brown was a top NORBA rider back in the 90's, cheezing it up with Lance Armstrong when Lance delved over to mountain bike racing for a few races.
Mason and Kasey Bacso - Mason has been cleared to ride after a somewhat freak accident that dinged his wing. His brother Kasey has and engine but crazy handling skills like his brother. The time off for Mason might give him and the excitement of being able to race again could give him the gas to move up higher in the top 20. Mason ultimately will be looking at the Chequamegon for training for the Marji Gesick in a few weeks.
Female Riders to Watch
Sara Kylander-Johnson-The 2006 40 champ has been riding and racing strong as of late and is back in the 40 field to see if she can pull off another win 12 years later. A all around rider known for her technical prowess, Sara also has the engine to power on the fast forest roads leaving others behind.
Jill Cederholm-Last years runner up is the favorite by some to claim the top spot this year with last years winner, Kyia Anderson not making an appearance this year.
Tiffany Edholm- This years overall Minnesota Mountain Bike Series Champion is riding strong and will definitely be a rider for other females to keep in check in the crazy mass start.
Eleanor Bacso- Eleanor is all about having fun which is what is all about but is a super strong all around rider. Came on strong in the Laddies Loppet short track to overcome Kylander-Johnson showing she has the engine when the racing is flat and fast. If there were gnarly rock gardens laced in the Chequamegon 40 I'd bet everything on Eleanor, as the queen of Enduro in Duluth sends it.


Bacso and Kylander-Johnson battling in the Laddies Loppet short track with junior rider Zoe Camp chasing
Might we see all three riders on the podium this Saturday (Camp racing Short and Fat)

Carly Jackson-Last years fourth place finisher should be a top five contender again this year. Knows the area well, young rider with a ton of upside.
Ronnie Lajoie-A local favorite, has spent a fair amount of training on the CAMBA trails and has the engine to go all day. Might be missing a bit of high end but should be in the mix.
Catherine Wahlberg-The three time 40 champ is back for more Chequamegon fun looking to improve on her 19th place finish last year. Savy rider if in a group of other female riders has the experience to make the most of any race dynamics.
Molly Clark-Oien-Last years fifth place finisher from Sioux Falls, SD. isn't known very well by the local riders but could be one of the riders on the wood stump this year!
Bonnie Weiskopf-Bonnie hit the big 5-0 this year but age is just a number and the top 10 rider from last year should be in the mix again this year.
Maria Statz-The Wisconsin Rapids native has a bit more upside and puts herself in position to move up from her 6th place finish from last year.
Katie Lindquist- Top 10 rider from Steamboat Springs, CO. is back to equal if not improve this year.
Kim Rudd- Rudd continues to improve her mountain bike skillset, leading youth groups and building mountain bike endurance along the way. Could crack the top 10 this year.
Related:
Chequamegon Website


State of Mountain Biking
No other man is as well positioned to talk about where mountain biking has been, and where it's going in the future, than Gary Fisher. From organizing the first mountain bike races at Repack, to building an eponymous mountain bike brand and his current role at Trek, Gary is an outspoken and enthusiastic advocate for biking. Listen in as Gary recounts the early days of mountain biking and weighs in on where our sport is headed today.
St Paul Couple Restores and Gives Away Hundreds of Bicycles a Year
Inside a tiny storefront just off University Avenue in St. Paul, bike fairies magically make people's pedaling dreams come true. Well, maybe not fairies. But, for the hundreds of people each year who receive free bicycles from Mr. Michael Recycles Bicycles, it feels pretty magical. You need a bike? They'll give you a bike. People simply call to register, give their height, gender and type of bicycle they want and Michael and Benita Warns do the rest. Full story in StarTribune
Looking Ahead
Max Fierak promotes a gravity event and promises "rideable" lines for all riders in a remote deep woods setting outside Bayfield, WI. The trails are a mix of machine and hand built trails.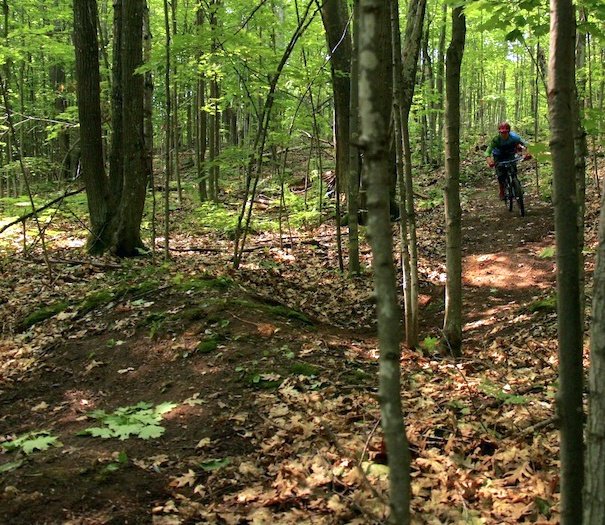 Max posts: We've been so busy prepping for the 4th annual Hidden Gem race weekend on my private trails I haven't had much time to post. We built an all new killer trail at the Gem called Potato Pirate and it's going to be totally ready to rip for this weekend's event! We've also been giving the existing trails a lot of love trying to make them perfect for this weekend. If you live in the Midwest I expect to see you at the Gem!!
Related: Pink Bike Story
A full day of riding on the sweet trails of Duluth with some shenanigans in the mix.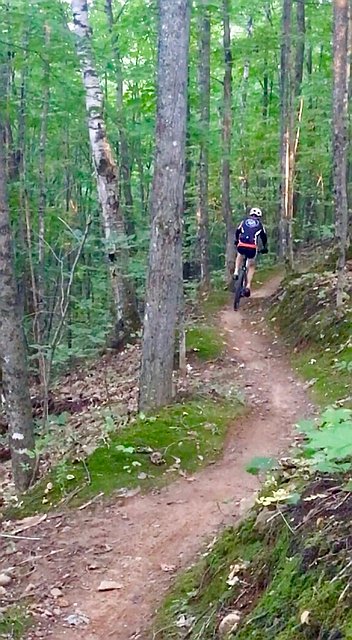 Mount Ashawabay has a sweet network of trails and now they will be hosting a race the end of September. A 10 mile and 20 mile race offering with spectacular views towards Lake Superior.
This trail features excellent river views and ample vegetation. There are three classes, Kids, Sport, and Elite, riding one, two, and four laps, respectively, of our four-mile course. This event is geared toward the beginner-level racer, as none of the sections are too difficult. However, at the Elite Class level, physical endurance will be tested, and even the most experienced racers can get humbled by the Goose!
This race definitely fits in the epic category. The finish rate is low. It is hard. Definitely need everything to go right on a trek in the UP on gnarly terrain climbing a ton.
Race director Noah Michaelson reports: Less than 2 weeks and the plans are well underway to have an amazing race for all. Mountain bikers are going to see brand new singletrack on the 'Cabin' trail - you don't want to miss out on the debut, it is stunning! Runners are going to be blown away by the Ice Age Trail scenery along the Harwood Lakes section, complete with new wooden crossings, thanks to the Ice Age Trail Alliance team. Please go register on-line - your pre-registration will help us be prepared for raceday! Share with your friends. See you Saturday the 29th!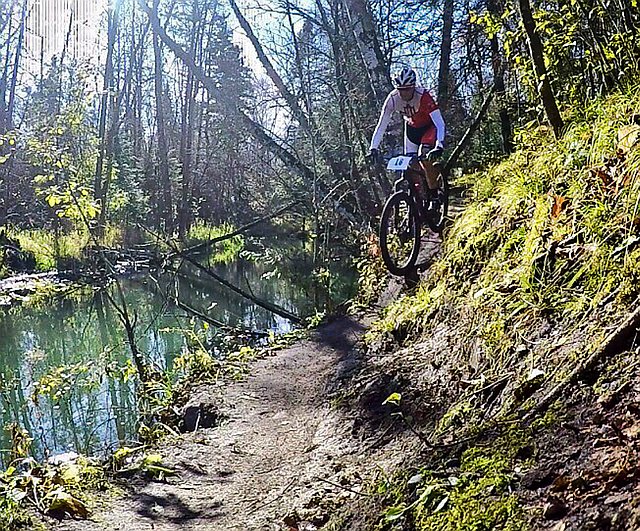 Fun low key grass roots race held at Blacks Grove put on a dedicated group that has one of the largest Midweek rides outstate. Old school tight and twisty singletrack that follows a river that passes through giant Black Spruce trees. Great shelter and with a big fire going and the lingering smell of pine. Post race grilling, don't miss them gem just off Hwy 10 west of Wadena.
Keep the wheels moving!
About the author...

Jay Richards maintains a very active lifestyle. He somehow finds time between managing a full-time resort (Maplelag) and bringing up a family of four boys with his wife Jonell, to compete in both mountain bike and a few cross-country ski races. Jay rides for Maplelag Resort, manages the Maplelag mountain bike team and enters his 28th year of racing and promoting mountain bike races.

Have an event or mountain bike related information to share from the Midwest? Feel free to contact Jay at