Midwest MTB Report
by Jay Richards
June 25, 2019
As usual, all eyes were on Mother Nature this past weekend as added challenges were sauced to the races in the Wisconsin and Minnesota series in the form of mud, grease and mucktack. Reports from both series races, a recap from the Junior mountain bike camp led by Chequamegon legend Brian Matter, an update on the big race in September and the look ahead highlight this weeks report.
MNMBS #3 Wirth Loppet
The forecast was not looking good as far as rain and wet conditions go for the Wirth Loppet but the crew pulled it off. The uncertainty in the forecast and thoughts of previous races being cancelled last minute kept many riders away but those that attended were treated (or tricked) to some good old mountain bike racing conditions. Earlier races saw rain which made for greasy conditions but slowly dried and tacked up by the elite races.
A strong women's elite group toed the line with Sonia Pond putting in a convincing effort to take the win over Robin Williams. Madeline Arpin, Risa Hurstad and Kristi Henderson, holding off three riders close behind her, rounded out the top five.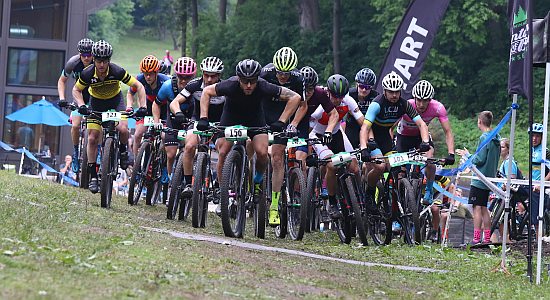 The men's elite race had elbow to elbow racing action as the typically fast smooth course with sweeping berms and clean flow garnered riders to battle for the front and selection right off the bat.
Top 10 finisher Ben Olson reports:
Not a mudder, but a tough one for me. Finished 10th. Did 95% of the race with "Hollywood". Front tire washed out and went down. Right back up but Jay gapped me and too close to finish to make up. Felt like I was pinned the whole race.
Had a tough start with lots of elbow rubbing. Almost went down. Put me in 20th or so at start of singletrack. Did a hard push to get back up to 9th. Jeff and Hollywood tangled and were picking themselves up when I came up on them. Hollywood jumped in behind me then. Fun day!
Dominic Talerico would go on to take the win in a tight battle for the top five and some new faces up front as the next four finishers were all within 30 seconds of each other. The final five podium spots would be Emile Hamm, Casey Griesemer, Samuel Berkeland and Jeff Hall.
Related: Grant Series: Recreation For All in Minneapolis
WORS #5 Red Flint Firecracker
It was back to back mudders for the Wisconsin Series as the Eau Claire County Expo Center was host to race number five in Wisconsin marking the half way point in WORS.
In the Elite male division, Cole House continued his dominance in the Midwest taking another win. Not quite the gaps as last weekend but still almost a minute and a half over second place Junior rider Aidan Lemorande. Ethan Jedlicka, Corey Stelljes Pavel Nelson and Elijah Johnson rounded out the top five in what would be one of the longer Elite male races this season thus far.
The women Elite field was solid with once again Minnesota riders peppering the field. Holly Lavesser continued her strong season taking another win over Minny rider Corey Coogan Cisek. Lauren Lackman, Caitlin Nueman, and Hanna Mark rounded out the top five. Coogan Cisek recaps her race:
So many summer weekends, there are decisions to be made. In this case, I was faced with a tough one: to do the MNMBS series race at Wirth (so close I could spin over from home) or WORS Firecracker Eau Claire (a 1.5 hour drive). WORS won out because Firecracker has been a long time favorite of mine. Ironically, the course isn't ideal for me, as there is almost no climbing. However, I've done Firecracker almost every summer since the beginning of my riding life. It's etched a place in my heart.
While the MNMBS series is starting to increase in women's elite numbers, we lagged very far behind WORS for years. Notably, WORS is also reaping the benefit of adding the elite junior female category 5+ years ago. The first generation of those riders grew up on bikes and are now racing elite. Thus, I can count on being pushed when I race east of the state line.
Silly me: I had this idea that it would not rain for our race. As a "mudder," I've learned to temper my expectations. How often have woken on race morning disappointed to find the promised rain didn't come?
Eau Claire experienced showers on and off all day. While those showers were "off" at the start, they were back "on" for lap 2. Over the course of three laps, the track went from dry/fast/tacky to greasy/slimy. In the dark forest, most of us shed our glasses. Like in cyclocross, I spent much of the race trying to blink out gobs of mud.
I had modest expectations results-wise. I'm slowly and patiently building to cyclocross season. I am on the correct upward trajectory to be fast in September and stay that way through February. I am fit, but not "race sharp" at the moment. Likewise, I'm just not the "mountain bike driver" that I am a cyclocrosser. The increased speed and decreased trail width is an adjustment!
My plan was to go out with the leaders and try to hang. I found the pace on the double track overly easy, yet I could barely hang on in the single track. However, as the race wore on, fatigue started to set in, and the pace dropped to within my technical comfort zone. I took advantage of some other riders' errors and fatigue and made gaps on the few "fitness sections."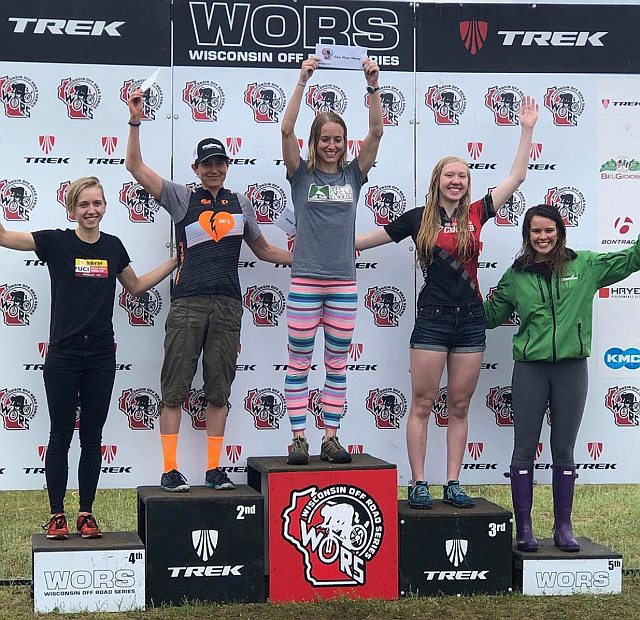 No doubt my bike is "worse for the wear" and my payout will go straight to bike repairs. Nevertheless, it's always fun to play in the dirt, or in this case, mud! Chains and bottom brackets need to be replaced sooner or later, right?!
Michigan Tech MTB Junior Camp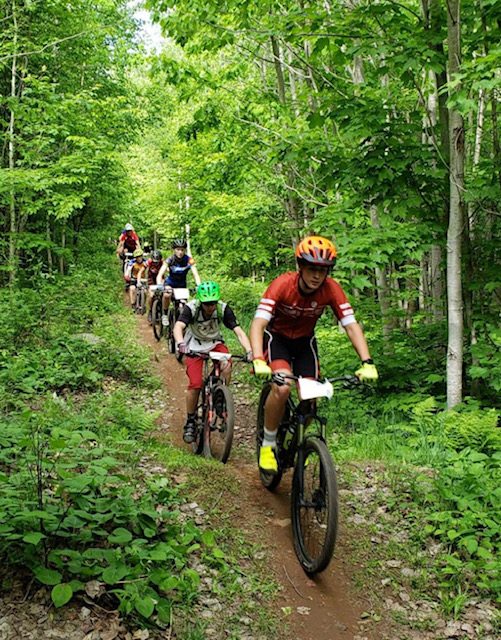 For 12 years now, five time Chequamegon 40 winner Brian Matter has led a junior camp in the UP Michigan, hitting up trail systems in Marquette and Copper Harbor to name a few. Perham, MN. native Jacob Olson was one of the participants this year and provide a special report:
I was fortunate enough to attend Michigan Tech's junior mountain bike camp from the 16th to the 20th of June. At camp we rode for 1.5 to 2 hours in the morning and we would ride 2 to 4 hours in the afternoon. We slept and ate in Wadsworth hall at Michigan Tech University. We rode 4 different trail systems while at camp.
At camp we had the opportunity to ride 4 different trail systems. We rode Maasto Hiihto-Churning Rapids where my family had raced the Saturday before camp. Churning Rapids is a technical trail with some hills and creek crossings. The (Michigan) Tech trails were technical but had jump lines with single track or ski trails back up. The trails had a pump track and lots of wooden features as well. While at camp we rode Copper Harbor for full day with lots of jump lines, technical descents and awesome ups with lots of bridges and rocks on the way up. Adventure mine was a really fun trail with technical rocky ascents and descents along with being able to ride through part of the mine.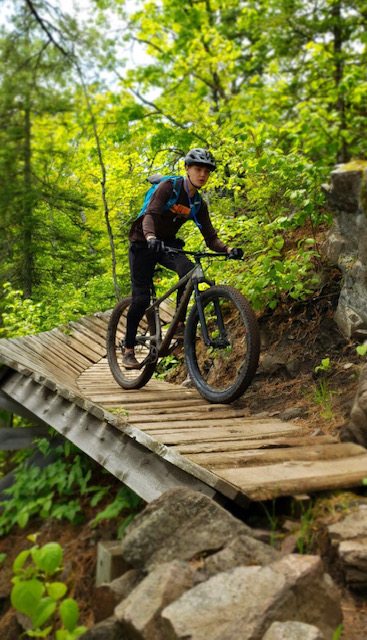 After supper most nights we did different activities. On Sunday we did rock climbing, on Monday a high ropes course, and on Wednesday log rolling. We were coached by Brian Matter and other pro and collegiate riders, everyone at the camp had lots of one on one time due to only 23 kids at the camp. I'm looking forward to going again next year.
Related: Michigan Tech Junior MTB Camp
Chequamegon Changes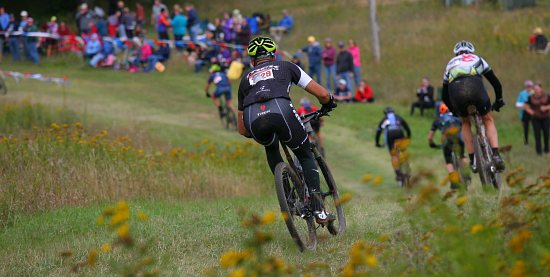 Chequamegon 40, September 13, 2014
Event manager Peter Spencer recently announced changes to this year Chequamegon Fat Tire Festival as highlighted below including a big change for the "Elite Racers".
Here are all the updates for 2019
Short and Fat start will be at the Great Hall / American Birkebeiner Trailhead. The Short and Fat will also finish at the Great Hall.
The big Cheq 40 will finish same as Short Fat, at the Birkie Trailhead start area.
Little Loggers Kids Race 4pm Great Hall. There will no longer be a morning bike rodeo at the start of the 40 and S&F. We'll create 1 super fun kids event where both parents can be there to watch and cheer on their little ripper. All kids will receive a race plate, tee shirt and finisher medal.
Busing Saturday morning only at the Great Hall (American Birkebeiner Trailhead). 2 pick-up times 7:50am and 9:00am. $10 fee per person.
Parking: All parking Friday and Saturday will be in the Cable Airport field across from the Great Hall Festival Food trucks with a variety of options.
Beer – two new sponsors (Fulton and Bent Paddle) all volunteers, participants, staff rec. 1 free beer from each brewery). CAMBA will be able to purchase kegs at cost and 100% of sales go back to CAMBA!
Pro/Elite – New Start Time, same course. Just starting the women at 12:30pm and the men at 1:00pm. This allows many of the participants, volunteers and spectators to watch the pro men and women battle it out for the top spot.
After Party Sawmill Saloon is hosting the Cheq /CAMBA after party! CAMBA Fundraiser 5-8pm then Live music after to finish off the night.
Chequamegon Fat Tire Festival Website
Looking Ahead
The 2019 version of the Lutsen 99er is sold out as riders racing in recent muddy and wet conditions lately and years past hoping for a drier version this year.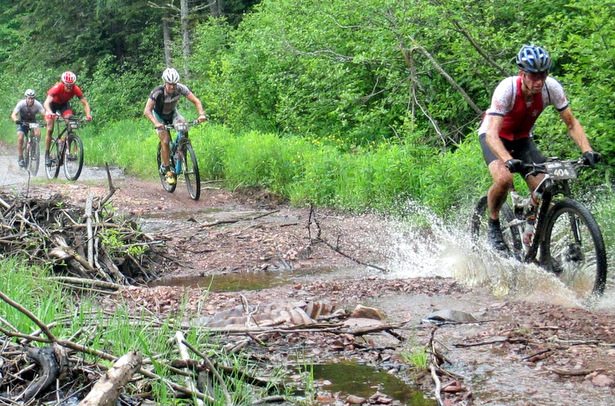 The event features the big 99 race as well as shorter versions in 69, 49 and 25 mile distances over forest roads up above the north shore finishing up at Lutsen Mountain resort. Always a festive atmosphere with the large crowds and post race activities.
One of the more popular and bigger Enduro's in the Midwest takes place this weekend in Duluth which will feature two urban stages on Saturday before the multi stage event on Sunday. Most of the favorite downhills in the Duluth trail network will be used.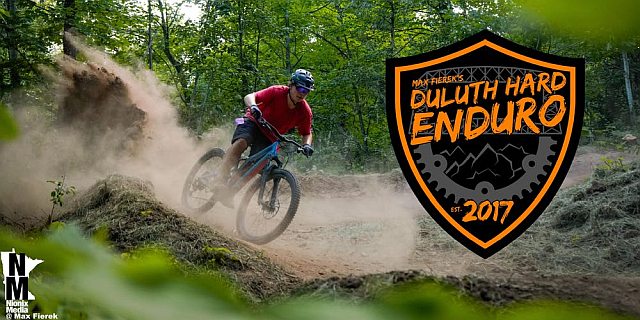 Related: Duluth Hard Enduro to Feature The First Urban Enduro Stage in the US
Keep the wheels moving!
About the author...

Jay Richards maintains a very active lifestyle. He somehow finds time between managing a full-time resort (Maplelag) and bringing up a family of four boys with his wife Jonell, to compete in both mountain bike and a few cross-country ski races. Jay rides for Maplelag Resort, manages the Maplelag mountain bike team and enters his 29th year of racing and promoting mountain bike races.

Have an event or mountain bike related information to share from the Midwest? Feel free to contact Jay at