Midwest MTB Report
by Jay Richards
July 2, 2019
Summer like weather is in full effect!.That time of year some folks head out west to escape the heat and humidity of the Midwest and enjoy the dry mountain air accompanied by cool nights and mornings on bucket list rides. However, the racing is in full swing with the big Lutsen 99er and one of the more anticipated Enduro races in Duluth, Max Fierek's Hard Enduro, taking place this past weekend. A firsthand recap from Lutsen, a report from the Hard Enduro and the look ahead to the Minnesota and Wisconsin series races that don't skip a beat falling post Independence day, highlighting this weeks report.
Lutsen 99er
Lutsen 99er has become a bucket list event for many racers in the Midwest and also the country for that matter with participants rolling in from all across the country to enjoy forest road riding up above the north shore of Minnesota. Big mileage guy Thad Schulz has the event circled on the calendar as one of the key races of the season and provides a detailed recap of the event:
Lutsen 99er, 69er 49er, and 25er all start up at the top of the ski hill road by Lutsen Resort. The 99er and 69er start together and the 49er and 25er start a few mins later. This my third time doing the 99er unlike my previous attempts the warm afternoon temperatures and high humidity there was quite a bit of concern already before the race started. It could be I was in the fairly close to the starting line, but the rollout felt faster than previous years. We started down the road from the resort down to Hwy 61 and head east until the race heads north up country road 4 that is mostly a 3-mile category 3 climb. The county road 4 climb does a really good job of stretching out the race so when it enters the first double track. The race course is a mix of double-track, snowmobile trails, ski trails, and gravel roads.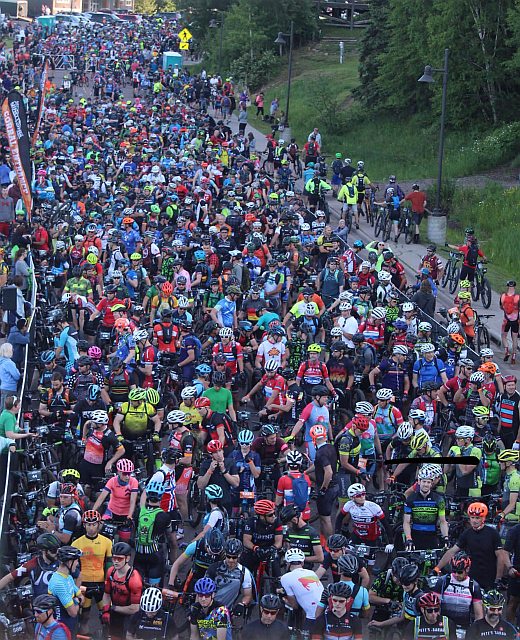 In the offroad sections, we need to be one the lookout for some large mud puddles and stream crossings. One as large enough that when I took a bad line and my front wheel almost feel down to the front axle. The course was a little drier than previous years so most of the wet spots had a line that you could follow around the water hazards.
I would say the most stressful part of the race is from miles 30 to 50 when you have to deal with two traffic in addition to lapping slower riders. Due to the fact that we do a 6-mile off-road loop twice.
My first pit stop was at the aid station at mile 50 by that time it was starting to get warm so I drink as much as a could fill both water bottles. At the remaining aid stations, I only refilled my water bottles since I only worried about running out of fluids. The aid stations also have an assortment of high carbohydrate foods and energy gels as well.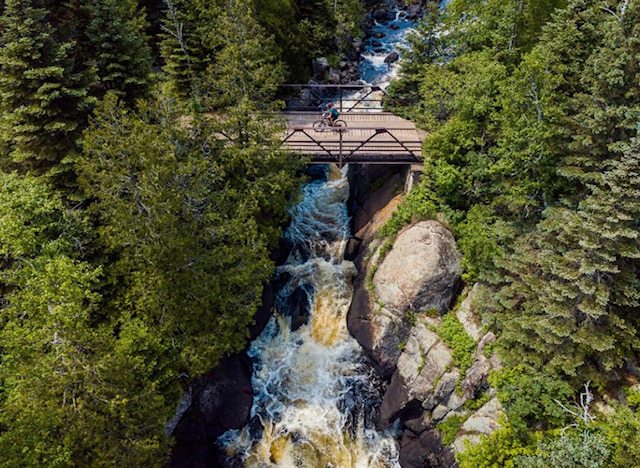 My race went pretty well. Other than a couple two times when I had to dismount two large wet crossings I had no flats or crashes and kept a pretty solid pace up until the last five miles when I started to run low on energy. At all of the checkpoints, my position was consistently in the low 30s and with the finished 34th. I would have liked to finish higher but other than the last five miles I felt strong throughput 95%.
Duluth Hard Enduro
For the second year in a row, Max Fierek's Duluth Hard Enduro brought riders from all over the country to compete in the unique race. The Enduro is a mountain style endurance bicycle race. Racers ride up and down hilly streets, over obstacles and ramps, and down sets of stairs.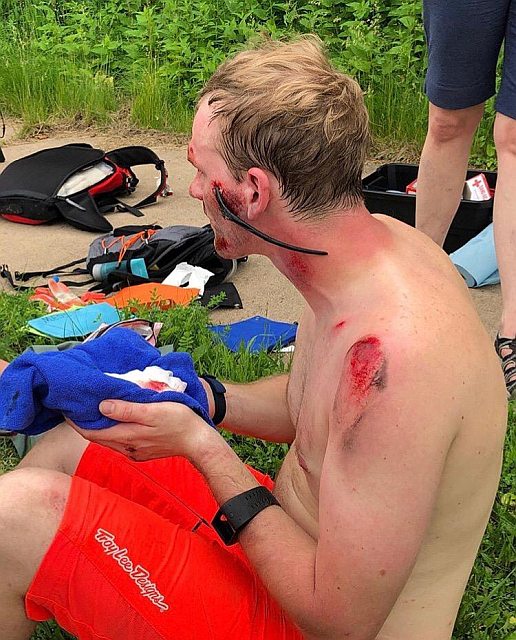 This year the race course was on the city streets, becoming the first Enduro to take place in an urban setting in the United States.
"All the Midwest races are smaller, one day or less stages. I wanted something to challenge people. Something you have to reach for. Something a little more like an out West style race," said event coordinator and organizer Max Fierek.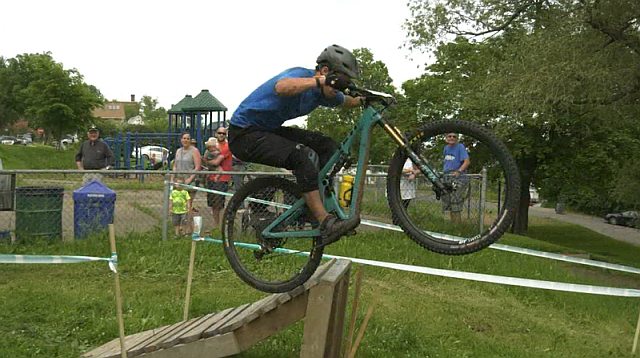 Saturday's race took place between Lake Avenue and downtown Duluth. One hundred and fifty racers participated in day one of the event. Sunday's even had riders scheduled to thirty miles between Spirit Mountain and Piedmont, and back hitting up some of the more gnarlier downhill runs in Duluth but heavy rain early Sunday morning shortened the event to four stages at more weather adapting Spirit Mountain which had riders relieved they could still race and definitely played a roll on the final standings compared to a planned multi stage event. The slick conditions generated from the wet weather added to the challenges.
Overall female winner Megan Schleske posted on Strava: "Had to cut the stages short due to rain and closed trails. Got to ride anvil, AWT, and Smorg. Thankful we got to race considering the weather. Thanks to yeti master Max Fierek for an awesome weekend!!!"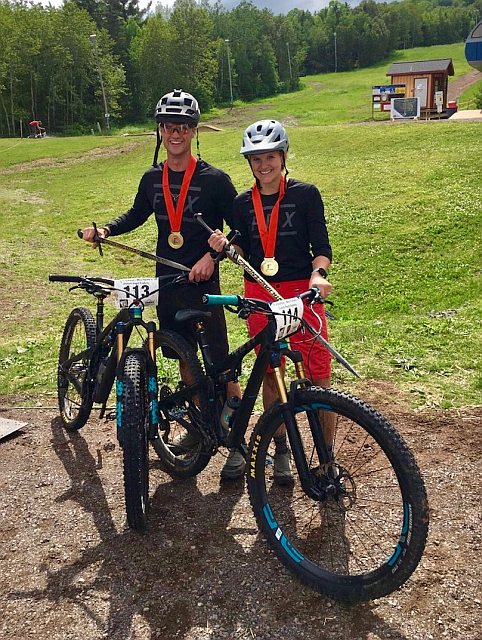 Related: Riders Embrace Challenging Course in Duluth Hard Enduro
Looking Ahead
From the MNMBS website:
We are proud to present the Seventh year of the Border Crossing.
The White Tail Ridge course will again challenge every type of rider. With a great mix of fast-flowing single track, roots and rocks, fast downhill sections, wide open fields, leg scorching climbs and our own signature elevated wooden berm. Whitetail Ridge is fast-becoming a Twin Cities favorite for riders looking for an ever-evolving challenge. Each race course is tailored to meet the ability level of racers, yet pose a challenge to keep things interesting. Whether it's a leg-churning climb or fun flowing downhill you crave, the trails at Whitetail Ridge will serve up something for everyone.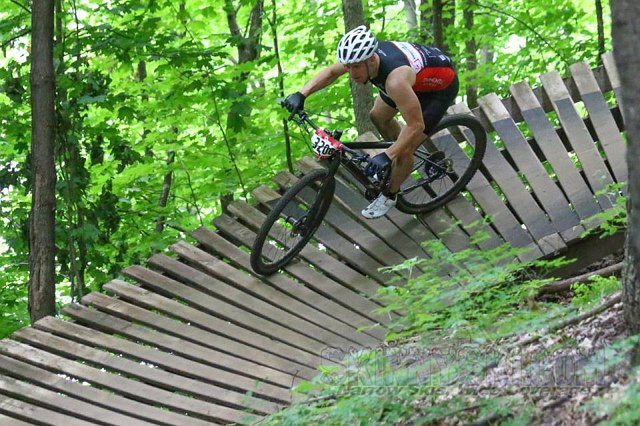 The race has evolved over the past years into a great community fund-raising campaign in which the local mountain bike club, Kinnickinnic Off-Road Cyclists (KORC) use 100% of the race proceeds to either build and maintain new trails at Whitetail Ridge along with promoting other mountain biking opportunities in the Twin Cities metro and St. Croix River Valley.
The WORS Cup presented by Trek will be hosted at Alpine Valley Resort near Elkhorn, Wisconsin on July 5-7, 2019. This event promises to display the high level of production from past WORS Cups, providing a UCI level experience for participants, spectators, and exhibitors alike.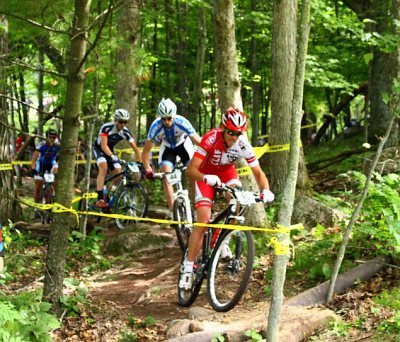 Sanctioned as USA Cycling's Midwest Regional Mountain Bike Championship for Cross-country (XC), Short Track (STXC), Dual Slalom and Enduro, the WORS Cup will offer both Championship and Non-Championship for all ages and levels of experience. This three day event, (one practice day, two days of competition), is slated to draw racers from Illinois, Indiana, Iowa, Kentucky, Michigan, Minnesota, Missouri, Nebraska, North Dakota, Ohio, South Dakota, and Wisconsin
Keep the Wheels Moving!
About the author...

Jay Richards maintains a very active lifestyle. He somehow finds time between managing a full-time resort (Maplelag) and bringing up a family of four boys with his wife Jonell, to compete in both mountain bike and a few cross-country ski races. Jay rides for Maplelag Resort, manages the Maplelag mountain bike team and enters his 29th year of racing and promoting mountain bike races.

Have an event or mountain bike related information to share from the Midwest? Feel free to contact Jay at