Northern Illinois Nordic's Limestone Loppet Results
by Bob Richards
November 5, 2006

Rising temperatures after a freeze the night before and the resulting thawing limestone in some open areas made for slow conditions in spots on the Herrick Lake Trail on Nov. 4. But 26 Illinois "Limestone Cowboys" toughed it out in what could be compared to slow snow conditions in four or five places to complete the course, which is just under 9 kilometers in length. Most of the course, swept clean by Northern Illinois Nordic volunteers, was dry and very fast for the off-road wheelers. Jukka Lyly Yrsanainen of Elk Grove Village, a native of Finland, was first male. Elizabeth Goodspeed of Glenview, IL, was first woman. Results follow.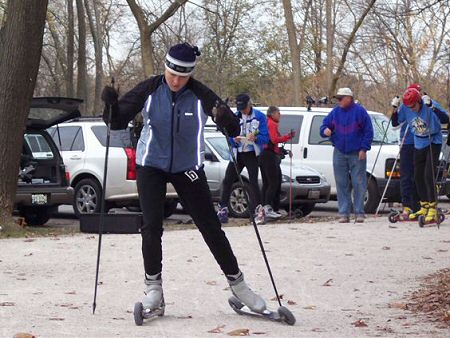 Women's winner Elizabeth Goodspeed

LIMESTONE LOPPET 9K
Nov. 4, 2006
Herrick Lake Forest Preserve
Wheaton, IL
Conditions: Slow and thawed in some sections, fast in others. Temp in low 40s, overcast with wind and humidity.

FINAL RESULTS
1. Jukka Lyly Yrsanainen, Elk Grove, IL, 25:59
2. David Goodspeed, Glenview, IL, 26:30
3. Jim DiDomenico, Elgin, IL, 26:35
4. Tom Dvoratcheck, Streamwood, IL, 28:54
5. Pete Finger, Elgin, IL, 29:01
6. Ken Hazel, IL-MI, 29:20
7. Eric Hughes, Chicago, IL, 30:29
8. David Fyhrie, Wheaton, IL, 31:15
9. Chuck Zagodzon, Chicago, IL, 31:33
10. Jim Gearhart, Oak Park, IL, 31:39
11. Scott Smith, Naperville, IL, 31:56
12. Bob Richards, Villa Park, IL, 32:36
13. Elizabeth Goodspeed, Glenview, IL, 33:10
14. Dick Storm, Hoffman Estates, IL, 33:38
15. Harry Maranowicz, Downers Grove, IL, 34:00
16. Terry Lueders, Naperville, IL, 35:26
17. Mike Haney, Chicago, IL, 35:33
18. Alex Szewczyk, Wheeling, IL, 35:54
19. Doug McClerran, IL, 36:33
20. Michael Meissner, Hinsdale, IL, 41:57
21. Steve Nolle, Naperville, IL, 42:04
22. Stephen Lee, Brookfield, IL, 48:34
23. Chris Wilson, Romeoville, IL, 51:07
24. Sara Richter, IL, 56:35
25. Lynn Degnan, Woodridge, IL, 57:34

CAT-SKI DIVISION - 7.5K
1. Tom Dvoratcheck, Streamwood, IL, 52:25
2. Joy Dvoratcheck, Streamwood, IL, 1:08:26

Thanks to Dan Keenhehan of the Nordic Foxes as well as unltrmarathoner Tom Degnan for helping with timing and course direction. Thanks also to Joe Gollinger, Rich Scott, David Fryhie nd Jim Gearhart for help on clearing the course.

Special thanks to the Forest Preserve District of DuPage County for allowing us to conduct the event.