Midwest Connects Out East
by Mary Kozloski
October 1, 2018
There are several similarities between Kyle Bratrud, Alayna Sonnesyn and Adam Martin. Besides being Midwest natives and powerhouse skiers, they all recently joined top-notch programs in Vermont. Bratrud (Eden Prairie, MN) and Sonnesyn (Plymouth, MN) are now skiing for the Stratton Mountain School (SMS) T2 Team in Stratton, Vermont and Martin (Wausau, WI) is just four hours north in Craftsbury, Vermont; skiing for Craftsbury Green Racing Project (GRP). Despite their parallels, they are each at different crossroads in their journey to new opportunities as professional skiers.
Bratrud, who started his professional ski career in 2015 after graduating from Northern Michigan University (NMU), has primarily trained in the Midwest as a part of the CXC Team. This winter, he will be skiing for the SMS T2 team for the first time.
"Moving out East has certainly led to more changes than I thought it would," said Bratrud. "I went to Northern with a really motivated and professional group of guys, but joining SMS has pushed that boundary even farther. This team is arguably the best team in the country, so I am honored to be apart of it and train with these guys and girls who are World Cup regulars."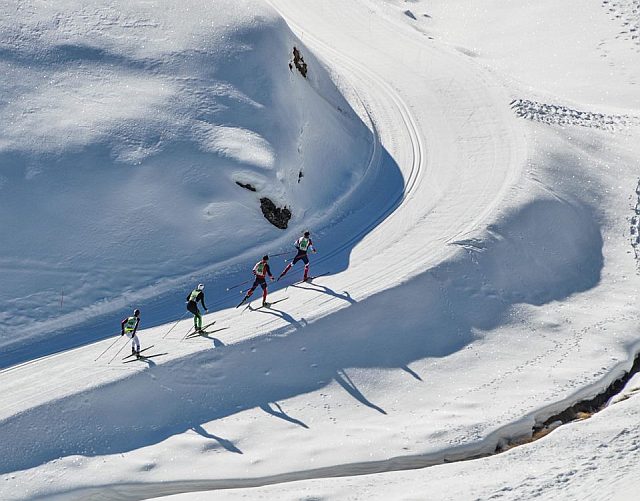 (Photo:Matt Whitcomb)
While Kyle is no stranger to a team culture of hard work, fun camaraderie and big dreams, joining a new team brings new perspectives and motivation. Although Kyle is gaining several new teammates, he is joining fellow Minnesota native and long time SMS T2 athlete, Ben Saxton (Lakeville, MN). Bratrud explained that the new team environment with the SMS T2 team, is where he wants to be in his career at this point.
"What I love about the SMS system is how dialed it is while at the same time allowing for a lot of freedom from athlete to athlete to really maximize what each individual needs to succeed," said Bratrud. "That being said, motivation and a strong work ethic are things I've seen both in the East and in the Midwest so it's not like I'm discovering them here for the first time."
Bratrud's college teammate Adam Martin, who graduated from NMU in 2017, had his sights set to ski out East right after getting his diploma and joined the Craftsbury Green Racing Project. For Martin, his transition from a student athlete to a full time skier was more of an adjustment.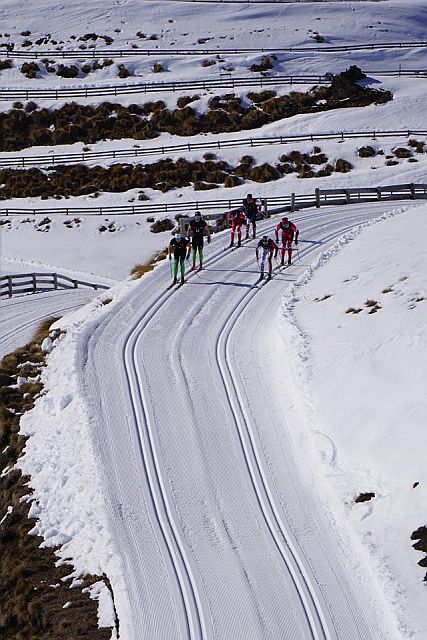 (Photo: Caitlin Patterson)
"I've learned that having responsibility and challenge beyond skiing is necessary for my well being. School was an easy target to apply myself, and it helped me keep a better mindset around skiing. I'm still figuring out how to best replicate this mental challenge in my current situation post graduation."
Other Midwest natives have joined the GRP team since Adam started in 2017, including Jake Brown (Minneapolis, MN) and Raleigh Goessling (Esko, MN). Brown finished up his collegiate skiing career at Dartmouth, while Goessling skied for the University of New Hampshire. Both Brown and Goessling are now competing as biathletes for the GRP.
As Martin continues to find his groove as a professional skier, he has also taken on a role implementing a new camp and lodging reservation system for the Craftsbury Outdoor Center. Not only does Adam excel on the ski trails, he also uses his knowledge to improve the nordic skiing community around him.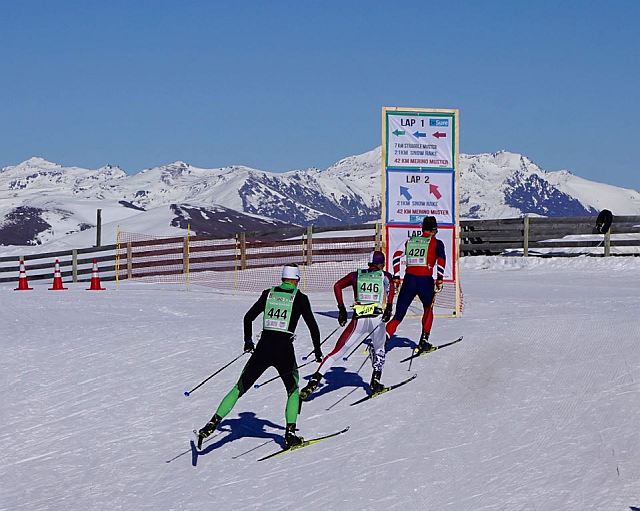 (Photo: Caitlin Patterson)
Unlike Kyle and Adam, Alayna Sonnesyn is just beginning her professional skiing endeavors, but Sonnesyn has called the East coast home for the past four years. Sonnesyn attended the University of Vermont where she dominated the EISA collegiate racing circuit. But by the time graduation rolled around for Alayna, she was ready for a change in her routine!
"After graduation, I was really ready for a break from classes, exams, labs, all of the stress that goes along with school," said Sonnesyn. "I've always known I would miss UVM, my team, all things Catamount related... But I was nearing my breaking point of balancing a tough academic schedule (Biochem), work, skiing, and other leadership positions I found myself in. So, with not a ton of excitement going on around Stratton, VT I found myself being bored a decent amount, and I LOVED IT!"
Although Alayna was ready to say goodbye to being a student, she was still as motivated as ever to remain a high-level skier. Sonnesyn joined the SMS T2 Team, gaining teammates such as U.S. Ski Team members, Jessie Diggins, Sophie Caldwell and Simi Hamilton to name a few.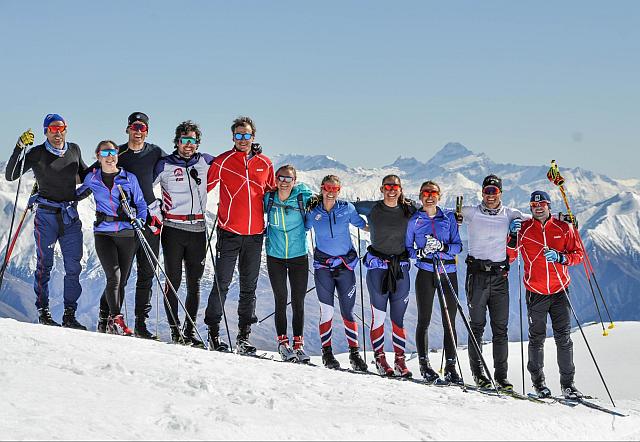 (Photo: Matt Whitcomb)
"I've been able to really zone in on the training this summer with some incredibly fast and very welcoming new teammates," explained Sonnesyn.
When Alayna isn't training, she works at a ski shop and small, local restaurant in Stratton. She mentioned that having these jobs help to keep her mind off skiing 24/7, without being too much of a distraction.
One perk of being a part of elite Teams that Alayna, Kyle, and Adam all had the opportunity to take part in this summer, was traveling to Wanaka, New Zealand for a three week on-snow training camp at the Snow Farm.
"The New Zealand training camp was incredible", said Martin. "On top of being able to ski on snow in August, nearly every day was perfect, sunny weather."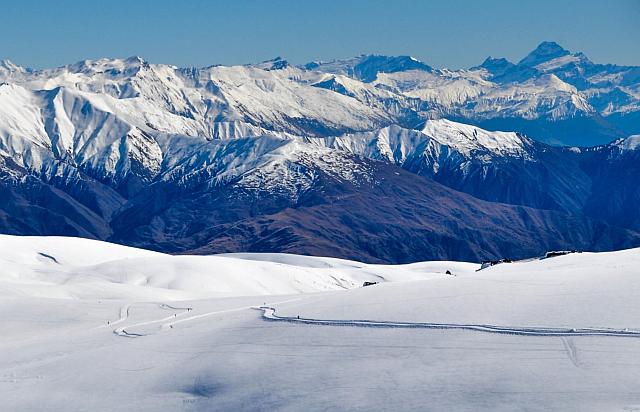 (Photo: Matt Whitcomb)
"New Zealand was a brand new experience for me this year and it was probably one of the most memorable trips I have ever been on," said Bratrud. "New Zealand as a country was probably the prettiest place I have ever seen in my life and the Snow Farm set up is incredible. I have done week long glacier camps many times in Alaska, but to be able to complete an entire three week training block on snow was really beneficial."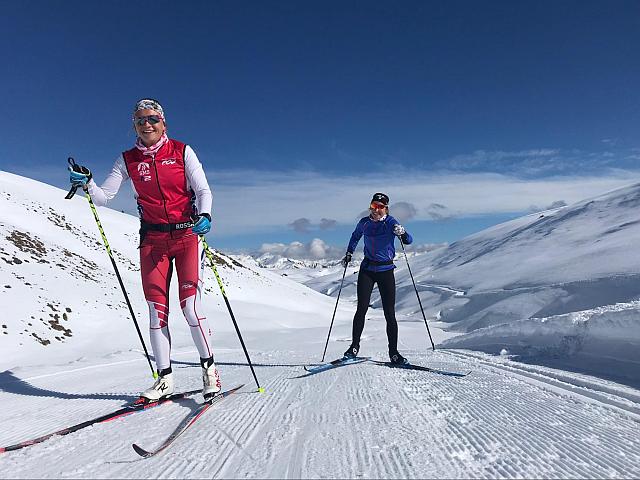 (Photo: Julia Kern)
"I was hesitant about spending so much time, money, and energy for a training camp when I figured I could get just as beneficial training done in Vermont," explained Sonnesyn. "But I decided to go for it and follow the team to the other side of the world and I am so grateful that I did. I quickly realized that the trip was worth every penny and hour of travel it took to get there."
Not only did the athletes knock-out three solid weeks of training, they also took advantage of the races the Snow Farm hosted during their last week of camp. The 43k freestyle 'Merino Muster', is New Zealand's Worldloppet race which was held on September 1st, and the 'Winter Games' began September 5th. Alayna jumped into the Merino Muster to take the opportunity to learn more about her racing strategies, while Kyle raced the Winter Games to mix up his intensity workout.
"I worked a lot on figuring out fueling before the race, during, and after so that I could race as fast as possible without completely destroying myself for the rest of the camp," Sonnesyn said.
Alayna's race strategies worked in her favor. She finished second overall behind SMS T2 teammate and fellow Minnesota native, Jessie Diggins (Afton, MN).
(Note: In an interesting coincidence, 2014 Minnesota State High School Nordic Skiing Champion and teammate of Sonnesyn at UVM, Mattie Watts (New Brighton, MN), is working at the Snow Farm this summer. Watts also jumped in the 42k race and finished fourth!)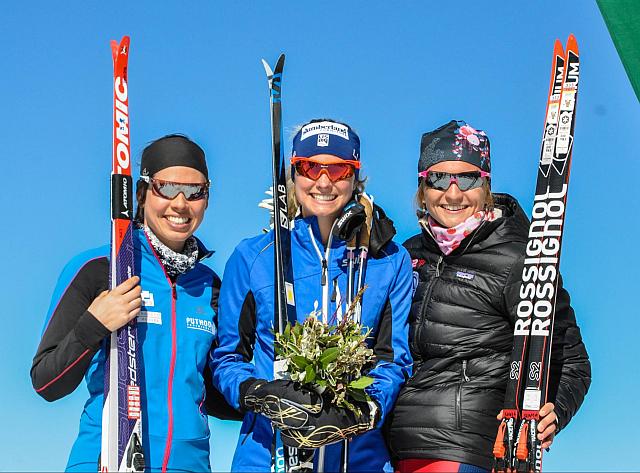 (Photo: Matt Whitcomb)
Kyle explained hopping into the Winter Games was a unique experience and was an event unlike any other, with TV, banners, big podiums and of course, perfect grooming. Although the race did not feel low key, Bratrud used this race as a way to keep training fun and competitive.
"I hadn't even started training L4 yet, so racing in this environment my brain kept wanting me to be way sharper than I was," said Bratrud. "However, it was ridiculously fun to rip a few races instead of doing workouts and I was able to ski some big volume on both sides of them as well."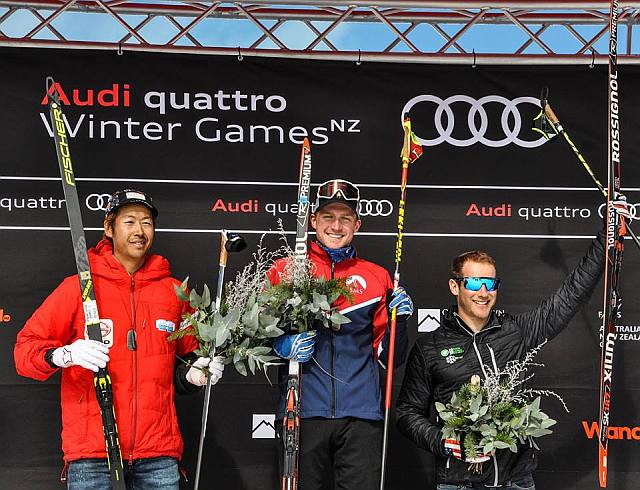 (Photo: Matt Whitcomb)
Once Adam, Alayna and Kyle returned from New Zealand, it was practically fall back in the States, which means looking towards the race season and setting goals. Adam explained that he is focused on his opportunities working on being in the best racing shape rather than being concerned with specific races. I'm not too concerned with specific races, but I'm hoping to find good racing shape and see what opportunities are available. For Alayna and Kyle, they are setting their sights on international racing.
"The past four years I've been able to experience a fair amount of international races, but I've always been distracted by collegiate racing, school work, tough travel schedules," explained Sonnesyn. "I'm excited that I finally have the opportunity to emphasize my racing in Europe and am confident that I will quickly learn a lot more about taking my skiing to the next level."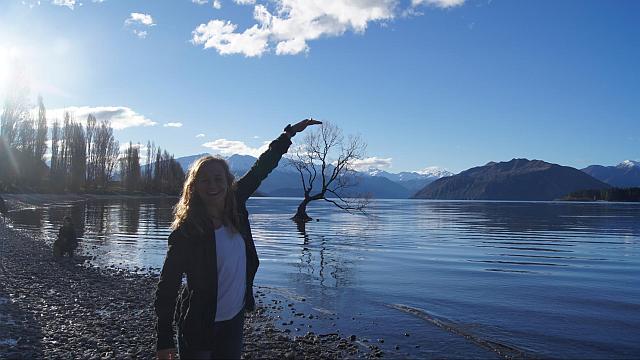 (Photo: Kelsey Phinney)
"My goals for this year are fairly straight forward," stated Kyle. "I want to win US Nationals, qualify for Seefeld, get a top 25 in Seefeld and then finish the season with some World Cups, including the Canadian tour at the end. Each one of my goals builds on the previous one so as far as I'm concerned I just need to keep taking everything step by step and day by day."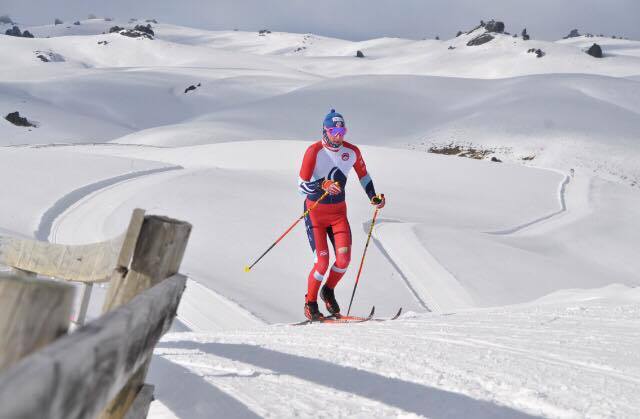 (Photo: Matt Whitcomb)
As each of these athletes figures out their own path as a professional skier, what brings them together is their passion for skiing, seizing every opportunity that comes their way and never forgetting to dream big and have fun.
About the author...

Mary Kozloski is from Green Bay, WI and is a UW Green Bay Ski Team Alumni, where she skied and studied Communications and Business Administration for four years. Mary continues to love and stay connected to the sport through writing. She is a travel and outdoor enthusiast and enjoys exploring everything Colorado has to offer, which she has called her new home state since fall of 2016.