International Endeavors
by Mary Kozloski
October 21, 2018
As a sophomore at Northern Michigan University, Kristen Bourne (Lake Elmo, MN) made a fundamental decision about her skiing career. After her sophomore year of skiing, Bourne was named NMU's 'Newcomer of the Year', 'Most Improved Women's Skier,' ranked as one of the top skiers in the Central Region and qualified for both NCAA Championship events- finishing 17th in the classic and 35th in the freestyle. Because of her work ethic and resulting success in the collegiate arena, Kirsten set her sights on professional skiing after college, but what she was unsure of was the exact path to take. With guidance from her coach Sten Fjeldheim, friends and teammates, specifically her Norwegian teammates, she started considering options in Norway.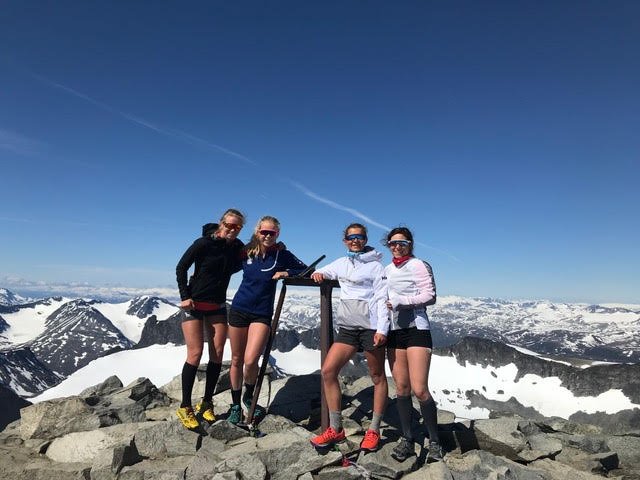 "I looked into US clubs but as I was discussing my options with a few teammates, the idea of moving to Norway began," explained Bourne. "It seemed like an incredible adventure that not many US skiers had attempted yet. I was intrigued by the idea of paving my own way in a sort of "unconventional" path that US skiers typically don't follow."
Throughout her years at NMU she frequently discussed the difference between clubs and teams in the US and Norway with her Norwegian teammates. One club that stood out to Bourne through all of this was an Oslo based team called 'Lyn Ski', home team of Bourne's teammates Fredrik Schwencke and Julie Ensrud.
What was just a casual discussion between teammates, became a plan that gained momentum leading Kirsten out of the country after graduation. Without a lot of prior knowledge of the Norwegian club system, Kristen took a leap of faith and moved to Oslo, Norway where she joined 'Lyn Ski' and 'Team Obos.' Kristen describes Lyn Ski as a team of senior athletes from clubs based in Oslo including: Lyn, Heming, and Kjelsås.
"The teams go on collective training camps and train together a few times per week, primarily intensity sessions and time trials," Kristen described. "All of the athletes and coaches work together as a cohesive team despite competing for different clubs. The upcoming season will be the debut season for Team Obos."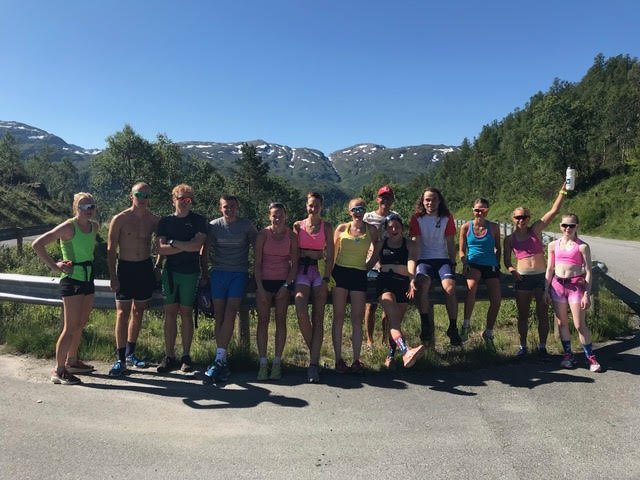 Not only did Kristen have to adapt to the culture of a new country and dynamics of a new team, she also had to adjust to a new style of training. On non-team training days she mostly trains alone, but occasionally meets up with her teammates, which is a change to what she was used to in college.
"I came straight from a college team which meant practicing with a team everyday and sometimes two times per day," said Kristen. "When I came to Norway, I had to adjust to only two to three times per week. This allows us to train distance separately and add individual variation. My training plan is different from what I did at NMU but every team, no matter where you go, has a different philosophy and structure. All in all, training in the US is very similar to training here."
In addition to distance training Kristen has consistent rollerski and running time trials every few weeks throughout the summer and into the fall. As far as rollerski equipment, Kirsten mentioned Norwegian's mainly use Swenor and IDT brands.
"I didn't have to change rollerskis when I got here. I was already training on Swenor classic skis prior to moving to Norway. However, I train on Marwe skate skis. In my almost 5 months of living here I haven't seen a single person using Marwe. Despite using an alternative brand, the speed difference isn't too bad."
While Kristen is used to frequent time trials from collegiate training, she has noticed her team has not done strength tests as a core part of training. Dynamic summer cross training is more popular and encouraged among her teammates, although Kristen said she personally sticks to ski specific workouts.
"There seems to be a general understanding that the summer is the time to try different methods of training and play around a bit," Kristen said.
Another important aspect to a professional skiers training regiment that strikes curiosity amongst the ski world, is an athlete's daily nutrition. Kirsten said meals are mostly the athletes' responsibility except there are some exceptions at the camps. What strikes her most is the overall quality of nutrition in Norway as opposed to the U.S.
"The biggest difference is the lack of processed foods," said Kristen. "Norwegian food regulations are very strict which doesn't allow for a lot of poor options. Additionally, Norway has placed a sugar tax on candy and sweets. I have to say one of the greatest phenomenons of Norwegian food is brunost, otherwise known as brown cheese. It's seriously the gem of this country."
While Team Lyn relies on their athletes to be independent in regards to some workouts and nutrition, Kristen receives regular input from her coaches on what exactly her individual training variation should be. Kristen described that her training weeks are crafted around her major training camps which occur every three weeks, with smaller camps in between.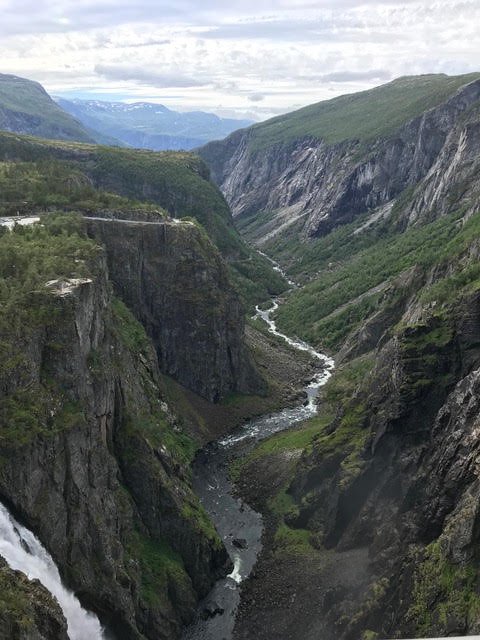 "We travel to different locations throughout the country, as well as Sweden for the camps," explained Kristen. "The camps usually last for about a week with a lot of training and focus on team bonding. We always sit down and discuss our goals as a team and what we could work on collectively as a group."
Kristen also mentioned that her team collaborates after every work out session to analyze video as a group.
"This is where each individual is offered constructive criticism from peers and coaches on ways to improve a specific technique," said Kristen. "It's an extremely professional and respectful environment."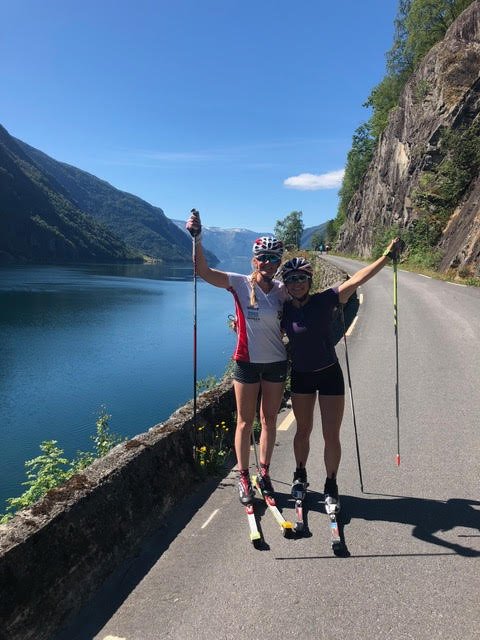 While Kristen is no stranger to a team with strong camaraderie, she says what she has liked most about living in Norway is the friendly people who have made her feel so welcome.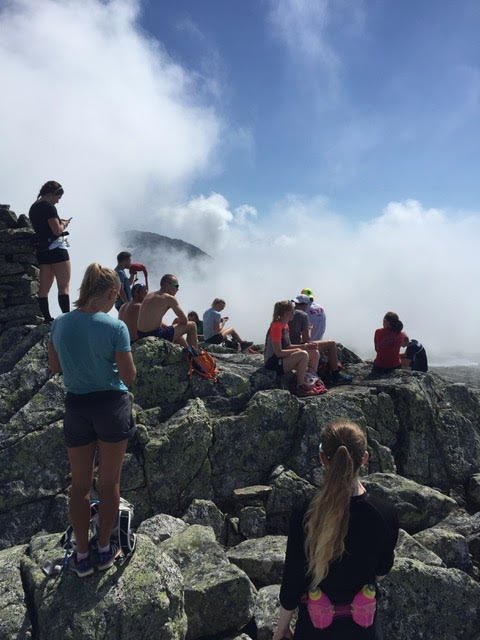 "I think I was really lucky with my team and location," Kristen said. "It all came together quite nicely. Lyn and Team Obos have been very welcoming and helpful. It's been really nice how they've included me into their program."
One of many perks of living in Oslo, is having the iconic Holmenkollen essentially in the local's back yard along with other newly developed Lillomarka rollerski trails.
"Holmenkollen is an awesome resource and it's great for any kind of intensity session, said Kristen. "I usually go there one to two times per week. It's the only place I've trained that truly mimics ski racing in the winter."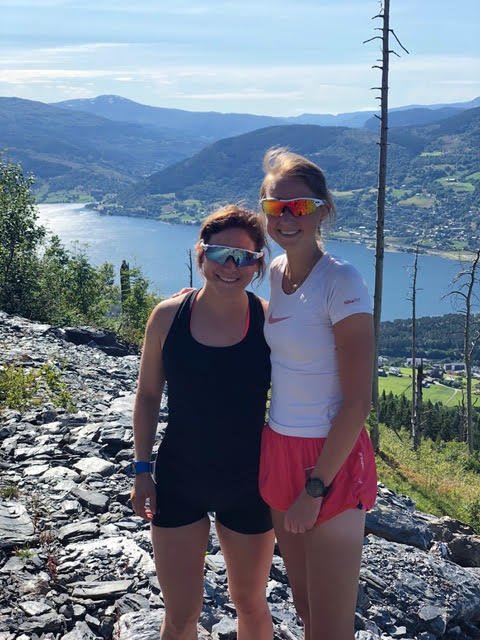 Joining a great team in Norway was not the only incredible connection she made. When Kristen is not training, she also has an internship with Norwegian School of Sports Science in Oslo. Kirsten studied exercise science at NMU and is now using her degree to assist in research.
"When I'm not training I'm helping with research studies at the University," said Kristen. "I was fortunate enough to have an awesome academic advisor at NMU that had some connections at NIH. He reached out and helped me create the internship opportunity."
Beyond Kristen's internship, her ambitions to continue learning after college are motivating her to learn Norwegian. Although Kristen mentioned the language barrier has not been a huge issue, she did take a three week class to start learning the language.
"My roommates are Norwegian so they're always willing to help," Kristen said. "They love practicing their English too. Everyone is quite good at speaking English! There are times when I'm trying to speak Norwegian and they hear my American accent so they immediately switch to English. It makes it really tempting to just speak English all the time. My goal is to be fluent by next summer but that's a little ambitious!"
So far, Kristen has been enjoying every opportunity that has come her way as an athlete and a new college graduate. As her first race season as a professional skier is quickly approaching, she plans to jump in with an open mind.
"I'm looking at this year as more of an experiment," Kristen explains. "In college, I was putting a significant amount of pressure on myself to perform at a certain level. I'm entering this season with an open mind and treating it as a learning experience."
Her racing season begins November 16th through the 18th in Beitostølen, which is a village at Øystre Slidre in Oppland, Norway. Five days later she will race a Norwegian Cup in Gålå from the 23rd through the 25th. Then, a few weeks later she travels to Østersund, Sweden for the first Scandinavian cup December 14th through the 16th. After a short Christmas break she will continue racing the Norwegian cups, Scandinavian cups, and Norwegian Nationals part one and two.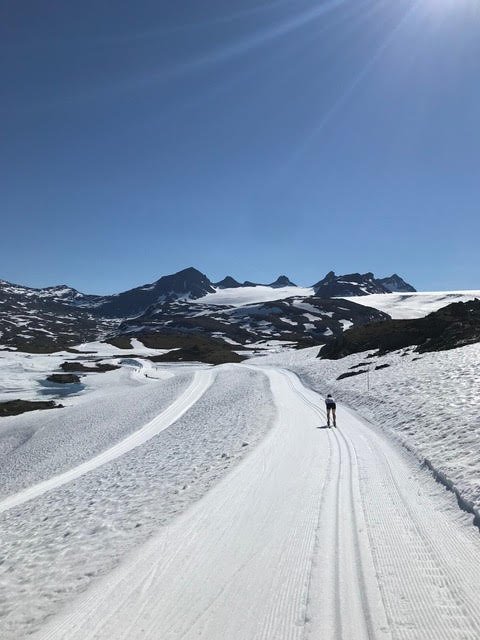 Kirsten went on to say that setting specific performance goals and expectations is tough, because everything has been such a big change from what she has done as a collegiate athlete for five years. What she does know is that there is so much to gain from this experience.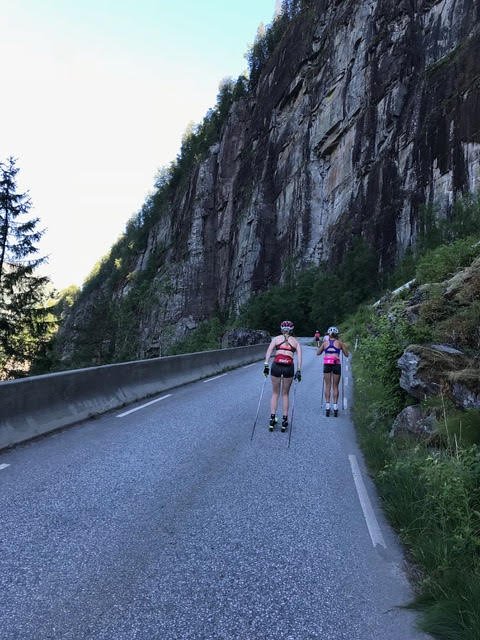 "One of the main drivers for coming here was to give myself international racing exposure," said Kristen. "I think there's a lot to learn when you're out of your comfort zone in unfamiliar territory. I believe this is a huge area for improvement and development for me. Naturally, I would like to perform well and improve from previous years but I'm not setting any expectations. I have other goals regarding technique and fitness but I don't think it's necessary to list those out."
In one short month Kristen's first racing season as a professional skier begins. Since day one, Kristen has been willing to do what it takes to push herself to the next level. Her dreams, hard work and adventurous spirit have also led her to all of the exciting experiences she has stumbled upon since graduating college. Seizing opportunity and making connections around the world through the sport of skiing, exemplifies the opportunities available to an athlete dedicated to the sport.
About the author...

Mary Kozloski is from Green Bay, WI and is a UW Green Bay Ski Team Alumni, where she skied and studied Communications and Business Administration for four years. Mary continues to love and stay connected to the sport through writing. She is a travel and outdoor enthusiast and enjoys exploring everything Colorado has to offer, which she has called her new home state since fall of 2016.